The Strongest Street Style From Pitti Uomo & Milan Kept Things Clean and Crisp
High-contrast galore.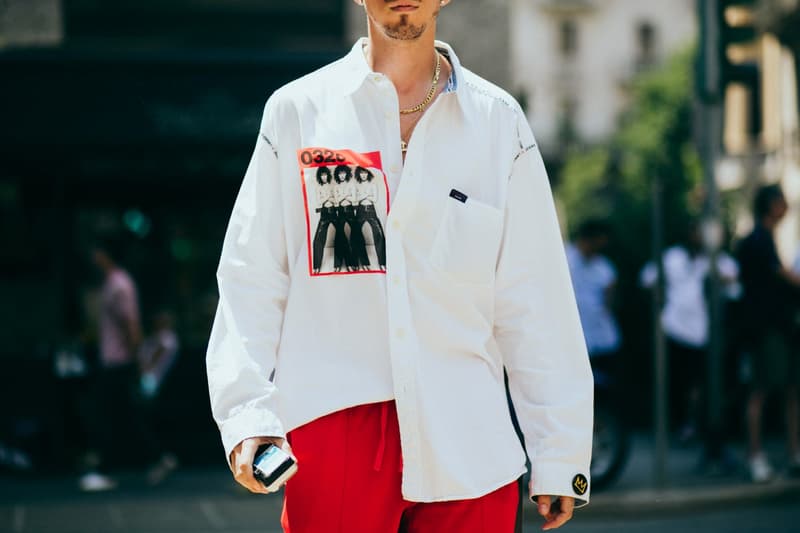 At first glance, the latest streetsnaps from Pitti Uomo and Milan Fashion Week were somewhat puzzling. Our expectations to fully indulge in "proper" menswear were flipped aside when Pitti 92 gave us more Supreme suits than three-piece-suits, and MFWM opted for parody gear over Italian opulence. But amidst the parade of sartorial irony and confusion, there was one theme that united the strongest looks off the runway — a clean, high-contrast color scheme.
This theme  moves away from the previous elaborate patterns and monochrome hues, while pairing things down to two simple palettes — black and white, as well as primary colors.
In terms of silhouettes, there was a mix of modern streetwear and traditional menswear, which saw oversized cut and sew garments — with particular emphasis on the button-down shirt — and a striking array of high-intensity PVC, nylon and synthetic materials. Other styling elements such as creative layering techniques, Asian-inspired fits and a mindful treatment of proportion cooked up outfits that embodied both the elegant grandeur of traditional tailoring, as well as the assertive dynamism of modern streetwear.
Black & White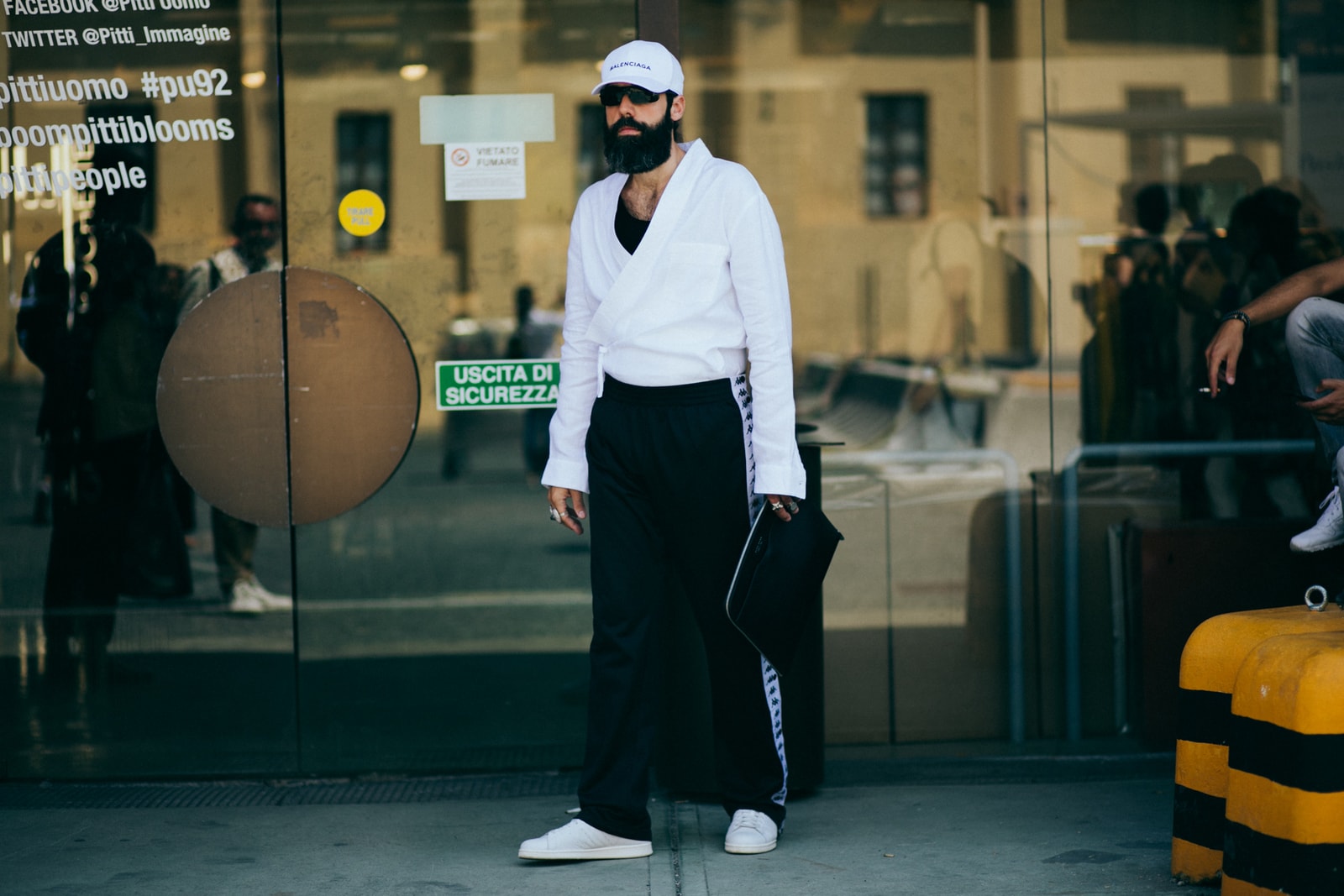 This sleek black and white ensemble combines traditional tailoring with quintessential streetwear pieces for a casual but put-together look. A white Kimono-wrap shirt is remixed with European touches at the breast pocket and cuffs, while a pair of black Kappa track pants boasting the iconic logo stripe in white keeps things modern and streamlined. The white Balenciaga cap and a pair of white low-top sneakers rounds out this simple color scheme with an added touch of street.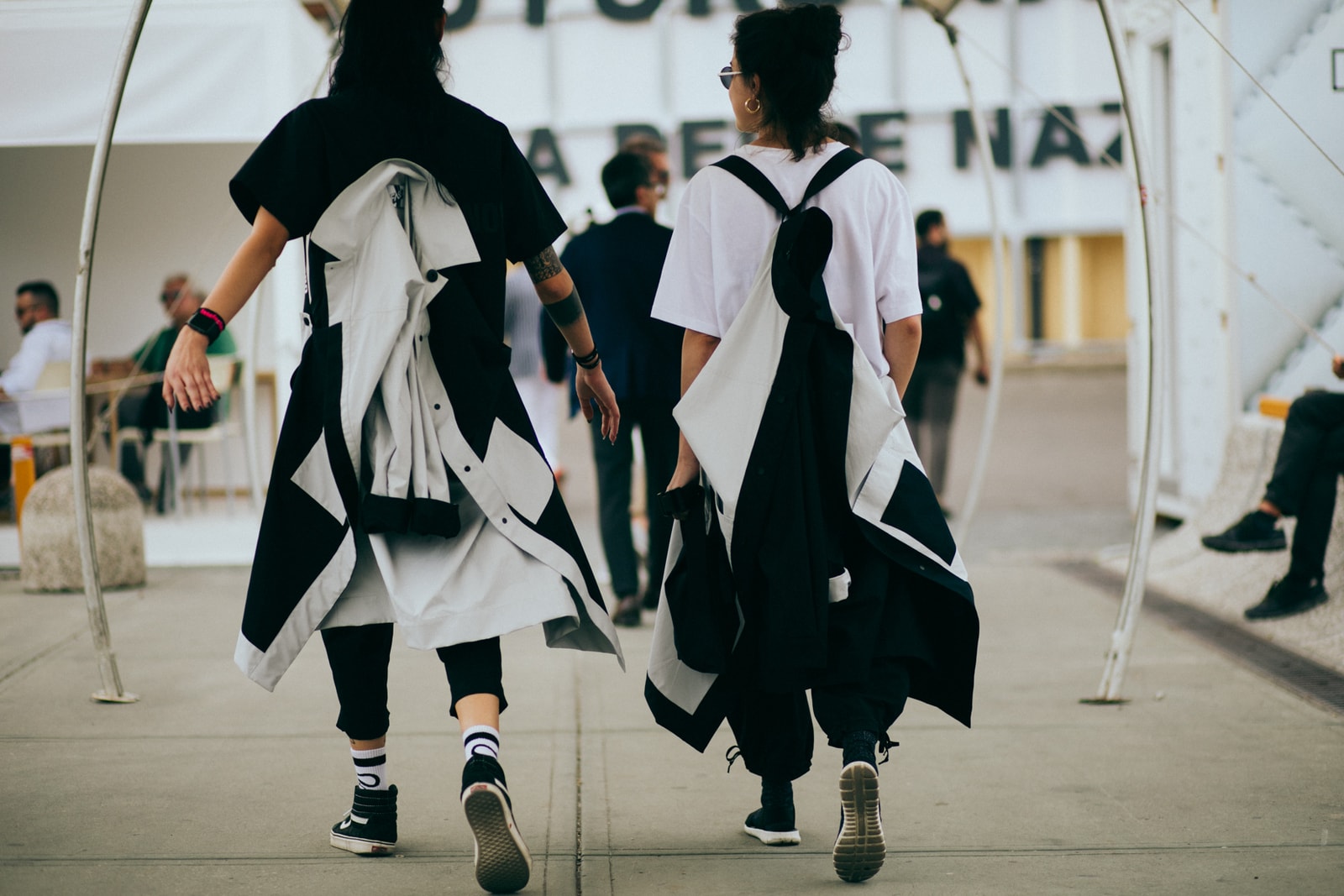 One way to add complexity to your outfit while beating the heat is to wear outerwear as an accessory. This duo wore a bold, black/white color-block jacket like capes. The large panels highlight the cut and sew construction of the piece, while a simple T-shirt and casual pants keep the rest of the outfits balanced. The theme continues at the feet with classic high-top sneakers by Vans and a pair of crew socks.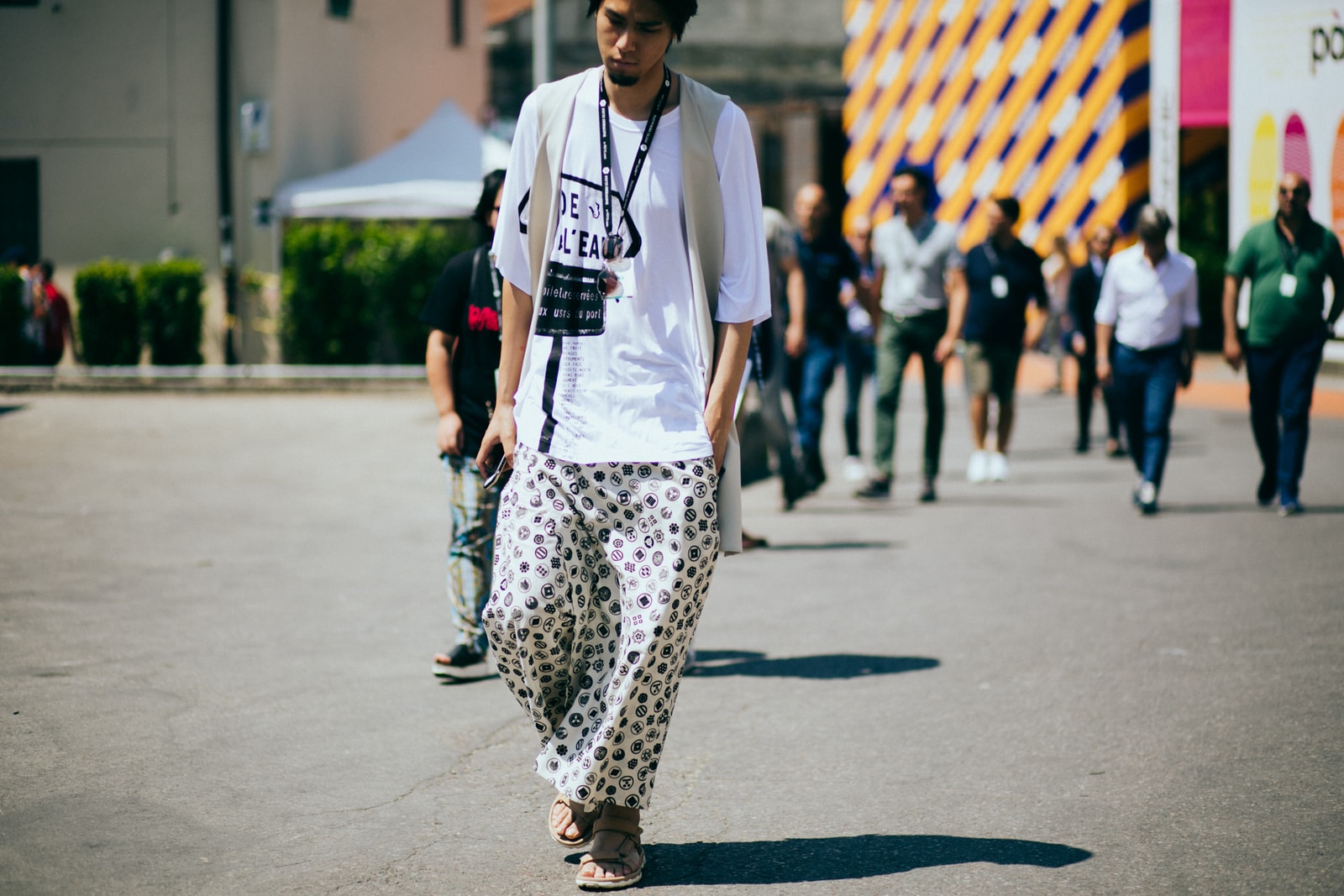 A more intricate take on the theme, this outfit sees an oversized graphic print shirt and baggy pants with micro-graphics. The loose fit and cozy materials reflect contemporary Asian streetwear trends, while a beige, draped vest and a pair of tan sandals add some tonal variety to the look without straying too far from the color scheme.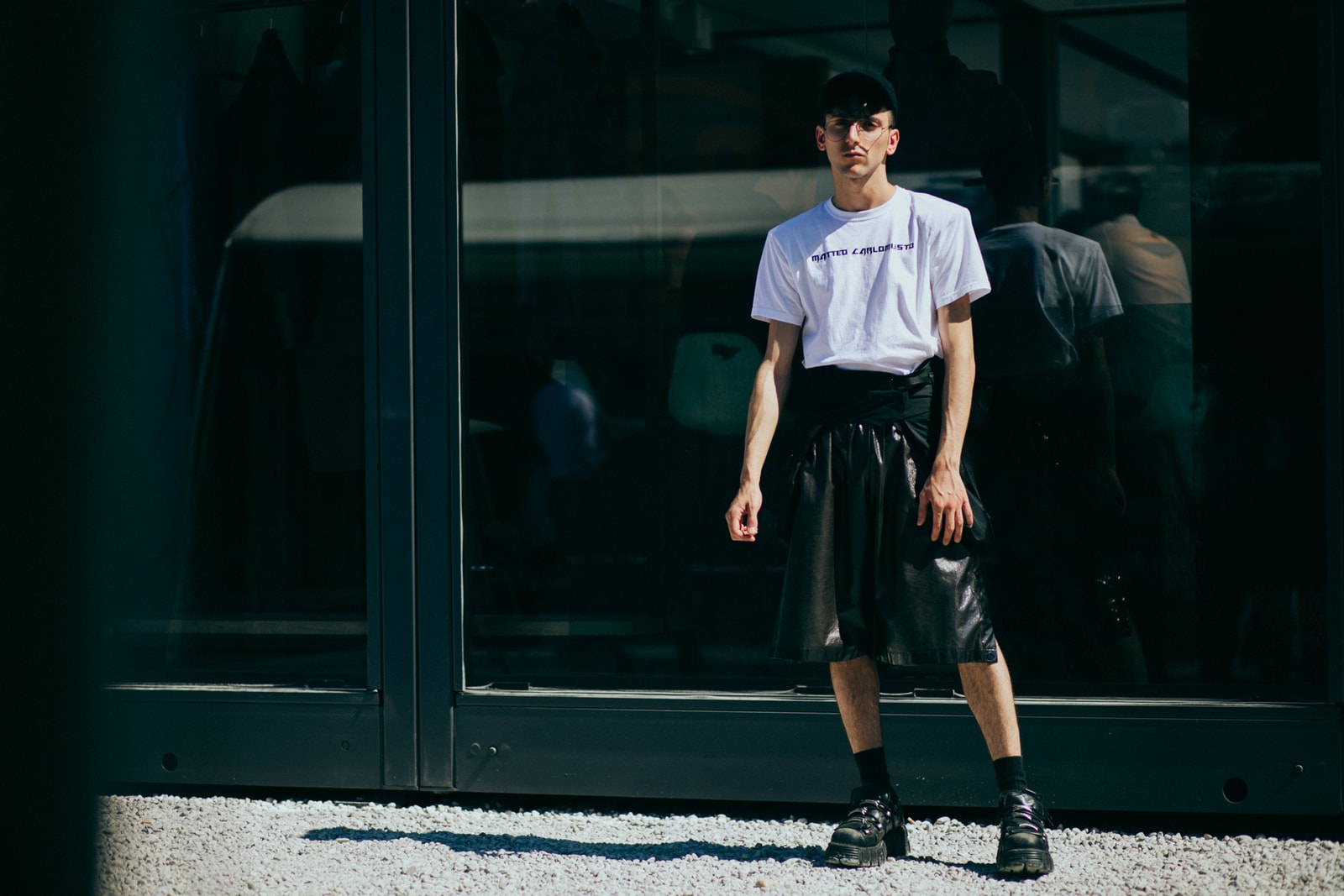 A white tee with a simple text graphic is matched with a pair of black leather shorts that hit at the knee — an example of how material and fit can make a simple outfit stand out. Black leather creepers and crew socks echo the textiles in the clothing, while also balancing out proportions.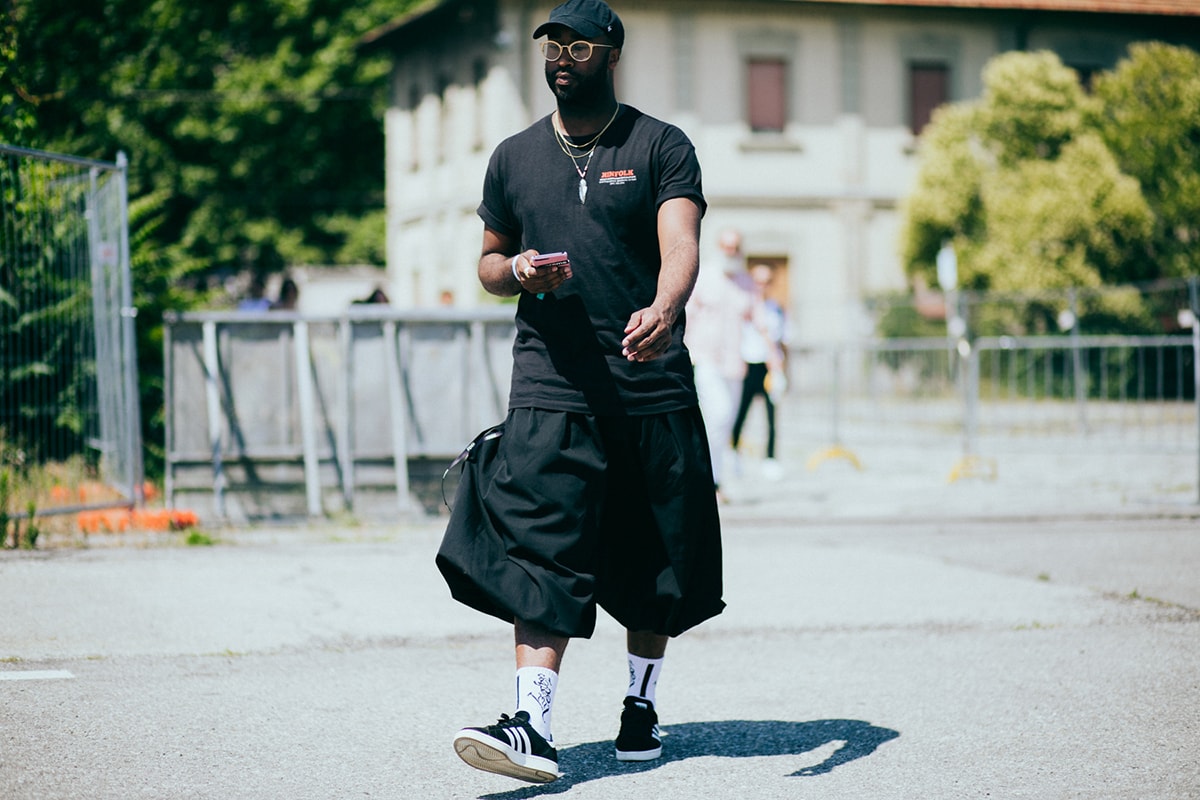 An all-black outfit never gets old because it can adapt to so many silhouettes. This simple look keeps it summer-friendly with a pair of extra-baggy trousers that end at the calf. Simple accessories such as a few chain necklaces and gold-rimmed glasses add a personal touch to the look, while classic adidas Campus sneakers and crew socks provide hints of white for contrast.
1 of 2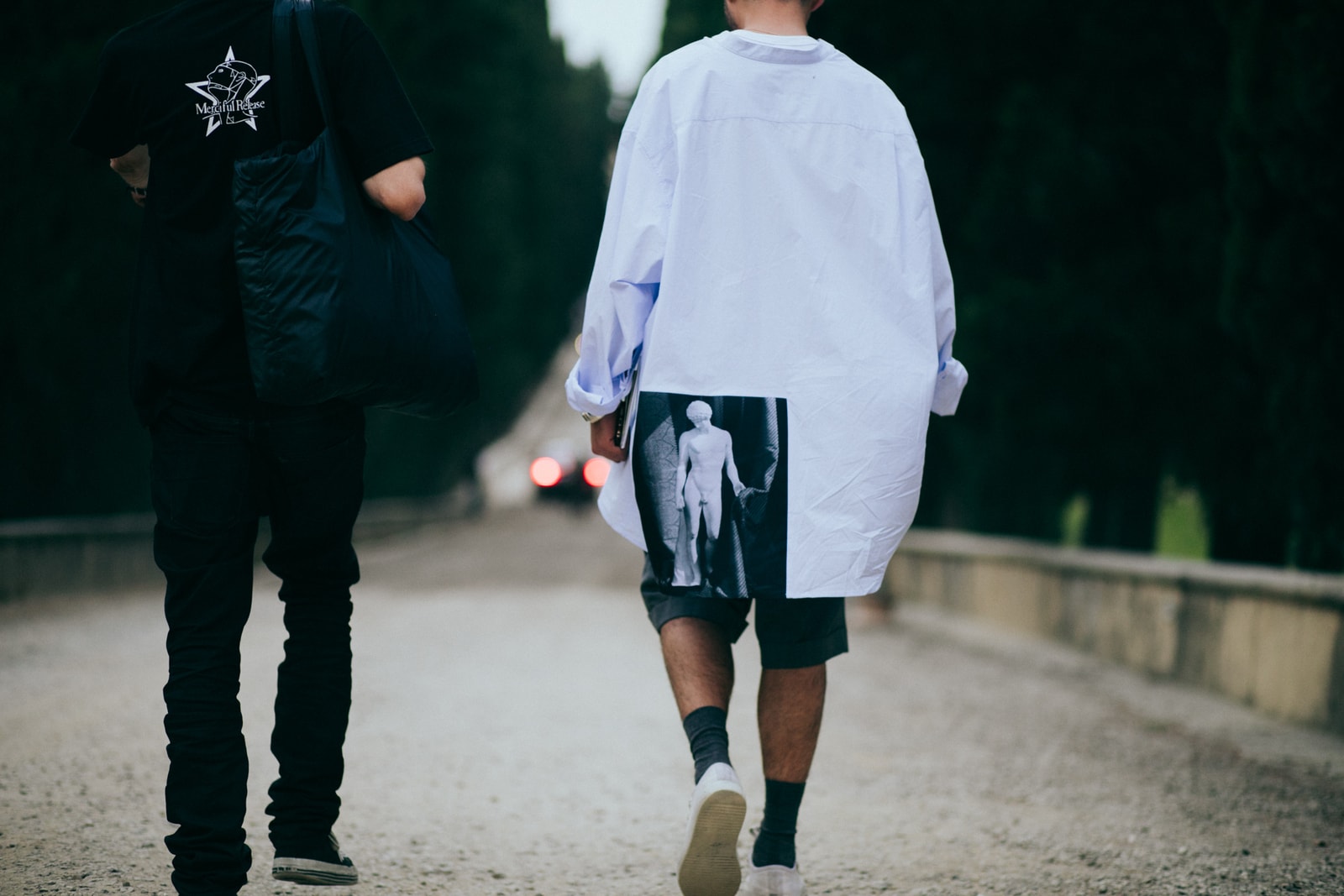 2 of 2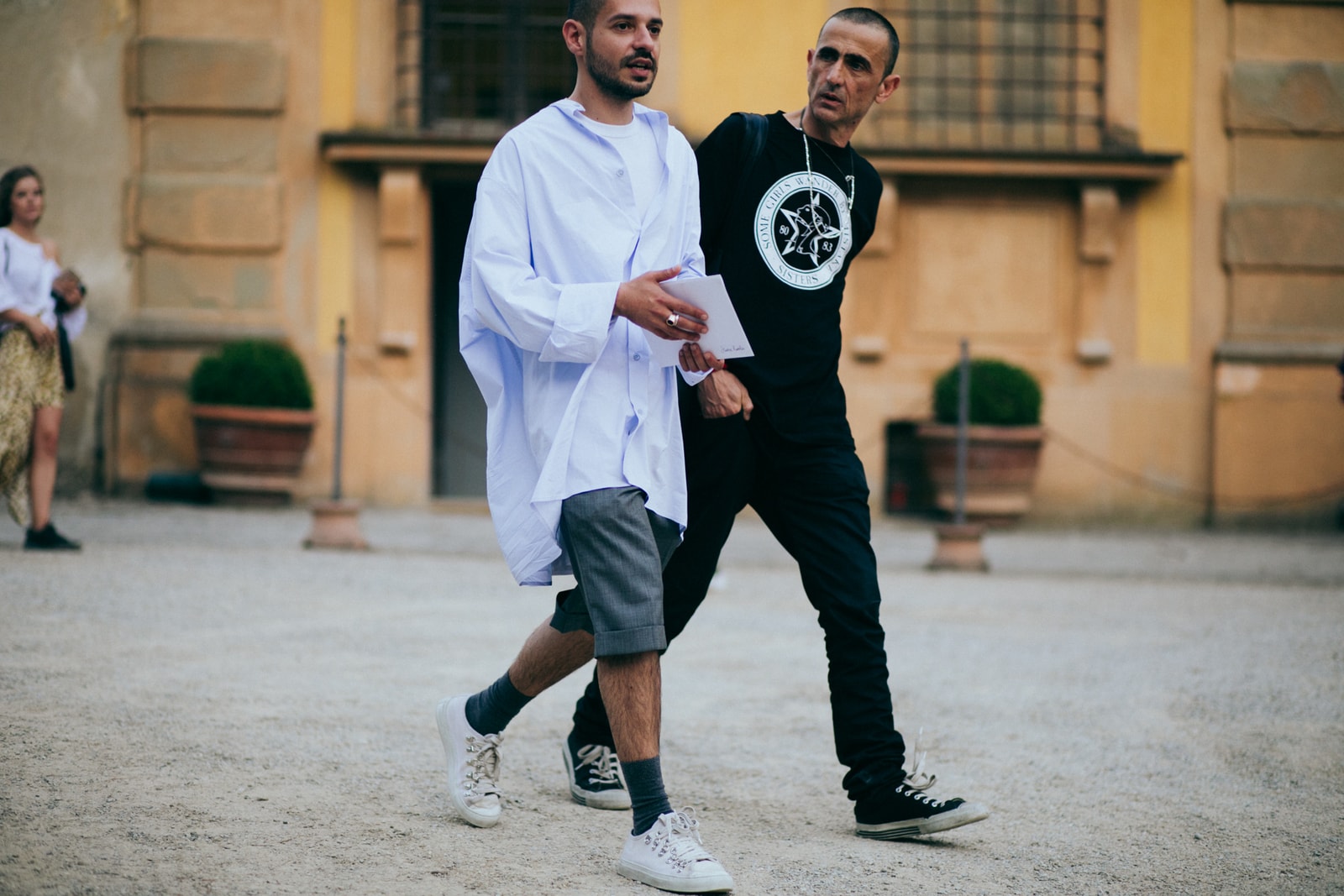 In last week's edition, we commented on how Raf Simons' Spring/Summer 2017 collection re-introduced the graphic-print Oxford shirt to the streetwear scene. This week, we see the actual shirt in its full glory. Not exactly white, but a pale blue, the oversized shirt is left untucked to show off the Renaissance print graphic. The flowy, voluminous shirt is contrasted by a pair of fitted gray shorts, while the white tennis sneaker and crew sock combination makes another appearance in a matching color combo.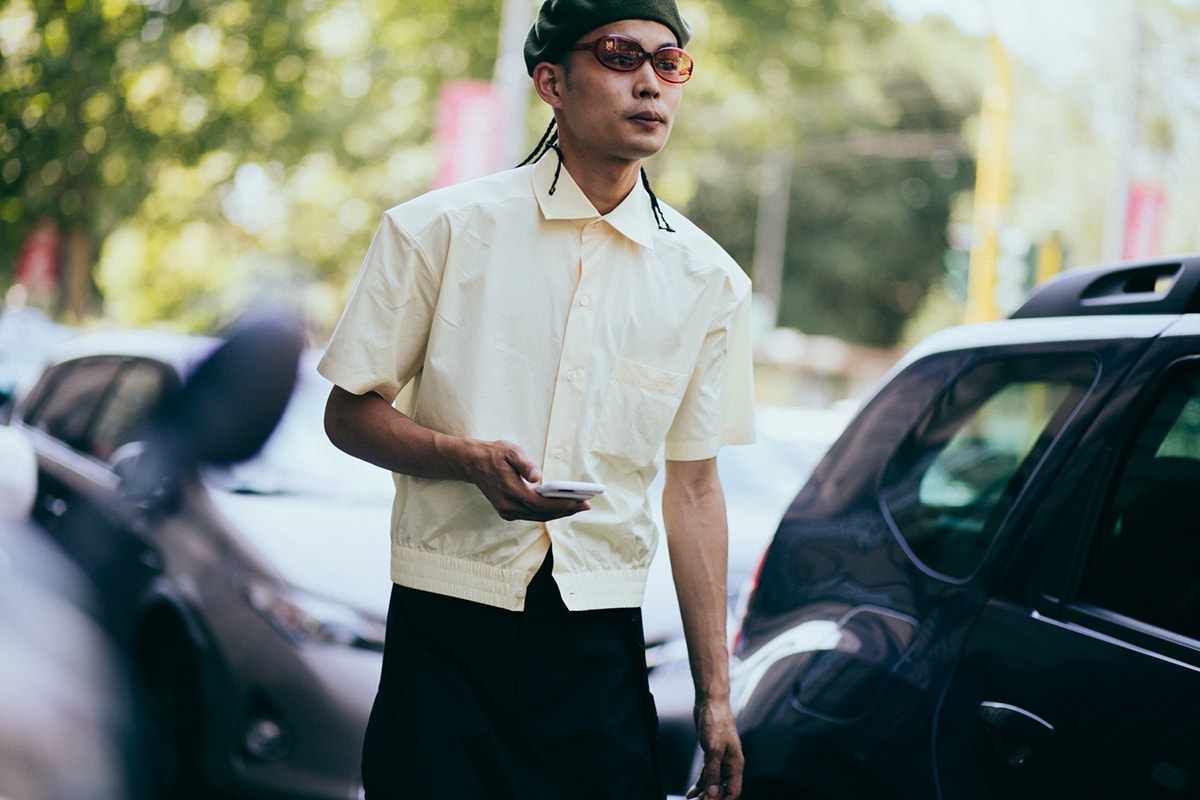 Another instance of an updated take on a workwear-inspired shirt. This short sleeve button down is cropped at the waist and features an elastic hem that brings to mind sportswear elements. A dark olive beret and tinted '90s glasses add an extra dose of retro style, while not straying too far from the black and (off-)white theme.
Runway inspiration MFWM and Pitti:
Dirk Bikkembergs
Les Hommes
MSGM
Neil Barrett
Diesel Black Gold
Ermenegildo Zegna
HUGO by Hugo Boss
Off-White™
High Contrast Overlays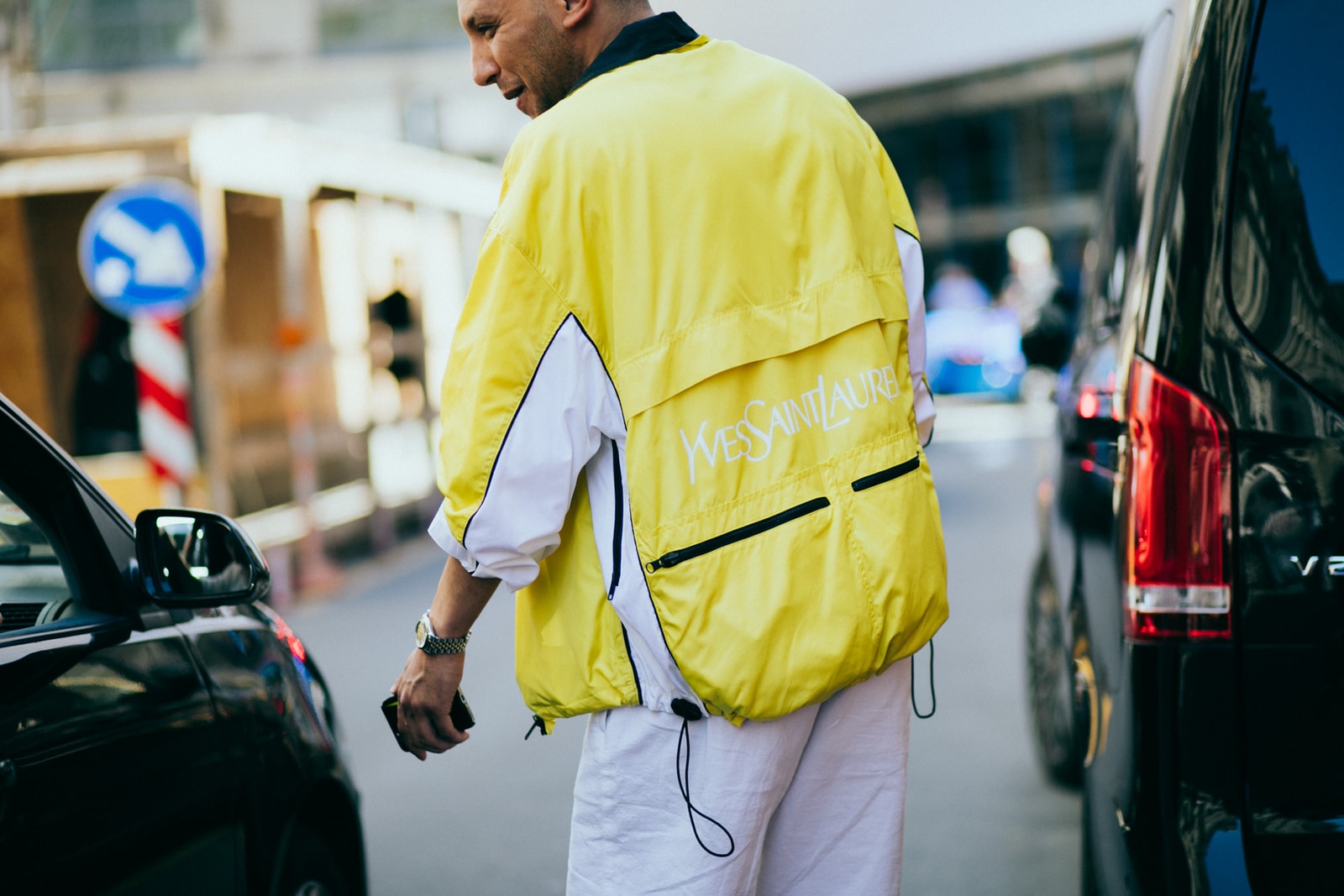 A piece that makes an entire outfit and embodies the high-fashion-meets-streetwear movement. A neon yellow nylon windbreaker features an original Yves Saint Laurent type-font on the back, while white panels, and hits of black at the piping, zippers, collar and drawstring details accentuate the old-school construction of the functional garment.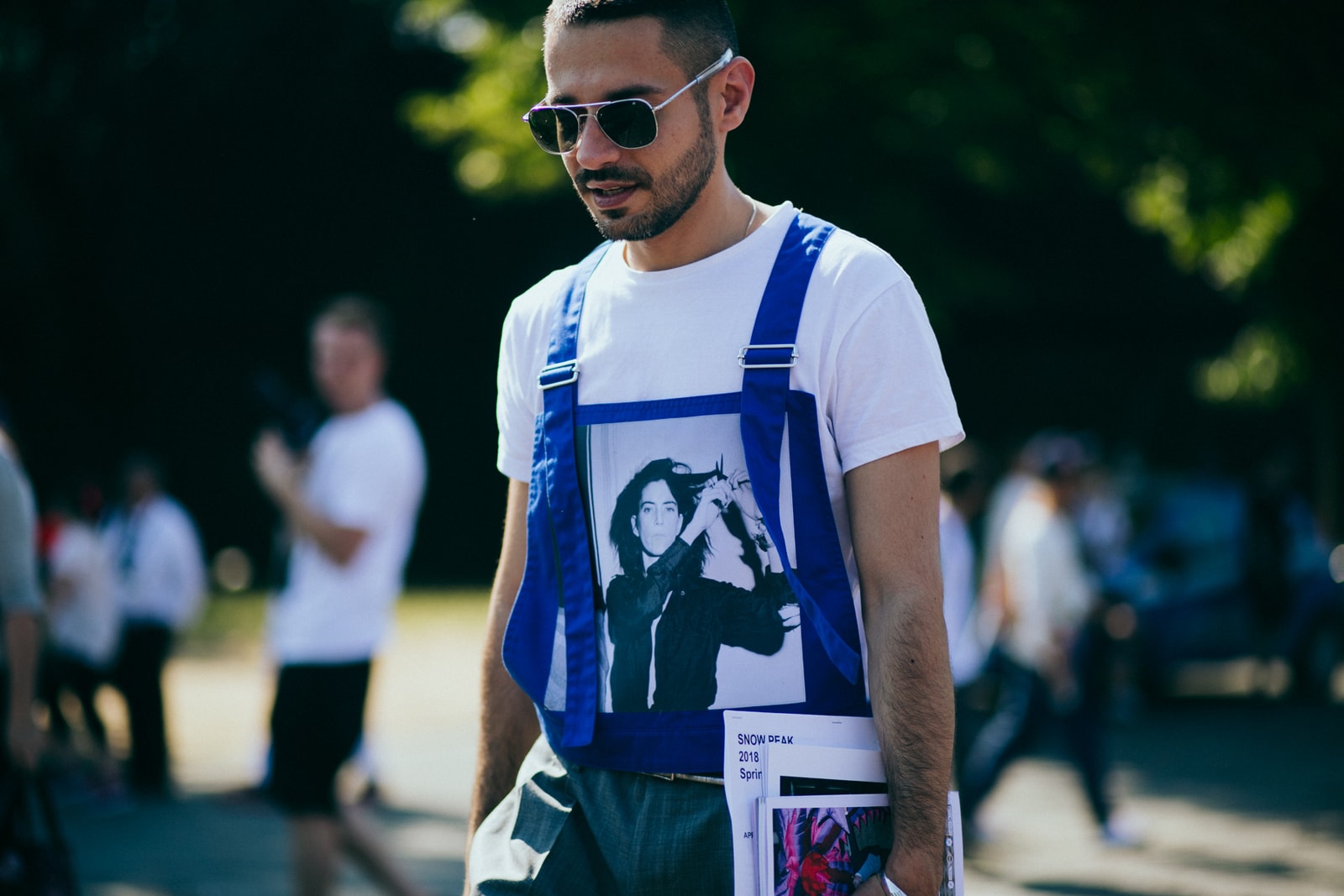 This piece, also from Raf Simons, shows how you can make a bold color-blocking statement without large panels. The apron-inspired top, worn over a simple white tee, features two trending elements in one: canvas utility straps and a graphic print, which happens to be the iconic Patti Smith by Robert Mapplethorpe.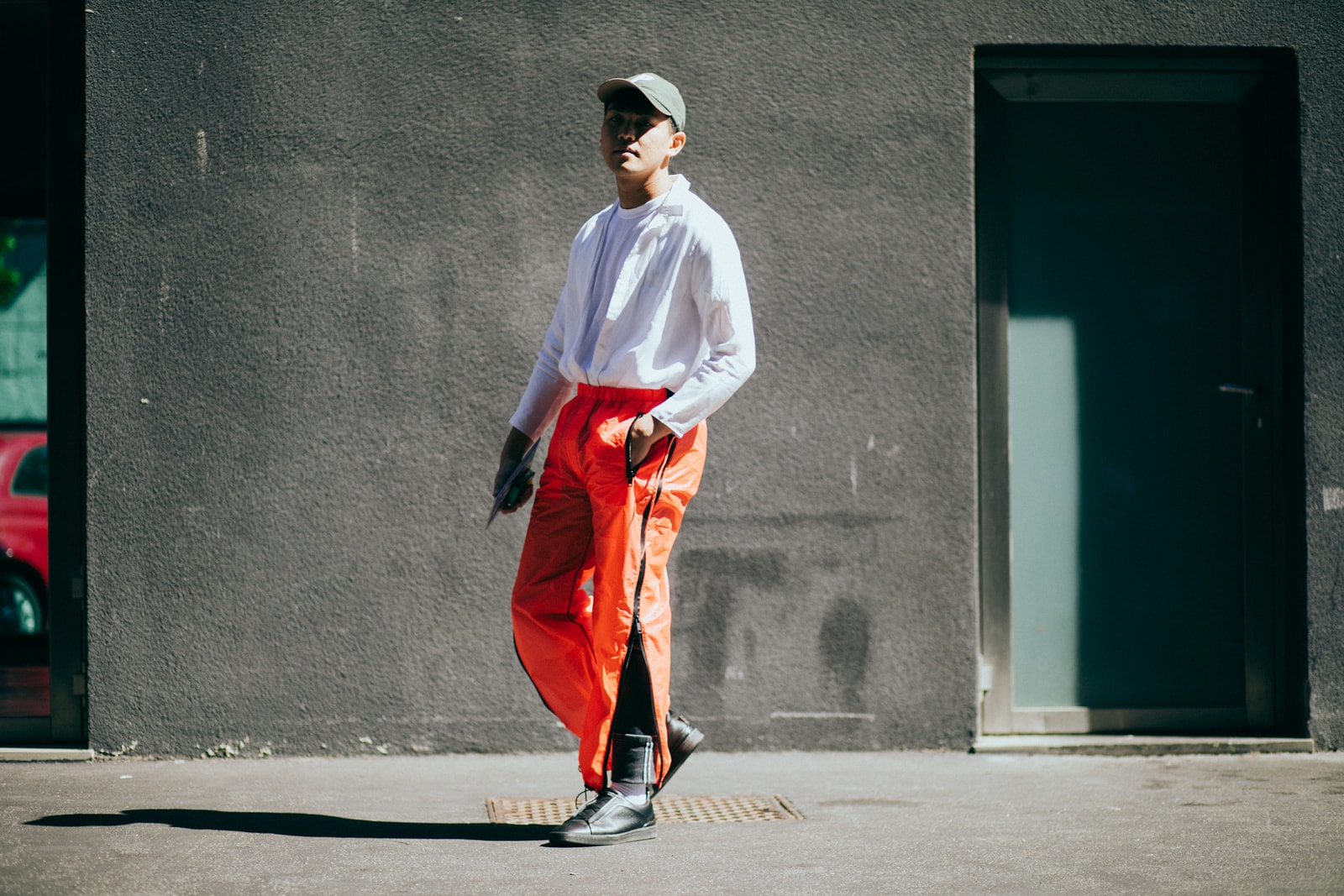 An unbuttoned white shirt tucked into neon orange nylon bottoms is an innovative combination of garments. Utilitarian details such as the elastic waistband zipper opening at the side of the pants contrast the more office-inspired top. Black leather shoes give some weight and added texture to the look.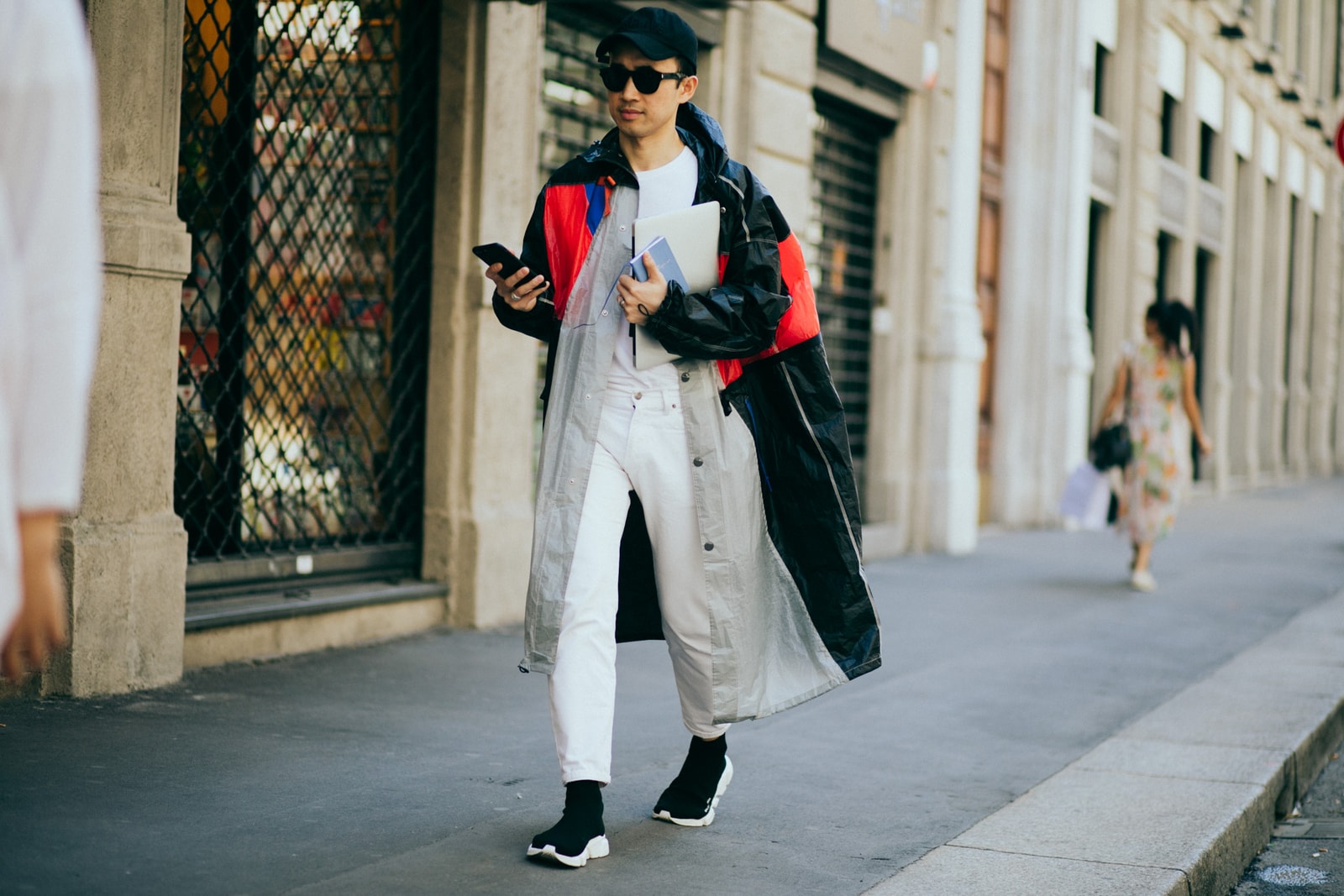 High-contrast panels in translucent and opaque PVC make for a fashionable and functional raincoat. Other than the bold orange block, the rest of the outfit is black and white. A simple white T-shirt and jean combination keeps the base clean and casual, while black Balenciaga Speed Trainers keeps the silhouette slick and modern.
1 of 2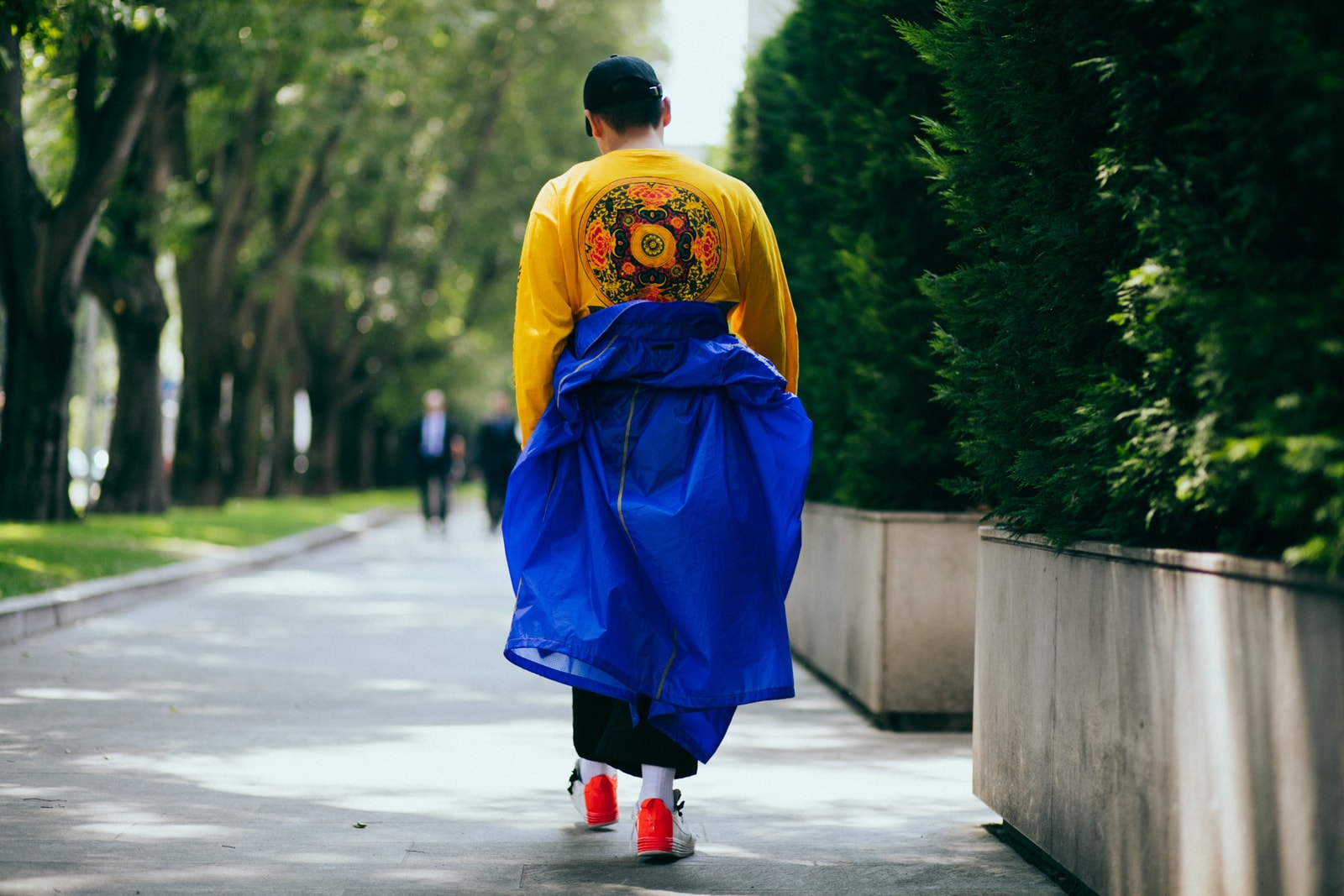 2 of 2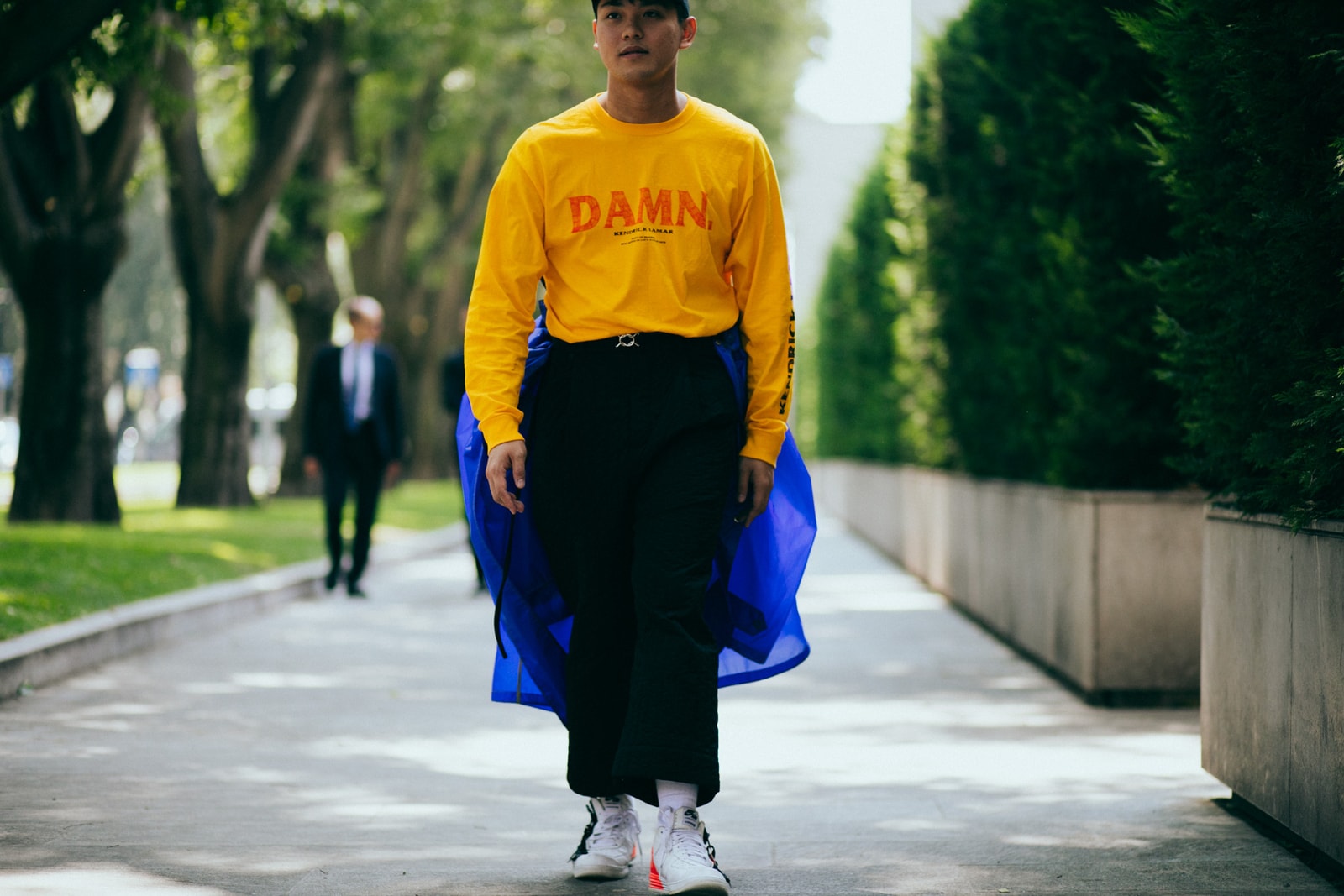 It seems like tying jackets on your back is a new way to wear your clothes. This look shows how you can show off the graphic on the back of your shirt while still making sure your jacket is part of the outfit. By tucking your outerwear piece in the back of your belt, you can reduce the bulkiness of the usual front-tie method but still have the cape-like effect. Yellow and blue make a striking complementary color combo, while black pants and white Nike Lunar Forces (with extra hits of orange and black) keep things neutral elsewhere.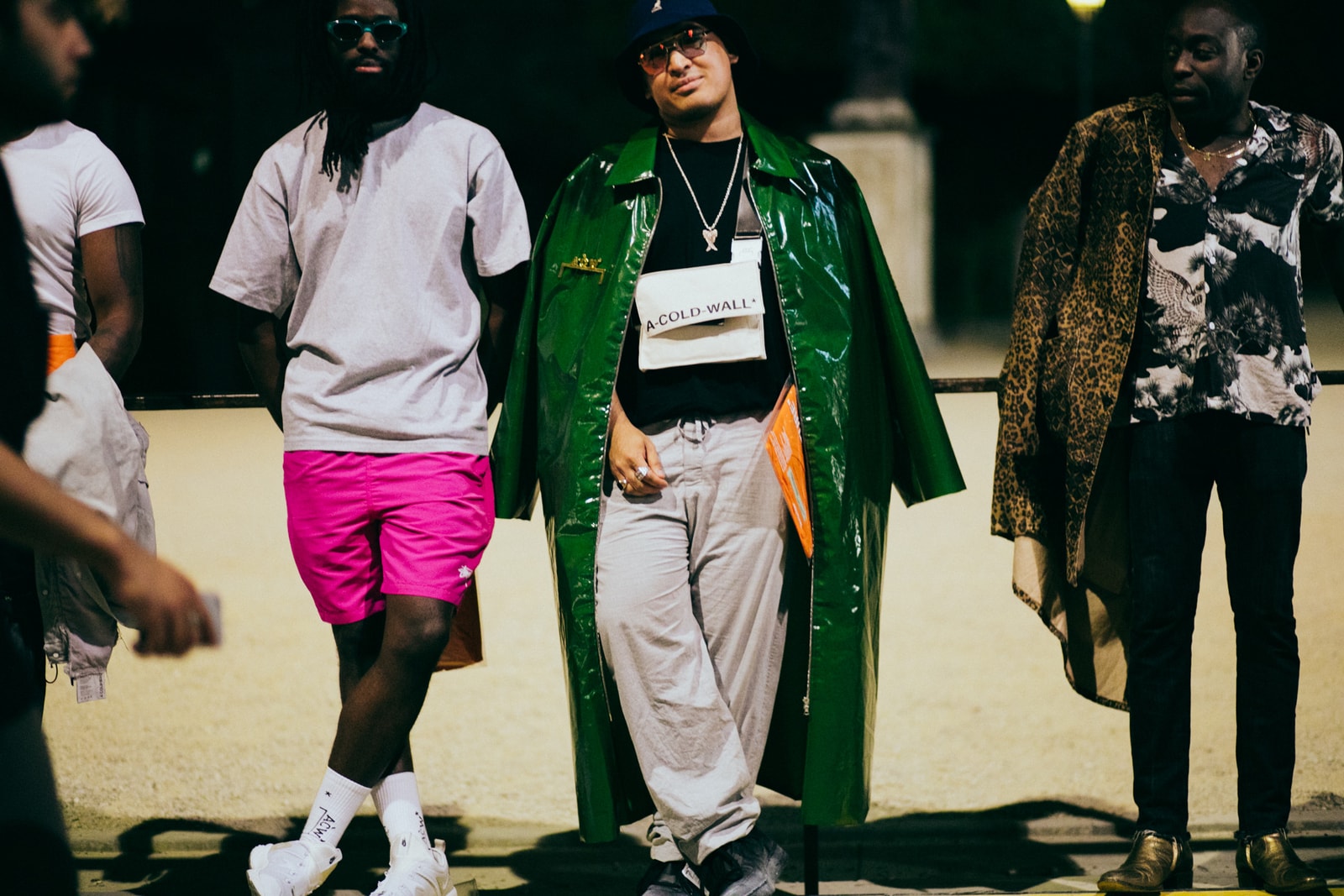 You can amplify a subdued color such as moss-green with a bold material such as patent leather and a complementary color — orange, in this case — via an accessory. The rest of the outfit stays within the neutral zone — black, off-white and taupe — while a flat, cross-body bag from A-COLD-WALL* adds some variety without bulk.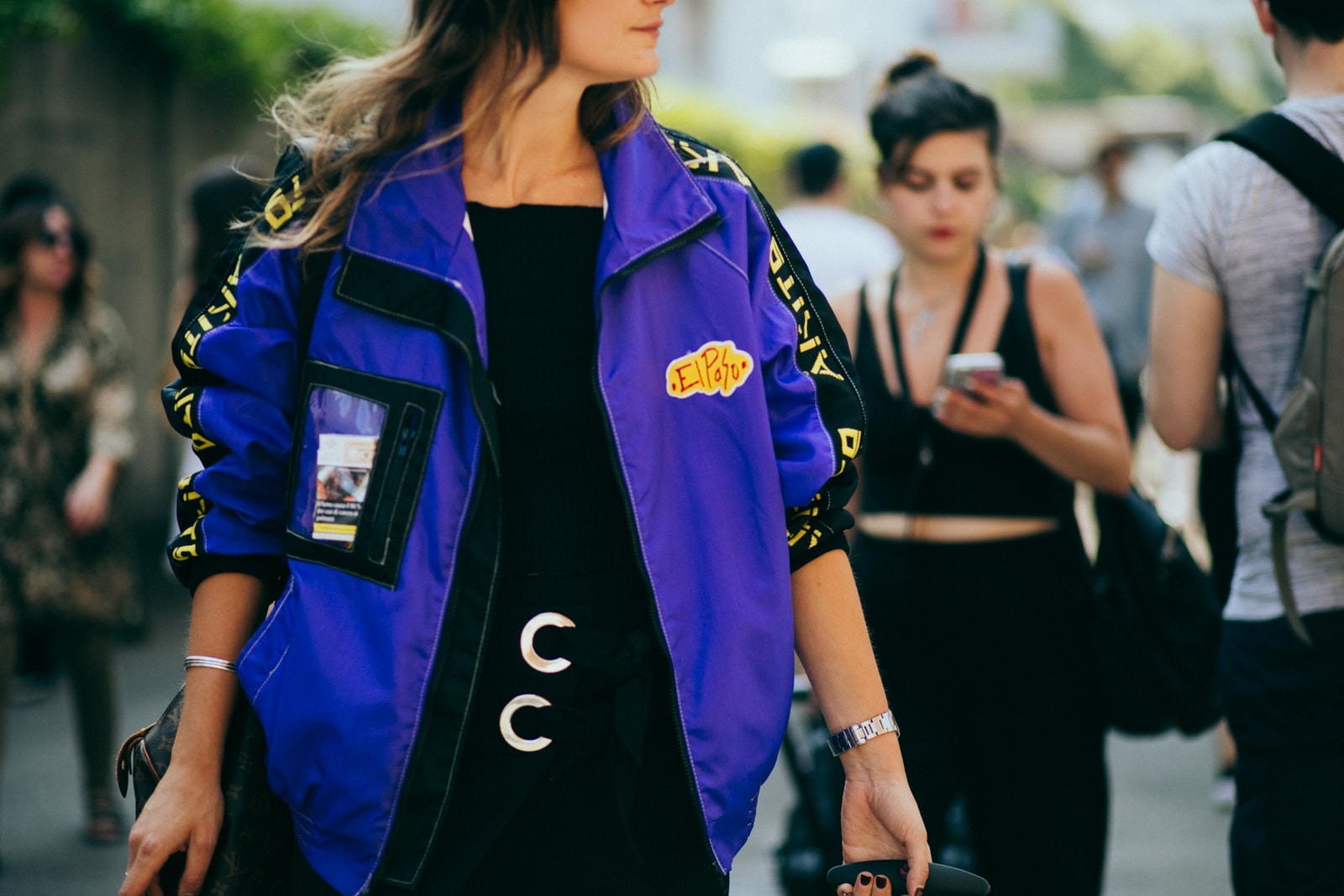 This statement-making jacket boasts a rich purple hue with hits of high-contrast yellow at the chest logo branding and type-font stripes on the sleeves. A clear PVC breast pocket echoes the man-made material theme we're observing, while a black base ensures that the bold colors pop.
Runway inspiration MFWM and Pitti:
Wood Wood
Palm Angels
N°21
Yoshi Kubo
GCDS
Dolce & Gabbana
Emporio Armani
SUNNEI