Best New Tracks: SZA, Big Sean, Drake & Justin Bieber, Bryson Tiller & More
Two highly anticipated returns, hometown homages and a Drake x Bieber 'Trading Places' scenario.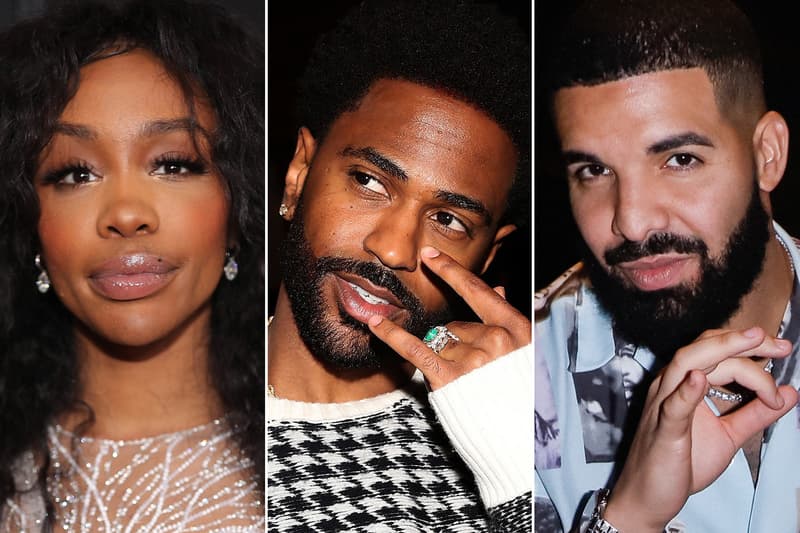 As the week in music comes to a close, HYPEBEAST has rounded up the 10 best projects for the latest installment of Best New Tracks.
This week saw two major returns to the elation of two different fanbases sharing the agony of patiently waiting for years. Just a few weeks ago SZA was openly feuding with Top Dawg Entertainment's Punch for keeping her waiting and guessing as to when her next musical offering, the highly-anticipated follow-up to 2017's Ctrl, would be releasing. Now we have our answer. SZA thanked her label and dropped her self-directed "Hit Different" music video featuring Ty Dolla $ign and production from The Neptunes. Fans can breathe a sigh of relief and wait for her next full-length album to arrive somewhere in the not-too-distant future. Bryson Tiller also made an unexpected return, announcing his own follow-up to his lauded 2017 album, True to Self, with "Inhale." The track channels 90s R&B vibes with the perfect sample to match Tiller's brooding despite dwelling in a neon-lit mansion in the hills. He mentions spending the past few years stressed and "dwelling" on perceived "irrelevance." His new track, despite its name, is a collective exhale and a return to form.
Elsewhere in music, Drake and Justin Bieber traded places due to COVID-19 restrictions. Big Sean made his triumphant return to both his hometown and the music world at large with his latest full-length project Detroit 2. There was also a Boy Better Know reunion and another outstanding music video and single from JPEGMAFIA.
Tap in for the full rundown of HYPEBEAST's latest Best New Tracks below.
---
SZA – "Hit Different" feat. Ty Dolla $ign
SZA season is here. The TDE singer-songwriter also took the directing helm for her new "Hit Different" single and music video featuring Ty Dolla $ign and production by The Neptunes. The release comes just days after SZA voiced her frustration with TDE for not releasing her music in a timely fashion and for keeping her and her fans waiting in the wings with no updates. But that wait was more than worth it. The choreography numbers cut from a junkyard to a sun-lit manger while SZA, soaked in blood, takes a dip into a pool for a cleanse. The track even changes at the 3:20 mark promising there's much more to come.
Listen: Spotify | Apple Music
---
Big Sean – Detroit 2
Big Sean tapped back in with his hometown of Detroit, Michigan for his new full-length project, releasing the spiritual successor to his 2012 mixtape with as star-studded a guest list as you'll see in 2020. It's easy to get lost in the features on the album from interludes by Dave Chappelle, Erykah Badu and Stevie Wonder to verses by Nipsey Hussle, Post Malone and Travis Scott. But Detroit 2 thrives when Sean recognizes his city's continuous talent through numerous generations. He gets Eminem and Sada Baby on the same track. Who would have expected to see Boldy James and Big Sean on a record this year? Sean also reflects on his career arc. Now 32, he's undergone transformations from hash-tag flow proponent to industry veteran, from leaning into his pop sensibilities to returning to his roots. Expect to hear "Lithuania" well into the future, but stay for the full album.
Listen: Spotify | Apple Music
---
DJ Khaled and Drake – "POPSTAR" feat. Justin Bieber
Drake's last music video, "Laugh Now Cry Later," came with more than a few surprises, but he saved the biggest of them all for friend DJ Khaled's "POPSTAR" visual. Stuck in Canada and unable to cross the border thanks to the coronavirus pandemic, an exhausted Drake taps Justin Bieber to lip-sync for him. Perhaps the funniest part of the music video is Drake recognizing that Khaled's "another one" mantra is often a burden to those around the famed producer.
Watch: YouTube
---
Bryson Tiller – "Inhale"
Bryson Tiller is back with his first new single in quite some time and promises of his follow-up to his 2017 project True to Self. "Inhale" takes Tiller's signature sound and enhances it through some chopped-up chipmunk soul vocal samples in the backdrop while 90s R&B is rejuvenated through trap-inspired percussion throughout. It's a working formula that garnered the artist a GRAMMY nomination back in 2017 and 2018. The track was produced by frequent Wiz Khalifa and Brent Faiyaz collaborator Dpat and is coated in nostalgia and longing. There's even a beat-switch around the two-minute mark that meshes perfectly with a Salvador Dalí-inspired backdrop of melting clocks to add to Tiller's inebriated and confused memories showcased in the song.
Listen: Spotify | Apple Music
---
BbyMutha – Muthaland
Chattanooga, Tennessee rapper BbyMutha dropped off her latest album Muthaland earlier last week, and in all likelihood it will be her last. Through 25 ambitious tracks, she brings her singular lyricism and knack for experimentation to each song and skit for a truly unforgettable final farewell. She taps guests like Liv.e, Na-Kel Smith, Zelooperz, Yung Baby Tate, Swerzie and Kindora. The LP is currently only available to stream on Bandcamp, but she did promise that it's headed to streaming services in the near future. "I hope y'all enjoy Muthaland," she tweeted. "I been working on it for years. It coulda came out a long time ago but I'm hard on myself and I'm glad that I am. I'm happy with the way I'm exiting. I'm still gonna make music. Y'all prolly jus will never hear it lol maybe on IG snippets or sumn."
Listen: Bandcamp
---
JPEGMAFIA – "LAST DANCE!"
JPEGMAFIA continues to deliver thoughtful and timely new releases in an unconventional format, surprising fans on somewhat of a weekly basis with either a new documentary episode of his ongoing HTBAR series, a single and/or music video. On "LAST DANCE!", he offers up a triumphant, hard-hitting self-directed visual and single before announcing that he'll be shifting from loosies to a larger full-length project from here on out.
Watch: YouTube
---
Frisco – "Red Card" feat. Skepta, JME, Jammer & Shorty
On the triumphant, chest-pounding "Red Card," veteran rapper Frisco reunites with his Boy Better Know family, tapping Skepta, JME, Jammer and Shorty for solid guest verses delivered rapid-fire to keep pace with up-and-coming Australian producer Trooh Hippi's instrumental. The beat even samples Daughters of Reykjavík's "Fool's Gold." He allows for his contemporaries to share the spotlight first, then finishes up the song with a stellar verse himself. "I jump on a riddim and direspec' it/ F*ck with my mates get sent to the medics/ Diss me online then see me and beg it… Red Card," he raps.
Listen: Spotify | Apple Music
---
Ian Isiah – AUNTIE
Clocking in at almost half an hour, Ian Isiah's AUNTIE is a seven-track release produced by duo Chromeo. It marks the inauguration of the pair's new label and talent incubator, Juliet Records. AUNTIE includes previous releases "Princess Pouty," "Loose Truth" and "N.U.T.S.," and hears Isiah sing his unique truth with a flexible vocal range over Chromeo's signature funk tropes, lush arrangements and soulful live instrumentation. AUNTIEis a new character to his musical lexicon. "It's a part of me growing up, in Brooklyn," he said in a statement. "I was myself before it was a trend to be yourself. And not only myself, but gay and black. That's when the auntie comes out."
Listen: Spotify | Apple Music
---
Lil Durk – "The Voice"
Lil Durk undoubtedly had one of the best bars of Summer 2020 on Drake's "Laugh Now Cry Later" with, "Bring Drake to the hood, surround Drake around Dracs/ Even though I got a case, I'ma do what it take." His surprise appearance on one of the biggest records of the year introduced a wave of new fans to his solid discography including the recently released Just Cause Y'all Waited 2 (Deluxe). On the new single and music video for "The Voice" he proclaims himself "Chicago's JAY-Z." He waxes about his time spent in quarantine and reminisces on surviving shootouts with police. Perhaps the realest part of the track is when he raps about the inability to vote as a felon in the upcoming election.
Listen: Spotify | Apple Music
---
Valee – "Rice"
Chicago rapper Valee premiered his new track "Rice" earlier this week, quickly reminding listeners just how easily he drops one-liners over any instrumental. It's been over a year since he delivered his full-length Runnin' Rich featuring his tiny red dog as the cover art. "In the Pradas, you look nice/ On you white on rice/ I just made some rice/ I just escaped the blue and whites," he raps. Valee followed up the track with "Hike Hitcher" featuring a similar flow, laid-back instrumentals and an overall stream-of-consciousness approach that makes the song fitting for pretty much any situation, even if he's holding a semi-automatic with a Spraygrounds backpack on while riding a toddler tricycle in the video.
Watch: YouTube
---