Paris Saint-Germain's Love Affair with Fashion
PSG is investing in its future, and that means embracing collaboration, from 'HYPEBEAST Magazine' Issue 25.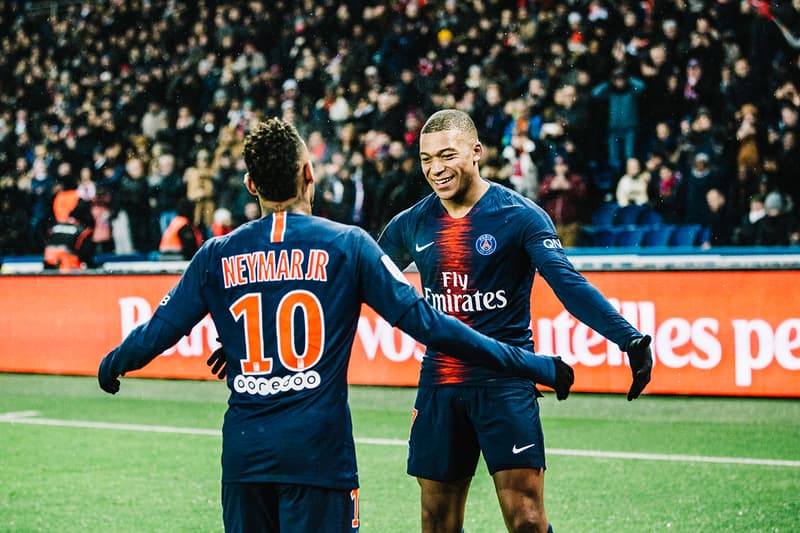 Look: there they are again, you think, as you scroll, scroll, scroll your thumb down your phone and double-tap the screen. Can't move for seeing them at the moment. Making out with each other somewhere nice on your Instagram feed.
Holding hands and chilling on rooftops in the center of nighttime capital cities all over the world on your Pinterest. Tweeting to each other constantly. They're wearing each other's clothes, going 'round each other's houses and making lunch together right in front of your eyes. You wish you were in a relationship like this. All hearts in eyes and hands on waists and scarves around necks. Forget your Love Island duos or your Biebers and Baldwins. At the moment, they're the ultimate "it" couple. A relationship to dream of.
Football and fashion, right now, are getting on extremely well indeed.
It hasn't always been like this, you see. We talk about influencers, and we talk of early adopters and we talk of the youth. Those people with the sharpest eyes, the most nuanced tastes and a collection of phenomenally well-positioned contacts. And these people, up until a few years ago, were almost certainly not wearing a St. Pauli scarf alongside a retro Boca Juniors shirt with a pair of Umbro trackie bottoms. Your dad might have been when all his checkered shirts and jeans were in the wash, but Gully Guy Leo was not. Every dog has its day, though, and football's doggy day in the puppy-eyed high-fashion world came. And quick.
The announcement, in December 2010, that the World Cup 2018 would be held in Russia was deemed as controversial to the West for obvious political reasons. But culturally, it would prove intriguing. The Soviet visual aesthetic would go on to penetrate and dominate the cultural space, and nowhere would it be more cutting than in the fashion world. The planet's gawking eyes would be focused on the World Cup in 2018. On Russia. On football. Football would be trending, and those brands that were most on the ball would be making the most of it. And so, they did.
"You want the old, core fan to wear [the jersey], and then you want the influencer or the fashion model to cut it up and wear it to the nightclub."
Gosha Rubchinskiy dropped capsules of shirts, shorts, and Astroturf trainers covered in Cyrillic text and dripping with football references. Palace reimagined the iconic adidas Tango ball and whacked their logo all over it. Vetements, in 2015, dropped a football scarf and put it on the catwalk. Fashion was not just flirting with football but trying to roll around in the back of the net with it. And, Paris Saint-Germain, with a financial and trusting backbone provided by owners Qatari Sports Investments, were going to explore that to the absolute max.
"As a football club, we've been taking a lot of risks," Guillaume Salmon tells me. Guillaume once led communications for legendary Parisian institution colette, and when it closed down, he opened an agency. Their first client was PSG. And since then, PSG have gone onto collaborate with brands from far outside of the football sphere. They've moved, quite quickly, from football club to cultural crossover specialists. PSG isn't just about sticking the ball in the mixer anymore—it's about identifying trends, chopping up tradition and highlighting the products that the contemporary, young fan is looking for. They've been doing it differently. If other teams have been playing long ball with the upturn in fashion interest toward football, PSG started to play TOTAL FOOTBALL. Pass and move, pass and move, pass and move.
So, in the past few years PSG have made denim jackets with denim legends Levi's. They've created T-shirts, motorcycle helmets and skateboards with the actual Rolling Stones. They've done hoodies with BAPE and sweaters with Hirofumi Kiyonaga. In 2017, they launched a collaboration with Parisian designer Christelle Kocher and her label Koché at Fashion Week in a church in Paris. And in 2018, they announced a creative collaboration with Jordan Brand alongside a bunch of shoes, outerwear, and football kits for the first team. In November of that year, PSG wore the white shirt, stitched with the Jumpman logo, for a game against Liverpool in the Champions League, and your dad sat there shaking his head. "Not in my day would a football team be wearing a shirt with a basketball logo on it." Your younger cousin, however, will have been thrilled. He's probably bought the shirt, stuck Neymar on the back and is practicing his dunks in the backyard as we speak.
A backlash was split down the middle: older fans thought it was weird, younger fans were excited, but football teams have been sponsored by a pick-n-mix bag of strange companies for years. Portsmouth were sponsored by soft toy makers Ty back in 2002, Atlético Madrid got to the Champions League final with literal country Azerbaijan on their shirt in 2014, and this year Everton have Angry Birds on their sleeve. A game about exploding cartoon aviary. Football's weird. It always has been.
The scouting system at PSG is no longer in place to merely find the most talented footballers of the future. It's no longer about heading south to Marseille to find a talented 15-year-old striker or having an extensive group of spotters searching Brazil for the next Thiago Motta to help the side win that elusive Champions League trophy — it's about finding the next big thing of any creative medium. "It's very interesting for us in the long term to be able to find the young talent of tomorrow," Guillaume says, "whether that be in fashion or street art or music or any form of expression." They're doing bits all over the shop.
Fabien Allegre is chief brand diversification Officer at PSG, and he says that the work they did with Christelle Kocher (If you haven't seen the collection, it's insane. Good insane. Think football shirts cut up and stitched back together to make dresses with huge flower prints and quarter-zips. Again, your dad will not like it.) is a statement as far away from muddy park pitches on a Sunday morning as possible. But as part of the brand evolution at PSG, it makes total sense. "We strongly believe that she will be one of the top designers in the next couple of years. That's also part of our mission," Fabien says. "Sure, we'll work with big brands like Nike and Jordan, but the objective for us is to make sure that we can help young talent, and not only French young talent. We want to speak to all community of fans. It's very important that PSG stays right on type for the next trend across all forms of future."
"It's very interesting for us in the long term to be able to find the young talent of tomorrow, whether that be in fashion or street art or music or any form of expression."
The PSG brand is one of the only clubs—Juventus' logo change in 2017 signaled someone at the club had an idea of how football branding was evolving, but they haven't done much since except for a largely disappointing "Icon Collection" featuring some very dodgy denim—to really dip their feet into the waters beyond creating culturally significant fashion collaborations outside of their actual sponsorship.
Doing something with colette or Jordan turns you from football team to fucking boutique. You're watching the club concentrate on throw-ins one minute, and then perfecting the hem on a dress made from a cut-up tracksuit the next. PSG are combining the recent upturn of interest in football fashion with a sledgehammer to everyone else. They're making you think, making you sigh, and making you rap with Santan Dave and AJ Tracey about Thiago Silva. PSG are doing the bloody lot.
Football is evolving rapidly and being consumed in myriad ways. Younger people are becoming less likely to watch a full ninety minutes and more likely to watch thirty-second highlights on Twitter or Snapchat. The impact of the off-pitch on the on-pitch is becoming more prevalent: look at COPA90's David Vujanic getting Bernardo Silva to do his "Have a Nice" celebration. Look at Balotelli celebrating a goal by grabbing a phone off a cameraman, logging into his Instagram, and taking a story of himself and his teammate while still on the pitch. Look at OWNAFC—an app that is inviting fans to own part of a football club and make real-life decisions with real-life consequences for real-life people. They could be enforcing substitutions while sat on their sofa in a pair of mucky pants.
But what about the core fan? That man or woman who's been going down to watch the game for forty years? They've seen the club relegated, seen the stands empty, seen the dross on the pitch boot balls out of play under no pressure. They've tasted the mud and drank the Bovril and smelled the bad breath and the piss from the toilets since before anyone had a mobile phone. They're wearing a shirt that's twenty years old and when they're not at the game they listen to it on the radio. They haven't heard of Snapchat. They are the roots that hold the club down. Where do they fit in?
Fabien tells me that at PSG, they are trying to rub out the individual identity of the fan and always trying to take care of the modern football fans who are driving a real and deep shift away from old voices. "We're always, always guided by innovation to mark the difference and a real vision for the future in line with all the different tribes of fans, consumers… ethics and diversity: that's the Paris Saint-Germain brand project." PSG are taking a more global approach, an approach that removes the need for localities and allows you to be a part of the institution wherever you are in the world.
It's not just about trudging down to the Parc des Princes in the rain anymore—it's about opening club shops in Tokyo, talking to influencers in Seoul, releasing capsule collections in New York at bookshops. "Look at the kits: we have four of them. In theory, there's one for every type of fan," Fabien assures. "You still need to care for that core base. You have to keep that jersey that has history, but with the others you can go a bit wild. You want the old, core fan to wear it, and then you want the influencer or the fashion model to cut it up and wear it to the nightclub."
"As a football club, we've been taking a lot of risks."
Guillaume explains that "the idea is about being able to nourish ourselves from a diverse range of people from a diverse range of backgrounds." Which makes absolute sense. Football is becoming more global in terms of its communications. In terms of the way it is consumed. In terms of the conversations. Many clubs now have social media channels in various languages, the acceleration in the popularity of e-sports is allowing access to clubs from continents all over the world and many kids are now supporting players rather than teams. And, with Kylian Mbappé, PSG have the most exciting one of those in the world.
Mbappé, right now, is world football's poster boy. Making his debut as a 16-year-old for Monaco in 2016, he helped the club win their first Ligue 1 title in 17 years, and then transferred to PSG for €180 million: a world record for a teenager. Nike made him their poster boy for the 2018 World Cup with a corker of a billboard campaign featuring the words "'98 was a great year for French football…Kylian was born." Mbappé stepped out of that poster, whirred his legs on the pitch, and at 19 became the second teenager after Pelé to score in a World Cup final. France won. Mbappé won. PSG won. He wore Nike Mercurial Vapor 360 x Virgil Abloh boots in a domestic cup final. He wore Skepta x Nike Air Max 97 trainers to arrive at the French national side's training base. He's from Paris. He's cool. He's talented. He's intelligent. He's young. He donated his World Cup-winning bonus to a charity. In terms of extending an unnervingly talented phenomenon from the pitch, to the stands, to the streets of your city, to the streets of anyone else's city: Kylian Mbappé is your main man. And if he's rocking up to the Champions League in a PSG x Jordan tracksuit, really, we all want to be rocking up to the Champions League in a PSG x Jordan tracksuit.
It hasn't always been like this—football and fashion. But football, for many football fans, simply is fashion. Trackie bottoms and graphic football scarves and baggy jerseys have been a part of the football community's natural uniform since lazy strikers have been given offsides, and no matter where fashion's current flirtation with fashion heads, it will always exist in footballing communities across the world. It's stitched into the fabric of those who love the game. And PSG, a club that represents one of the most hip, diverse and football-loving cities in the world, is repeatedly finding the back of the net whilst it does.