Best New Tracks: Jaden, Disclosure, Sevdaliza, Thundercat & More
Revisit 10 of our favorite projects to round out your week.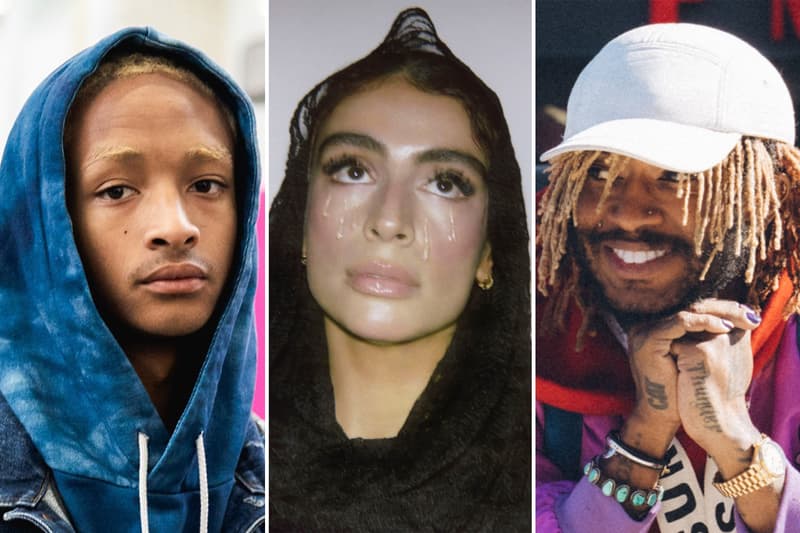 As the week in music comes to a close, HYPEBEAST has rounded up the 10 best projects for the latest installment of Best New Tracks.
After five long years, brothers Guy and Howard Lawrence of Disclosure returned with their new full-length album ENERGY featuring a star-studded cast of featured artists like Syd, Kehlani, Common, Mick Jenkins, Khalid and so many more. It's vibrant, upbeat and long — the duo dubbed it a deluxe edition right out the gate at 20 songs. ENERGY is uplifting too, full of fun moments throughout. Sevdaliza made her own stellar return with her new album Shabrang and Jaden dropped off his Cool Tape Vol. 3 project. Other standouts include new offerings from Thundercat, FKA twigs and Black Thought.
Tap in for the full rundown of HYPEBEAST's latest Best New Tracks below.
---
Jaden – Cool Tape Vol. 3
Jaden billed his latest project, Cool Tape Vol. 3, as a prequel to his hit record SYRE. "It's kind of like, bringing all my fans who have been with me from the beginning since before "Icon," before SYRE, and kind of updating them on to everything that's been happening," he explained. "But with that being said, this is also a prequel before SYRE, so it's kind of taking place when I'm like 15, going all the way up until 17 and like, how did SYRE get trapped in the sunset?" Standouts include Justin Bieber on "Falling For You" and Raury on "Endless Summer." Much of the tape mirrors Jaden's "Cabin Fever" single as reflective and a self-proclaimed love song for quarantine.
Listen: Spotify | Apple Music
---
Disclosure – ENERGY
After five long years, Disclosure has finally dropped off their latest full-length album ENERGY. GRAMMY-nominated producing duo and brothers Guy and Howard Lawrence tap a number of high-profile guests throughout the 20 tracks, presented here as a deluxe version right out of the gate. The album launch also comes with a new music video for "Birthday" featuring Syd and Kehlani. The star-studded tracklist that also taps frequent collaborator Khalid for "Know Your Worth", slowthai and Aminé for "My High" and rising a Malian singer-songwriter Fatoumata Diawara for "Douha (Mali Mali)." ENERGY also features guest verses from Mick Jenkins, Channel Tres, Common and Kelis.
Listen: Spotify | Apple Music
---
Sevdaliza – Shabrang
Sevdaliza has returned with her followup to her last full-length album ISON with the 15-track record Shabrang. The album was produced by the Iranian-dutch artist and her long-time collaborator, Mucky. Together, they push the boundaries of sonic structures to create a style completely unique to her, utilizing elements of alternative electronic, indie, trip-hop, alternative R&B and avant-garde. "This album represents to me that the essence of it all to me is love," Sevdaliza said in a statement. "It is a deep letter to myself, my own bible I have to write in order to trust and believe in life. Trust in myself and my character as a human being."
Listen: Spotify | Apple Music
---
Beyoncé – "Brown Skin Girl"
Beyoncé's Black Is King was one of Summer 2020's biggest musical events. In a world where concerts and live performances have been canceled and everyone's indoors, she managed to captivate with a cinematic and singularly beautiful film. This week Beyoncé dropped off a music video straight from her latest project in "Brown Skin Girl". The visual features appearances from daughter Blue Ivy, Naomi Campbell, Lupita Nyong'o and former bandmate Kelly Rowland. For those that didn't subscribe to Disney+, hopefully Beyoncé continues to release more shorts from Black Is King this way.
Watch: YouTube
---
Thundercat – "Dragonball Durag" Remix feat. Smino and Guapdad 4000
It's been hard to forget Thundercat's original music video for his "Dragonball Durag" single in which he searches for lo-fi love in a visual directed by friend and collaborator Zack Fox. The "Dragonball Durag" Remix is almost as memorable thanks to stellar guest spots from Guapdad 4000 and Smino. Smino expertly half-raps half-croons about love, being introduced and subsequently apologetic to his new flame's mother and more. Guapdad raps about his GRAMMY-ensemble (in which he wore a durag so long that it dragged on the floor).
Listen: Spotify | Apple Music
---
FKA twigs – "Sad Day"
FKA twigs and acclaimed filmmaker Hiro Murai of Atlanta and Barry fame just released the new music video to "Sad Day", but it's more of a short film years in the making. FKA twigs revealed that she participated in around three years of swordsmanship training in the art of Wushu with the Master Wu of the Shaolin Wushu Centre. "Everything I've previously done with my body, all the training, and dancing, has led to this point," she said of the new visual. Hiro also continues to show off his love of diners as settings for his videos (see "Sweatpants" and "Sober"). Outside of a few practical effects shots, twigs' ability to wield a sword is fully real, and completely badass.
Watch: YouTube
---
Rich Brian – 1999
At the top of the week Rich Brian delivered his latest project, 1999. "This project has a song for everyone," the artist said. "One of my favorites is "DOA", which is basically Dead On Arrival for short. It sounds morbid but it's about competing with someone who has zero chance against you in the first place. The melodies really remind me of Gorillaz, who I love. It's a song that I always play whenever I wanna feel better about my singing, and myself in general." As his sound continues to grow and drift into more experimental territory, Rich Brian has fully embraced surrealism in his visuals and a genre-less approach to his sound. It's been a fun ride to both watch and listen to and 1999 is no different.
Listen: Spotify | Apple Music
---
Tame Impala "Soundsystem" NPR Tiny Desk (Home) Performance
Tame Impala returns with a new live performance via NPR Tiny Desk. There isn't much else to say besides, "Go watch it." During the stripped back performance, Kevin Parker shows off his creative process while he's backed by other musicians doing their best to stay true to the recorded version of The Slow Rush, with some slight improvisation. Kevin announce that he'd like to call this particular three man crew "Tame Impala Soundsystem". We'd love to see more of this set-up in the future.
Watch: YouTube
---
Conway The Machine – "Fear of God" feat. Dej Loaf
Conway The Machine will drop his third album of the year, From King to a GOD, on September 11. After premiering "Lemon" with a standout verse from a resurgent Method Man, the Griselda emcee dropped off "Fear of God" with a surprising guest spot from Detroit veteran Dej Loaf. Her auto-tuned vocals add the perfect contrast on the chorus to Conway's bars about his personal legacy, laying the foundation of his crew's success and ultimately continues his 2020 hot-streak.
Listen: Spotify | Apple Music
---
Black Thought – "Good Morning" feat. Pusha T, Killer Mike and Swizz Beatz
Black Thought is about to drop off his latest solo effort Streams of Thought, Vol. 3: Cain & Abel having previewed the project through his first single and short film "Thought vs. Everybody". He returned this week with the hard-hitting "Good Morning", a track that echoes the current social unrest and calls to combat America's systemic racism. He taps veterans Pusha T, Killer Mike and Swizz Beatz to join him. It's the right song at the right time. Stay tuned for the full project in the near future.
Listen: Spotify | Apple Music
---