Best New Tracks: Kid Cudi, James Blake, SahBabii, Juice WRLD & More
High-profile collaborations, a powerful posthumous album and more in this week's rundown.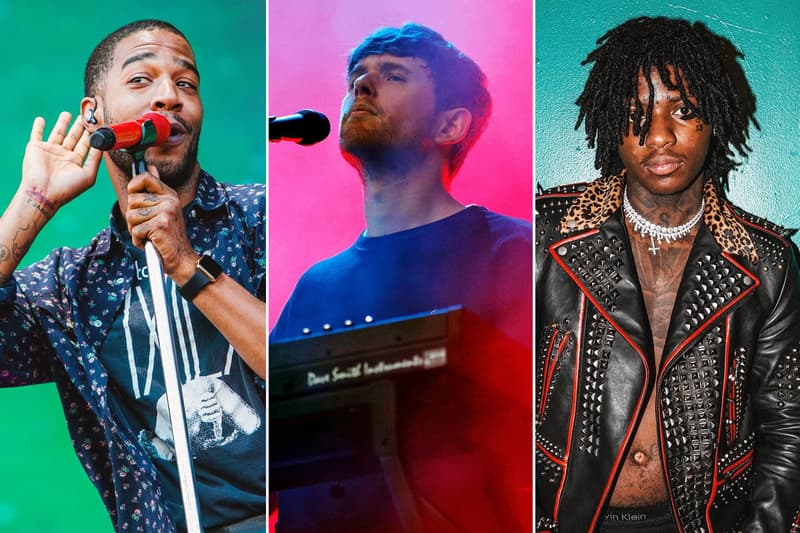 As the week in music comes to a close, HYPEBEAST has rounded up the 10 best projects for the latest installment of Best New Tracks.
This week saw a major return thanks to Kid Cudi's surprise announcement of a new track with Eminem titled "The Adventures Of Moon Man & Slim Shady". The energetic single is the second solo release from Cudi's upcoming Entergalactic full-length following "Leader of the Delinquents". It's also the first time that the two superstars have connected on a track. The chemistry was real.
Juice WRLD's estate delivered the late sueprstar's posthumous album Legends Never Die. The 21-track effort featured Trippie Redd, Halsey, Polo G and The Kid Laroi. The emotional offering championed the piano-driven "Fighting Demons" and a memorable collaboration with Marshmello. It's a reminder of just how much of a talent the world lost when Juice passed away last year.
Elsewhere in music, Atlanta rapper SahBabii dropped his new project Barnacles, a hypnotic and melodic sonic adventure that's as surprising as it is a must-listen. His one-liners and beat selection is more than pristine. James Blake premiered his pensive and ephemeral "Are You Even Real" and Khruangbin covered a Beck song to celebrate his 50th birthday.
Tap in for the full rundown of HYPEBEAST's latest Best New Tracks below.
---
Kid Cudi – "The Adventures Of Moon Man & Slim Shady" feat. Eminem
Kid Cudi and Eminem come from remarkably different spheres of the hip-hop galaxy and both made major impacts on different eras and listeners. Still, their respective statures in the game makes it a bit surprising that their paths haven't crossed sooner. On "The Adventures Of Moon Man & Slim Shady", Cudi taps J Gramm, Dot Da Genius and even Eminem for production duties. He drops a stream-of-consciousness verse while Eminem takes shots at Drew Brees and references timely happenings like the fights against social injustice and COVID-19. Get ready for Entergalactic, coming soon.
Listen: Spotify | Apple Music
---
Juice WRLD – Legends Never Die
It's only been eight months since Juice WRLD's tragic passing. His estate sorted through 2000 unreleased songs in different stages of completion to release Legends Never Die. There are some star-studded appearances on the 21-track project, but the runtime ensures that the focus remains on the late Chicago musician and his otherworldly ear for melody and emotional songwriting. Juice WRLD's new posthumous album ensures that his legacy will carry on well into the future.
Listen: Spotify | Apple Music
---
SahBabii – Barnacles
Atlanta rapper SahBabii dropped his latest project Barnacles and it may be his most effortless, cohesive and addicting offering to date. His one-liners are some of the best of the year. It's endlessly quotable and the instrumentation borders on psychedelic and dream-like allowing him to float over the instrumentals with relative ease. Don't sleep. Stream below.
Listen: Spotify | Apple Music
---
James Blake – "Are You Even Real"
James Blake has stayed incredibly busy over the coronavirus quarantine, releasing a number of covers inspired by suggestions by his fans on social media and teaming up with rising musician Mustafa. On his latest single "Are You Even Real", Blake transporting listeners to an ephemeral dream-like state where he searches for meaning, connection and wades through the waters of new love and its staying power. When paired with "You're Too Precious", it makes for a listening session with all of the feels.
Listen: Spotify | Apple Music
---
Dinner Party – Dinner Party
Introducing Dinner Party by Dinner Party. The new supergroup consisting of Terrace Martin, Robert Glasper, Kamasi Washington and 9th Wonder flawlessly meld jazz, soul, funk, R&B and hip-hop for a listening experience full of joy. "Freeze Tag" addresses the current Black Lives Matter protests and racial inequality with adept structure and songwriting. The quartet are some of the most accomplished musicians in their respective lanes, so it shouldn't come as a surprise that Dinner Party is expertly crafted and endlessly smooth. The full ride will put a smile on your face.
Listen: Spotify | Apple Music
---
Aminé – "Compensating" feat. Young Thug
After his Rihanna tribute, Aminé tapped Young Thug for his new single "Compensating" from his upcoming full-length studio album Limbo. "The only time I've ever met Thug before that was I was in Europe and he walked up to me at some festival, I think where it was way out west or some, and he walked up to me and called me a young legend and I never forgot that moment," Aminé told Apple music. What resulted was a fun, upbeat collaboration that's as summer-ready as any of the best releases this week.
Listen: Spotify | Apple Music
---
Liv.e – "I Been Livin"
Singer-songwriter Liv.e has a new project on the way. Her Couldn't Wait To Tell You… full-length is slated to arrive July 31 via In Real Life Music. "I Been Livin", produced by mejiwahn and Daoud, portrays a weariness reflected in the lyrics, which contemplate our current times. The visuals above also showcase the artist's Los Angeles-based surroundings behind lo-fi VHS visuals crafted by flatspot_. Liv.e's aesthetic choices in the video department are just as on-point as the music. Check out more of her earlier releases here.
Listen: Spotify | Apple Music
---
Benny The Butcher – "Dear Or No Deal"
Benny The Butcher has been making the rounds in the hip-hop game as one of its most coveted features and for good reason. This week he finally dropped his first solo track of the year with "Deal Or No Deal", taking things back to the minimalist, gritty Griselda basics thanks to an instrumental by Daringer. "I'm gettin' too specific with what I do in kitchens, my shit too offensive/ I make coke rap sound like a new invention," he raps. He's not wrong. His raps about carrying weight carry weight. "A brick of yay and a genie, that's what it takes just to be me."
Listen: Spotify | Apple Music
---
Khruangbin – "No Distraction" Remix
Houston, Texas trio Khruangbin is fresh off of the release of their new project Mordechai. This week they took the time to honor genre-less legend Beck for his 50th birthday (yes, Beck is already 50). Khruangbin turns Beck's 2017 track "No Distractions" into a dreamy, echoing soundscape that you'll want to return to time and time again. It was originally set to release as an exclusive 7" vinyl on Record Store Day, but then coronavirus happened. Luckily you'll be able to listen for free and on repeat all weekend. We encourage you to do just that.
Listen: YouTube
---
Black Thought – "Thought Vs Everybody"
Black Thought is one of the best rappers to ever do it. His ability to flow effortlessly though multi-syllabic bars while weaving together vivid pictures through storytelling has been well-documented as a member of The Legendary Roots Crew. Now he's going to show once again how he can hold his own away from the Philadelphia collective with his upcoming Streams of Thought, Vol. 3: Cane and Abel project, due out later this month. "Thought Vs Everybody" finds the veteran wax poetic on America's crumbling empire. It would be depressing if his skillset wasn't so jaw-dropping. He kicks off the song with a thesis statement: "The truth is inconvenient as non-believers/ Fearing DACA dreamers instead of FEMA." Black Thought is the truth. Stay tuned for more.
Listen: Spotify | Apple Music