Best New Tracks: Noname, Anderson .Paak, Teyana Taylor & More
Also featuring a Channel Tres remix, Toro y Moi collaboration and Amnesia Scanner's latest.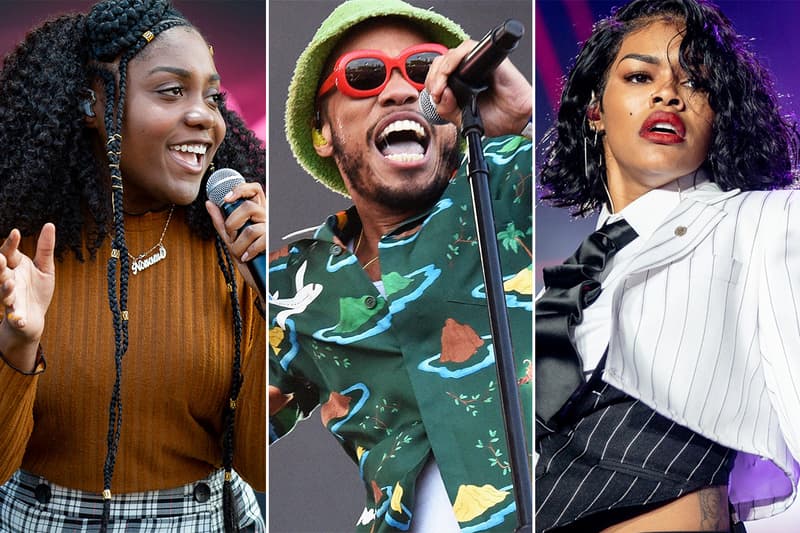 As the week in music comes to a close, HYPEBEAST has rounded up the 10 best projects for the latest installment of Best New Tracks.
This week was highlighted by Noname and J .Cole's surprising back-and-forth with each rapper calling the other out for either staying too quiet on current social justice initiatives or defending their choice to speak up. Cole's first song of the year, "Snow On Tha Bluff", was directed at some comments Noname said earlier this year (you can read about the entire saga with updates here). Then Noname responded with the Madlib-produced "Song 33". She didn't hold back, and this week in music was better because of it.
Elsewhere in the music world, after multiple delays and pushbacks, Teyana Taylor released her new album simply titled The Album with a handful of notable features like Erykah Badu and Lauryn Hill. Anderson .Paak tapped a number of his high-profile friends to feature in his new song "Lockdown" and stand in solidarity with the Black Lives Matter movement.
Tap in for the full rundown of HYPEBEAST's latest Best New Tracks below.
---
Noname – "Song 33"
Where to begin? Noname's surprise feud with J .Cole stole the music headlines this week following the release of the Dreamville rapper's first record of the year, "Snow On Tha Bluff". Many assumed that he was taking shots at Noname during his non-stop verse and what followed was widespread criticism by musicians the world over. Open Mike Eagle may have summaries it best, "If Cole has a problem with Noname there is no way in the whole wide world that he's dumb enough to send bars at her. That would be dumb on 5 to 7 different levels." Noname responded with the Madlib-produced "Song 33" and even tweeted out the lyrics for everyone to read. While Cole did tell his own followers to follow Noname and her leadership on social justice initiatives, she took issue with his focus on her and not the current state of the world. "When his people in trees, when George was begging for his mother saying he couldn't breathe/you thought to write about me?"
Listen: Spotify | Apple Music
---
Anderson .Paak – "Lockdown"
Anderson .Paak is the latest artist to join in on the chorus of musicians standing in solidarity with the Black Lives Matter movement, releasing his new single "Lockdown". He taps friends SiR, Dominic Fike, Jay Rock, Syd, Dumbfoundead, and Andra Day. "Cause they throw away black lives like paper towels/Plus unemployment rate, what, forty million now?/Killed a man in broad day, might never see a trial/We just wanna break chains like slaves in the South," he raps.
Listen: Spotify | Apple Music
---
Teyana Taylor – The Album
Teyana Taylor shared her third studio LP titled simply The Album. The project follows nearly a year of teasing, with lead single "Morning" featuring Kehlani releasing on November 1, 2019. She's since released "We Got Love" featuring Lauryn Hill, as well as "Wake Up Love" featuring husband Iman Shumpert. "I've always been about us being celebrated and celebrating my culture and my people. For everything to happen, from my album getting delayed and it falls perfectly on Juneteenth, yes, it's a celebration," Teyana said in a statement. Plus, who else could get both Lauryn Hill and Erykah Badu on their project?
Listen: Spotify | Apple Music
---
Ric Wilson – "Fight Like Ida B & Marsha P"
Chicago-based musician Ric Wilson returns with a new song surrounding the current Black Lives Matter movement and wave of nationwide protests with "Fight Like Ida B & Marsha P", a powerful homage to civl rights leaders Ida B. Wells and Marsha P. Johnson. The single artwork showcases Ric speaking at a protest in Chicago late last week. The release comes a month after his collaborative EP with Terrace Martin, They Call Me Disco. ""I hear people quoting a lot of Black men who were freedom fighters, which is valid. But when I think about next level courage to ball your fist up and look bigotry, racism, sexism, homophobia, and transphobia right in the eye and fight against it, I feel like Black women like Ida B. Wells and non-binary folks like Marsha P. Johnson are of the bravest of us all," he said while releasing the song.
Listen: Spotify | Apple Music
---
Khruangbin – "Pelota"
Houston, Texas's own psychedelic funk trio Khruangbin, comprised of Laura Lee Ochoa, Mark Speer and Donald "DJ" Johnson, have been putting out some truly solid singles over the past handful of months following their stellar collaborative EP with Leon Bridges titled Texas Sun. Today they return with their lates track, "Pelota" a track sung entirely in Spanish and featuring a bouncy animated visual directed by ​Hugo Rodrigues Rodriguez. A press statement boasts, "Musically, the band's ever-restless ear saw them pulling reference points from Pakistan, Korea, and West Africa, incorporating strains of Indian chanting boxes and Congolese syncopated guitar."
Listen: Spotify | Apple Music
---
Soccer Mommy – "Indie Rokkers"
22-year-old singer-songwriter Sophie Allison, frequently known as Soccer Mommy, launched her Soccer Mommy & Friends Singles Series to raise money for COVID-19 and Black Lives Matter-related organizations. This week she returned with her own rendition of MGMT's "Indie Rokkers" while group member Gentle Dom, also known as Andrew VanWyngarden, remixes Soccer Mommy's "circle the drain." She said, "I love MGMT so it was hard to pick a song to cover. They have so many great ones. I ended up choosing "Indie Rokkers" because I thought it would fit my voice and my style the best."
Listen: Spotify | Apple Music
---
Toro y Moi – "Ordinary Guy" feat. The Mattson 2
Toro y Moi teams up with The Mattson 2 on "Ordinary Guy," a cover of Latin singer Joe Bataan's original. Chaz Bear updates the 1967 track by way of velvety electric guitar, upbeat percussion, and punchy funk-indebted bass. He croons in his signature manner, calmly delivering the lyrics with soulful inflections.
Listen: Spotify | Apple Music
---
Channel Tres – "Gimme Love" Remix feat. Joji
Channel Tres (who was recently featured in our latest installment of New Gen: Spring 2020) is back at it again, bringing his remix powers to Joji's "Gimme Love", adding a glossy finish with hypnotizing vocal filters and some new drums to transform the track into a dance record. "I tried to make the remix soft and sensual, like something on a smooth jazz radio station that you could still use in a DJ set," Channel Tres detailed. Meanwhile, Joji summed up the remix in one sentence. "It makes me tingly."
Listen: Spotify | Apple Music
---
Los Retros – Everlasting
19-year-old Mexican-American artist Mauri Tapia, frequently known as Los Retros, released his new project Everlasting yesterday. On the five track EP, he stays true to his roots, floating through his influences of Latin American of the 1970s and 80s while throwing in hints of jazz and funk with just enough lingering moments of psychedelia throughout. There's a vintage warmth on each track that showcases the depth of just how much of a music student Mauri Topia is.
Listen: Spotify | Apple Music
---
Roy Ayers – "Synchronize Vibration" feat. Ali Shaheed Muhammad and Adrian Younge
Jazz and funk legend Roy Ayers could just be the most sampled artist in hip-hop history. The vibraphone extraordinaire helped pioneer the acid jazz movement of the mid-1980s while simultaneously being known the world over as "The Godfather of Neo Soul." He's still going strong at 79 years young too, releasing his first album in 18 years with JID002 (also known as Jazz Is Dead 2 helmed by A Tribe Called Quest's Ali Shaheed Muhammad and Adrian Younge. For the lead single "Synchronize Vibration", Roy reminds you just how much of a visionary he was and still is.
Listen: Spotify | Apple Music
---