Chance The Rapper, Earl Sweatshirt, Jean Grae and More Criticize J. Cole's "Snow On Tha Bluff"
Musicians are upset with the Dreamville rapper for policing Noname's tone.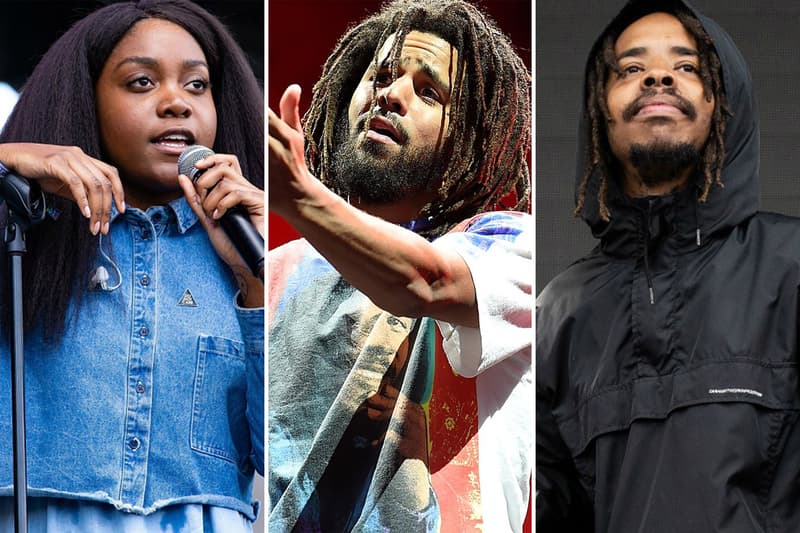 Last night, J. Cole delivered his first single of 2020 with "Snow On Tha Bluff" produced by himself and Kelvin Wooten. The track, which shares the same name as the January 2011 film about a robbery in Atlanta, Georgia, finds Cole give a nonstop verse about the current state of the United States of America from the political unrest to the Black Lives Matter protests surrounding the murder of George Floyd, Ahmaud Arbery and Breonna Taylor. The Dreamville rapper is now coming under scrutiny for the effort by a number of artists on social media including Noname (who many believed the song was directed at after her comments about "top-selling rappers" staying noticeably quiet). Other musicians to voice their opinions include Chance The Rapper, Earl Sweatshirt, Jean Grae, Open Mike Eagle and Kari Faux.
J. Cole took to Twitter to share his thoughts on the song and the music world's reaction to it.
Morning. I stand behind every word of the song that dropped last night.

— J. Cole (@JColeNC) June 17, 2020
Some assume to know who the song is about. That's fine with me, it's not my job to tell anybody what to think or feel about the work. I accept all conversation and criticisms. But

— J. Cole (@JColeNC) June 17, 2020
J.Cole continued, "Some assume to know who the song is about. That's fine with me, it's not my job to tell anybody what to think or feel about the work. I accept all conversation and criticism but let me use this moment to say this. Follow Noname. I love and honor her as a leader in these times. She has done and is doing the reading and listening and the learning on the path that she truly believes is the correct one for our people. What he said next surprised his fans and critics alike.
I haven't done a lot of reading and I don't feel well equipped as a leader in these times. But I do a lot of thinking. And I appreciate her and others like her because they challenge my beliefs and I feel that in these times that's important.

— J. Cole (@JColeNC) June 17, 2020
"We may not agree with each other but we gotta be gentle with each other," he concluded.
Noname's initial criticism, written back in May, didn't mention anybody specifically by name. "Poor Black folks all over the country are putting their bodies on the line in protest for our collective safety and y'all favorite top selling rappers not even willing to put a tweet up. N*ggas whole discographies be about Black plight and they no where to be found."
Following the release of "Snow On Tha Bluff" and J. Cole's statement, Chance The Rapper voiced his displeasure via Twitter.
Yet another L for men masking patriarchy and gaslighting as contructive criticism.

— Chance The Rapper (@chancetherapper) June 17, 2020
Chance The Rapper continued, "They both my peoples but only one of them put out a whole song talking about how the other needs to reconsider their tone and attitude in order to save the world. It's not constructive and undermines all the work Noname has done. It's not 'BWs' job to spoon feed us. We grown…" Chance continued, "We can have different points of views on things. I'm not tearing anyone down, I just think it was wrong to make a song about her. I can't feel any other way about it."
Earl Sweatshirt was also quick to respond on social media to weigh in on J. Cole hinting at Noname's critique of his silence on social justice issues with an entire song.
lol before i get grouped in to anything let me state that first truth of many is that the shit was just corny.. it would b like on one of the nights following big floyds death if a white rapper (one that ppl like) made a "im uneducated on ur plight" track it just taste bad lol

— thebe kgositsile (@earlxsweat) June 17, 2020
Earl even mentioned Cole and his fans directly, tweeting, "What if ya'll are mad at yourselves that you look to Cole for more than he has to give? Bro just laid his cards down on the table. 'I went to college, i don't know stuff,' and he's a lot of n*ggas elected representative."
During "Snow On Tha Bluff," J. Cole talks about revisiting Noname's social media pages and goes as far to call out her anger. "She mad at celebrities, low-key I be thinkin' she talking 'bout me/ Now I ain't no dummy to think I'm above criticism/ So when I see something that's valid, I listen/ But sh*t, it's something about the queen's tone that's bothering me." That last line has come under intense scrutiny with many calling out Cole for challenging Noname's approach when he has kept silent on the current issues.
Kari Faux tweeted, "So you try policing her tone in a song?" Jean Grae continued that sentiment, "You may already know me as someone who has no patience, no filter and especially does not respond to anyone policing my tone, message or actions so you know how I feel." Her tweet included a GIF of a stick figure kicking another off of a platform.
Others to speak up included Open Mike Eagle. "If Cole has a problem with Noname there is no way in the whole wide world that he's dumb enough to send bars at her. That would be dumb on 5 to 7 different levels."
Stay tuned for more updates on the story. In more music news, Noname was joined by film director Boots Riley to talk about dismantling capitalism, her approach to art and the Black Lives Matter movement.