Interior Designers On How to Upgrade Your Home Office
Experts share their tips for optimizing your space for work, without sacrificing your sanity.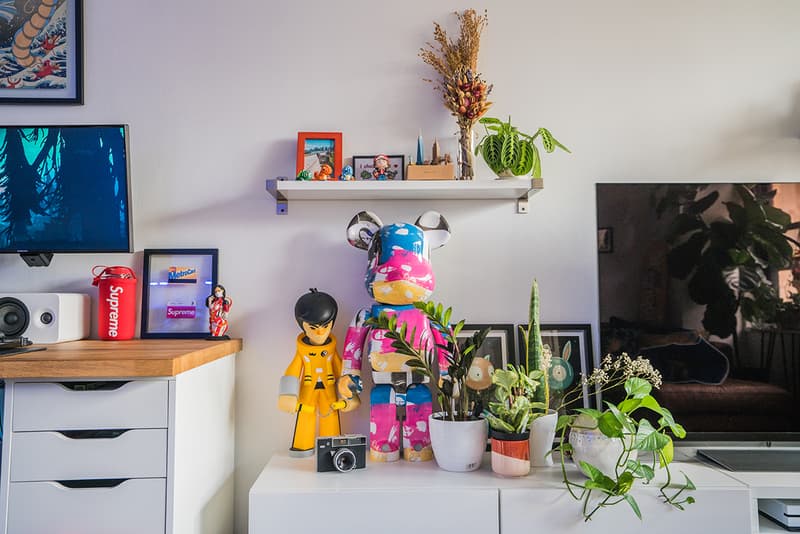 The work-from-home orders due to COVID-19 have meant we're asking much more from our houses — or, in some cases, very small apartments — than usual. Even if you otherwise love your space, it can be hard to maintain your sanity or some semblance of work-life balance when your bed becomes a desk, a conference room and a dining table.
HYPEBEAST asked interior designers how to create a productive work area without sacrificing the comforts of home. Read on for their tips on lighting, creating a multi-use zone and finding space for relaxation.
Invite the Light
First things first, banish bad lighting from your workspace and living areas. "Clean those windows! Let in all the natural light you can," said Justina Blakeney, interior designer and founder of The Jungalow. "If you don't have a ton of natural light in your home, harness the light you do have by placing mirrors across from the sources of light. This will help reflect the light coming in and disperse it across more surface space."
If you're working with lower light, interior designer Colin King advises getting creative with the light source options you have on hand. "At home, light enlivens the little things. Every room should have a mix of lighting, including overhead, accent, and task lights. I especially enjoy bringing candlelight into the mix even during the day. The ritual of lighting it and it's soft illumination immediately calms me down."
Back to Nature
Now is a great time to invest in a houseplant, but there are other ways to bring a little bit of nature into your home. Robin Standefer and Stephen Alesch, owners of Roman and Williams Guild, recommend doing a bit of foraging and incorporating what you find with your favorite household objects. "We believe in the power of numbers, collecting similar objects that you love and amassing them together creates a distinctive sense of place. We love to pair these vignettes with stuff we find outside: a cool branch, rock, foliage."
"If you have access to a nature view, try rearranging your furniture so that you can face a window that has a view of the sky or trees or some greenery. If you don't have access to nature views, you can always incorporate nature-inspired decor like a colorful and plantiful art print, a pillow depicting your favorite natural element, or a wild rug," said Blakeney.
Rethink Your Space
Rearranging your furniture can give you a fresh perspective on your home, though it might take a little trial and error. "I have been constantly rearranging my space, moving furniture, creating chaos, and fabricating a makeshift photo studio in our lounge. I've been moving my studio around the flat from the mezzanine, to the rug, to the dining table and every other space in between," said Charlotte Taylor, a London based interior designer and co-founder of Dello Studio.
King gave a similar take, adding that moving around household objects and occupying new spaces can give you a greater appreciation for what you already have. "Maintaining a room in the way it has always been decorated, leaving furniture rooted to the same place year to year, putting objects back in exactly the same position means there will come a time when you hardly see them anymore," he said. "Even the smallest changes can be refreshing."
Taylor mentioned she's now adapted the lounge for a new purpose, filling it with sketches and books. "This is really helping my creativity and allowing for much freer and spontaneous ideas," she said.
Find Space for Downtime
It's still important to separate work from leisure, even when working at home. Think about the areas of your home you love most and dedicate time to improving those as well. Creating spaces for meditation, sleep and exercise can help build routine and balance into your workday. "If you are working out, place your yoga mat or any weights in a corner of a room near a mirror so you can break a sweat there while watching your form. Keeping these dedicated areas set up for the activity you plan to do in them is a great way to encourage and remind yourself to stick to a daily routine," said Blakeney.
Transitioning areas you use for multiple tasks is also important in helping break up the day. "I am not accustomed to working from home so my dining table has become my desk," said King. I've found it important to then strike my desk and set the table for dinner. This is my best attempt at work-life balance and also makes up for my bland cooking."
Take Care
Your cooking ware, furniture and other household items also might be getting more use than usual. Try and take special care of them. "We love natural finishes on our furniture, and they require regular maintenance. Still, there is something so grounding about resoaping a table, and it makes your space so fresh," said Standefer and Alesch. "There's a ritual to it that fills us with gratitude for the piece, thinking of the life it's lived. We like to wipe surfaces with white vinegar, and then oil. Your furniture, like your skin, needs to stay moisturized."
King and Bladeley recommend cleaning through your closets, junk drawers, and bookshelves for long-lost treasures. "See if there is anything that can get repurposed, reorganized or recycled. It's a great time to take stock of what you have so you don't end up unnecessarily buying something you may already have," said Bladeley.
"I've finally been able to sit down and organize my books," said King. "And this time has also allowed me to comb through titles I haven't referenced in years."
Find time to care for yourself too. Giving your non-workspaces even small tweaks can make a world of difference. "Make your bedroom a relaxing refuge," and Bladeley. Good bedding can make all the difference. A comfy quilt can feel like a major upgrade and give you that 'I slept in a fancy hotel bed' feeling."
Follow Your Cues
"For me, there are only two requirements for my workspace: an element of nature and a great lamp," said King. However you end up configuring your home, try to find the objects and settings that cue you to focus. Taylor swears by her new desk chair. "I have a few solid pine chairs that I found a few months ago in an antique shop in Suffolk, wherever I move my studio within my apartment, the chair moves with it."
But there should be a little room to play too. "Right now, we're all about comfort, adding a pillow or pelt here, adding some candlelight, music, something natural," said Standefer and Alesch. "Even if it means just rearranging what you have and adding some natural elements for that next video conference, it seems silly but can be so fun."