How to Upgrade Your Home-Cooking Game
Chefs from London's BAO and Sketch share their top tips.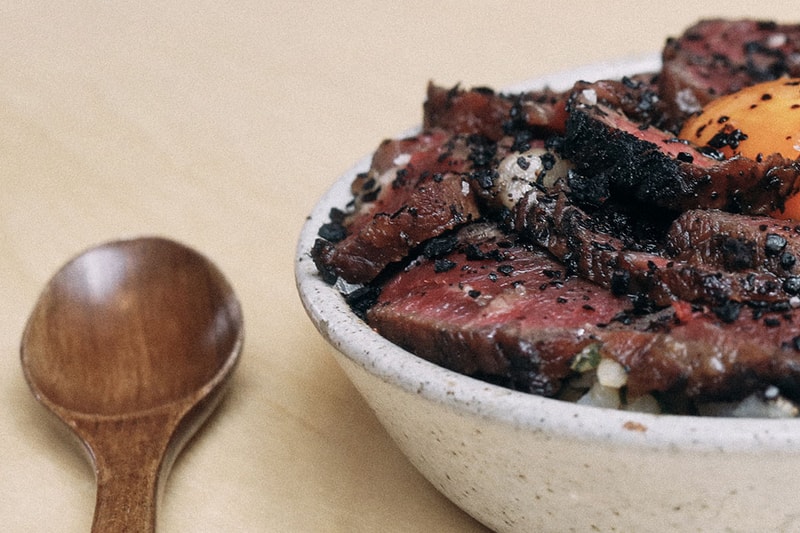 These days many of us are spending more time at home, and for some, cooking our own meals more than ever. You may have succumbed to the Instagrammability of baking your own sourdough, or perhaps you've mastered the viral Dalgona coffee trend — but where do you look for inspiration next?
Professionals such as Johannes Nuding, head chef at Sketch's The Lecture Room & Library, as well as BAO co-founder Erchen Chang, suggest thinking small and simple. Firstly, utilize what's left in your fridge and cupboards. If you do need to restock, shop locally and support the smaller businesses in need. Nuding and Chang also suggest reaching out to family members you may be isolated from for their knowledge. 
Nuding and Chang also note the importance of supporting each other. BAO is rolling out its food delivery service Rice Error, while Sketch supports charities to help those in need. To understand how we can support the food industry and elevate our home-cooking game, read on for Nuding and Chang's top cooking tips and more. 
What are you cooking at home?
Johannes Nuding, The Lecture Room & Library's Head Chef: I'm spending this period of isolation back at home in Austria, where I tend to cook quite simple dishes for my family. I believe the key to creating delicious flavor is to use good quality and seasonal ingredients. I try using ingredients I have leftover in the fridge and pantry, combining them to avoid wastage — I feel that during these times we can take things back to basics and at the same time use this opportunity to get creative and make dishes we always wanted to make.
Erchen Chang, Co-Founder of BAO, XU, Rice Error: Lots of stock and broths in the past two weeks. Now as the weather turns warm and sunny, a quick lunch like a Kimchi cheese toastie using Neal's Yard Dairy cheese is great.
What kitchen gadget do you recommend to elevate your home cooking?
Nuding: I don't believe it is essential to own the most elaborate gadgets to make truly wonderful meals. A sharp knife really does make all the difference and need not be expensive, so I would recommend investing in a knife sharpener to truly elevate your cooking and take pride in what you do. When we cut with blunt knives we tend to damage the food and using a sharpened knife will maintain the freshness and quality to the highest standard.
Chang: A ceramic pot, known as Tao Guo or Donabe. These types of earthenware pots build up the heat slowly and distribute evenly. It can be used for all purposes, and most importantly it makes the food taste so much better and characteristic than cooking over a stainless steel pot. And it looks great too. I also love a strainer set; a matching colander and bowl is the dream. A tiny whisk makes mayonnaise and aioli so easily.
Which three basic ingredients should you always have in your cupboard?
Nuding: I always make sure my cupboard is stocked with flour, olive oil and sugar as they act as a basis, or enhancement, to so many dishes.
Chang: Aged white soy sauce, Taiwanese Chi Shang rice and garlic are vital! Although I can't really live without ginger and chili either.
Can you share some cooking tips from the restaurant world that we can use at home?
Nuding: I strongly believe the secret is to keep it simple at home, using fresh ingredients, breaking the meal down into its core components. That, combined with a genuine passion for what you enjoy cooking. I believe in buying as locally as possible when you can and that in turn gives us a sense of pride in what we make. So many restaurants are realizing that now more than ever is a time to support the local economy and I think that one of the positives to take from this time is that perhaps individuals will choose to use their local butchers or greengrocers over the larger supermarket chains. 
One piece of advice I would also give, compared to a professional kitchen, is to not be too concerned if you do not have the exact ingredient for a recipe at home. Instead, you can try to use something you already have. Especially during times like these, it is better to try to use products you already have as opposed to wasting or making unnecessary trips to the shop.
"The secret is to keep it simple at home, using fresh ingredients, breaking the meal down into its core components."
Chang: Making flavored oil is always useful and can lift a dish up immensely. My favorite is ginger and spring onion oil. The process is simple and makes dipping a poach meat or a noodle dish extra tasty. The tip here is to make sure you season more than you think! It's really simple to make, essentially you just pour hot oil over diced ginger.
I also love chili oil, it can be as simple as just heated oil infused with roasted dried chilies that will work with many cuisines. Or you can go all out and infuse it with lots of aromas, such as Sichuan peppercorn, star anise, coriander seeds for it to be a numbing and distinguished flavor. 
What simple dish can beginners try at home? What is something ambitious home cooks could attempt?
Nuding: You could combine the two by making your own bread… It's such a staple to most of our daily diets, however, once you start making it yourself at home, making your own sourdough perhaps, you gain a whole new appreciation for it. So many of us love a delicious loaf of bread and it contains only a few simple ingredients, yet there are so many different approaches and techniques on how to do it.
Chang: Make your own kimchi. We make our own Taiwanese golden kimchi in the restaurants. It is not spicy like the Korean style, it is sour and sweet. The recipe is very simple and you can tweak according to your liking. A simple way of doing this is to make a blend of fermenting juice. Blend some carrots, garlic, vinegar, sugar and salt. Salt your Chinese cabbage for a couple of hours to extract some water out, drain and cover with the fermenting juice for a minimum of a week before tasting.
For an ambitious home cook, now is the time to attempt making baos at home! Find a soft, low-protein flour, substitute water with milk for extra creaminess in flavor. Once made you can freeze some for later consumption.
What ingredients can we buy to be savvy shoppers and cooks, and where else should we shop?
Nuding: With these uncertain times comes an element of fear, which means that some people have been panic buying. However, there is still a lot of food around and there are still ingredients to choose from which we can use to create resourceful meals. Given that it is now spring, there are a lot of fresh vegetables growing right now.
If tinned tomatoes have run out why not use fresh tomatoes and a bit of garlic as a base for a pasta dish? I think the advice to only shop for what you need, and use up and organize your stocks is the right thing to do. Most farmers or companies working with farmers have excellent delivery systems in place, where you get a box of fresh veg a week.
"Dried goods such as rice, noodles, beans and flours are very versatile and can be kept for a long time."
Chang: Dried goods such as rice, noodles, beans and flours are very versatile and can be kept for a long time. Spices are good to create flavors and make everyday cooking more diverse. Growing herbs at home is also fun and effective, often we buy a bag of herbs and it dies before we use up the whole thing 
Order beer from Biercraft and you can enjoy our BAO beer at home. Wine and organic veg from 40 Maltby Street. Pre-mixed cocktails and cordials from Gimlet Bar. Fresh seafood from Hendersons. Cheese from Neal's Yard Dairy, coffee from Monmouth Coffee and Allpress. 
How can we keep fresh food preserved for longer to avoid visiting supermarkets too often?
Nuding: When I started to work in Austria in a little village restaurant we only went to the shop twice a week. This trains you to organize your day-to-day cooking in a totally opposite way than the big city mentality of being able to get anything at the drop of a hat. Potatoes keep very well for weeks so you could buy a few kilos instead. When buying apples, eat them fresh for the first couple of days and then turn them into a compote or a crumble when they start to get a bit older. Buy two kilos of tomatoes instead of your usual 200g. First, use them for a salad and then cook them down to a lovely tomato sauce, keeping half in the fridge and the rest in the freezer. 
If you are really keen on preserving, you can pickle your vegetables. I would also recommend curing your meat and fish and drying your herbs to use at a later date.
Chang: Keep vegetables such as potatoes and onions in cool, dry and dark cupboards. Make a stock and turn all your tomatoes into sauces and freeze them, so you can ration it and not be forced to eat them quickly. Make your own fermented vegetables. It not only develops good flavors, but it also keeps well and can be used to dress in salads, pair with meat, or even stick it into a sandwich.
Which cookbooks or online resources do you recommend we read?
Nuding: You could call, Skype or FaceTime your mother or father, grandmother or grandfather and ask for their cooking advice. Most of them are isolating at the moment and they would be happy to hear from you and help you out with some family classics. Then you can show them your results.
"You could call, Skype or FaceTime your mother or father, grandmother or grandfather and ask for their cooking advice."
Chang: River Cafe 30 for Italian cooking. Elisabeth Luard for peasant European cooking. Carol Easy Life for Taiwanese cooking and baking. Cooking with Dog YouTube channel for homestyle Japanese. Or simply follow your favorite chef on Instagram, everybody on Earth is sharing what they are cooking right now.
How can people help support restaurants during the current pandemic?
Nuding: There are so many positive things people can do to support the industry during these challenging times, for example, they can download platforms such as Deliveroo and Just Eat to support some of their favorite restaurants that have now adapted to offer delivery services. As the lockdown begins to subside (hopefully sooner rather than later) you can make a list of the restaurants you have always wanted to visit or ones you have been meaning to go back to. 
People can also look at supporting local suppliers, in London, for instance, those from New Covent Garden Market and the butchers of the Smithfield market, as we are all inextricably linked and many of these suppliers are now offering home delivery services. Vital support can also be given via wonderful charities such as Hospitality Action, a leading charity Sketch is partnered with which supports those in the industry who are most in need. 
Chang: A lot of restaurants start doing delivery service or DIY kits — places like Black Axe Mangal and Patty&Bun. We will be launching Rice Error at the end of the month too, serving our favorite flavors on rice. We are hoping to also help support the NHS by donating meals once we have it up and running. You can also purchase merchandise to support restaurants. We have an online shop and all our profits go to the Hardship Fund to help our staff during this difficult time. 
How do you see the restaurant industry changing as a result of COVID-19?
Nuding: Unfortunately I do believe we will see a loss of small independent restaurants that do not have substantial backing. I think the industry as a whole and its suppliers will be severely hurt by COVID-19. 
It's important to remember that this unique and unprecedented time also presents a positive opportunity for reflection and refinement to put down the ideas on paper that you have wanted to try or change. Some restaurants might take this opportunity to diversify their activities by further developing products and services more generally focused around lifestyle and wellbeing rather than just catering. It's quite remarkable what can be achieved during times of hardship and adversity when we put our minds to it. I am looking forward to seeing the positive outcomes that will arise from this very tragic and very real global pandemic.
Chang: I guess it depends on how we overcome the situation and how long it takes to be out. In a worst-case scenario, the appetite for spending will drop, millennials are now adapting and settling at home. There will be an increase in home cooking, people will be looking to bring the restaurant experience to the home. Food deliveries were growing fast for the past few years, the growth of this will speed up even more. Fast-casual restaurants may be able to adapt more as their food offerings can be switched to delivery easier than others. People will also turn more health-conscious than ever and menus will adapt in a similar fashion.