How Independent UK Designers Are Adapting to the COVID-19 Crisis
Small brands are reevaluating their business practices in a new landscape.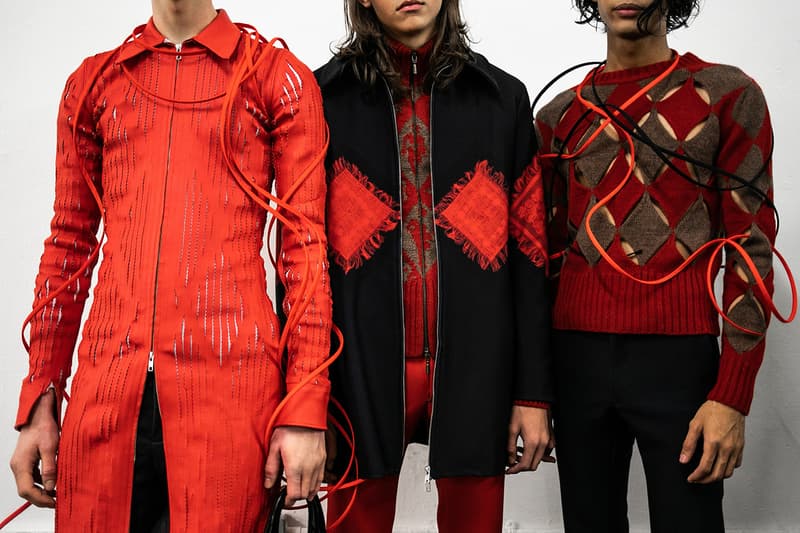 Today's climate is unprecedented. The global COVID-19 outbreak has forced the fashion industry to close stores and warehouse facilities; more recently, some stockists have even stopped online activity, which was keeping many small brands afloat. 
British designers such as Bianca Saunders, Daniel W. Fletcher, Charles Jeffrey of LOVERBOY, as well as Stefan Cooke and his partner Jake Burt, have each felt the weight of a rapidly changing world. Like many, they and their teams have had to learn how to work from home and rethink the production of their next collections. They and other independent designers have had to reevaluate their business strategy while also considering the wellbeing of their teams. 
HYPEBEAST spoke with these four designers about the challenges they face amid the ongoing coronavirus pandemic. Read on for their perspectives on how the fashion industry could change for the better, how we can support independent designers, and why the pandemic could change consumerist's habits. 
What immediate impact has the coronavirus pandemic had on your business?
Bianca Saunders: I've had to shut the studio and think of an action plan to keep the interns in a safe position. At the moment it's just been me working on stuff by myself, and I've been getting a few of them to help me out as well. I'm thinking of ways that we can do things best… While this has been going on I've been trying to speed things up, but now I've just had to stop. It's difficult to get in touch with people, get replies on things, nobody actually really knows what's happening.
Stefan Cooke & Jake Burt: Immediately, parts of our production have been interrupted or canceled but for the good reason — the factory workers are staying safe at home in isolation. Sarabande Foundation, where our studio is, immediately stopped charging rent which is a huge relief. We have decided to work on developing a simple online shop for any stock left from stores that can no longer accept their orders.
Daniel W. Fletcher: It's been a rocky few weeks, we've lost some wholesale orders and online has slowed down but we are surviving and I'm confident we will make it through. I've been having really open conversations with my retail partners about how things will be going forward but we are just reacting to the situation as it unfolds.  
Charles Jeffrey: It was an immediate impact in our thinking, instead of preparing for the next show with creative foresight and securing our production to be in stores for FW20, we began firefighting. My core team and I were having private meetings once or twice a day to try and figure out how we move forward and look after the LOVERBOY family, whilst trying to also deliver a collection. My role became less creatively indulgent and much more about supporting my teams, making sure everyone was safe ensuring the company can survive.
How have you had to adapt your business practices during this current period?
Bianca Saunders: When the shutdown happened I was in between studio spaces, so I've had to move everything back [to my family] home because I don't know how long we're going to be here… Considering what's going to happen with June, that's put us in a difficult place. Some of the fabrics I get are from Italy, but I can't be going to those fabrics shops anymore. Luckily I'd done all my research before this shutdown had happened, so I had all my print outs ready to start designing. 
Stefan Cooke & Jake Burt: We are really lucky to be able to move our studio to one of our parent's houses in Somerset where we have taken over their dining room. It has been very peaceful working from the countryside and we are interested to see how the business can adapt to this new set up. We will rely on our creativity to get through it.
Daniel W. Fletcher: Absolutely, we are all working from home, and it's really made me reevaluate my plans for the season ahead. We are likely to offer a smaller collection and are looking at more digital ways of communicating with people. It also just made me think about what's important. Having a collection feels unimportant when there are NHS staff without protective clothing and masks, so I think that's where I will be putting some of my efforts. I'm fortunate enough to be in a position of having skills that can help, so I want to put them to use.
Charles Jeffrey: Everyone is now working from home, we had to break up the studio and taxi it to everyone's individual space. Even our interns have projects which they can work on from home. I take pride in the internship program we run through LOVERBOY, it's so important to me that they learn and continue contributing to the magic — I won't stop that happening even if there is a challenge like this. We also have Zoom meetings to see everyone's face to boost morale — I do however need to find the right lighting for my closeup, so far I haven't managed to get it right.
What are some ways for customers to support independent designers during this time?
Bianca Saunders: Continuing to support them by buying from the small brands. A lot of stockists have been canceling orders, so if customers continue to go towards independent small brands and support them by buying from them that's good. Most people are worried if they are going to be left with loads of things to sell after. That's my main worry at the moment because I don't have an online store — but I'm working on it. 
Stefan Cooke & Jake Burt: If customers are still in a position to buy clothes then they could focus their attention on independent designers as they are unlikely to have much financial backup.
"I hope that after it's over that fashion… will think about this time where we are producing so much less and reevaluate how much we are making."
Daniel W. Fletcher: It feels insensitive to encourage people to shop during such a difficult time, I'm sure a lot of people are not thinking about clothes at all but if you are in a position to do so, it could make a huge difference to independent brands and businesses. A lot of companies have changed strategies, are offering new services and home deliveries in order to try and keep going so I'm trying to support them in any way I can. Even if it's not buying from them, promoting on social media and spreading the word is a welcome contribution. 
Charles Jeffrey: It's interesting, I'm still keeping my ear to the ground to understand how we should approach pushing product to customers and whether that feels right or essential. Customers buying products from our various suppliers as well as our own e-commerce help with sales, but ultimately I think all we want to know is how our customers are feeling right now. We have a lot of plans for our social media for the next few weeks which will help us communicate more directly to them, and hopefully open up channels of communication that can help us both move forward through this. 
Prada, the H&M Group and the CFDA have made efforts to aid health care workers and those in fashion affected by COVID-19. What else would you like to see happen to support designers?
Bianca Saunders: I wish that all the fashion weeks would speak with each other and make a combined week of women's and men's, because that isn't realistic at the moment. Nobody is going to be moving anywhere for the next three months until this virus is over. Then fashion week in January is a massive headache for everyone as it's right after Christmas, so it's hard to get things moving. I think also it would be a bit more sustainable to do two seasons per year. Hopefully, that might slow down bigger brands to make less clothes, and that would be a more positive way to be sustainable without trying to overly, intentionally do it. 
Stefan Cooke & Jake Burt: Perhaps now is a time when larger, established production companies can think about collaborating with independent designers on ways of showing their collection next season as it will likely be much harder to put on traditional fashion shows. Hopefully, stores have the capacity to continue being supportive and in a position to fulfill payments on orders.
Daniel W. Fletcher: I think the government needs to provide better support for the employed and small businesses. A lot of things are still quite unclear and it's difficult to measure the impacts right now. I have a lot of freelancers who I work with who aren't getting the same support as other people who have lost their full-time jobs and that is something that needs to be addressed as soon as possible. Looking at things like lost orders and the impact of those are going to have rather than just salaries. 
Charles Jeffrey: I think now more than ever, people are looking to brands to generate content, not so much product. Supporting smaller businesses to produce content for customers would help push their agenda more during this time. 
In the long-term, how do you see COVID-19 changing the fashion industry?
Bianca Saunders: I think a lot of people are worried about going out of business, or if they're going to be in a lot of debt. I think it will create a slower fashion — that's what I'm hoping for anyway. I think it'll create a slower pace in terms of seasons and it'll stop the need to overproduce…  My collections have been quite small, so I think the next season people won't make 40-piece collections, they'll go for a 20-piece look.
Stefan Cooke & Jake Burt: We think it would be a positive thing to see some of the more elaborate shows disappear. All this noise from massive brands around fashion week often just drowns out good design. Hopefully, there will be less pressure on young designers to compete with bigger brands and the press and buyers will get used to looking for good design in quieter, more subtle ways of presenting collections. 
"If you need support, reach out and don't be afraid to show your weaknesses at a time like this."
Daniel W. Fletcher: I hope that there will be some sort of positive impact out of all this sadness. If we look at the reduction in pollution since the world has gone into lockdown that's already something to be optimistic about. I hope that after it's over that fashion (and all industries) will think about this time where we are producing so much less and reevaluate how much we are making. Design smaller collections, buy less and care more about our planet.
Charles Jeffrey: I hope it slows everything down and helps people understand the value of good design and craftsmanship. It's scary how much clothing is made every year in comparison to how many people there are in the world. It would be great if we could focus more on quality rather than affordability.
What advice would you give to other independent designers to help them through this pandemic?
Bianca Saunders: Use this time to reflect, to slow down, to feel that you don't always need to produce or show something. It's good for creativity to have time to slow down, and it's good for mental health. I don't think I realized it's important to slow down and take some rest, I feel like I'm getting more ideas and looking forward to designing again, rather than being pressured to always be on the go. 
Stefan Cooke & Jake Burt: Rely on each other, talk to each other and support each other. 
Daniel W. Fletcher: Stay positive, use this time to reevaluate your business, think about what it is you want to say, and be creative. We are always in such a rush, there is so much to do when you're running a brand that the time to design is constantly reduced, use this time to remember what it is you love and why you started this journey in the first place.
Charles Jeffrey: Talk to each other, reach out and respond. It's important to understand how your creative neighborhood is doing and support them if needed. Or if you need support, reach out and don't be afraid to show your weaknesses at a time like this. I think everyone is feeling a lot more human these days and focusing on what it means to be one on this planet. 
Are there any other ways those in fashion can support people in the industry impacted by the pandemic?
Bianca Saunders: We are all in self-isolation, so it's good we check in on each other… Connecting and speaking to people has been important, as well as having a group support system in order to tackle this. A lot of the companies that I work with have sent out emails discussing what the government is going to do to help small businesses like myself, and self-employed people too. I hope that will follow through, money-wise, to make sure these things aren't too detrimental to the business. Survival is the most important thing for most brands. 
Stefan Cooke & Jake Burt: Be patient with factories that have closed due to their staff isolating at home. It's a good thing that they are staying safe. No one's health is worth less than clothes!
"Survival is the most important thing for most brands."
Daniel W. Fletcher: Just be open, share advice with your peers, talk to each other, have frank and honest conversations with your suppliers and retailers so everyone knows where they stand and we can all get through this together.
Charles Jeffrey: Yes, look at how you can use your business and platform to assist people and places that need assistance right now. Playing to the strengths of that business and making sure you're authentic in the process. LOVERBOY has a huge focus on storytelling, image-making, and makeup so we are making sure to deliver content that inspires those who are cooped indoors for the foreseeable and creating opportunities for people to be part of that conversation too.