Salehe Bembury Discusses His Creative Process, Collaborations and Being Named "Footwear Designer of the Year"
From his "day job" at Versace to collaborations with New Balance and ANTA, one of footwear's buzziest names looks back at a monumental 2020 in an exclusive interview with HYPEBEAST.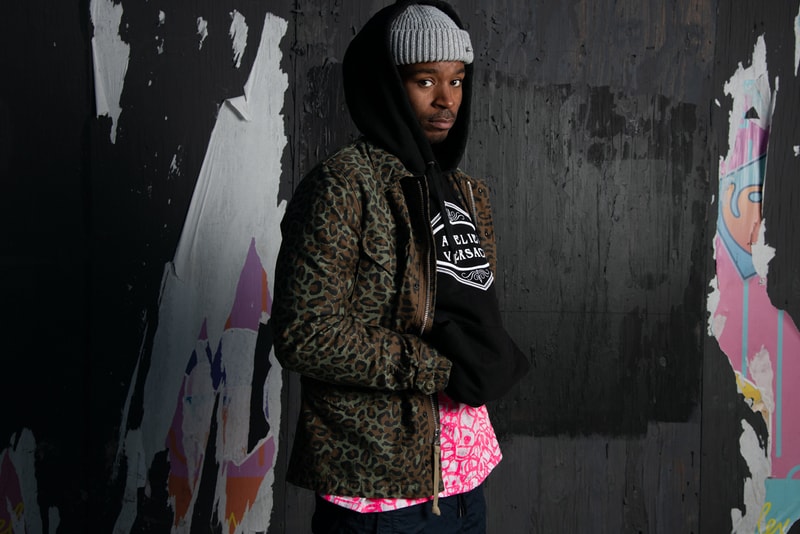 2020 was a year of growth, learning and new beginnings for Salehe Bembury. The tenured footwear designer's resume reads like a roll call of industry heavy hitters: over the last decade he's worked at Cole Haan, GREATS, YEEZY — where he crafted several popular boot styles for Kanye West — and more before settling into his current role as Vice President of Sneakers and Men's Footwear at Versace. Apart from the aforementioned YEEZY boots, Bembury was best known for crafting striking Versace sneakers like the Chain Reaction before 2020, but his undertakings this past year brought him into a new collaborative realm.
Working with New Balance and Anta, Bembury built some of 2020's most desirable footwear. His Antelope Canyon-inspired New Balance 2002R offered a masterful blend of tones and materials, garnering serious "sneaker of the year" talk, appearing on the feet of everyone from John Mayer to 2 Chainz and serving as one of the most standout styles from what was an ultra-memorable year for NB. His forthcoming ANTA collaboration has garnered serious buzz as well, with one of its two silhouettes — a low-top hiking shoe — spreading across social media like wildfire due to a striking technical design, visceral color schemes and a rigorous seeding program. Capping off an eventful 365, Bembury was recently bequeathed with Footwear News' prestigious "Designer of the Year" award, an honor that he summed up in a single-word Instagram caption: "Speechless."
After receiving the award and ahead of the impending rollout of his Anta collaboration, Bembury briefly sat down with HYPEBEAST to discuss the difference between working on collaborations and in-line products, how his design practice has evolved, what he's the most proud of this year and more.
HYPEBEAST: You've been designing footwear for years, but released your first collaborations in 2020. How was that process different from what you've done in your past and present roles?
Salehe Bembury: The majority of my career thus far has been focused on satisfying the consumer. Making sure there were enough black SKUs (because black sells the most), or creating a silhouette because it is "in trend." Footwear is ultimately a business, and that is the nature of the beast — so these are not complaints. However, when given the opportunity to create product with my name on it I took a less traveled path. Until I am proven otherwise, I plan to execute collaborations/projects to satisfy one person: myself. Both the New Balance and Anta collaborations are examples of me executing this selfish vision. Luckily, the audience seems to be responding to what I'm putting on the table. My current projects have also been way less collaborative than I am used to. I'm used to aligning with a team of merchandisers, production experts, and sales people, but my current projects have been primarily a few experts at the respective companies, my manager Brandon and I. I'm enjoying this new found freedom and it's helping me unlock another level of my design potential.
How were you able to balance all your collaborative products with your "day job" at Versace?
Time management is extremely important. Also don't work hard, work smart. Versace is the priority and what gets the majority of my attention. However when you've obsessed over footwear your entire life, there's some left over passion and curiosity for side projects. When I first arrived at Versace, it was about establishing our position in the high fashion sneaker space. This task required a lot of digital communication, flights to Milan and sleepless nights. There is no way that I could have taken on these projects [that first year, in 2017]. Now that [Versace's] sneaker business is more established and we have some staple silhouettes, I have a little more bandwidth for other projects. Also, footwear design is my passion so it genuinely does not feel like work. If I am watching a movie, I'm still designing sneakers. If I'm taking a shower, I'm still thinking about designing sneakers. It's a constant conscious and subconscious act that I rarely even notice is happening.
How has your design practice evolved over these past 12 months?
I now have to execute an entire project from start to finish. From brain to shelf, or paper to foot. Most of my career has been spent focusing primarily on design. Merchandisers control the conversation prior to design, and sales people join subsequent to that. Then marketing and PR will come into the mix too. Now I have to have all of these conversations, speak all of these languages and make everything cohesive at the same time. The versatility that I get from an Industrial Design degree helps with this variety of diverse obstacles. I've found a new confidence in my execution.
2020 was one of the most turbulent years in recent memory. How did you manage to keep your focus and create at such a consistent pace/high level with everything going on?
Time spent in nature kept me sane. I did a lot of hiking and camping as a way to stay active and meditate. I joined "Ride for Black Lives", which is a peaceful weekly 25 mile bike ride with a message of love and unity. These activities kept me in a great state of mind — and extremely productive. I also found my design work being influenced by my current environment. The Anta collaboration was 100% spawned from this last year.
Looking back at 2020, what are you most proud of?
Getting "Designer of the Year" from Footwear News. I always thought that in order to win an award you needed a PR team. I don't have a PR team so I genuinely never thought I could win one, which I was fine with. When Michael [Atmore, FN Editorial Director] gave me the news I was somewhat shocked. The phone line must have been silent for 5 seconds. He then went on to tell me that I got the cover as well. This has been an amazing career year.
What can we expect from Salehe Bembury in 2021?
The most common advice I've gotten this year is that "I'm on an amazing run". Well my goal is to turn that "run" into a consistent culture.