HYPEBEAST Japan's Guide to Harajuku's Best Independent Retailers
Eight of the best local stores to see in one of Tokyo's most famous neighborhoods.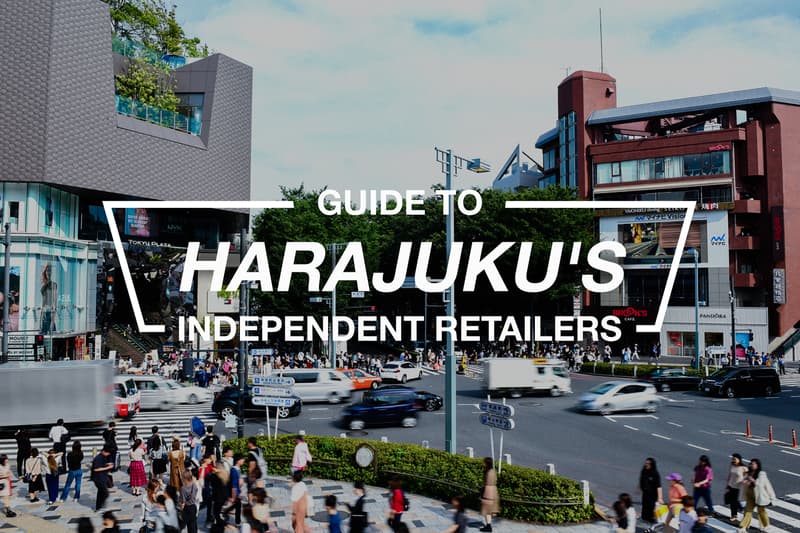 According to celebrities and casual shoppers alike, Tokyo, Japan is one of the world's great consumerist meccas. With countless stores, restaurants and malls offering unparalleled customer service and selection, the city may not be the only Japanese metropolitan area for perusing wares, but it is easily the best-known. Specifically, the neighborhood of Harajuku is often cited as the birthplace of streetwear as we know it, with a rich history fashion that peaks during the formative years of Hiroshi Fujiwara, NIGO's BAPE, NEIGHBORHOOD, UNDERCOVER in the late '80s.
Since then, the Shibuya City neighborhood has grown to accommodate a host of tourist attractions, like the infamously dense Takeshita-Dōri shopping block, and plentiful major corporate players. Big names like BEAMS and UNITED ARROWS have storefronts here, along with outposts from household names like COMME des GARÇONS, chain stores like GU and second-hand shops like KINDAL. There's still a buzzing independent scene, however, with a host of youthful storefronts scattered across the area, each with a distinct vibe.
To help international visitors and first-time local shoppers alike, HYPEBEAST Japan has selected eight of the best independent Harajuku boutiques, offering a mix of casual clothes and runway-ready pieces.
One of Tokyo's premiere fashion destinations, Kubo Mitsuhiro's GR8 is a lynchpin of the city's youth-oriented luxury market. Founded in 2005, the store only just relocated this year, putting down roots in an enormous space inside of the Laforet Harajuku mall. Over 100 television monitors, plush floral arrangements and a custom-sourced gate greet visitors, with an expansive selection of immensely relevant labels available each season, chosen with the keen eye of a much smaller retailer. All manner of heavyweight imprints occupy the expanded storefront, including Balenciaga, READYMADE, Martine Rose, A-COLD-WALL* and many, many more.
Address: 1-11-6, Jingumae, Shibuya-ku, Tokyo Laforet Harajuku 2.5F
Telephone: 03-3408-6908
Hours of Operation: 11 AM – 9 PM
Website
goffa.x
goffa has taken a unique approach to distinguishing its quaint storefront, renovating an ordinary house in a residential area instead of buying space in an established building or hiring a designer to create a bespoke space. As such, the store channels an intimate, hands-on approach to its seasonal selections, preferring emerging labels over established heavyweights; this mindset informed the family of owners' previous stores in Osaka, which include feathers goffa, STRIPS STORE and 11747391. Magliano, XANDERZHOU, Charles Jeffrey LOVERBOY and Ernest W. Baker were on tap for Spring/Summer 2019, accompanied by vintage goods.
Address: 2-31-9, Jingumae, Shibuya-ku, Tokyo
Telephone: 03-5411-8717
Hours of Operation: 12 PM – 8 PM
Website
FAN
Located in a basement in the center of Harajuku, FAN handles more local Japanese brands than any other retailer on the list, though they appreciate thoughtful international labels as well. Mari Itō and Hajime Sakamoto bring over a decade of experience at other boutiques and vintage stores to their own venture, which aims to court both fans of trendy styling and connoisseurs of fine craft. ALMOSTBLACK, YASHIKI, ACRONYM and maharishi co-mingle with SON OF THE CHEESE, O- and kudos in a mix of high-low styling, with a plentiful array of vintage goods to round out the well-curated selection.
Address: 3-22-1 Jingumae, Shibuya-ku, Tokyo Jingumae Square # 102 ( Map )
Telephone: 03-6447-4566
Hours of Operation: 12 PM – 8 PM
Website
TOXGO
The cozy confines of TOXGO bely the worldly selection therein, an ever-updating display of co-owners' Tatsuo Yamagami and Gorō Nakatsugawa's eclectic tastes. Yamagami owns the local Kinsella thrift store chain, while Nakatsugawa founded the Digawel-affiliated MIN-NANO, purveyors of fine streetwear and skate goods. TOXGO is packed with goods sourced from countries that include Britain, Italy, America, Korea, Taiwan, Germany and Australia, ranging from Grind London's covetable clothes to accessories from The Good Company and Better™️'s collaborative artist items. A healthy selection of vintage collectibles and garments reinforces the shop's lived-in motif, with each staff member eager to explain the backstory behind each Garfield plush or vintage hardcore cassette.
Address: Shibuya-ku, Tokyo Jingumae 3-27-13 B1F
Telephone: 03-3408-6779
Hours of Operation: 12 PM to 8 PM
Website
Fresh from its first anniversary, Union Tokyo remains a destination as essential as its Los Angeles parent, loaded with a hybrid array of luxe labels and street brands. Co-designed by the team from case real and Estele Babenzian, wife of NOAH's Brendon Babenzian, the storefront is warm and welcoming. Like the original storefront, Union Tokyo carries imprints like Marni, OAMC and WTAPS, bolstered by several Japan-only offerings like UNUSED, Digawel and TOGA.
Address: 2-26-5 Jingumae, Shibuya-ku, Tokyo 1F
Telephone: 03-6434-5510
Hours of Operation: 11 AM – 8 PM
Website
Domicile Tokyo
With a storefront designed by YOSHIROTTEN, Domicile launched in 2017 as an effort to seamlessly blend music and fashion under one roof. One of A$AP Rocky's preferred Japanese shops, the store has been the only retailer aside from NEPENTHES to carry his AWGE x NEEDLES collections. Domicile also stocks a bevy of international labels, some available nowhere else in Japan. Key choices include LQQK Studio, CNY, iggy and Joe Garvey, along with local icons like SUB-AGE and BlackEyePatch.
Address: 4-8-29 Jingumae, Shibuya-ku, Tokyo
Tel:03-6447-1068
Hours of Operation:11 AM – 8 PM
Website
Over the past several years, NUBAIN has cemented its status as a cornerstone of Tokyo's youth culture. Key to the company's success are a frequent series of culturally-significant pop-up events that see the store linking with popular brands and musicians alike for exclusive goods and parties. These timely happenings are anchored by a strong grasp of pertinent clothing brands, with a rotation that juxtaposes premium products from Burberry and Off-White™ with an-favorites like NEEDLES and Siberia Hills.
Address: 1-20-2 Jingumae, Shibuya-ku, Tokyo
Telephone: 03-6447-0207
Hours of Operation: 11 AM – 9 PM
Website
PROV
One could justifiably make the case for PROV as Tokyo's premiere independent skateshop. Manager Seiji Matsu has remained immersed in skate culture since his teenage years — he's close friends with Josh Kalis — so it follows that he took an authentic approach to outfitting PROV as an essential destination for any of Harajuku's skate-minded individuals. Core brands like Alltimers, Polar Skate Co., Quartersnacks and Bronze 56k are all represented alongside insider favorites like GX1000 and Sci-Fi Fantasy, bolstering the garments with a healthy selection of boards, wheels and tools.
Address: 4-28-18, Jingumae, Shibuya-ku, Tokyo Katolban Harajuku 2F
Telephone: 03-6447-0660
Hours of Operation: 11 AM – 9:30 PM
Website