Can Amazon Win the Great Streetwear Race?
Here's why Amazon & Zappos's investment in streetwear retailer Concepts matters.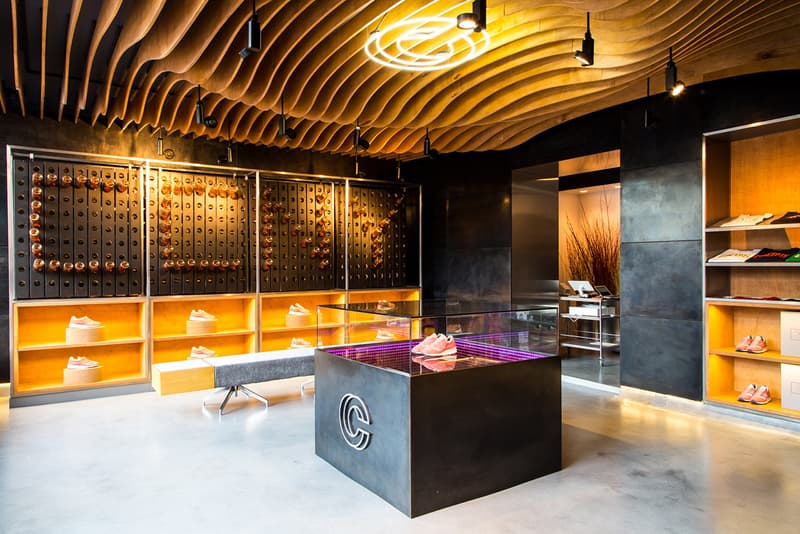 The landmark Supreme investment signified sweeping change for the streetwear industry, effectively confirming streetwear's rebirth as bonafide big business and signifying the shrinking gap between streetwear and high fashion. Since then, LVMH quietly bought into Stadium Goods, Louis Vuitton tapped streetwear's frontman Virgil Abloh to take over its menswear operation, and every major fashion company from Gucci to ASOS has jumped on the bandwagon. With the streetwear movement firmly cemented in the mainstream fashion conversation, observers may have wondered: what's next? Enter Amazon.
Earlier this month, Massachusetts-based footwear and streetwear retailer Concepts quietly confirmed "a relationship" with Amazon's Zappos subsidiary. "We have been engaged with our friends at Zappos and finalized a relationship that will help Concepts achieve our mission to elevate the customer experience within the boutique industry," said Tarek Hassan, CEO of Concepts International, in a statement. While the exact nature of the relationship has not been specified, the boutique confirmed investment from Zappos.
"This partnership allows Zappos and Amazon to get their foot in the door."
As a streetwear boutique, Concepts is the very definition of "cool." A history of well-received sneaker collaborations informed by thoughtful storytelling and appealing colorways is key to the store's popularity. A consistent selection of covetable clothing and hyped sneaker drops bolster the brand name, confirming Concepts as one of streetwear's preferred names. As such, any outside party looking to break into streetwear would be hard-pressed to find any better entry point than Hassan's international sneaker boutique. Beyond boosting Concepts's own strengths, this partnership allows Zappos and Amazon to get its foot in the door of the industry.
Concepts and Zappos: An Unlikely Match?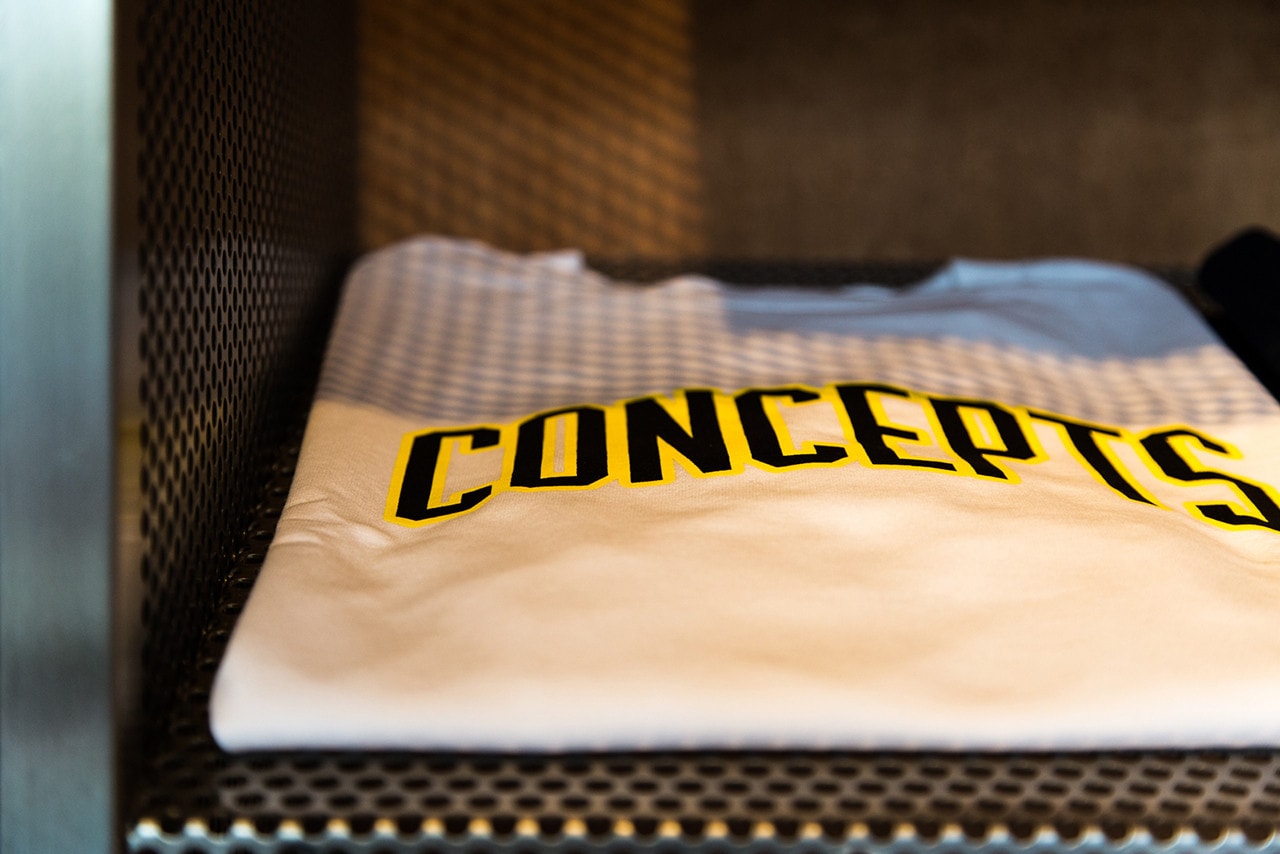 Though Concepts and Zappos may initially seem like strange bedfellows, the pairing is less unconventional than it initially reads. Zappos's famously lighthearted company culture, with its annual culture books and approachable CEO, puts it at odds with Amazon's more traditionally corporate structure. Moreover, Zappos's $2 billion USD+ in sales and consistently increasing annual revenue since 2003 gives it the resources to bolster Concepts's core business structure and — according to sources close to the situation — provide financial relief to the boutique. Finally, the relationship between the two parties has long been in the works: Zappos launched the female-focused, streetwear-adjacent imprint, The_ONES, in 2017, tapping Concepts owner Tarek Hassan to aid in launching in-store pop-ups during the initial rollout.
Although Zappos doesn't benefit from Concepts's access to luxury labels such as Versace or Giuseppe Zanotti — it already operates Zappos Luxury — the digital-focused retailer could benefit from Concepts's sterling reputation in the sneaker industry. Of course, it's impossible to say if the retailer's reputation would transfer to Zappos following the purchase, or even if it matters. Zappos and Amazon's uncool corporate reputation "might be insurmountable," says Lawrence Schlossman of leading secondhand clothing site, Grailed. "Does Amazon do anything that trades in "cool" or is "cool?" I don't think so," he adds.
"I don't think kids care about Amazon right now. I mean, that's probably why they want in the business,"
As such, Zappos is not looking to cultivate a streetwear-friendly image for themselves. Instead, they're presumably aiming to experiment in an otherwise unfamiliar realm. Streetwear is a relatively new market for Zappos, and to succeed, the retailer must understand that the market caters exclusively to a young demographic. "The kid chooses. The kid makes the decision," asserts James Whitner, the founder of The Whitaker Group, which operates boutiques like Social Status, A Ma Maniére and Trophy Room. Put simply, if streetwear kids don't like your company, they won't buy from you. "I don't think kids care about Amazon right now. I mean, that's probably why they want in the business," he adds.
Streetwear has never been more commercial than in 2018, with brands such as Moncler, Hedi Slimane's Celine and Riccardo Tisci's Burberry tapping the streetwear drop model and large brands racing to deliver the next headline-grabbing trending sneaker. Even easier than aping the model, however, is to simply buy into a pre-existing, recognizable name — a luxury that only a company with the purchasing power of Zappos, backed by Amazon, has access to. By purchasing Concepts, Zappos is directly implanting itself into the outsider-repelling streetwear and sneaker market with a recognizable, culture-approved brand.
With the internet at their fingertips, today's streetwear consumers are skeptical of corporate buyouts and aren't afraid to let brands know how they feel; even as recently as August 2018, diehard BAPE fans took to the brand's Instagram page to assert their desire to see NIGO return and "save" BAPE from its current owners, I.T Group. "The bigger a corporation is, the harder it is for them to appeal to the streets," StockX's Joe Migraine reiterates. "I don't think the community would be too surprised, but the average consumer would probably be in 'wait and see' mode to determine if the products they put out are worthy of their money."
"It comes down to the product and the general perception of the product."
In spite of the stigma surrounding big money takeovers, Schlossman is optimistic. "What it comes down to is how they use that money. [For instance,] if Supreme takes that Carlyle money and opens a shop in Milan, Seoul, Hong Kong and that phases out bootleggers, how is that a bad thing?" he queries. "If that money goes towards new and exciting products or ideas, then I do not care about having millions more people buying this stuff." Still, overcoming the bias that diehards hold against sellouts and corporate culture is key for making the partnership work.
"One of the first things [Zappos is] gonna have to do is they're gonna have to validate themselves," affirms Whitner. "They're gonna have to continue to validate [the brand] that they purchased. Regardless of how much reputation that person or that company has, there's gonna be a level of new validation that the consumer and the market's gonna be looking for." Even with Concepts's world-renowned status as streetwear authorities, this partnership could possibly threaten the retailer's current first-rate reputation, though it may not even matter if management holds the course. "I think there'd be a natural reaction that'd be kinda negative, like what you saw with Supreme and the Carlyle Group." Schlossman posits. "Ultimately, though, people got over that shit real fast; it comes down to the product and the general perception of the product."
A (Hidden) Foot in the Door for Amazon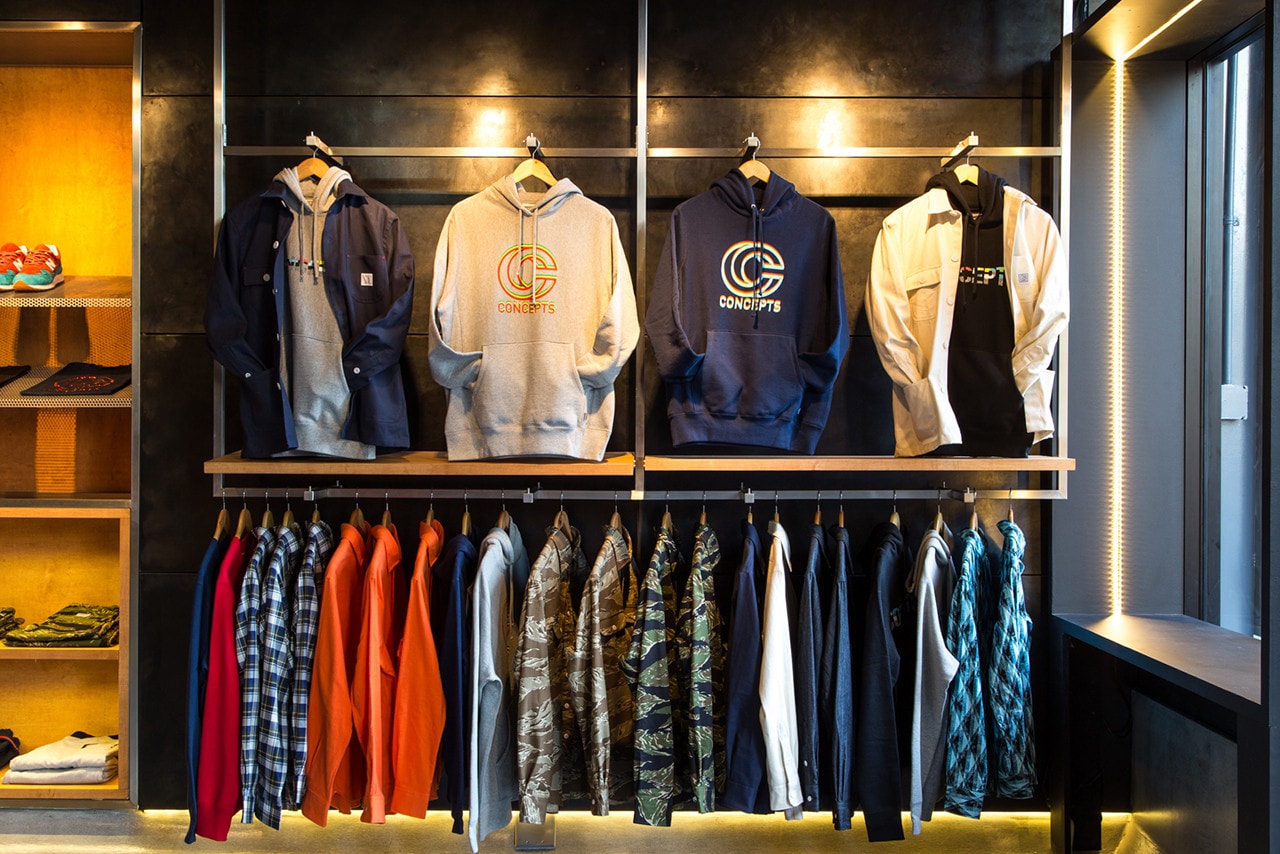 Although Amazon's forays into fashion have thus far focused on simple, adult-oriented basics, the Concepts partnership may indicate a shift. With big box stores like Target debuting streetwear lines, Amazon itself could be looking to maneuver into the industry, quietly testing the waters with the Zappos & Concepts partnership. "I think if they resource the right company, that would definitely give them inroads into our industry," Whitner acknowledges. "I'm sure that play has worked in so many other industries that come before ours, right? So I'm sure that could be a good first step." Though it's unlikely that Concepts's in-house label would be initially repurposed to suit Zappos's clothing aspirations, it may serve as a litmus test for styles that customers respond best to, thus informing Amazon's private labels.
Amazon's entry to fashion has utilized two separate approaches: "one is developing in house private labels, for what we call commoditized products," says analyst Ed Yruma. "The second is attracting a large national brands that already have built-in followings. Going after small, more niche parts of fashion, it's certainly something they haven't really done to the same extent." The Concepts partnership is likely to be an aid for Concepts and something of an experiment for Zappos; a safe bet that at worst, will expand their market and at best, will allow them access to a previously untapped market, possibly foretelling a more active push into the industry.
"It may serve as a litmus test for … Amazon's private labels."
Yruma underlines this hypothesis, noting that Amazon is creating "brand building capabilities [and] their own private label, but they would rather have brands that already have [an innate] following." Unlike Amazon's in-house lines, which are essentially wardrobe fillers, Concepts's in-house line is informed by its streetwear legacy and already has a built-in following.
"What [Amazon is] not necessarily great at is design or branding or building heat around a product or all those things that are crucial to a successful apparel brand," Yruma adds. "Which is why I think you've seen them opt to basically sell other people's products." This emphasizes the validity of the move to partner with Concepts, as the company relieves Zappos of the conceptual burden, while granting the digital retailer access to the reputation-dependent world of streetwear.
Can Amazon Become a Major Streetwear Player?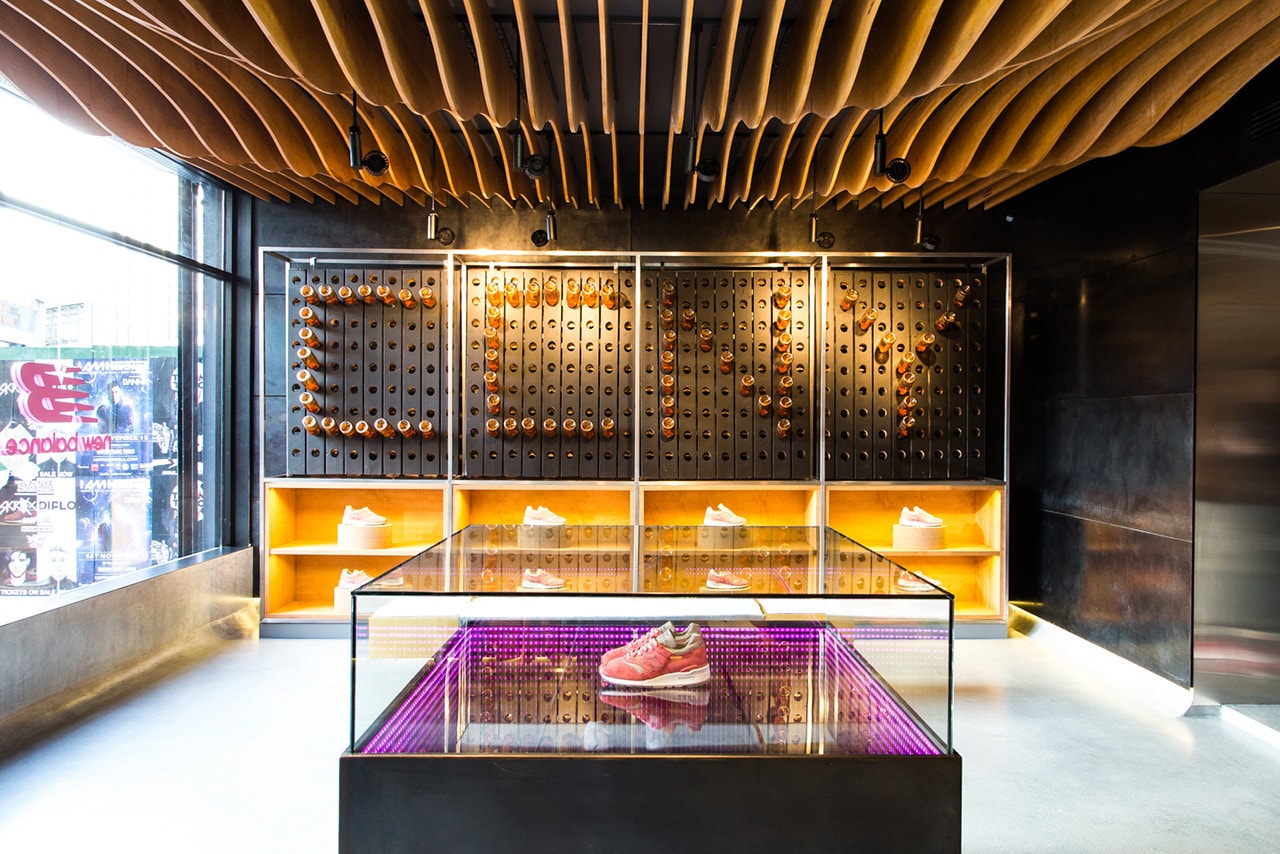 Applying Amazon & Zappos's unmatched logistics and technology to a retailer like Concepts is guaranteed to yield lasting impact in the rest of the industry, with other streetwear retailers forced to compete with one of the world's most powerful companies. Amazon's vast reach is undeniably intimidating for smaller stores, many of which could be unable to keep up with the amount of resources at Zappos's disposal, including its penchant to create unbeatable prices.
"I actually think Amazon's strategy with price is to have the lowest national price," Yruma proffers. Though it's anyone's guess whether Concepts will become America's most affordable sneaker boutique, there's no reason why its web store couldn't tap Zappos's free shipping costs and 24/7 customer service. "We will benefit from Zappos' logistical strengths, customer service know-how and operational systems to redefine the boutique retail experience on all levels," said Concepts. Zappos's size and infrastructure allows for powered-up logistics, capital for expansion and a safety net to experiment with more ambitious collaborations — a luxury that other streetwear boutiques lack.
"Zappos's size and infrastructure allows for powered-up logistics, capital for expansion and a safety net to experiment."
As it stands, streetwear is a volatile market, with mercurial tastes and time-sensitive drops that leaves outsiders wary of attempting entry; but no one is better positioned to own this challenge than Amazon. "Amazon has been able to compile an informational 'nuclear' database by finitely tracking all of the gazillions of transactions that have taken place online. In real time they know what's hot and what's not," says analyst Robin Lewis. "They can then quickly find the 'white spaces' — styles, price points not being served." This has served Amazon well in crafting its private label brands and the same technology could easily translate into rethinking one of streetwear's main drivers: high-demand items and drops.
"Amazon changed the way we shop for everything, why not change the way we shop for streetwear and clothing as well?" says Schlossman. However, an immense authenticity barrier prevents the Amazon brand itself from truly becoming a mainstay streetwear player. For the time being, Amazon is better positioned to reap profits from streetwear subsidiaries than from directly entering the market itself. "As far as being cool, the company is just too big and what they do is so different from streetwear, that buying into the industry isn't a move to become cool," Schlossman says.
"Zappos-Concepts's partnership … validates streetwear's transition from niche subculture to certifiable cash cow."
Indeed, big money was once the antithesis of streetwear. Now, as investment continues to find its way to the industry, heavyweight investors run the risk of unraveling the value of the companies they're buying into. While Amazon's long-term relationship with streetwear is unclear, the Zappos-Concepts partnership further validates the industry's transition from niche subculture to certifiable cash cow. Moreover, it may preclude a feeding frenzy as more multi-million, if not billion, dollar conglomerates seek to snatch up the next streetwear unicorn.