Kim Kardashian Spotted Wearing Unreleased YEEZY Season 7 Pieces
There won't be a YEEZY show in Paris but this is the next best thing.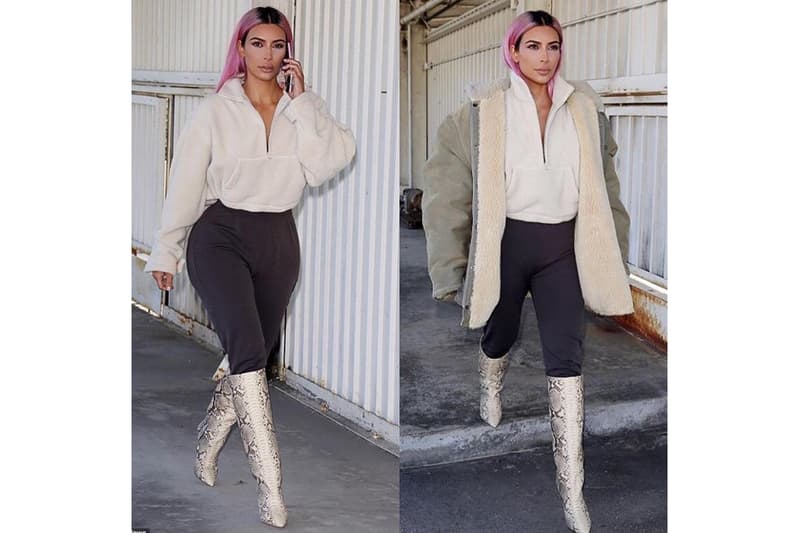 Kanye West and Kim Kardashian look to be having fun giving the fashion world more creative previews of Ye's YEEZY Season line. For season 6, Kanye got a bit more creative with his rollout of the range by taking to social media and other clever forms of physical ads to unveil the release. Not only did fans see Kanye's creations worn by Kim Kardashian and her celebrity friends in the digital space but they also got to witness the paparazzi-style photos plastered on the walls of public spaces all over the world. The most notable campaign takeover was recently seen in New York's Herald Square.
With YEEZY Season 6 already available for purchase at stores, the industry now eagerly awaits for what 'Ye will do to show Season 7. According to People magazine, it looks like unreleased YEEZY Season 7 pieces have already been seen on Kim Kardashian. The starlet has been spotted wearing bodysuits, fleece tops, joggers, a coat, waist packs, and Calabasas socks from the upcoming line. Additionally, Carine Roitfeld referred to Kim's recent shearling coat and fleece pullover outfit as from YEEZY Season 7.
YEEZY experts YEEZY Mafia has also confirmed that there will be no YEEZY Season 7 show happening in Paris. This entails that Kanye is going the nontraditional route again to preview his new designs and that paparazzi shots are becoming his method of presenting campaign imagery. Take a look at what has been teased on Kim above and below and let us know some of your initial thoughts on the pieces.