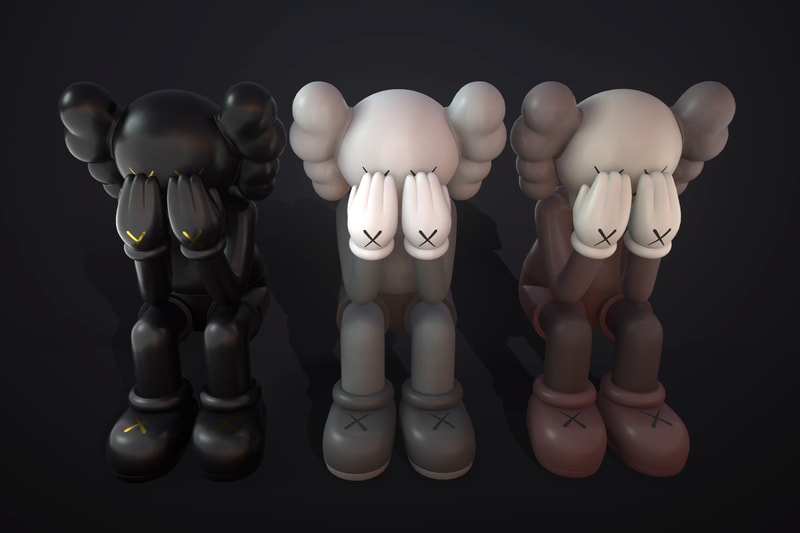 Best New Art: KAWS, George Condo, Daniel Arsham & More
Contemporary art auctions, shows, and lectures that you need on your radar.
---
Nowadays, major auction houses are avidly dedicating lots and sales to street artists. This past January, Sotheby's hosted its first ever sale for street art. Made in collaboration with the Hong Kong Contemporary Art Foundation (HOCA), the auction included 32 works that were donated by 29 international street artists such as Invader, Vhils and Shepard Fairey. Just recently, auction platforms such as Phillips and Paddle8 announced their upcoming sales with several lots reserved to former street artist KAWS, JR, as well as Banksy.
The dollar amounts for these works of street art can't hold a candle to the pieces paid for the works of Old Masters. However, this surge of street art sales in major auctions prove that there is a substantial market for the art form.
Phillips Kicks off First New York Auction of 2018
Phillips is set to launch its first New York City auction titled "New Now." The sale is comprised of approximately 250 lots spotlighting works by both emerging and established contemporary artists. The event marks the first installment of Phillips' 20th Century & Contemporary Art auctions this year. Notable works in the sale include George Condo's Nude Homeless Drinker, KAWS' four-foot Companion in grey, Damien Hirst's Arachidoyl Chloride painting (36 x 36 inches), alongside pieces by Ugo Rondinone and Manolo Valdés.
Visit Phillips' official website to view the full selection of artworks and expect the auction to launch this February 28.
Paddle8 Launches Street Art Sale Featuring KAWS, JR & More
Paddle8 recently debuted its Street Art sale featuring rare pieces by renowned contemporary artists. Limited sculptures and paintings by KAWS, Banksy, JR, Takashi Murakami, Invader, Revok, Mr. Brainwash, Parra, D*Face, Paul Insect, Hebru Brantley, Retna as well as Shepard Fairey are included in the sale. Eye-catching pieces include KAWS' 4-Foot Dissected Companion with a current bid of approximately $41,000 USD, JR's The Wrinkles of The City mixed media artwork for $30,000 USD, and Banksy's Monkey Queen screen print for $16,000 USD.
Visit Paddle8 to see the full selection of artworks on auction and expect the sale to conclude this March 5.
Daniel Arsham to Host Free Public Lecture at Cooper Union
Daniel Arsham is set to spearhead a free public lecture at Cooper Union in New York City titled "Mandatory Induction Guidelines." The lecture will explore the artist's "process and etiquette for the understanding, transformation and manipulation of the Future," said the institute. More precisely, Arsham will discuss the purpose and process behind his internationally-renowned works that encompass art, architecture and performance. The event will take place on March 5 from 6:30 p.m. EST to 8 p.m. EST.
Visit Cooper Union's official website to learn more.
Cooper Union
30 Cooper Square
New York, NY 10003
Ross+Kramer Gallery to Launch Solo Show of Japanese Artist Koichi Sato
The Ross+Kramer Gallery in New York City will present new works by self-taught Japanese artist, Koichi Sato. Drawing inspiration from the relentless montage of images in television and sports, Sato's paintings are playful reinterpretations of these images that feature "bold stylization, pattern, and color," said the gallery. Subjects include TV & movie stars, cheerleaders, baseball players, wrestlers and more recently, bodybuilders.
Koichi Sato's show will open on March 6. Visit Ross+Kramer's official website to learn more.
Ross+Kramer Gallery
14 E. 63rd St.
New York, NY 10065
New Rammellzee Exhibit to Arrive in New York City
Multifaceted artist Rammellzee will be the subject of a new retrospective at Red Bull Arts New York this spring. The showcase will put on a grand display of the artist's sculptures, paintings, graffiti works and more. Accompanying the works will be a series of "Oral Histories" helmed by leading creatives in the industry such as Wild Style director Charlie Ahearn and hip-hop photographer/videographer Henry Chalfant.
Red Bull Arts New York's Rammellzee exhibit will be open to the public this May 4 up until August 26.
Red Bull Arts New York
220 W. 18th St.
New York, NY 10011