8 Drops You Don't Want to Miss This Week
Featuring A Bathing Ape x EA Sports, Virgil's debut LV release, and Supreme.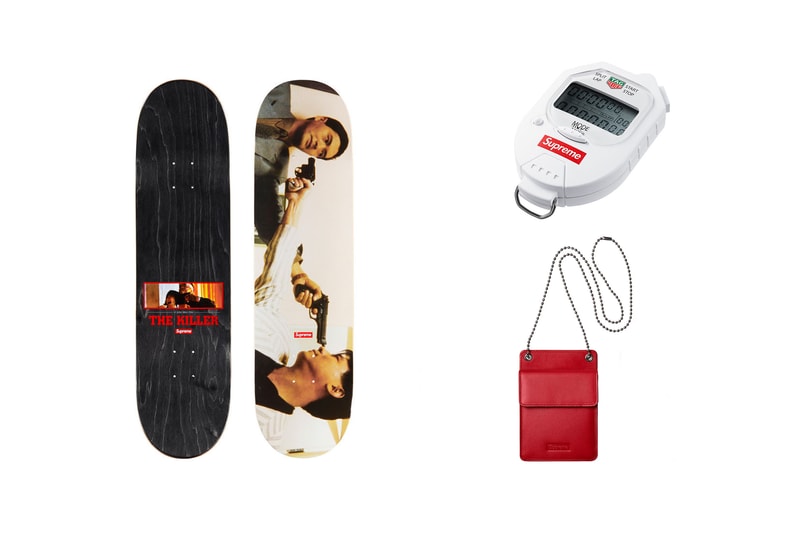 This week's list of weekly product drops begins our descent into a number of warmer offerings; gone are the plentiful selections of T-shirts, and in their place are jackets, polar-fleece sweaters, hoodies, and long coats. This week sees collaborative offerings from A Bathing Ape x EA Sports, Brain Dead x Converse, Netflix's 'Narcos' x 40s & Shorties, and mastermind WORLD x F.C.R.B.
On top of the number of collaborations releasing this week, a few highly anticipated drops also make their way into stores. Virgil Abloh's first collection with Louis Vuitton arrives, and from the looks of it, there is something for everyone — from footwear and leather luggage, all the way to small accessories like keychains. Supreme also makes a splash with its latest release, as they team up with Hong Kong director John Woo and his 1989 triad film The Killer for a collection that's chock-full of iconic imagery from the film.
Key items this week include BAPE's Shark Hoodie with EA Sports, the Louis Vuitton The Wizard of Oz-inspired sweater, Brain Dead's mock-neck "Bananas" sweater, the Supreme x Tag Heuer Pocket Pro Stopwatch, the Supreme "The Killer" M65 jacket, the Supreme Sleeve Logo Sideline Parka, and finally, the Stüssy Patchwork Long Coat.
Supreme Autumn 2018 Collection Drop 10
Supreme gets a bit gritty this week with a film collab featuring inspiration from director John Woo's action classic The Killer. In the collective, fans will find a military jacket, tees, hoodies and decks that all pay tribute to the movie in graphic form. If that's not your cup of tea, then there are the tried-and-true street staples from the NYC imprint — tees, sweats, fleece tops, trousers, hats and more will be offered in 'Preme's on-trend designs. Furthermore, for the accessories buffs, the Tag-Heuer stopwatch will make its release debut.
When: October 25
Where: Supreme Online and Retail Stores in NY, Brooklyn, London, France, and Japan
Palace Autumn 2018 Collection Drop 11
Palace made some noise when it announced it will be partnering up with Ralph Lauren for a release. With that still under wraps for the moment, fans of the brand have this Friday to look forward to for some good ol' fashion Palace goods. It's the usual suspects for the brand this week with logo-emblazoned staples — expect outerwear, tees, caps, beanies, small accessories to be part of the mix in bright patterns and colors as well. There's also the recently teased adidas collab sneaker in black and white options that are sure to be a hit with skate footwear aficionados.
When: October 26
Where: Palace's Web Store and London/NY Flagships
BAPE & EA Sports Fall/Winter 2018 Collection
Continuing its series of collaborations, BAPE recently teamed up with EA Sports on a set of vibrant T-shirts and Shark Hoodies. The APE Head T-shirts are offered in an array of colors and a classic monochromatic design complete with EA Sports branding. The hoodie features the signature felt appliqués at the hood and a color-blocked design that matches red, purple, teal and blue.
When: Now
Where: BAPE
Narcos' x 40s & Shorties Collection
LA's 40s & Shorties teams up with Netflix hit series Narcos on a new collection of collaborative gear. The capsule features a bevy of printed and cut-and-sew pieces, such as Hawaiian shirts, polos, safari tops and a football jersey, all featuring retro-style hues and tropical prints. The graphic motifs reference the "violence, turmoil, and extravagance" prevalent in both Narcos and our current era, however, if you're looking for something more basic, there is also a handful of T-shirts and a white hoodie and jogger set.
When: October 25
Where: 40sandshorties.com
Brain Dead x Converse Capsule Collection
To accompany its Chuck Taylor All Star '70 collab, Brain Dead teamed up with Converse on a capsule of mismatched clothing. Following the eclectic combination aesthetic found on the shoe, the special range looks to be constructed of an assortment of pieces accented by peculiar graphics from the LA-based label. The Brain Dead x Converse collab is comprised of a 50-50 bomber jacket and hoodie, mock-neck "Bananas" sweater and a pair of bags: a hefty tote and tiny shoulder bag.
When: October 26
Where: Nike & Brain Dead Official Webstore
Stüssy 2018 Holiday Collection
Stüssy is back with a robust Holiday 2018 collection chock full of hit essentials and bold graphics. This collection hits a more luxurious tone with a focus on outerwear and tailored pieces for the colder season. Highlights include the corduroy and velvet pieces, the tapestry-inspired jacquard pieces, multi-color tie-dye patterns and checkerboard prints, and a wide range skate staples and tracksuits. This collection offers a mix of rich, sepia-tinged hues for more formal occasions as well as bright neons for bold flexing.
When: October 26
Where: Stüssy's web store and retail locations, and Dover Street Market London
mastermind WORLD x F.C.R.B. Fall/Winter 2018 Collection
Japan's mastermind WORLD and SOPH.'s F.C.R.B. have joined forces once again for another collaborative capsule featuring a tracksuit, graphic T-shirt and New Era cap. In an easy all-black palette, this release fuses the fictional football club's staple sportswear designs with mastermind's signature skull and bones motifs, all of which sets the stage for the "KEEP CALM AND FOLLOW F.C.R.B." graphic. Other details include SOPH.'s standard D-rings and zippered pockets, as well as embroidered patches and stitching on the New Era cap.
When: October 26
Where: GR8's web store
Virgil Abloh's Debut Louis Vuitton Release
After a patiently waiting, the release of Virgil Abloh's first collection for Louis Vuitton is now here. The debut Spring/Summer 2019 drop set to be available via a staggered release schedule is defined by outlandish chain detailing on leather goods, bright tonal leather looks that are new to LV and a whimsical The Wizard of Oz inspiration. Standout pieces include the playful Yellow Brick Road sweater, luxury functional monogram pouch holster vest and reimagined Millionaire sunglasses.
When: Limited release October and full release January
Where: Louis Vuitton