The Five Best Collections at Paris Fashion Week Fall/Winter 2018
From luxury titans to indie cult favorites.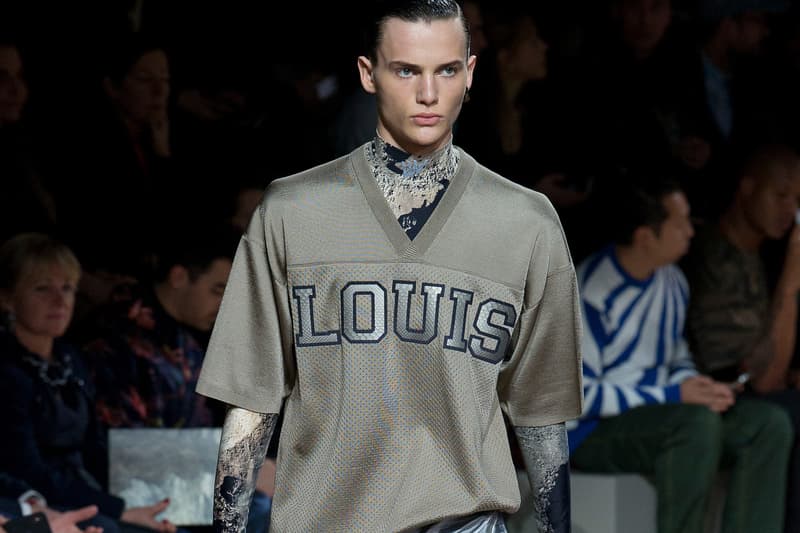 Despite several attempts to dethrone it, Paris Fashion Week remains the pinnacle of menswear. There's a reason why just about every other fashion week continues to lose key names except Paris. London saw J.W Anderson and Martine Rose decide not to show while New York lost Alexander Wang. Meanwhile Paris only adds to an impressively stacked schedule.
Of all of the fashion events so far, Paris remains one of the most challenging to endure simply because there's just so much on show. There can be a tendency to go with the biggest names or the buzziest brands, but instead we've decided to round up the week's best collections.
GmbH
By all accounts, GmbH should've been a failure. Held outside in the middle of a downpour in a remote part of the city, everything was against it. But as the models strode through windy rain, it was clear to see why the label has amassed such a large cult following.
Presenting a range that the designers dubbed as "modern armor," the collection featured an eclectic mix of three-button suiting, gently oversized bomber jackets and a selection of outerwear in the form of fleece and denim that used protective padding panels usually seen on motorcycle clothing.
Backstage, the designers spoke about how the collection was inspired by being the "other" and how that affects how you go through your everyday life by seeking armor in the form of clothing. It was this tie-in with reality that helped elevate the collection above the parapet.
Y/Project
Y/Project has steadily gained steam over the last few seasons, and this season proved no different. Originally founded by Gilles Elalouf and Yohan Serfaty in 2011, Glenn Martens was offered the position of creative director by Elalouf in 2013 after Serfaty passed away. Martens's task was to continue the spirit of the brand and it's been a task he's taken to with aplomb, as shown by the brand's Fall/Winter 2018 show.
Playing with ideas of high-low taste is a common, tantalizing theme for many a daring designer. Y/Project is one of the most successful at answering this, making buyers and press second guess their love/hatred of a specific piece. This season the brand played with fire, collaborating with Uggs for a pair of thigh-high baggy boots that were the talk of the town. Footwear aside, there were several brand-specific details such as the return of the multi-layered hem finish, double-layered knitwear and shirts that were cinched towards the front, creating a ruffled-effect.
Thom Browne
For years, the runway spectacles hosted by Thom Browne's eponymous label have bordered on the theatrical. Browne's extravagant presentations often deconstruct tailoring to unrecognizable levels, sending looks down the runway that recall costuming more than suiting: the padded linebacker-inspired styles of Fall/Winter 2012, the exaggerated militance of Spring/Summer 2014 and the elephantine looks from Fall/Winter 2017 are merely a few of the designer's more overtly off-kilter collections. In comparison, Browne's Fall/Winter 2018 show was a more restrained display.
Models sporting twin braids and rosy cheeks strolled through a winter wonderland, showing off Browne's latest subversion of tailored clothing. This collection eschewed esoteric design for duvet-inspired outerwear and layers, seen in the form of quilted coats, blazers, cardigans and trousers. The cozy looks were complemented by knee-high, puffy leg warmers executed in white, black and the label's signature grey. Luxurious fur-trimmed coats gelled with ski slope-ready down coats and fair-isle patterned suits, while slouchy beanies kept the looks from being too austere.
Thom Browne Fall/Winter 2018 showcased the label at its best, with looks both unconventional and wearable, quirky and covetable. It blended the brand's street, smart and luxury inclinations into a cohesive array that held its own during a crowded fashion week.
Dior Homme
Kris Van Assche's Dior Homme is nothing if not flexible. The label reinvents the modern suit season after season, updating the classic style with disparate fits, adventurous accessories and forward-thinking color schemes. Previous collections have looked everywhere from bondage clothing to sportswear for inspiration, indicative of Van Assche's worldly tastes. For Fall/Winter 2018, Van Assche continued undercutting traditional tailoring with a more street-friendly selection of looks, with the designer's taste for extreme sports influencing the sleek ready-to-wear.
As Kris Van Assche noted in his interview with HYPEBEAST, "The contrast between [sharp tailoring and baggy trousers] just makes each element stand out more." Indeed, the collection juxtaposes Dior Homme's trim suiting with relaxed trousers, track-ready layers and skate sneakers. Tribal patterns weave in and out of the collection, appearing on sleeves, bags and suits, recalling the extreme sport styles of the early '00s.
Complemented by embroidered bomber jackets and creased jeans, the looks hit on both the contemporary predilection for eye-catching graphics and vintage skatewear. Models styled with neckerchiefs, double-breasted blazers, and metal jewelry shaped like the collection's tribal patterns ensured that the range was elevated beyond mere streetwear, tapping into the high-low styling so relevant in fashion today.
Louis Vuitton
Though it was already triple-circled on the schedules of every industry veteran at Paris Fashion Week, the hype that swirled around this season's Louis Vuitton show was substantially multiplied upon Kim Jones's abrupt announcement that he'd be leaving the storied French house after seven memorable years. The British designer's legacy will forever be remembered as one that brought new life to heritage high fashion; Jones's ability to tap references from the worlds of streetwear and luxury and turn them into refreshingly modern collections each season appealed to a broad swath of people, and his influence stands unremitting.
Expectations for Jones's Fall/Winter 2018 show were set sky high not only because it was his last, but because it also marked the one-year anniversary of Louis Vuitton's landmark collaboration with streetwear magnate Supreme. Of course it wasn't going to slide by without garnering mixed reactions, but for a final adieu, Jones did justice to his tenure by churning out a range that paid homage both to his design feats at the house, as well as those by his predecessor Marc Jacobs.
Combining the gaudy, monogram-heavy trappings that defined Jacobs's LV reign during the early 2000s with Jones's trademark youthful styling, the collection was drenched in a balanced color palette that transitioned from cool-hued silvers, blues and purples to neon yellows, vivid reds and muted brown. Key pieces include a branded LV V-neck sports jersey, a distressed and bleached military coat, a "Peace and Love" graphic crewneck (which will surely be on the backs of every street style star in existence next season), floral leather jacket and ice blue sling bag. The real show-stoppers, however, were the all-over LV monogram raincoats worn by supermodel icons Naomi Campbell and Kate Moss during the final walk.
Be sure to check out Fashion Week Fall/Winter 2018 for all of our coverage this season.