The Top 10 Announcements at CES 2018
From OLED TVs to autonomous cars.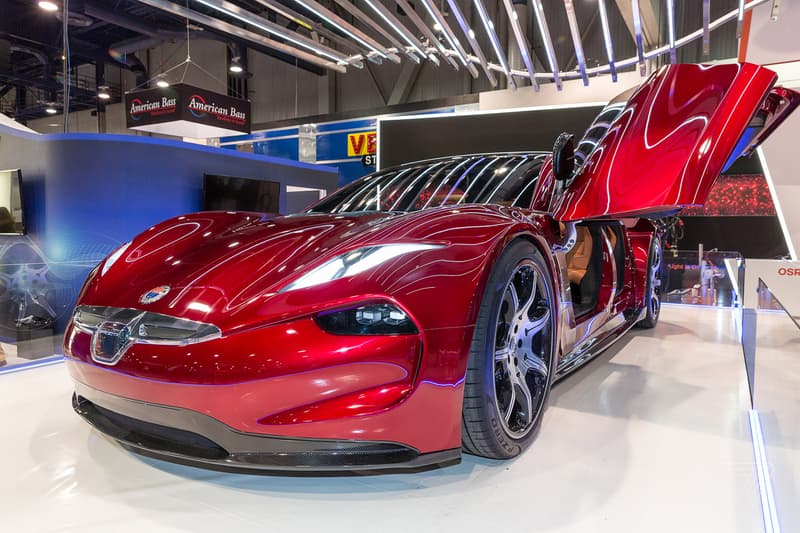 The Consumer Electronics Show is the longest running tech expo around, and every year around this time a bevy of companies showcase what they have in store for fans in the coming months. Often, the same regurgitated concepts are presented at the show, however, this year has seen a vast majority of innovative tech announced and introduced from OLED TVs to electric cars offering solid-state batteries and self-driving features. We at HYPEBEAST have curated a round-up of the top 10 coolest gadgets to come out of CES this year and concepts sure to shake-up the industry when (or if) they're put into production.
ASUS's Republic of Gamers sub-brand unleashed a three-monitor gaming setup that utilizes lenses and light refraction to make the bezels and outer edges disappear. It essentially attaches monitors at 130-degree angles, which blends the screens together and curves them into appearing as one big display. The best part is there is no software required since it operates purely on an optical process. ASUS has ensured consumers that the product kit will roll out later this year.
Announced slightly ahead of CES, LG introduced its 150-inch HU80KA projector capable of outputting 4K quality and support for HDR with HDR10 tech. It's tall and compact unlike most projectors, and given its HDR capabilities, you can play your Xbox One X and PlayStation 4 games with it. It can also stream Netflix, Hulu, YouTube as well as playback footage from external drivers. LG describes the HU80KA as an "affordable yet premium device," however there has been no announcement of a price as of yet despite the promise of one during CES 2018.
The Razer Mamba Hyperflux
A lot of great mice were introduced this year, including SteelSeries' Rival 600 that utilizes a second scanner to eliminate surprise curser movements. However, the most impressive reveal≠≠≠ was Razer's Mamba Hyperflux, a wireless mouse with no battery that pulls power directly from its mouse pad. It's lighter than previous mice the brand has provided and still offers Chroma lights that you can modify from your PC. The HyperFlux series will be available early this year for $249 USD.
Samsung unveiled a 146-inch 4K display that utilizes MicroLED instead of LCD or OLED. MicroLED is usually used on large jumbotron commercial signs, utilizing small light bulbs to combine each pixel in the screen's array. It's the largest screen the brand has ever announced, and beyond stating it would ship this year, no pricing or availability for MicroLED TVs was announced.
Nvidia GeForce Now
Gamers are used to subscription services, and Shadow Tech's remotely accessible high-end Windows PC for $35 per month is a noteworthy CES announcement. However, Nvidia's GeForce Now not only offers the ability to play demanding titles for a monthly price but it's also designed to stream games across the Internet at a pristine 1080p with low latency. On the show floor, the brand is testing out the tech on $200 USD laptops, leaving booth visitors floored at how smooth PlayerUnknown's Battleground runs. The service is currently in beta and available now for Macs and PCs.
Teasing images of its highly anticipated EMotion EV ahead of CES, Fisker debuted its luxury sedan set to release in 2020. It features a carbon fiber chassis, Level 4 autonomous driving technology, a fast-charging battery that's expected to get a 400-mile range, and a top speed of 160 miles per hour. It's one of Tesla's biggest competitors, with a goal to install its patented flexible solid-state battery technology when put into production, which has the capabilities to deliver double the energy density of lithium-ion. The success of the tech could be a game changer: Henrik Fisker states the tech "is the next generation in charging everything from your personal cell phone to enabling mass adoption of electric vehicles due to unprecedented ranges and lighting-fast charge times."
Nvidia Drive IX & Drive AR
The chipmakers are showcasing its two new software platforms Drive IX and Drive AR, both of which can change the AI virtual assistant game once the tech is on the market. The Drive IX allows automakers to utilize car sensors in and out of the car to serve an artificial co-pilot while you drive. Meanwhile, the Drive AR uses facial recognition to identify the driver and perform menial tasks if you're falling asleep or taking your eyes off the road. It will even allow users to create gesture and voice-based controls for their vehicles. As of the announcement, over 320 partners are working with Nvidia on autonomous driving. The rivalry between Nvidia and Intel for dominance in computing systems for autonomous vehicles ensues.
Sensible and practical announcements are what we look for at CES, and in an era where consumers are cutting the cord on cable in favor of streaming services, ChannelMaster's Smartenna+ picks up signals within a 60-mile range and optimizes your reception automatically. When it's tied to the DVR-esque Stream+, which features 4K and HDR compatibility, built-in Chromecast/Android TV support, dual tuners, and a free channel guide with no subscription, you can freely stream local stations in high quality and say goodbye to cable subscriptions once and for all. Both products are slated for a spring 2018 release for $89 USD and $99 USD, respectively, and available to preorder.
LG Display has been killing it at CES this year, but even before the show, LG had been announcing amazing products including the HDR projector above. LG also introduced the world's first 88-inch OLED 8K TV. As the race toward transitioning to 4K quality begins, LG has put its stake in OLED technology as the future, and as such, serve to be the leading force in its development. Although there are currently no 8K things to watch, the 7,680×4,320-pixel resolution this TV produces shines a bright light towards the future of home entertainment.
Smacircle S1 Folding eBike
Being boasted as the world's most lightweight and compact foldable eBike, the Smacircle's S1 weight roughly 15 pounds and can be stored in a backpack and locked with the use of a smartphone. Able to travel up to 12 miles on a single USB charge, you can own your very own now by pre-ordering it on Indiegogo for $650 USD before the sell at retail for $1500 USD. Shipping begins this month.