JayDaYoungan Is a Small Louisiana Town's Brightest New Star
If he has his way, Bogalusa, LA will enter the national stage.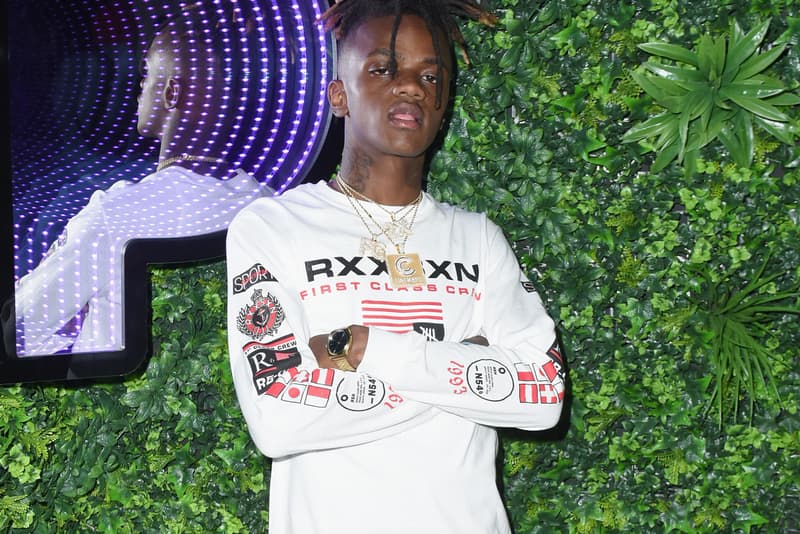 Hip-hop's inherent regionalism is one of the unique aspects that separates it from the ever-changing horde of new trends, but the feel-good "small town" tropes that fuel classic Americana don't always resonate with a fanbase that looks to metropolitan mega-centers like Los Angeles, Chicago, New York City and Atlanta as the hubs of cultural relevance. HYPEBEAST's new series, Regional Rappers, spotlights up-and-coming hip-hop and R&B artists in America's not as densely populated regions.
Indeed, if your entire region is less populous than some blocks in major cities, you probably shouldn't expect trending topics or career-changing co-signs to feature your name anytime soon. You therefore can't fault fast-rising Bogalusa, Louisiana phenom JayDaYoungan for not taking his talents seriously at first. One of 2018's unlikely potential superstars, he didn't spend anytime cutting his teeth in the traditional way.
"I didn't take it serious until I dropped a song on YouTube," Jay tells us, having only chosen music as a career in the past couple of years. "I got the feedback on it and the fans were loving it and they reacted to it. I got a lot of love and they were telling me I needed to take it serious and that I had the voice for it." The infectious hook of one of his latest mixtape's opening salvos even addresses the initial surge of interest in his talents. "I heard I motivate young n*ggas to succeed now," he hazily spits. "I heard my music in the streets is what they need now."
Having dropped out of high school in his final year, Jay's goals weren't initially rooted in any particular passion or strategy. "I just did it cause it was some sh*t I was able to do," Jay explains. "People would turn a beat on and I would just start going crazy."
With less than two years of effort under his belt, JayDaYoungan's free-spirited approach has already racked up millions of streams across multiple major platforms. In the last quarter of 2017 alone, the rising rapper dropped two studio projects and a handful of instantly-popular videos.
Already at the top of his region's current class of talent, his formula is simple and nowhere near a closely-guarded secret. "Tell your story, tell your experiences," he shares. The Louisiana native entrenches himself inside the studio booth and lets the real-life stories inside of his head spill out and become songs. "I don't like to hear anything or hear anybody talking. I just like to think. I just think about the past. That's what people want to hear; they want to hear what they couldn't see."
Jay's most successful single release to date is is the menacing "Sliding Freestyle." The two-minute-and-some-change song is an explosion of all-out street warfare, with accompanying visuals featuring enough artillery to fuel a militia's rebellion. "Sliding" traces its regional lineage and war-ready mentality back almost 20 years to local predecessors Mac and Mystikal's fittingly-titled, equally-vicious "Murda, Murda, Kill, Kill," transforming the song's street-soldier sentiment into an anthemic war cry that functions as blood-smeared proof of its creator's warrior instincts.
Propelled by a strong connection to the music and career narratives of Kevin Gates and Chief Keef and raised on the legendary records of Boosie Badazz, Jay wields a traditional down-south bounce as a vehicle to deliver well-rapped recollections of past trauma, sermons on survival and paranoid, trigger-clutching gun talk. Alternating between the pained, poetic crooning native to his part of the south and agile, blistering flows worthy of an Olympic sport competition, the rapper consolidates all of his region's current sonic signatures into a vivid portrayal of what modern Louisiana has to offer. Popular artists in his corner of the country have a tendency to express themselves through their studio's mics like blues artists used to through their guitars, and that style of rap flows effortlessly out of Jay.
"Tell your story, tell your experiences… That's what people want to hear; they want to hear what they couldn't see."
"I get a lot of comparisons to Boosie, [NBA] YoungBoy, Kevin Gates," Jay says. "People from other states and cities hear our music and say we sound just alike but it ain't like that. We just from the same area and our lingo is going to sound alike; we all going through the same sh*t, we just say it a different way in our music. That's why we get compared a lot."
For the aforementioned trio of comparisons, getting a shot on the national stage might have been easier thanks to their city of origin. While Louisiana's capital city of Baton Rouge is currently enjoying a monumental run in contemporary street rap, Jay's hometown counts him as its strongest and possibly only prospect for widespread recognition. "It's like everywhere else," Jay says of Bogalusa. "There's a struggle and you got to make the best with what you can. I dropped out of school in my 12th grade year — that sh*t wasn't doing anything for me and I had to find another way to eat. I had to turn up with this music."
A small town with a population right under 12,000, Bogalusa is marred by more than just a lack of mainstream recognition; its median household income is barely over half its state's lower-than-average $45,727 figure, and its crime statistics trample the U.S. norms. "There's a lot of hating ass people around here," Jay revealed during a recent Say Cheese sitdown. Still, the young rapper reserves a special affection for his hometown and says he "loves" the city. Despite its statistical faults, Bogalusa has given Jay everything he has. If he succeeds at his goals as planned, it will be because of his upbringing, not in spite of it.
It's this experience of being raised in an area that's received a flood of negative attention for rappers who haven't made it out, that brings the young lyricist to understand both the scope of the decks stacked against him and how to channel that into the traditional rap success story. In Louisiana, popular rappers rarely get to enjoy the fruits of their labor. Two of New Orleans' hometown heroes from the Hot Boys have spent much of their careers submerged in legal issues: after nearly a decade in prison, Turk regained his freedom back in 2012, the same year that fellow Hot Boy B.G. was given a 14-year federal prison sentence. Master P's brother C-Murder and fellow No Limit artist Mac are likely to spend the rest of their lives behind bars, while another label standout, Soulja Slim, was murdered in 2003 at the age of 26.
Warning of the hazards that derail Louisiana artists' plans, Boosie Badazz — Baton Rouge's larger-than-life people's champion and arguably its most notable contemporary emcee — has never been one to shy away from telling similar-minded, younger rappers from his home-region to move and stay away from the place that raised them.
"Most rappers die in their own city, it's a fact," Boosie told DJ Vlad during a grim 2016 VladTV sitdown now notoriously known as the "Hypnotized by Hatred" interview. "If you don't leave, 95% of the time you're going to get killed. Period."
If you're a Louisianan rapper on the cusp of any type of tangible success, the message is clear: leave before it's too late. "That's how it is in Louisiana. If you go back, all of Louisiana's rappers… were ran out of Louisiana because of hatred. " Boosie continued. "There's a lot going on in that state that's not 100, that's not fair. It's a hard state. I would never move back into that."
Although he's not one of the seasoned OGs of his craft, JayDaYoungan's mindset shows a mature understanding of Boosie's guidance, revealing a nuanced appreciation of the perils that plague his state.
"There's a lot of competition," Jay explains. "That's the main thing going on is competition. In other areas, they succeed because they come together and they collab a lot. Around here, everyone is competing and nobody wants to see the next person on. It's mostly negative; I feel like if everyone was to collab and eat together, Louisiana would be a lot better."
JayDaYoungan has rapped about how "his time could be any minute," and that line currently holds two very different meanings and potential outcomes. His "time" could equal to the life of prosperity his rap-hero Chief Keef enjoys as he rests his head in a California mansion. Or, an early grave could violently sabotage his plans, throwing his name into the same pile of tragic headlines that have befallen Da Real Gee Money, Lil Snupe, Racked Up Ready, Zoe Rella and several other local talents in recent years.
"In other areas, they succeed because they come together and they collab a lot. Around here, everyone is competing and nobody wants to see the next person on."
Previous bars from Jay reveal a tug of war between outcomes. He has reflected on having "one foot" on the road to rap-riches and the "other still in the streets," which has created an internal conflict. However, it's that same contrast that's produced the by-any-means mindset that he believes will lead him to the heights he aims for. "I won't stop until the world notice me, because I felt like nobody cold as me," he spits during one of the final tracks on his most recent tape. Many other stars-to-be from his area never realized their dreams, but Jay is determined to break the curse.