15 Furniture and Homeware Collections for Fashion Enthusiasts
Options that cover streetwear collections, luxury lines and innovative furniture brands.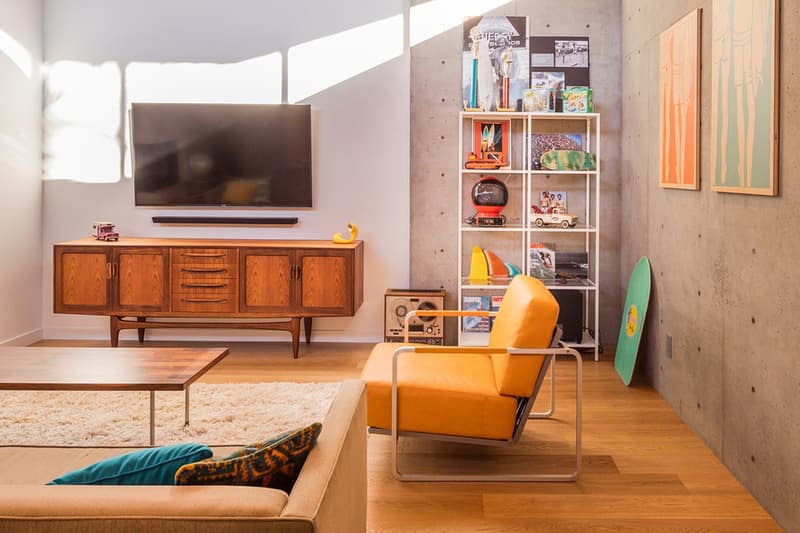 If you have a passion for sneakers or fashion, you'll likely have a passion for design as well. Aesthetic interests manifest in different forms and mediums, and our modes of expression often reflect the different phases (and purchasing powers) of our lives. For many, a typical trajectory would usually begin with clothing and accessories, and then move on to luxury pieces, and inevitably enter into the way we decorate our spaces — through interior design and furniture.
Lately, homeware has played a particularly large role in contemporary fashion, owed primarily to the IKEA craze that dominated past seasons. While the Swedish design imprint has always been relevant to fashion enthusiasts, its transformation from a label known for necessity to one of accessory has helped connect the dots between form, function, fashion and design.
Elsewhere, fashion designers, both heritage and street alike, have been expanding into the interior design realm for quite some time. Brands such as BAPE, STÜSSY, Louis Vuitton and Hedi Slimane have collaborated with notable furniture imprints or created their own in-house lines, offering options for different lifestyles, purposes and price points.
The selection below is an introductory list to the world of interior design and furniture. It includes streetwear collaborations, luxury labels and young/innovative companies that aim to revolutionize the way we shop for furniture.
Innovative/Affordable
Opendesk
Notes: Taking advantage of the resources of the Internet Age, Opendesk is a global platform for local making where you can digitally download furniture designs and create them on demand, anywhere around the world. Dubbed "Open Making," this system is a global distribution channel that gives consumers internationally renowned designer pieces without the designer price tag, offering an alternative to mass-production and a modern approach to e-commerce. Many of the pieces are customizable and feature cleverly designed, ergonomic structures that require minimal bolting and metalware.
Where to Buy: Opendesk
HAY x IKEA
Notes: Swedish furniture giant IKEA and Danish design imprint HAY have joined forces for a powerhouse Scandinavian homeware collection titled YPPERLIG (Swedish for "good, excellent"). The collaborative range features chairs, lighting, shelves, sofas, desks and various home accessories, all of which boast modern, minimalist designs suitable for a contemporary urban living space. Best of all, the thoughtfully designed range will offer form and function at an affordable price point.
Where to Buy: IKEA (August)
Article
Notes: Article is a new, unconventional furniture company that focuses on simplicity and efficiency, offering modern designs at a fair price point. The company keeps prices competitive by stripping away costs tied to showrooms, salespeople and wholesale, paring it back to a direct manufacturer-to-consumer transaction. The company was founded by four software engineers who were inspired after a trip to the Arctic Circle. Today, Article boasts an impressive line-up of furniture and homeware ranging from smaller decor pieces to larger, investment items such as sofas and beds.
Where to Buy: Article
Modern by Dwell Magazine x Target
Notes:If you need something easy, affordable and minimalist, but don't want the same IKEA pieces that everyone else has, check out the Modern by Dwell Magazine x Target line. The collaborative collection features a robust range of homeware pieces ranging from smaller organizing accessories to larger furniture items for both indoors and outdoors, all boasting a modern, minimalist aesthetic and a wallet-friendly price tag. The 122-piece line ranges from $17-$400 USD.
Where to Buy: Target
Streetwear
Carhartt WIP x JOURNAL STANDARD
Notes: American heritage brand Carhartt's contemporary line, Carhartt WIP, teamed up with JOURNAL STANDARD to celebrate the Japanese workwear giant's 20th anniversary and the Detriot-based label's 10th anniversary. This time, the collaborative duo went into the houseware realm, draping Carhartt's signature mustard yellow utility canvas on a selection of chairs, couches and seat cushions. Featuring minimalist frames, a utilitarian aesthetic and the iconic Carhartt logo, the pieces offer something cozy, low-maintenance and modern for your home or lounge space.
Price: $60 to $1950 USD
Where to Buy: In-store at Journal Standard
BAPE x Helinox
Notes: Japanese street giant BAPE has put out several home decor items boasting the label's signature camouflage print and Ape Head motif. Recent items include a traditional Japanese Tatami cushion and a trio of ABC Ape Head cushions. But if you missed out on those pieces, BAPE teamed up with camping imprint HELINOX on a collection of camping gear and functional foldable chairs that you can use outdoors or indoors.
Price: ¥17,800-¥23,800 JPY ($160-$214 USD)
Where to buy: BAPE
Anti Social Social Club x Modernica
Notes: Los Angeles-based furniture manufacturer Modernica has carved out its own spot in the streetwear world for its collaborations with notable labels and names such as HUF, Diamond Supply Co., KRINK, STÜSSY, Dr. Woo and more. The famous Eiffel Side Shell Chair fuses mid-century design with modern branding and design — one of the most hyped editions is this Anti Social Social Club iteration, which boasts nothing more than a neon pink base and the signature wavy ASSC font graphic.
Price: $350-$750 USD
Where to Buy: The Mag Park (for the ASSC edition), Modernica (for others).
Supreme x Artek Aalto Stool 60
Notes: Anything that Supreme makes will almost always guarantee to sell out instantly. Luckily there's always the re-sell market. For Spring/Summer 2017, Supreme linked up with Artek for a special edition version of the iconic three-leg stackable Aalto Stool 60 originally designed in 1933. The chair now holds a place in the permanent collection at the Museum of Modern Art in NYC, and this special version boasts a bold checkerboard print and a mini Supreme box logo for the discerning eye.
Price: ~$500 USD
Where to Buy: eBay
STÜSSY Livin' GENERAL STORE
Notes: West Coast imprint Stüssy launched STÜSSY Livin' GENERAL STORE in Tokyo, a shop that features everyday homeware products that could be found in a "general store." The special edition, Stussy-curated items range from sharpie pens to steel tool boxes to mosquito repellent to larger home pieces. Notable items currently available include stackable storage carts, trash cans and a wall clock by Saito Wood all boasting clean, simple, functional design.
Price: ¥3,240-¥15,120 JPY ($29-$136 USD)
Where to Buy: Stüssy
Medicom Toy x Snow Peak Take Chair
Notes: For something minimalist, utilitarian and limited edition, this Medicom Toy x Snow Peak foldable Takei Long Chair will fit in any space and last for years, thanks to quality materials and construction. The folding camp chair is constructed of laminated bamboo, premium cotton canvas and an aluminium frame, ensuring a durable, clean, subtle-flexing piece.
Price: £325 GBP ($425 USD)
Where to Buy: END.
Luxury
Louis Vuitton Objets Nomades
Notes: Louis Vuitton's Objets Nomades furniture line was founded in 2012, translating the luxury label's famous textiles and elegant design onto home goods. The series boasts an impressive line of collaborative designers including Atelier Oï, Maarten Baas, Barber and Osgerby, Damien Langlois-Meurinne, nendo, Gwenaël Nicolas, Raw Edges, Patricia Urquiola, Marcel Wanders, India Mahdavi and Yoshioka Takashi. The most recent Fall/Winter 2017 collection, which debuted at the Salon del Mobile, focused on the art of travel, origami, flea market style and "savoir faire" elegance.
Where to Buy: Louis Vuitton
Gucci
Notes: Gucci's recent collections have championed heavy adornment, and the Italian brand has just announced its move into homeware goods. In contrast to most other luxury labels, Gucci's maximalist aesthetic boasts heavy embroidery, vibrant colors and kitschy, animal/floral motifs. The new  "Décor" collection features statement pieces ranging from smaller items such as pillows and candles to larger pieces such as wooden chairs and folding screens.
Where to Buy: Gucci (September)
Hermès
Notes: French fashion house Hermès launched its 2017-2018 home collection at this year's Milan Design Week. The luxury label's sophisticated use of color, elegant equestrian-inspired design and low-key, subtle branding translated into sleek furnishing such as jewelry boxes, hooks, hangers, serving trays, tableware and larger pieces such as chairs and tables. Made in collaboration with architect Alvaro Siza, industrial design studio Barber & Osgerby as well as designer/artist Pierre Charpin, the pieces feature a mix of premium leather, bamboo and polished bronze.
Where to Buy: Hermès
Raf Simons x Kvadrat
Notes: Belgian designer Raf Simons has been at the helm of some of fashion's most notable houses such as Jil Sander, Dior and Calvin Klein, alongside his own eponymous label. But the talented creative has also delved into various art and design mediums, collaborating with various artists such as Sterling Ruby and Peter Saville. Simons' latest project links up with European textile manufacturer Kvadrat, on a homeware collection that combines the designer's disparate interests in modern art, design and architecture, offering an assortment of textiles, cushions and throw rugs featuring rich hues and elegant aesthetics.
Where to Buy: Raf Simons x Kvadrat locations worldwide
Paul Smith x Anglepoise
Notes: British menswear designer Paul Smith teamed up with fellow English interior lighting imprint Anglepoise for a colorful and whimsically industrial Type 75 lamp range. Coming in three editions inspired by Dutch painter Piet Mondrian's use of color-blocking and lines, the series boasts mini, desk lamp and floor lamp versions made in collaboration with industrial product designer Sir Kenneth Grange. The lamps are constructed of aluminum, chrome, cast iron and finished with matte paint.
Price: $195-$4,300 USD
Where to Buy: Anglepoise