Virgil Abloh Unveils Redesigned IKEA FRAKTA Bag
"SCULPTURE."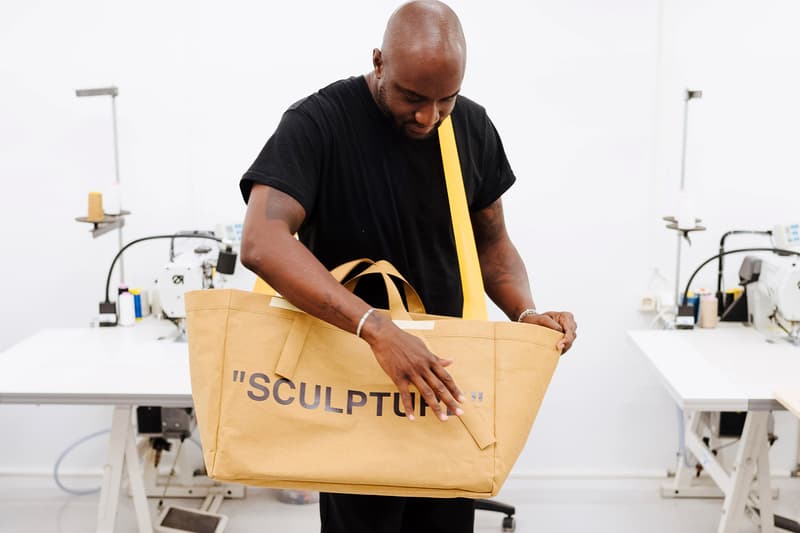 After teasing a potential collaboration with Virgil Abloh last week, IKEA and Virgil finally took to the stage at Democratic Design Days in Sweden. Abloh surprised even IKEA by arriving with his take on the iconic FRAKTA bag, he reimagines it with cardboard and "SCULPTURE" written on the side, tape placed at select seams, and combined with yellow and blue straps.
Abloh had a lot to say about the opportunity:
IKEA provides a landscape — fertile soil for new ideas and concepts. My duty then, is to provide something provocative. Given how tremendous this opportunity is, I'm not content to make another chair. I love working with the best in class of any genre. IKEA is a brand that spans generations — that stands for something. To give this collection a young approach and pay respect to that DNA is my goal.
However, the more important takeaway from the conference is that the duo are exploring ways to transform homes at a low cost for people who are looking to buy for the first time.
We're looking at that first phase of adult life, when you start making purchases for your space. Largely people grow up in their parents' environment. They've never had to consider furniture. Then when they're off on their own and have their own aesthetic, what are their first purchases? I'm interested in thinking about how those purchases are informed.
You can watch the whole IKEA Democratic Design Days set below with Virgil coming on at around the 19 minute mark and stay tuned for more information on how Virgil and IKEA will transform the housing scene.