Behind the Scenes With the Most Popular Nike Air Max Day "Vote Forward" Creators
Speaking to Clément Balavoine, Alex Hackett and Artemy Lebedev about their respective designs.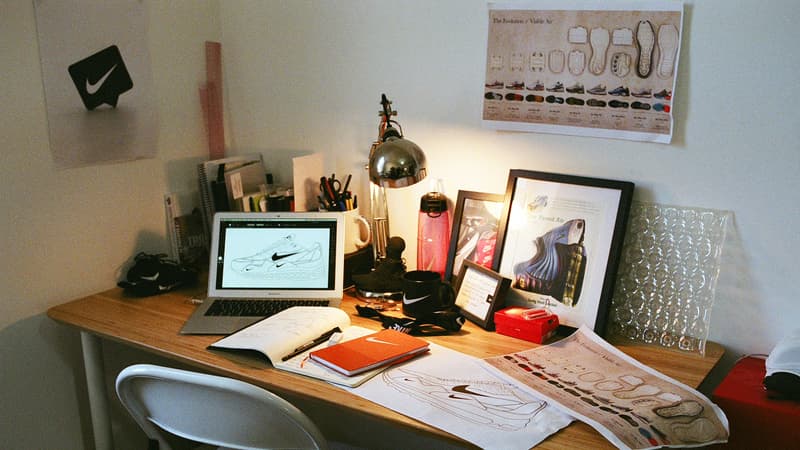 Nike Air Max Day makes its return for the third time on Sunday, March 26 and to mark the occasion, the company introduced Vote Forward, which asked 12 creatives from around the world to make their own take on the Air Max. Entrants varied from Brain Dead's Kyle Ng as the Los Angeles entry to Naotaka Konno representing Tokyo.
Just before the winner of this project is announced, we decided to focus on three standout entrants, Alex Hackett as the London entry, Clément Balavoine for Amsterdam, and Artemy Lebedev for Russia. We spoke with the three designers to find out their process, influences, and their favorite Air Max models.
Clément Balavoine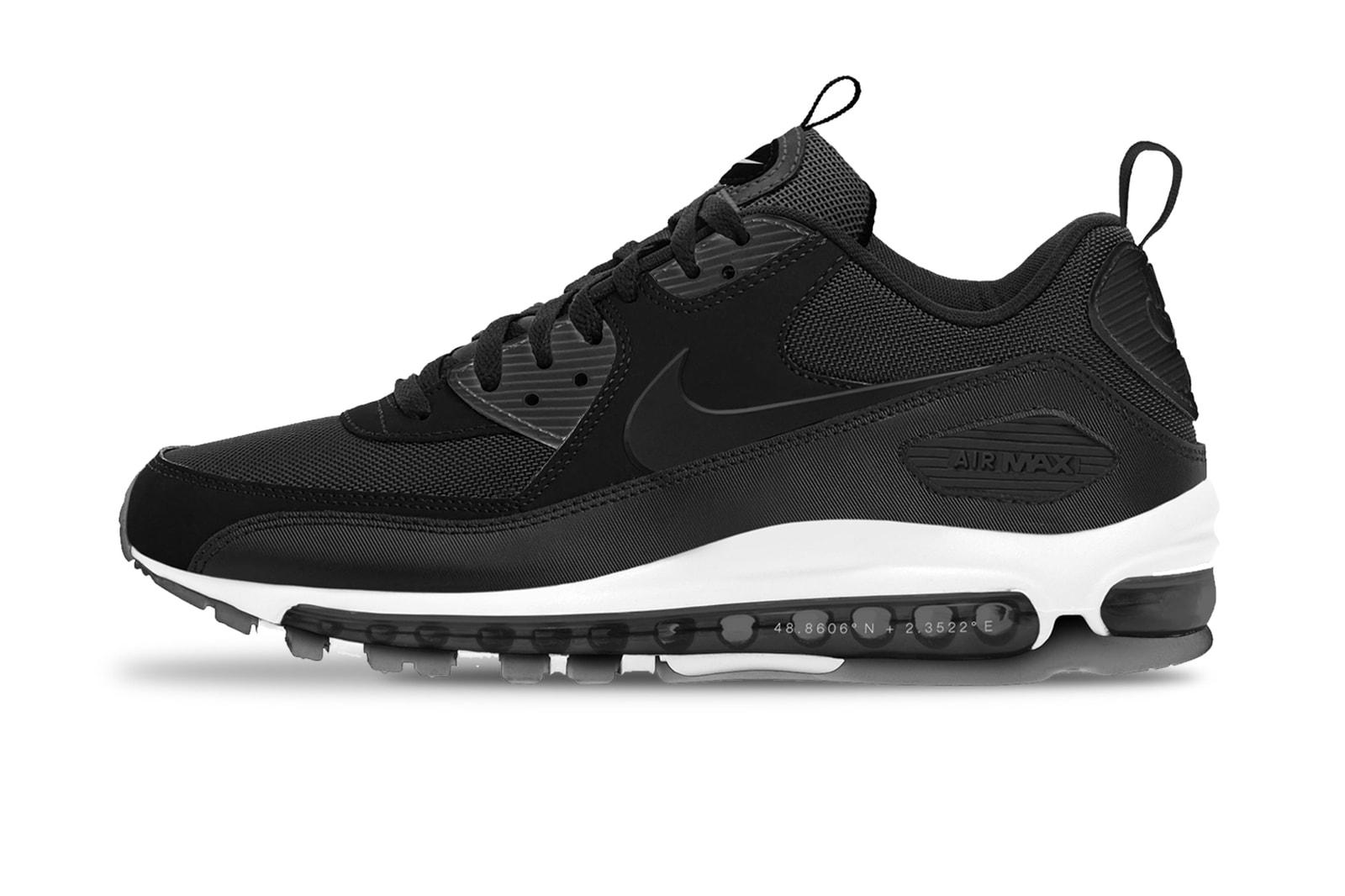 Balavoine is a French-born, Amsterdam-based designer who came to fame for his 'neuro' process, which combines several 3D software programs to allow a garment to be completely digitally tailored. He told Dezeen that Neuro "allows any designer to create, visualize in 360 degrees and tweak their design in just a few minutes, without touching any physical fabric."
Was this process used in the creation of Balavoine's Air Max? "Yes indeed," he replies. "I usually use the same creative process for all of my projects, bringing together all of my favorite inspirations from books, sci-fi movies or concept art to build a strong direction. I then do quick sketches before I open the software to make accurate 3D renders and 'photo bashing,' which allows me to bring my ideas to life in a very efficient way."
He was inspired by films and art for this project. "I love science-fiction movies and concept art, I'm deeply inspired by artists like Maciej Kuciara or Ash Thorp that have a futuristic style." He also added in a callback to a Nike legend. "I wanted to pay homage to Tinker Hatfield, who took inspiration from The Centre Georges Pompidou for the Air Max 1 to reveal the hidden technology on the surface. So I decided to print on the airbag the coordinates of the location of the famous Parisian building."
An avowed fan of sneakers, Balavoine's has a favorite Air Max. "I've loved the Air Max 90 for a long time now, it's a great design with very technical lines! But if I have to choose a more recent design, I would go for the VaporMax, it's very conceptual and the monochrome collaboration with Comme des Garçons is just insanely beautiful."
Alex Hackett
1 of 3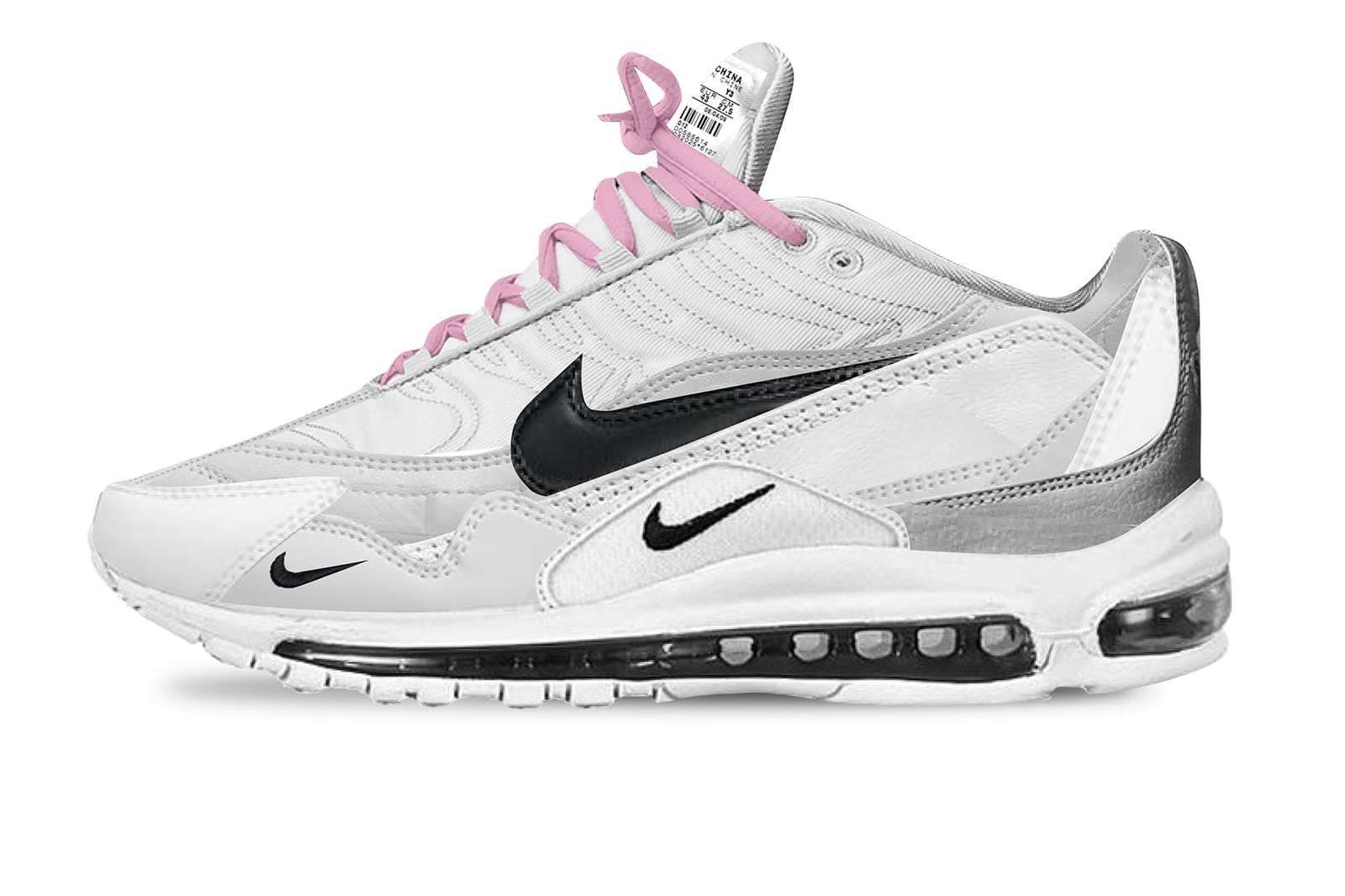 2 of 3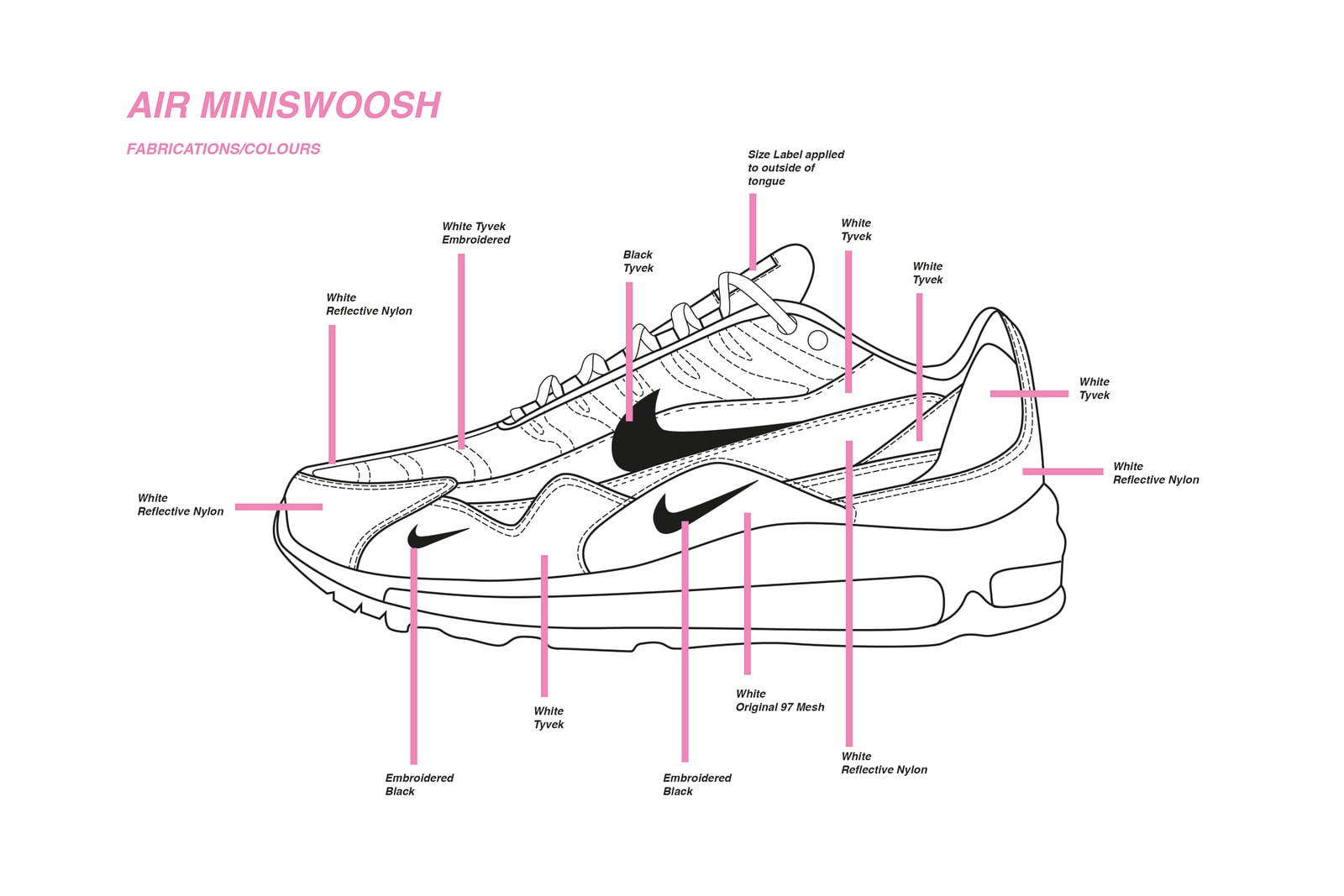 3 of 3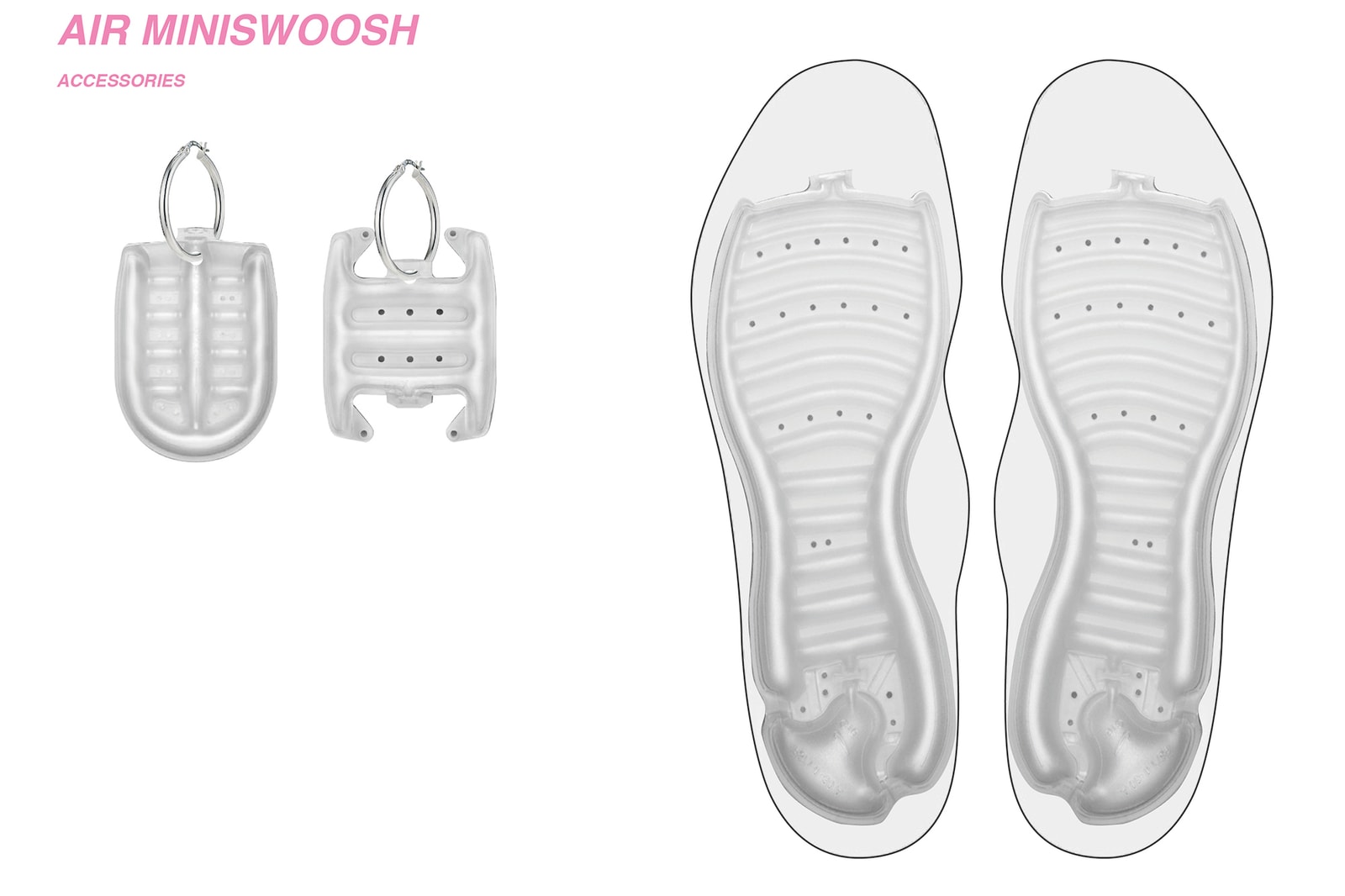 London-based Australian designer Alex Hackett became well known for her ingenious use of everyday fabrics, making products from everything from McDonald's takeaway bags to NASA space foil for her label ALCH. The designer has also played around with Nike products, using duffle bags to create jumpsuits, so her working with the brand makes perfect sense. "My entire practice is based on the process of deconstruction and reconstruction so I was naturally drawn to Nike products because of both their practicality and familiarity. I really love challenging and questioning the function of preexisting non-apparel products."
For Hackett, "Nike was always the 'cool' brand," so she based her shoe design on the history of the brand she grew up with. "My Air Max design is based on the history of visible air in Nike models. It combines design lines and elements from the Air Max 1, 90, 180, 93, 95, 97, Plus, 360 and 2015, thus creating a new model that pays homage to the past," she says. "The whole idea was to look at the core elements of Nike Air Max models, from the design to the packaging. For the fabrication and color palette, I looked into a combination of 3M and Tyvek (machine washable paper) to reflect a Nike receipt and the paper packaging that usually surrounds a trainer in the box. The tongue is inverted also, featuring a visible size label."
Hackett's favorite model is the Air Max Plus. "This model has had such a huge socio-cultural relevance to specific demographics across the world since its release in 1998, especially in Australia and the UK. The TN's almost aggressive persona has such an intense cult following — I swear it must be the most shoplifted Nike Air Max (or so I noticed during my time working at a Nike outlet)."
Artemy Lebedev
1 of 2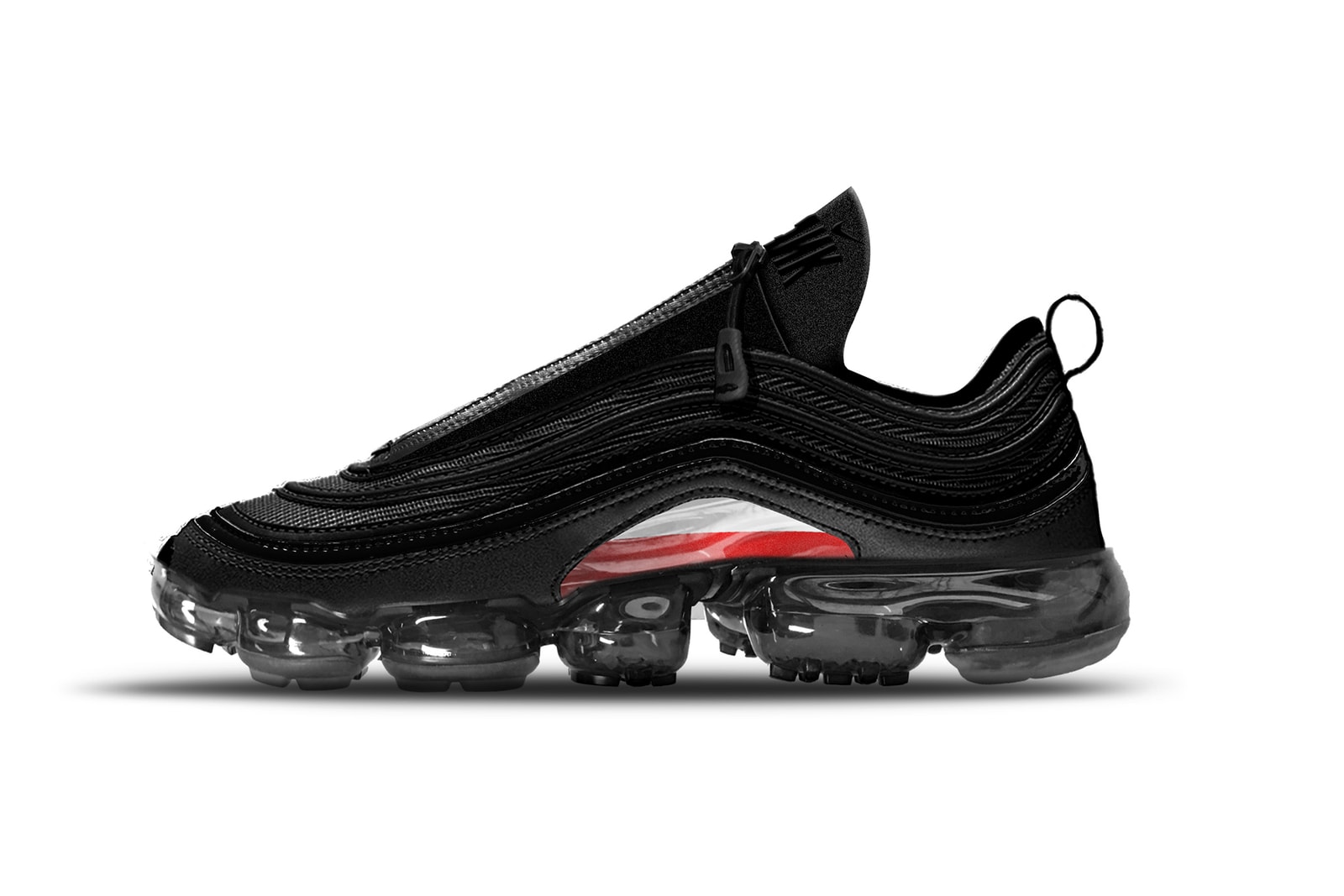 2 of 2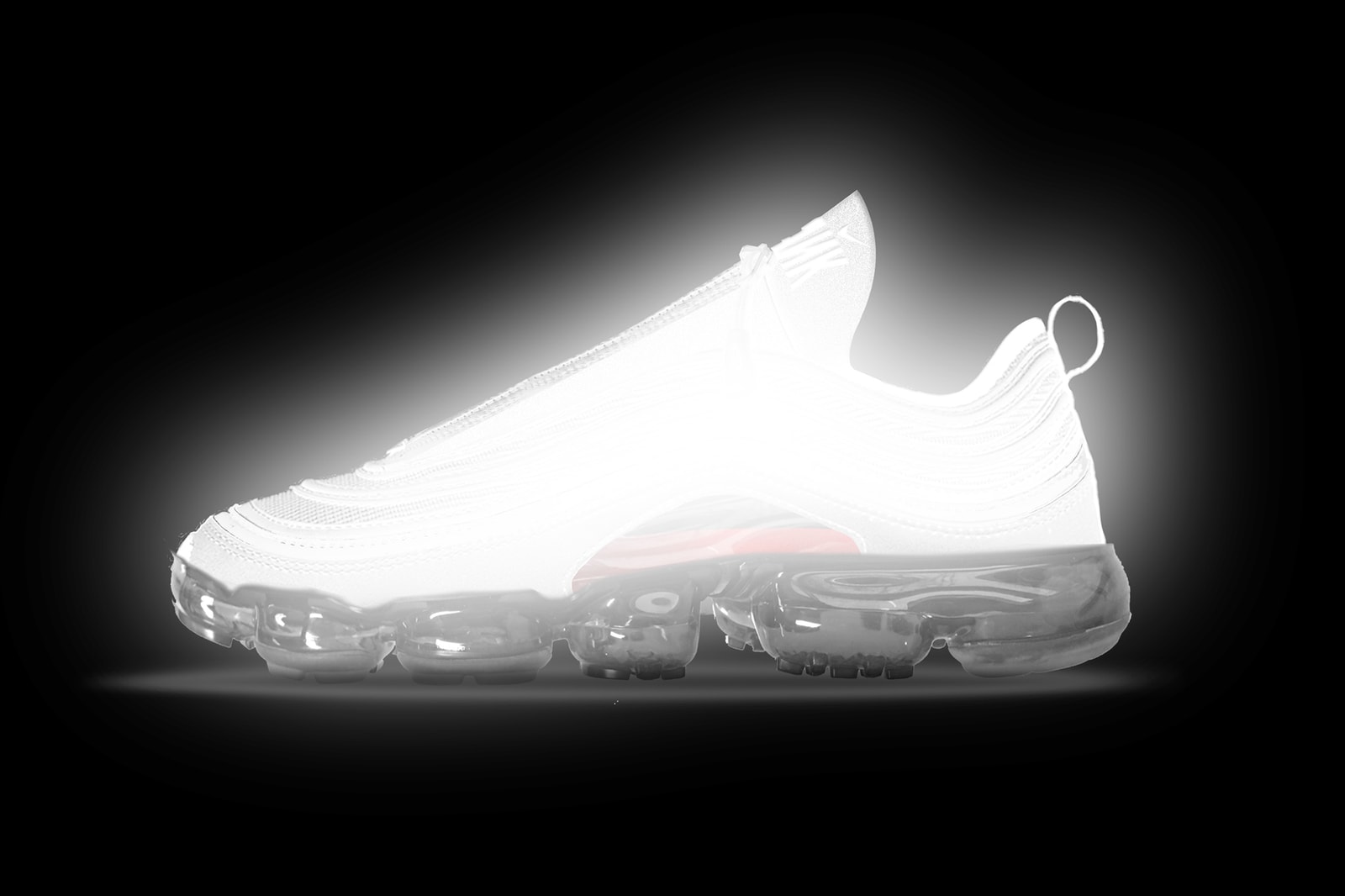 Lebedev is the wild card designer in this pack. While most designers involved in this project make clothes, his studio showcases work that includes the Moscow metro map, FC Krasnodar stadium navigation plans, a charging station, reflective badges, and reworking the brand identity of CSKA ice hockey club. While all of these projects are undoubtedly interesting, none of them come close to a Nike shoe, so we asked Lebedev what interested him about making a sneaker.
"First of all, this is the first ever opportunity for a Russian designer to collaborate with Nike on product. First. Ever. Do you think anyone would miss it? Working with a brand like Nike is an honor – as well as a responsibility. And if all goes well — a direct doorway into history," he said.
He also goes on to state that the legacy of his homeland also came into play. "I do believe Russia has a huge creative potential that is overlooked by the world. After this project, I think it will be easier for Russian creative heads to find their way into international hearts."
The designer freely admitted that he hadn't always been interested in sneakers but became intrigued once the project was offered to him. "I underwent an immersion program with Dima Oskes, a leader in the sneaker community in Moscow. Dima gave me several sessions on sneaker culture and the history of sneakers, and I was fascinated. Then we visited the Nike campus, we visited the archives, and had the chance to meet Nike designers. After the process, when the story of my working with Nike on a sneaker design became huge here in Russia, some people I've know for ages appeared to be sneakerheads and even sneaker collectors. The worlds collided in an unexpected way."
So, coming from a non-sneakerhead standpoint, what interested him about Air Maxes? "There are few very distinctive silhouettes among the Air Max line, each speaking to a different mindset and being absorbed by a different culture. However, each has the same innovation behind it."
The idea of sneakers meaning so much to culture added an extra dimension for Lebedev. "I heard how many meanings people put in particular silhouettes. In one of our community sessions we ran as part of the project, a member of the graffiti community shared a story about how he was referred to a particular group whilst travelling abroad purely based on the Air Max shoes he was wearing. Before this project, I would never have believed this can be true."
Lebedev didn't have a favorite Air Max model before the project, but stating that the "AM95 and AM1 fit me better than others." But his favorite sneaker now is a creation closer to home. "Now my future Air Max (which is actually a VaporMax 97) is my favorite." The project has also made something of a sneaker fan out of Lebedev, who simply replied when we asked him if he'd like to create more sneakers, "Yes, I would."