Raf Simons Talks About Rick Owens and Fashion Not Being Built to Last in Latest Interview
"In fashion, they would actually prefer it doesn't last."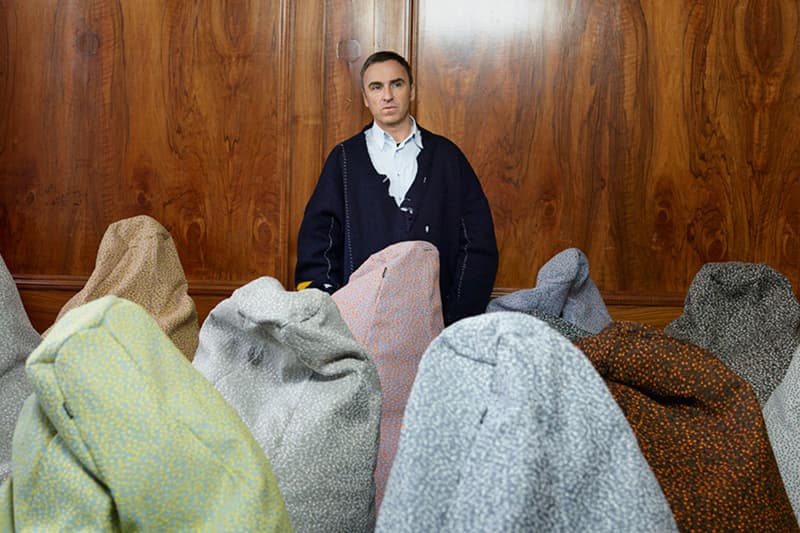 Raf Simons has continued his spate of recent interviews, this time speaking to W Magazine. The legendary designer mostly spoke about his ongoing furniture collaboration with textile experts Kvadrat, but he also touched on how the job differs from his fashion work and his admiration of Rick Owens's furniture.
The difference between furniture and fashion:
"In fashion, things are not so much about the process or making it last. In fashion, they would actually prefer it doesn't last. It was a very different kind of mentality when I was at Jil Sander, but it also worked against them, because people don't really want it to last anymore. They say that they do, but it's not true; everybody constantly wants something new. It's so in people's mentality of not only buying products, but even seeing things and consuming information. They don't look very long anymore; they look, and they go already to the next thing. And I think that in design, it's different. It's still a long process to design and produce something and put it on the market, and it seems to be another world. Like, people who want to buy a sofa take a long time to make that decision; if they're buying that sofa, they very often sit with it for many decades. If they buy a coat now—a year? Two? Or just three times, for some people in high fashion. And Kvadrat is high design, and what I like is that their attitude is completely about lasting."
On Rick Owens's furniture:
"I think it's very good. Everybody's always so competitive, but I'm a huge admirer of Rick's, and his furniture is actually one of the last things that has really blown me away in the last two decades in the furniture business. It's not really a furniture business, you know, it's a gallery thing. But what I like about it is that he makes pieces that you can immediately see in his own world, in his environment. It's very specific, and you like it or you hate it—that's not what it's about. It's more than some kind of designer who makes a chair for Vitra or a table for Knoll, or an artist who does a ceramic for whichever brand, and everything is fragmented. Rick keeps it as all one unit, and I think is mind blowing if people are able to do that these days, because with our industry, our organization, our processes, our systematic behavior of making product and selling product, it's harder and harder to do that. Of course, I think it's so strong also because I think for him it's almost like a hobby. It's like something he needs to do on the side, or he does it the way he does a dress. It feels very together."
You can read the rest of the interview over at W Magazine.
This interview was the second one Raf Simons did this week, having just spoken to Vogue recently, which you can check out here.