The Most Hyped Fall/Winter 2017 Items You Need to Get Your Hands On
Some heat for the colder months ahead.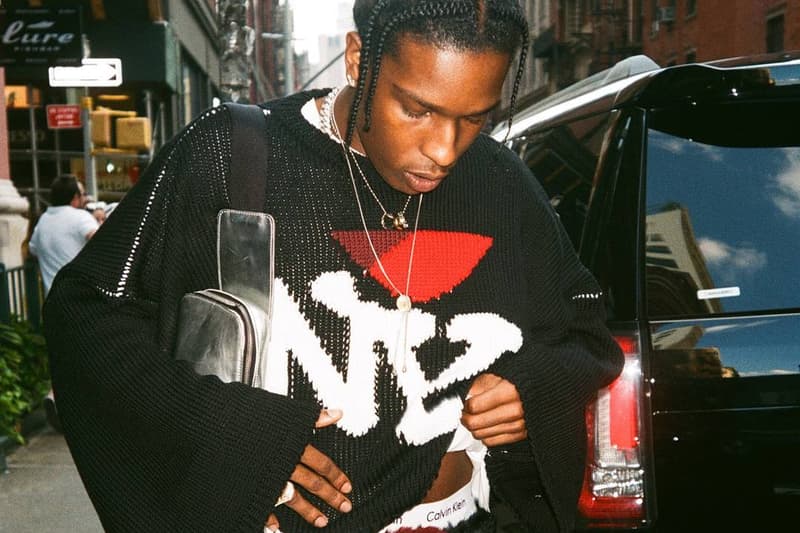 With Fall/Winter 2017 fully upon us, the collections that lit up the runway earlier this year are now available for trend-savvy consumers transitioning to the colder months ahead. Initially unveiled during fashion weeks within the "Big Four" – New York, Milan, London and Paris – the last few weeks have seen a rotation of seasonal "it" pieces swirling around fashion influencers' social media and global street style recaps.
While this season sees a continuation of exaggerated silhouettes, bold logos, all-over prints and bulky sneakers, a surge in knitwear and shoulder bags (as previously noted by the industry's top buyers) is also discernible among the style set.
Here are the most hyped Fall/Winter 2017 items. What will you be copping? Let us know in the comments.
Raf Simons "I Heart NY" Knitted Sweater
Unveiled at New York Fashion Week, Raf Simons' Fall/Winter 2017 collection was a continuation of the designer's adoration of The Big Apple seen last season. To make his declaration clear, Simons repurposed the design found on the iconic tourist shirts that have long been associated with New York City.
A spliced distortion of the Milton Glaser-designed "I Heart NY" motif sits front and center on the bell-sleeved, oversized knits and are a cozy layering piece for the cold months ahead.
Instagram: @rafsimons
Shop Here
Balenciaga "Triple-S" Sneaker
Building on the luxury sneaker trend established by the Raf Simons x adidas Ozweego series, Balenciaga debuted what many are calling the "dad shoe to end all dad shoes" during its Fall/Winter 2017 presentation. The Triple-S undisputedly kickstarted the ongoing clunky sneaker craze and remains one of the most coveted footwear silhouettes this season.
Seen in various bright and distressed colorways, the sneaker features a leather, mesh and suede paneled construction accented by an aggressive multi-layer sole unit. With its endearingly "so ugly that it's cool" aesthetic, the shoe is a perfect representation of the current intersection of athletic wear and luxury fashion.
Instagram: @balenciaga
Shop Here
Balenciaga Tie-Dye "Homme" Sweatshirt
In addition to the ultra-modern offerings in Balenciaga's Fall/Winter 2017 collection, the house also paid nodded memorable design patterns from the '90s – like this tie-dye "Homme" sweatshirt, which has made its way into the closets of streetwear enthusiasts everywhere.
The sweater features erratic blobs of bleached tie-dye patters and an embroidered gold "Homme" logo encircled by the names of notable metropolises including London, New York, Tokyo and Los Angeles. With its relaxed, oversized fit, the statement sweater can be easily dressed down for a luxe athleisure look.
Balenciaga Bernie Sanders-Inspired Logo Cap
Hot on the heels of the U.S. presidential election, Balenciaga's pro-Bernie Sanders Fall/Winter 2017 collection caught the attention of meme-loving streetwear fans and the politician's supporters alike. The Bernie cap, in particular, has succeeded the brand's insanely popular logo cap from last season as the most hyped headwear piece of the moment.
Emblazoned with Balenciaga's logo in the style of Sanders' campaign typography, the cap is a single-handed reinvigoration of the "dadcore" trend. Of the myriad Bernie pieces in the collection – including trench coats, rain suits, bombers, sweaters, flannels, T-shirts and down-filled scarves - the cap has been spotted on just about every fashion influencer on Instagram.
Clocking in at three items on this here list, it's clear that star creative director Demna Gvasalia's outlandish direction has repositioned Balenciaga at the height of street fashion.
Virgil Abloh x Nike Collaboration
For one of his latest projects, Virgil Abloh linked up with Nike on one of the most hyped footwear collaborations in recent memory. The "Ten Icons" collection was instantly lauded by both the fashion and sneaker communities when it was teased on social media, months ahead of its official release via a series of "Off Campus" events and ultra-limited drops. Within the collection, the boldly reimagined Air Jordan 1, Nike Air VaporMax and Air Presto silhouettes became the most in-demand.
Melding Abloh's love of architecture, art and fashion, the shoes function both as footwear and sculptural art pieces meant to turn heads and elevate any streetwear fit. Featuring a barely completed aesthetic adorned by quotation mark motifs and zip tags, the unique look and sheer exclusivity of the collaboration have pushed the resale prices to $2,000 USD – and is still rising as the demand for them grows.
Instagram: @virgilabloh, @nike
Shop Here
Gosha Rubchinskiy x adidas Football Collaboration
For his Fall/Winter 2017 collection, Russian designer Gosha Rubchinskiy continued his ongoing sportswear collaborative streak with a line of adidas-partnered football offerings. Rubchinskiy's reinterpretation of a football fanatic's wardrobe includes windbreakers, track jackets,  jerseys, hoodies, sweatpants, scarves and sneakers emblazoned with the designer's signature Cyrillic script and the iconic Three Stripes logo.
During this past fashion week circuit, the Gosha x adidas football jersey has been sported by street style peacocks across the globe, while the ACE 16+ SUPER cleat-less sock sneaker sits pretty high up on every Gosha fan's wish list.
Instagram: @gosharubchinskiy
Shop Here
Gucci Coco Capitán Logo Belt Bag
Gucci's Fall/Winter 2017 collection, dubbed "The Alchemist's Garden," is one of Alessandro Michele's most vibrant collections yet, exuding an eccentric glamour that further cements the label's rebirth in contemporary fashion. Though Gucci's signature maximalist aesthetic has undoubtedly captivated the style set, this collection's relatively subtle collaborative bag with artist Coco Capitán has proven to be a standout favorite.
With fanny packs growing in popularity, especially within the streetwear community, this oversized leather iteration comes in heavy with Gucci's classic logo scrawled over by Capitán's haphazard writing.
Heron Preston "Heron" Bird Graphic Sweatshirt
Heron Preston's Fall/Winter 2017 "For You, the World" collection was first displayed at Paris Fashion Week, but has been promoting his message of fashion sustainability via an ongoing global pop-up tour. An ode to the everyday working uniform, the range of coach jackets, sweaters, T-shirts, bags and caps ironically highlights the separation of the creative process from world issues. With its use of high-vis neon, camouflage and Cyrillic script, the trend-driven collection has unsurprisingly resonated with the streetwear community at full throttle. 
The signature piece of the collection is the aptly chosen "Heron" bird graphic sweatshirt rolled out during the collection's pop-up rollout, which features a painting of heron birds framed by the names of the cities included in the tour.
Instagram: @heronpreston
Shop Here
Supreme x Louis Vuitton Hoodie
This year, streetwear giant Supreme stirred up considerable commotion when it partnered with high fashion house Louis Vuitton, resulting in the most talked about collaboration of the last decade. The monumental Fall/Winter 2017 collection captivated audiences by confirming the previously dismissed notion that luxury fashion and streetwear are now both one in the same.  
Employing co-branding at its forefront, the collection merged the iconic logos of both LV and Supreme in a shameless mish-mash of overlapping patterns, blazing red garments and gaudy accessories. Ultimately, the monogrammed box logo hoodie beat out the shoulder bags, T-shirts and all-over branded denim as the most coveted item – which is unsurprising given the unparalleled hype attached to the elusive bogo. 
Instagram: @louisvuitton, @supremenewyork
Shop Here
Off-White™ Skewed Checkered Pattern Pieces
For its last few seasons, Virgil Abloh's Off-White™ imprint has expanded beyond the streetwear staples the brand was founded upon, with Abloh reaffirming his design prowess and sharp eye for stylistic references. Inspired by '80s Canadian mystery/comedy Seeing Things, Off-White's Fall/Winter 2017 collection channels the tone of the season with bold patterns and svelte silhouettes.
Steering away from its signature stripes motif, the line's most distinct graphic pieces came by way of those featuring skewed black and white checkered pattern. Boldy displayed on an overcoat, trucker jacket and trousers, the print is a play on the ubiquitous checkered pattern made famous by California footwear brand, Vans. 
Instagram: @off____white
Shop Here
Vetements Biohazard Puffer Jacket
Continuing its trademark penchant for high-low aesthetics, Vetements's Fall/Winter 2017 collection dabbled in everyday dress of men and women of all colors and walks of life (there was literally everything from tracksuits and business casual attire to fur coats and bridal gowns). Although the cropped hoodies with exaggerated sleeves were the first pieces people gravitated towards, the extra plump biohazard graphic puffer jacket crept up as a contender for the most hyped item of the collection.
Though it may not feature the most elaborate design, the jacket's bold graphic and unorthodox size set it apart from many of the bland, generally sporty options currently available.
Instagram:@vetements_official
Shop Here
Vetements x Reebok Socks
Adding to its expansive series of collaborations, Vetements teamed up with Reebok on a collection of shoes and statement socks to accompany its Fall/Winter 2017 collection. While the former have ignited interest from loyal Vetements enthusiasts, the latter have garnered substantial traction across social media (probably due to their lower price point). 
Referencing throwback logos and signage from mundane sources, including a classic tourist information logo and spartan text from a garment content label, the statement socks offer an element of flair to your footwear flex. 
For more fashion and trend-related news, make sure to also update and upgrade your wardrobe with these five online Japanese retailers.