Tyler Mansour and the Nike Air Foamposite One for Hypebeast's Sole Mates
The sneaker photographer and Makeshift Studio owner talks about his journey to becoming a footwear photographer and the time Wale signed one of his Foamposites.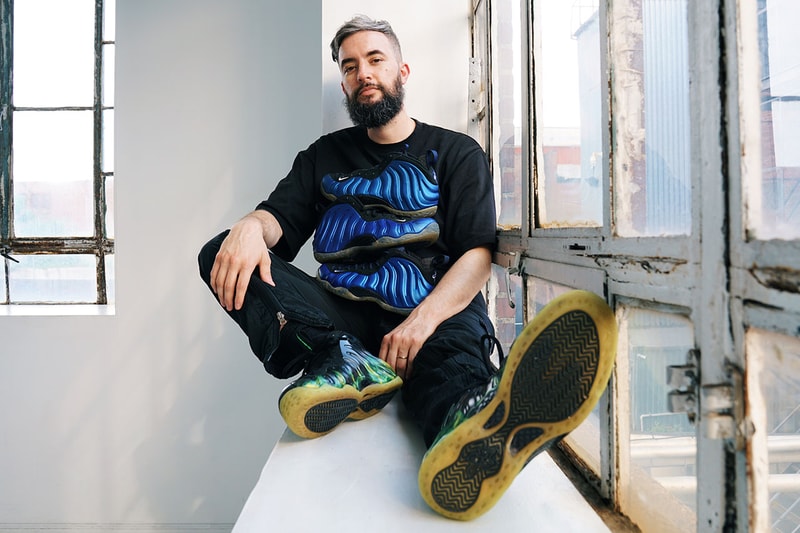 Tyler Mansour, better known as @arab_lincoln is a savant at converting sneakers into eye candy. The South Carolina native has garnered acclaim from the footwear industry for his signature visual language: crispy in-hand shots, swirly shoe lace mosaics, unique angles and more. After working under Ronnie Fieg for nearly a decade, Mansour now creates independently, producing captivating imagery for major sportswear brands like Nike, adidas and ASICS, and further developing his own imprint Makeshift Studio.
Mansour's obsession over shoes dates back to when he was in elementary school in the mid '90s, and Michael Jordan was his muse. Along the way, he's developed affinities for silhouettes like the Air Force 1, SB Dunk and Superstar, but if he had to boil everything down to a single model, he'd choose the Air Foamposite One. Its timeless design and cultural impact have been a catalyst for his appreciation for sneakers, which is why he elected to highlight it for his Sole Mates feature.
In the conversation below, Tyler Mansour chats with Hypebeast about the sneaker access advantages he had growing up in Goose Creek, South Carolina, why Foamposites have garnered a cult following and the time Wale signed one of his sneakers.
Who or what got you into sneakers?
Michael Jordan. Growing up in the mid-'90s, he was that guy. I quickly realized that basketball wasn't going to be something that I was going to pursue because I wasn't skilled enough, but because of MJ, I was still so invested in sneakers and everything about the culture, from the releases to the Nike commercials.
When did the idea of pursuing sneaker photography start?
When I was in sixth grade and my family bought a computer that came with a one-megapixel Kodak EasyShare camera. I've always appreciated photography, and having that camera kick-started my journey because I figured it would be a way that I could combine my affection for sneakers with my affection for photography. As I started to shoot more, I dove deeper into sneakers and learned more about different technologies and specific aesthetic details.
"I often felt like an outcast growing up, but sneakers were my lane to express myself and show people that I knew what I was talking about."
You grew up in Goose Creek, South Carolina. Was there a "sneaker culture" there? What was being into sneakers in a small town like?
It was unique in the sense that people who shared an affinity for sneakers at that time didn't realize that we had access to bigger releases, which, at the time, were SB Dunks. Like basketball, I wasn't good at skateboarding, but I appreciated the style that skaters had and educated myself on people like Paul Rodriguez, Reese Forbes and Eric Koston.
I noticed that we had several skate shops in the area and that big releases were just sitting. Colorways like the "Tweed" Highs and Lows and the "Reese Forbes Hunter" Lows were still on the shelves weeks after their release because no one in my area paid attention to the culture like that. I became a regular shopper at these boutiques and remember one guy even allowed me to buy the "Tiffany" Dunks a week early. I remember stunting at school and feeling like that guy because I got them before anyone I knew did. I often felt like an outcast growing up, but sneakers were my lane to express myself and show people that I knew what I was talking about.
When did the Nike Air Foamposite first come into the picture for you?
Foamposites came around for me when they retro'd the original blue colorway in 2006. The first time I ever saw them online, I was blown away because they looked like something that aliens delivered to us. From there, I was admiring their association with Penny Hardaway and realizing that the DMV [DC, Maryland and Virgina] was claiming the sneaker as theirs. I remember befriending a guy through NikeTalk, and he helped me get the OG blue pair for retail. Getting that first pair made me want to learn even more about them.
Why do you think people are so loyal to Foams?
The Foamposite has always been ahead of its time. How many silhouettes out there today still look ahead of the time 26 years after they first released? Seeing some pairs hit the $3K-$4K USD range in the past few years is a reflection of how big its fan base is. Another aspect about the Foam is that there aren't too many colorways to choose from in comparison to a Dunk or an Air Force 1. That gives it a slightly more classy edge.
You mentioned that you had a crazy Foamposite story related to Wale. Can you tell us more about that?
Wale had a show at this venue called the Music Farm in Charleston, South Carolina. I knew he was a huge Foamposite fan, so I rocked a pair to the concert. Mid-way through the show I made it to the front and held one of the shoes up with a Sharpie for him to sign, and he was more than willing to do so.
How did you feel about the Foamposite reaching a new peak during the 2012-2014 era when the hot-ticket colorways like the "Galaxy" plus the ParaNorman and Supreme collabs were coming out?
I love when other people gravitate towards the same silhouettes and enjoy the same design aspects about them. Whenever rumors circulate about a certain limited-edition colorway making a return, it decreases the OG pair's monetary value, but the nostalgia value will never go down, and that's why I always welcome the idea of reissues.
Where do you think Foams sit in the current sneaker lexicon and do you think they'll ever return to that early 2010s level of popularity?
The buzz around Foams has been starting to bubble in the last few years with the CDG Foams and classic retro releases, and I wouldn't be surprised if we see another surge in the next two years. Seeing the CDG collaboration dominate our social timelines was a major factor for me in believing that the model still has so much potential to have another big moment in sneaker culture.
What are your favorite Foamposite colorways?
The ParaNorman collaboration is an all-time favorite. Every time I look at them I'm reminded of winning a chance to buy them for retail through Nike's Twitter contest and the feeling I got when opening up its special perforated box. The CDG collabs are insane. It's amazing how they were able to keep the DNA of the Foamposite but completely retool the upper. The white pair is my favorite of the two. And lastly, the OG "Royal Blue" installment, given that they were my first introduction to Foams.
What Foamposite features are your favorite to highlight through photography?
I love the angle that Nike shot with the Foamposite telephone ads that captured parts of the outsole and a chunk of the upper. Other details that I love include the carbon fiber, the grooves on the side panels and the One Cent logo, the latter of which I think is a top 10 all-time sneaker logo.
What would be your dream pair of shoes and setting to shoot?
"Galaxy" Foams in space. If any sportswear company out there is reading this, give me the platform to shoot in space and I promise you it will be the most incredible shoot you've ever seen.
How has your approach to sneaker photography evolved from the day you were recognized on NikeTalk forums to now?
Execution. I've always had the vision in my head, but I didn't know what it took physically and from an equipment standpoint to bring those to life. I literally dream about taking pictures of sneakers and I'm starting to execute what I've dreamt about since I was 16 years old. I'm getting to a place where I feel good about compiling all my work into a coffee table book and publishing it one day.
"Stories are of the utmost importance to me because they've allowed a kid from Goose Creek, South Carolina that didn't always feel like he was understood to be inspired through product and carve out his own career lane."
What excites you about this next chapter of your sneaker journey?
Working with my heroes. Ronnie Fieg was a catalyst for all my journey because he believed in me and I was fortunate enough to watch him build an empire and learn from him. And now, because I know how much blood, sweat and tears goes into these projects, I'm excited to be part of helping others express theirs. Collaboration is huge for me, and the fact that I have this unique opportunity to work in footwear through photography is special.
Why are sneakers and their stories important to you?
Products, tangible goods, consumerism, all of that comes and goes, but the stories live forever. Stories are of the utmost importance to me because they've allowed a kid from Goose Creek, South Carolina that didn't always feel like he was understood to be inspired through product and carve out his own career lane.