Rhuigi Villaseñor Exited Bally and Lagos Space Programme Won the International Woolmark Prize in This Week's Top Fashion News
Stay up to date on the latest industry headlines.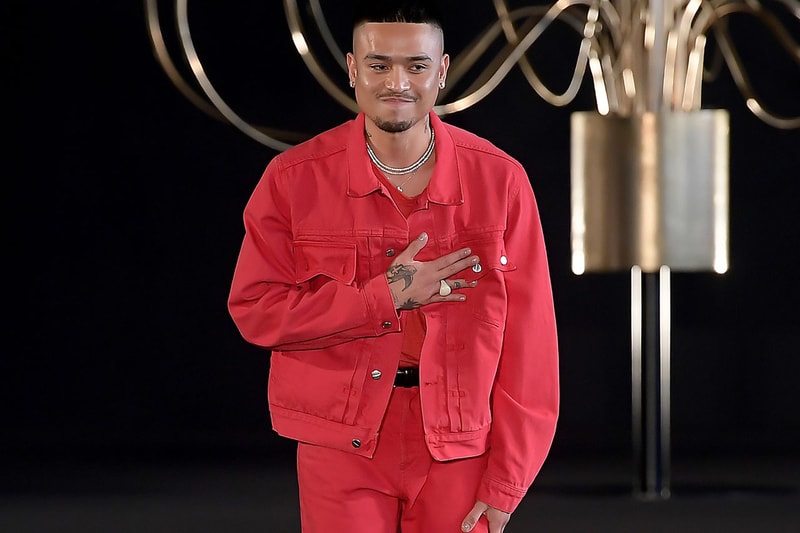 This week, the fashion industry closed some chapters and began writing new ones. Among them, Rhuigi Villaseñor stepped down as creative director of Bally, after 14 months at the brand's helm, and Tom Ford, who left his namesake label in April, announced plans to create a dark comedy movie, in his first post-exit interview.
Meanwhile, on the awards front, Lagos Space Programme took home the highly-coveted International Woolmark Prize; the CFDA/Vogue Fashion Fund finalists were announced, and LABRUM's designer Foday Dumbuya was honored with The Queen Elizabeth II Award for British Design. For all, the future is looking bright.
Below, Hypebeast has rounded up the top fashion stories of the week so you can stay up to date on trends in the industry.
After just over one year at the Swiss brand's helm, Rhuigi Villaseñor is stepping down as creative director at Bally, in what is being called a "joint and mutual decision," according to WWD.
The designer only claimed the brand's top creative seat in January of last year, marking one of the shortest stints for a creative director in fashion history. Per the outlet, Bally's chief creative officer Nicolas Girotto applauded Villaseñor's "creative contributions" to the brand, noting that his "passion, energy, and creativity helped catapult Bally back into the spotlight, further rejuvenating the brand's 170-year legacy through a modern, glamorous lens. I wish him all the best in the next chapter of his creative journey."
Villaseñor added, "My experience at Bally has been an incredible honor. I wish the brand nothing but the best in all its future endeavors and look forward to enjoying its next creative chapter."
Bally's design studio will take creative control over the brand's future collections, until a new creative director is appointed. Bally will show a co-ed Spring/Summer 2024 collection in Milan, this September.
Lagos Space Programme, governed by Adeju Thompson, took home the highly-coveted 2023 International Woolmark Prize on Monday, earning the designer a cash prize of $200,000 AUD (or $134,000 USD), stocking opportunities at leading retailers and business mentorship.
The Nigerian designer, who was crowned this year's winner at the Petit Palais in Paris, was chosen from a pool of eight finalists, which included Rhude (U.S.), Maxxij (South Korea), Bluemarble (France), Robyn Lynch (Ireland), Marco Rambaldi (Italy) and Paolina Russo (U.K.). Each designer was asked to design six silhouettes from merino wool as part of their Fall 2023 collection or for a standalone line spotlighting "the innate versatility, innovative nature and eco-credentials of merino wool."
Their work was judged by an expert panel, which included Alaïa's creative director Pieter Mulier, Zegna's artistic director Alessandro Sartori, Marni's creative director Francesco Risso, footwear designer Salehe Bembury, photographer Tyler Mitchell, and Browns' chief executive officer Elizabeth von der Goltz.
The Council of Fashion Designers of America (CFDA) and Vogue on Wednesday revealed the ten finalists for the 2023 CFDA/Vogue Fashion Fund, an award created following the events of 9/11 to help establish the next generation of American designers.
The 2023 finalists include Angelo Fabricio Urrutia of 4SDESIGNS, Colin LoCascio, Rachel Scott of DIOTIMA, Kim Shui, Kozaburo Akasaka of Kozaburo, Melitta Baumeister, Sami Miro of Sami Miro Vintage, Fletcher Kasell and Tanner Richie of Tanner Fletcher, Everard Best and Téla D'Amore of WHO DECIDES WAR and Henry Zankov of ZANKOV.
This year, the program will return to its usual programming, awarding one winner with a $300,000 USD cash prize and two runner-ups with $100,000 USD, while offering all finalists meaningful business mentorships. The Fund's competition aspect was brought to a halt due to the pandemic in 2021 and 2022, during which cash prizes were awarded to all finalists.
After 35 years in fashion and beauty, Tom Ford sold his namesake company to the Estée Lauder Companies for a whopping $2.8 billion USD. Two days prior to the brand's official transfer in April, the designer unveiled his final women's collection under his eponymous label with little-to-no fuss. And according to a new interview with Air Mail, Ford is not looking back. Instead, he has his eyes set on making a dark comedy film — after a much-needed period of rest.
"What I need to do now is take a nap," he told the outlet. "My father died during COVID, and Richard [Buckley, Ford's husband and partner of 35 years] died. My very first boyfriend, Ian Falconer, died about three weeks ago. I sold my company. We moved. I need a few months to digest everything that has happened and then start writing."
Once his rest concludes, however, he'll begin penning his dark comedy. Of his genre selection, he explains, "That's what life is. It's a dark, dark comedy. Life is just so much pain, but yet so absurd. I think if you don't approach it with a certain comedic point of view, it can kill you, life."
The move will mark Ford's return to the cinema, following his first two films, A Single Man and Nocturnal Animals, which were released in 2009 and 2016, respectively. Those projects, he says, were "the most fun [he's] ever had in [his] life."
After three years of showing with a co-ed format, Valentino will officially return to Milan Men's Fashion Week this June to present a men's-specific runway.
The show, titled "Valentino The Narratives," will take place on June 16 at 2 p.m. CET at the Università degli Studi di Milano Statale. The event will mark the beginning of Milan Men's Fashion Week, which is slated to run through June 20.
"Valentino The Narratives" will stream live on Valentino's website and through the House's social accounts. Notably, the university's students will be able to view the show on campus, as creative director Pierpaolo Piccioli looks to make the label increasingly more inclusive for a younger demographic.
LABRUM's designer Foday Dumbuya was honored with The Queen Elizabeth II Award for British Design at London's 180 Studios on Thursday. For the first time, His Majesty King Charles III present the award, celebrating the English fashion innovator.
In his acceptance speech, Dumbuya said, "Growing up in Sierra Leone, my deep love and appreciation for my country, the rich and vibrant culture inspired me to create LABRUM. I saw how fashion can be a powerful tool for self-expression, cultural identity, and economic growth. With that in mind, I set out to create pieces that are not only beautiful, but also empower local communities while preserving the culture."
Hong Kong rapper Jackson Wang became the latest face of Louis Vuitton this week, starring in the French Maison's new "Horizons Never End" travel campaign.
The sartorial imagery, shot by fashion photographer and filmmaker Glen Luchford, spotlights the brand's latest travel items, designed by Marc Newson. Wang, who signed to the House as a brand ambassador in January, appears alongside the logo-laden luggage, on a trip to Paris.
See the full campaign here.
Assouline has pulled back the curtain on a new fashion book spotlighting Raf Simons' influential reign at Dior, titled Dior by Raf Simons.
The 344-page book includes 225 illustrations and photographs (many taken by Laziz Hamani), documenting the visionary's defining works from Fall/Winter 2012 to Fall/Winter 2015. The book focuses on Simons' pivotal collections, including his debut range for the brand, while legendary fashion writer Tim Blanks offers thoughtful examinations of the designer's work at the Maison.
Dior by Raf Simons is now available to purchase via  Assouline's website for $195 USD.