Dior Takes Mumbai and Louis Vuitton Drops More Yayoi Kusama in This Week's Top Fashion News
Stay up to date on the latest industry headlines.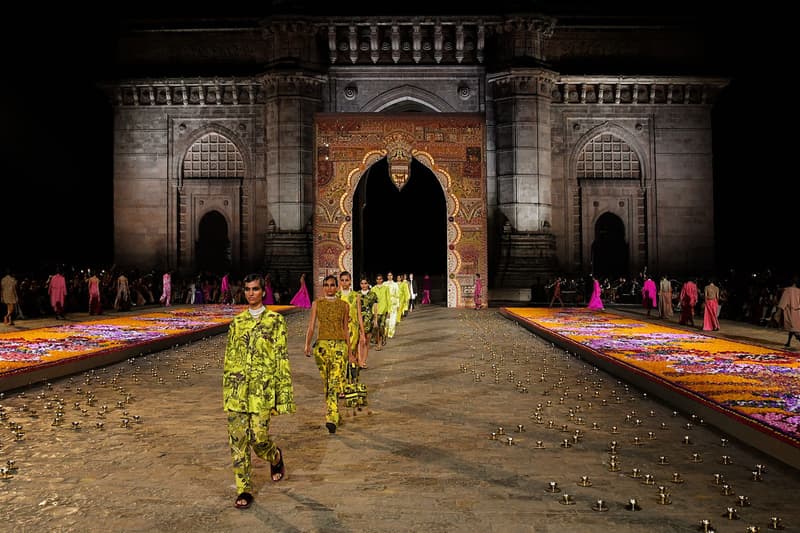 This week, the fashion industry offered much to discuss. On the runway, Dior staged its Pre-Fall 2023 designs beside the Gateway of India landmark in Mumbai, debuting a collection celebrating the country's influence on fashion. In stores around the world, Louis Vuitton launched the second drop of its Yayoi Kusama collaboration, featuring a slew of playful leather accessories and ready-to-wear items. And on social media, BTS stars RM and Jung Kook were named the newest ambassadors of Bottega Veneta and Calvin Klein, respectively.
All the while, Levi's announced that it will be using AI-generated models to showcase its designs online, and adidas retracted its opposition to a a Black Lives Matter campaign group that filed a trademark for a logo featuring three stripes. Gucci, meanwhile, revealed a new partnership with the company behind Bored Ape Yacht Club.
Below, Hypebeast has rounded up the top fashion stories of the week so you can stay up to date on trends in the industry.
For Pre-Fall 2023, Dior set its designs in motion beside the Gateway of India landmark in Mumbai — a city for which creative director Maria Grazia Chiuri cherishes a deep-rooted, longstanding affinity. For more than 20 years, the visionary has maintained a working friendship with Karishma Swali, the director of Chanakya ateliers and the Chanakya School of Craft in Mumbai, a place of exchange, study and emancipation for many women in the region. Through next season's clothes, Chiuri looks to champion India's rich history and spotlight the country's influence in her fashion — and the industry's, at large.
The collection delves into the French fashion house's archives — specifically, those dating back to April 1962, when then-creative director Marc Bohan traveled to India, notably to Mumbai and Delhi, to initiate conversations between France and India. At the time, Bohan's international escapades marked a new era for Dior, one that invited younger customers and a more modern design approach into the Maison.
Peruse the full collection here.
Louis Vuitton officially released the second drop from its Yayoi Kusama collaboration.
Under a campaign titled "Creating Infinity," the French fashion house pulled back the curtain on the next installment of its team-up with the famed Japanese artist. The second drop was initially teased with a slew of Justin Timberlake-starring images, highlighting leather accessories donning Kusama's signature motifs, including the Nihonga-style Pumpkin along with the Colorful Faces, Flowers and Infinity Dots.
The second delivery includes a selection of womenswear and menswear, all brought to life by Kusama's vibrant graphics. This go-around sees a slew of relaxed silhouettes, including a slew of beach-ready and denim-filled ensembles, as well as a varsity letterman jacket with embroidery of Kusama's Colorful Faces.
Take a look at the second drop of the Louis Vuitton x Yayoi Kusama collaboration here.
Levi's has joined forces with AI company Lalaland.ai to create digitally-manufactured models to wear its clothing.
"Later this year, we are planning tests of this technology using AI-generated models to supplement human models, increasing the number and diversity of our models for our products in a sustainable way," the announcement read.
Lalaland.ai, which was founded in 2019 in Amsterdam, utilizes AI to craft "hyper-realistic models of every body type, age, size and skin tone" for brands and retailers. The company says that its virtual models are "body-inclusive" and provide a more personal and sustainable online shopping experience.
Presently, Levi's website and app show only one model wearing the products, though the AI intends to showcase products on models of all skin tones, sizes and ages.
"While AI will likely never fully replace human models for us, we are excited for the potential capabilities this may afford us for the consumer experience," global head of digital and emerging technology strategy at Levi Dr. Amy Gershkoff Bolles said. "We see fashion and technology as both an art and a science, and we're thrilled to be partnering with Lalaland.ai, a company with such high-quality technology that can help us continue on our journey for a more diverse and inclusive customer experience."
adidas has officially revoked its complaint against a Black Lives Matter campaign group that filed a trademark for a logo featuring a trio of parallel stripes. A spokesperson for the brand stated, "adidas will withdraw its opposition to the Black Lives Matter Global Network Foundation's trademark application as soon as possible."
adidas initially filed its complaint to the United States Patent and Trademark Office on Monday, claiming that the organization's logo was "likely to cause confusion" when compared to its famed three-stripe iconography. Additionally, the brand said that it would "dilute the distinctiveness" of its own insignia.
adidas declined to comment on the situation to Hypebeast. Read more here.
BTS star RM is officially the face of Bottega Veneta.
The fashion brand's creative director Matthieu Blazy took to social media to congratulate the K-pop superstar on his ambassadorship. Notably, the announcement marks a pivotal milestone for both RM and Bottega Veneta, as the singer is the first and only celebrity brand ambassador for the luxury label. On Instagram, Blazy revealed the news with an image of RM wearing a plaid shirt and denim pants, with the brand's new Andiamo bag in brown leather. Blazy wrote, "Andiamo ! Welcome to the family."
RM responded to the news with his own message, writing, "So happy to be a part of the Bottega family!" See the announcement post here.
After dropping Michael B. Jordan's Spring 2023 campaign last month, Calvin Klein returned this week to name its newest global ambassador: BTS' Jung Kook. As the latest star to stand scantily clad in the American fashion label's quintessential underwear and denim designs, the K-pop sensation begins his big-ticket CK partnership with a Spring 2023 campaign of his own.
Shot by Park Jong Ha, the sartorial imagery sees Jung Kook wear the brand's fresh cuts, including the '90s Straight denim and Body Jeans, Relaxed Fit Denim Shirt, Oversized Denim Jacket and Relaxed Fit Standard Logo Crewneck Tee.
"I have been a fan of Calvin Klein for a long time, and I'm thrilled to be their newest global ambassador," said Jung Kook. "This partnership is very special, as Calvin Klein's heritage and brand values resonate with me. My music is how I communicate with my fans around the world, and I see this partnership as an opportunity to connect with them in a new way. I'm incredibly excited for people to see a new side of me in this first campaign for the brand."
See Jung Kook's full campaign here.
Gucci established a multi-year partnership with Yuga Labs, the blockchain technology company developing some of the most prominent NFTs and digital collectibles, including Bored Ape Yacht Club, CryptoPunks, Meebits and the fictional digital fashion shop 10KTF. The web3 imprint is also responsible for Otherside, a Bored Ape-inspired metaverse game, in which Gucci aims to establish a presence.