What's Next for adidas?
With longtime CEO Kasper Rorsted stepping down in 2023, here's what the forthcoming months may entail for the brand.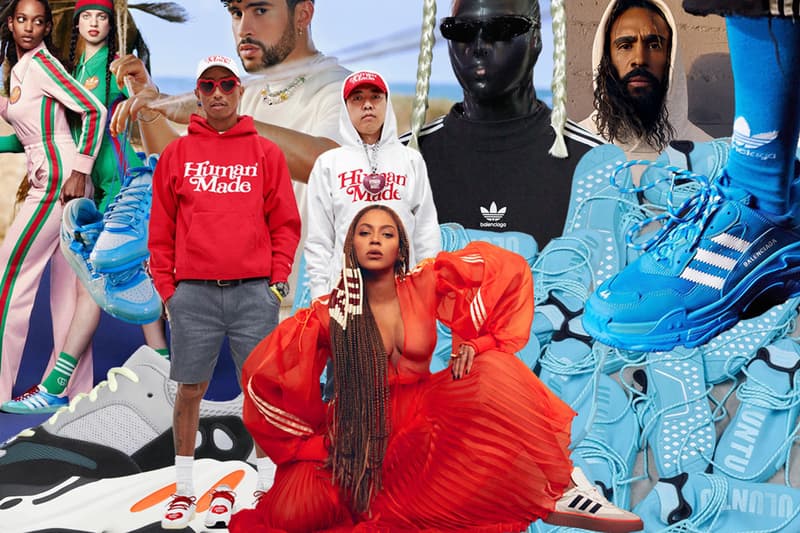 It's been 73 years since Adi Dassler introduced adidas to the world. Since then, the brand has blossomed into a powerhouse known for pushing the boundaries of athletic performance and influencing culture. Today, the Trefoil is known for being the savior of Ye's sneaker design career and the YEEZY line as well as working with an assortment of seminal talent like Lionel Messi, James Harden, Beyoncé and Pharrell Williams. They're also the go-to collaborative partner for luxury labels like Prada, Balenciaga and Gucci.
Despite all of its success, the Three Stripes has taken a handful of low blows. Ye has sparked controversy after claiming that adidas purloined his footwear designs and executed YEEZY Day without his thumbs-up. The brand's also been forced to deal with the business ramifications of the ongoing COVID-19 pandemic. These obstacles have caused significant slow-downs in production, which has lead, in part, to sales numbers taking a massive hit. The company is currently ranked as one of the lowest-performing entities on the 50-member Euro Stoxx 50 Index, with its revenues in Asia plummeting.
On top of all of that, the sitting CEO Kasper Rørsted recently announced that he will make his departure from the brand at the top of 2023.
It's time for adidas to hit the reset button. A financial — and spiritual — uplift is in order for the Three Stripes. Oftentimes, a company's success is reflected by its leadership. And in this case, ushering in a CEO who has experience and a thorough understanding of product marketing, merchandising and navigating the ever-evolving digital realm is likely going to be top of mind. However, there are a few other avenues that the brand can explore.
Let YEEZY Be YEEZY
Ye is susceptible to firing shots at the company again, but the empire that he's built with adidas has had the sneaker world in a chokehold for over half a decade. He's also admitted in past interviews that he wouldn't be able to roll out products at this scale without the backing of a major corporation. And whether the dynamic duo sets out to introduce a new silhouette or executes the 100th restock of the 350 V2 "Zebra," sneakerheads across the globe are always going to have an appetite for his footwear designs. For example, the YEEZY Slides and FOAM RNNRS have become the official airport shoes of 2022, and excitement over these models isn't expected to die out in the foreseeable future.
Classic and Contemporary
Timeless silhouettes like Superstars, Sambas and Gazelles will always have loyal fans rushing back to purchase them. We're seeing a surge with the Samba right now as its classic white and black colorways have become street style staples, and its collaborative offerings with Wales Bonner have garnered a considerable amount of acclaim.
Lately, however, more conversations around the brand have erupted thanks to an increased output of forward-thinking lifestyle innovations like the NMD S1, Adilette 22, adiFOM Q and a forthcoming mule. Scrapping the vintage aesthetic and modernizing sneakers for consumers accustomed to seeing YEEZY models at an affordable price point is paying off, so don't be surprised if you see an uptick in production of sneakers with funky tech and YEEZY-influenced style.
Jerry! Jerry! Jerry!
You can't forget about Jerry Lorenzo. Attendees of INNERSECT 2022 in Shanghai, China were treated to a small taste of his Fear of God x adidas partnership through his pop-up installation, but other than that, the collection has been kept on the hush. Lorenzo thoroughly understands his audience, and he possesses an innate ability to find the happy medium between luxury and streetwear. He creates without compromise, and has a knack for engineering pieces that are fashionably acceptable in the streets, on the hardwood and at the club.
Fear of God x adidas could be the disruptive force and the momentum shift that the athletic giant needs right now. It's an opportunity to get back on the radar of streetwear-crazed kids — especially the crowd that already has an affinity for his main line and ESSENTIALS capsules — unleash basketball products that can compete against Nike's signature LeBron, KD, Kyrie, Kobe and Jordan shoes and, most importantly, breathe new life into the brand.
High-End Heat
Given that adidas has already worked with the likes of Balenciaga and Gucci, the idea of dabbling into other brands under the Kering umbrella is something that it can consider. These collections create major headlines, but so far they've been nothing more than marketing tactics: the average Joe doesn't have the means to cop a $5,500 USD Balenciaga x adidas hoodie or a $1,100 USD Triple S collab. However, these alliances bridge the gap between two audiences — and allow each brand to delve into markets they wouldn't normally delve into. This ultimately results in increased brand awareness.
For example, most consumers wouldn't shell out $900 USD on a Gucci x adidas Gazelle, but they might see a celebrity like Harry Styles rocking them — and pick up an inline pair just to feel like they're part of the trend. This trickle-down effect is a huge win for the brand and a proof of concept for their collabs.
Collaborative Cornucopia
Doubling down on initiatives with non-Ye family members could also be in the cards. collaborators like Beyoncé, Bad Bunny, Pharrell,  Palace and Wales Bonner are each doing serious numbers and reaching different audiences with their own respective launches. In comparison, Nike's SNKRS release calendar is usually replete with collaborations from brands like sacai, Off-White™ and Union LA, which are tailored for diehard streetwear aficionados and sneakerheads. Where adidas has the upper hand is that its collaborative projects are segmented by nature. Each partner has their own target crowd, so everyone from the fashion connoisseur to the hipster to the hardcore music stan feels like they can buy into the brand in their own way. The collections aren't meant for everyone, and that works to the brand's advantage.
---
adidas possesses all of the tools to get back on the right track, but it's up to the brand to utilize them most effectively. Continuing to align with the right collaborative partners, harnessing the energy that it's received thus from its modern design innovations and zeroing in on its consumer needs are key to the brand's success, and they're positioned for an interesting end to the year and a compelling 2023.