Ranking the Best Patta x Nike Collaborations
From iconic Air Max 1s to divisive pairs like the AM95/90, here's a look back at their best link-ups.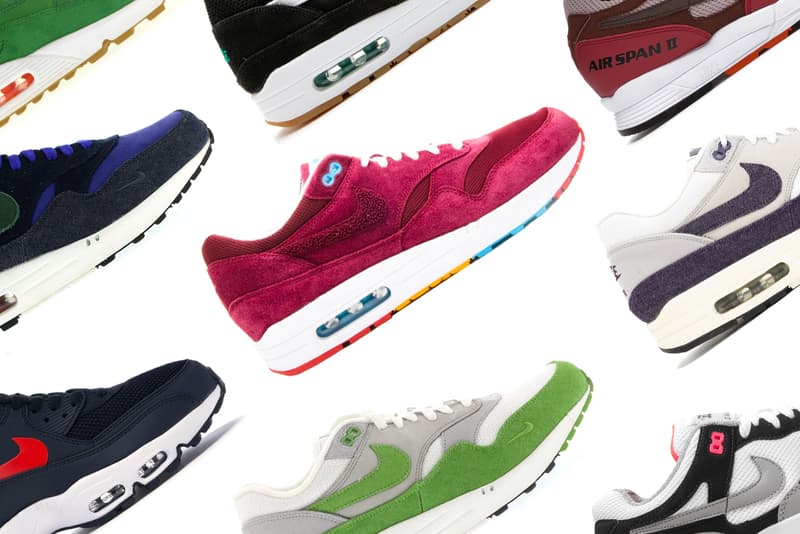 If the Amsterdam-based streetwear brand Patta has one defining quality, it's restraint. Even in 2009, undoubtedly the label's peak thanks to a number of now-legendary collaborations with Nike, it was firmly a brand for those in the know. It traded on subtlety and steered away from the brash graphics of its American counterparts, making it the educated choice for streetwear connoisseurs — and the same can be said for the brand today. 
Patta's understated nature has played into its success among the IYKYK crowd, and that spirit has carried through today: in the decade since their release, the brand's 2009 Nike Air Max 1s have undoubtedly acquired grail status. But despite the brand's laid-back ethos, it has swung big with its collabs. As a result, over the years, Patta was sure to experience a few misses, but for every questionable release came a string of hits for the Dutch imprint, and more often than not the releases went on to earn cult acclaim. 
Not every release is going to become an icon such as the "Cherrywood" or "Chlorophyll" AM1s. But as we approach the launch of Patta's latest offering, the Nike Air Max 1 "Monarch," it's safe to expect that the brand is onto another hit. In honor of this release and Patta's rich collaborative history with Nike, HYPEBEAST's Editors have ranked their favorite collaborations over the years. We bet you can already guess the winner.
10. Patta x Nike Air Max 95/90, 2018
When Nike was starting to get the ball rolling on its customizable By You platform — formerly NikeiD — in 2018, it called upon Patta to craft a new hybrid silhouette. That model was the Patta x Nike Air Max 95/90, and as you can infer by its namesake, it was a shoe that had the base of the Air Max 90 and the hefty sole unit of the Air Max 95. 
Clunky dad shoes such as the Balenciaga Triple S and the adidas YEEZY BOOST 700 were trending at the time, and this was Nike's shot at aligning with what the consumers were craving. Arguably, though, these flopped, if their current resale value is anything to go by. It lacked any real energy behind its promotion at the time, which inhibited it from flying off the shelves — which is why it sits at the bottom of their collaborative efforts.
9. Patta x Nike Air Span II, 2018
Before Patta's involvement with the Nike Air Span II in 2018, most people had left the sneaker in the Swoosh's gutter. A '90s staple, the Air Span II was a popular running shoe thanks to its affordable price point and lightweight, fuss-free design, but when using this for the canvas for a collaboration, a silhouette as simple as this can make for a miss. 
Notably, Patta's takes — including the Friends & Family version — lacked the injection of ingenuity and originality that we've come to expect from the Dutch imprint. The colorways, in particular, left something to be desired, as the brand chose to eschew the retro models that they could have drawn inspiration from. 
8. Patta x Nike Air Max 1 "Lucky Green," 2010
It was at this point that deciding which Patta collaboration comes where became difficult, as by no means is the "Lucky Green" a bad shoe. Its black canvas and nylon ballistic mesh upper made for one of the best Air Max 1s to release back in 2010, but fast forward to 2021 and we'd be hard-pressed to say it aged well. Unlike the AM1s that came before it, the "Lucky Green" echoes the feelings expressed about Patta's Air Span II — simple is not always best, especially when a name like Patta is an expert in color experimentation. 
7. Patta x Nike Air Force 1 Bespoke "World Tour" Asia Exclusive, 2017
In 2017, Patta ventured out and hosted several pop-up shops across the globe. Each stop sold exclusive products, and when it traveled to Asia, it launched this highly-limited Nike Air Force 1 Bespoke colorway. A meager 80 pairs were produced and sold across the eastern continent, and they retailed for a staggering $800 USD. 
Premium uppers were built from hand-woven canvas — an element that really set off its retail tag — and came adorned with Patta branding on the tongues. In addition, each pair was packaged in a collectors edition box and was served in a velvet bag. 
6. Patta x Nike Air Max 1 "Monarch," 2021
Despite it not being available to the public just yet, in our opinion the Nike Air Max 1 "Monarch" deserves to be sixth. On this impending installment, you get all of the heritage-inspired details that sneaker consumers have come to know and love from Air Max 1 including the clean color-blocking, classic mesh and leather materials, and the tiny forefoot Swooshes. However, Patta makes a slight yet effective tweak to its construction by remixing the mudguards with wavy dips, which is a welcomed change and something we're happy to see from the streetwear label as it echoes the attention to detail of its best collaborations from the past.
5. Patta x Nike Air Max 90 "Homegrown Grass," 2006
After being in business for two years, Patta was tapped by Nike and the Dutch hip hop site State Magazine to work on a sneaker collaboration that was tied to the Homegrown compilation album. Due to the fact that the Air Max 90 was a trendy silhouette amongst European streetwear and sneaker fans at the time, they all landed on the idea of using it for the project. 
The album's artwork was predicated on patterns of leaves, and this is where the concept of utilizing a potent green upper came from. The kicks are also fashioned with cork liners, orange accents, and gum outsoles. Each pair came with a mini booklet and the Homegrown album. Moreover, State Mag made a special SWAT team-inspired promotional video to supplement the rollout. 
4. Patta x Nike Air Max 1 5th Anniversary "Denim," 2009
Before 2009 came to a close, Patta made room for yet another Nike Air Max 1 "Denim" collaboration to cap off its
five-year anniversary celebrations. These weren't nearly as coveted as its "Chlorophyll" and "Purple Denim" offerings, and were the most accessible pair to retrieve as they were produced in higher quantities.  
For this Quickstrike release, Patta showed its ability to create harmony with a blend of different materials and textures. The uppers were formed with darker-toned nubuck, corduroy, and denim panels and sported vivid accents of red, blue, and green to bring about a more contemporary aesthetic. 
3. Patta x Nike Air Max 1 5th Anniversary "Chlorophyll," 2009
HYPEBEAST's top three kicks off with the "Chlorophyll," otherwise revered as one of the greatest Patta collaborations of all time. A coveted grail for many, this AM1 was released in 2009 and stands alongside giants such as atmos' "Viotech" and Kidrobot's pairs, and like those its colorway has stood the test of time, perhaps thanks to the use of stiff denim on the upper. 
While we may have knocked Patta for previously producing simple pairs before, the grey and green colors of the "Chlorophyll" made for a timeless look that wasn't appreciated when it first appeared, as back then you could pick this pair up from a sales rack. Now, you'll be lucky to pick up a pair under $1,000 USD. 
2. Patta x Nike Air Max 1 "Purple Denim," 2009
Sitting at the number two spot on this list is Patta's Nike Air Max 1 "Purple Denim" — a collaboration that was released in conjunction with the "Chlorophyll" iteration back in 2009 for the Dutch brand's fifth anniversary. Like its release sibling, it's the understated design approach and use of premium materials that made these special. Patta referenced Tinker Hatfield's OG Air Max 1 color-blocking from 1987, but simply infused denim into the Swooshes and mudguards to spruce up the kicks with a premium look and feel. These dropped as a Tier Zero release, Nike's most limited run at the time, and now sell for over a rack on the resell market. 
1. Patta x Parra x Nike Air Max 1 "Cherrywood," 2010
Patta's keen eye for colors is what makes it one of the best in the game, but this approach is most apparent with the Patta x Parra x Nike Air Max 1 "Cherrywood" — the stalwart's greatest hit. Teaming up with its fellow Dutch artist Parra, this pair has a focus on premium materials, notably seeing its upper swathed in red suede and chenille with more chenille on the tongue and precise embroidery you seldom see on Nike's nowadays, while also featuring colors and artwork informed by Parra's work. What's more, only 300 pairs were ever made, making them among the rarest Patta x Nike — let alone Air Max 1 — shoes available. Naturally, they command thousands of dollars on the resale market, but this isn't why HYPEBEAST deems them the best. Quite simply, they are the most beautiful Patta sneakers to date, and in the 11 years they've existed, nothing has ever come close to the quality or attention to detail.