Lewis Hamilton Wants to Change Motorsport, and the World
The Formula 1 driver speaks to HYPEBEAST about taking a stand for Black representation in his sport.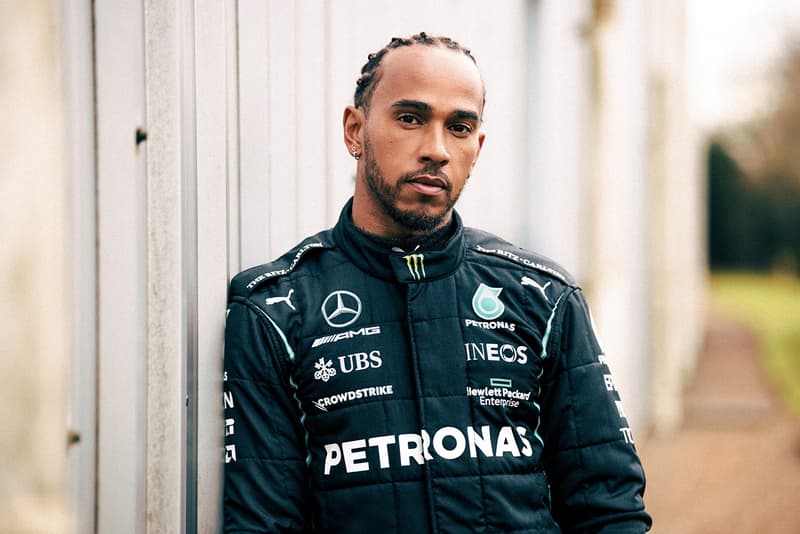 Lewis Hamilton has a strong claim to being the greatest Formula 1 driver of all time. In the 14 years since his debut season, he has won the World Drivers' Championship a joint-record-breaking seven times, while also taking the record for most wins, most pole positions, and most podium finishes. Hamilton holds another record as well: he is the first and only Black racing driver in Formula 1.
After all but conquering the track, Hamilton has now taken on a different challenge. In June 2020, he partnered with the Royal Academy of Engineering to launch The Hamilton Commission, which is described as an "opportunity to simultaneously address the underrepresentation of Black people in UK motorsport as well as the STEM (Science, Technology, Engineering and Mathematics) sector."
"I've been in this sport for over 25 years," Hamilton tells HYPEBEAST. "We were always the only Black family that we'd come across, and since I've been working in the industry there has been a clear lack of diversity within the sport." Work on The Hamilton Commission began in late 2019, shortly after Hamilton had defended his crown to win his sixth World Drivers' Championship. Looking at that year's end-of-season photo, with such a dearth of Black figures, Hamilton decided it was time to make a change.
"I will give absolutely all of myself to make sure it does achieve change."
"At the end of 2019, I'd won championship after championship, and I thought that by being there I would help to break the mould and encourage more people to get involved," he continues. "But it has not done that, so I realised that I had to take the wheel, I had to do more. I had to find out what the barriers are so I can present them to the key stakeholders and take them on a journey."
Before that, though, came ten months of research, as Hamilton committed himself to learning more about the issues facing his industry. "It was really important to do the due diligence, to try and find out what the barriers are," Hamilton says. "There are people who, when something comes up, they just throw a bunch of money at it and hope that it fixes things. But that's not what I wanted to do, that's not the way I do things. I really want to have a real understanding of what those barriers are and why. We discovered some systemic issues that still exist, that education is key, and that in the educational system there are a lot of barriers."
Since then, the commission has made 10 recommendations, which include increasing apprenticeships, working with Black community groups, implementing a Diversity and Inclusion Charter, and increasing the number of Black teachers in STEM subjects that lead to careers in engineering.
But making recommendations is one thing. Getting them to be acted upon is entirely another. "I didn't want to be one of those people making noise or having a commission that doesn't do anything," Hamilton says. "I will give absolutely all of myself to make sure it does achieve change." He will personally be funding some of these recommendations, and is in discussions with the FIA (Formula 1's governing body).
Alongside that, his latest Mercedes contract will see him partner with the automotive company to create a diversity-focused joint charitable foundation. "It's been amazing to see the support from Mercedes and from the industry more widely," he continues. "My team changed the car to black from silver [Mercedes announced that it had "chosen to race in an all-black base livery as a public pledge to improve the diversity of our team" in June last year], and we've got diversity and inclusion training, which I took first, because we can all always learn more."
While the commission was launched to focus on motorsport as an industry, its findings soon led to a broadening of its remit. The obstacles to entry for people of color to work in motorsport reach far beyond the sport, into education, hiring practices and society more widely. "What we've realized is how far-reaching and systemic the barriers to young Black students pursuing STEM subjects are," Hamilton explains. "We're not just looking to improve within motorsport, but there's no real surprise that the issues of racism and unconscious bias are ingrained everywhere." Just days after he spoke to HYPEBEAST, Hamilton's point was reinforced, as members of the England football team were subjected to horrific racist abuse via social media in the aftermath of Euro 2020.
"There's no real surprise that the issues of racism and unconscious bias are ingrained everywhere."
Clearly, there's a long way to go. But in Hamilton's view, uplifting young Black people begins at school. By way of example, he points to the number of Black engineering graduates with first-class honors ("about 75 in 2019") and exclusion rates for younger children. "Black students are more likely to be excluded from school, A third of Black Caribbean students are excluded at least once between nine and 11," he says. "That really resonated with me because I was expelled from school when I was 15. I remember the impact and the implications that had on me psychologically, I thought my career was over."
It's these educational and systemic issues that are at the root of motorsport's diversity problem. "It's daunting to hear that there are over 40,000 jobs within the motorsport industry, and only 1% are from Black backgrounds," Hamilton adds. "It's clear that there's an issue here, and that's what we're trying to fight."
By broadening the scope of the commission — and attempting to combat systemic issues — Hamilton is taking on a task that goes far beyond Formula 1 and motorsport. "I've never really shied away from talking about this side of things," he says. Taking on systemic issues also goes into Hamilton's own experiences of racism, which are not limited to sport.
"I really do love England, that's my home, but when I was a kid, I was often told to go back to my country." he continues. "When you're made to feel like you don't belong, or this is not your country, it's difficult. We've got to band together, we've got to unite, we've got to create equality.It's easy to say that, but there's a lot of work we need to do."
"Last year, going on the Black Lives Matter march and seeing people from all backgrounds coming together to fight for equality was really beautiful for me to see. It's a simple ask: everyone should have the equal opportunity to succeed and have a good education. We've got a lot of work to do, and I'm only one person. Together we can do a lot."
Although his advocacy and campaigning has won him fans and awards — including the first ever Laureus Athlete Advocate of the Year Award — Hamilton is aware of some criticism. "You've had people say 'stick to your sport,' people told LeBron to 'shut up and dribble' and I'm sure I've had people say 'shut up and drive,'" he says.
"But the fact is, we have this platform and we're in the spotlight. What are you going to do with it? I think it does no harm to use our platform for good, for educating people, for bringing things to attention, and for holding people accountable — which is key. Governments and people in high positions sometimes need a nudge, and fortunately we have the power to influence and push them."
To read the full report, visit The Hamilton Commission website.