What Does a Professional Athlete Owe to the Media?
Following Naomi Osaka's withdrawal from the 2021 French Open, there's now an inquiry into the relationship between athletes and journalists.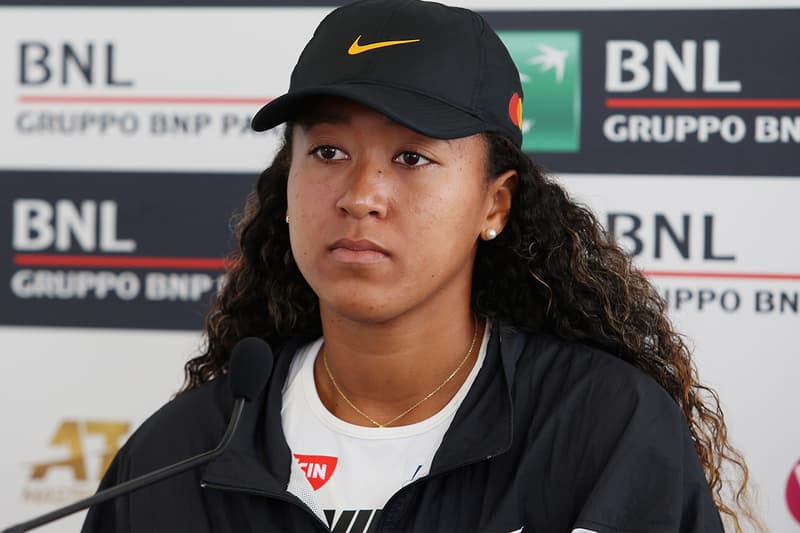 Prior to the start of the 2021 French Open, Naomi Osaka publicly shared that she will not be talking to the press during the tournament for mental health reasons. Though at the time Osaka didn't specify what she was struggling with, her now-deleted Instagram post was met with a mixture of support and criticism — which was exacerbated after the athlete kicked off the tournament with a win over Patricia Maria Tig but opted to skip the post-match press conference, resulting in a hefty $15,000 USD fine and a warning from Roland-Garros that "repeat violations attract tougher sanctions."
A day later, Osaka shocked the world with the announcement that she was withdrawing from the French Open and that she has been suffering from long bouts of depression since the 2018 U.S. Open. Her revelation quickly changed the tune of those who previously disagree with her; she transformed from an untouchable wunderkind at the top of her game to a normal 23-year-old woman dealing with a legitimate mental health issue. Osaka was only looked at with some form of sympathy when she publicized her struggles, leaving her fellow athletes, sports fans and journalists to face this question: what exactly does a professional athlete owe to the media?
The extensive involvement of the media has always been the norm in the world of sports. Billie Jean King, the 39-time Grand Slam champion and former World No. 1, acknowledged the fact that the media was a big help in her advocacy for gender equality in tennis. "In our day, without the press, nobody would have known who we are or what we thought. There is no question they helped build and grow our sport to what it is today," she wrote on Twitter, continuing, "The media still play an important role in telling our story." Osaka, who is Japanese-Haitian, has used her celebrity to spotlight social issues, ranging from innocuous yet very powerful actions like sporting face masks with the names of police brutality victims like Armaud Arbery, Elijah McClain and Breonna Taylor, to verbally explaining in interviews that she wants to send a message about the Black Lives Matter movement.
Hall of Famer Chris Evert added that the media benefits tennis players as they aid in building an athlete's brand, which in turn attracts big-time sponsors. This is an advantage Osaka has greatly benefitted from in the past two years — her 2019 Nike endorsement deal paid her more than $10 million USD, she was named the highest-paid female athlete in history in 2020 and earlier this year, she became a brand ambassador for TAG Heuer and signed a seven-figure deal with Louis Vuitton. Evert also explained that the media is "crucial" to and "very instrumental in the growth" of the sport because they act as the bridge of communication between fans and players. There is some truth to this, as press conferences have the ability to provide journalists and admirers a more personal and "in-depth" look into the psyche of athletes, regardless of whether it's a win or loss. The poised and calm complexion of an athlete may also serve as inspiration for amateurs with big dreams, teaching them how to either stay humble in the face of a major W or act honorable after a loss.
But how is one expected to act after a loss? Athletes are often bombarded with repetitive, nondescript questions that ask them to describe the feeling of losing and over the years, several sports figures have chosen to literally walk away from those inquiries, including the greats like the NFL's Cam Newton and the NBA's LeBron James at the 2018 NBA Finals. What more when those kinds of questions are publicly hurled at someone like Osaka, who admitted in her withdrawal note that she is "not a natural public speaker" and that she is always seen with headphones on because it helps "dull" her social anxiety? The actions of these star athletes have been heavily criticized, with most of the comments echoing the false claim that they are not allowed to feel demoralized and must always be accessible — even at the gravest of times — because they are being paid big amounts of money to professionally play the sport.
To add insult to injury, athletes, particularly those who are female, are subject to unrelated questions that come off as demeaning and unnecessary. Jonathan Liew of The Guardian pointed out that during Wimbledon 2004, a 17-year-old Maria Sharapova was asked the question, "You're a pin-up now, especially in England. Is that good? Do you enjoy that?" and during Wimbledon 2013, Genie Bouchard was asked, "I noticed you tweeted a picture. Are you prepared that if you go on a long run you may be held up as a sex symbol, given you're very good looking?" These personal questions are carelessly thrown into the room and strip the focus away from the woman's athletic ability. They are then expected to answer with the utmost grace and poise despite the public setting and the exploitative nature of these questions.
While some have the mental strength to actively engage with the media after a heartbreaking defeat, each athlete is, realistically, built differently. They absorb feelings of wins and losses in their own ways, and neither fans nor journalists should expect the same brand of hearty reactions from all the athletes they encounter. Serena Williams, who came up short against Osaka in the 2018 U.S. Open, made the fair point that her thick skin has saved her from the media all these years. "We have different personalities, and people are different," she said during a recent post-match press conference. "Other people are thin. Everyone is different, and everyone handles things differently. You just have to let [Osaka] handle it the way she wants to, in the best way she thinks she can."
So what does an athlete owe to the media? Possibly everything and nothing at the same time. People of that athletic caliber will and should be held to a professional standard, and interactions with the media almost always come with the territory. However when the World No. 2 feels like her only option is to withdraw from a Grand Slam tournament, the conversation should emphasize the volatile relationship between athletes and journalists, and the lack of respect that traditionally comes from the latter. There is no doubt that sports and the media need each other in order to thrive, but with an increasingly strong advocacy for mental health and the fast rise of social media, maybe it's time to reconsider how the two can work together to foster a healthy and safe playing field for each other.