Krispy Kreme Celebrates Fourth of July With Blue, Red and White Doughnuts
Offering a series of special Original Glazed and KREME™-filled treats for the holiday.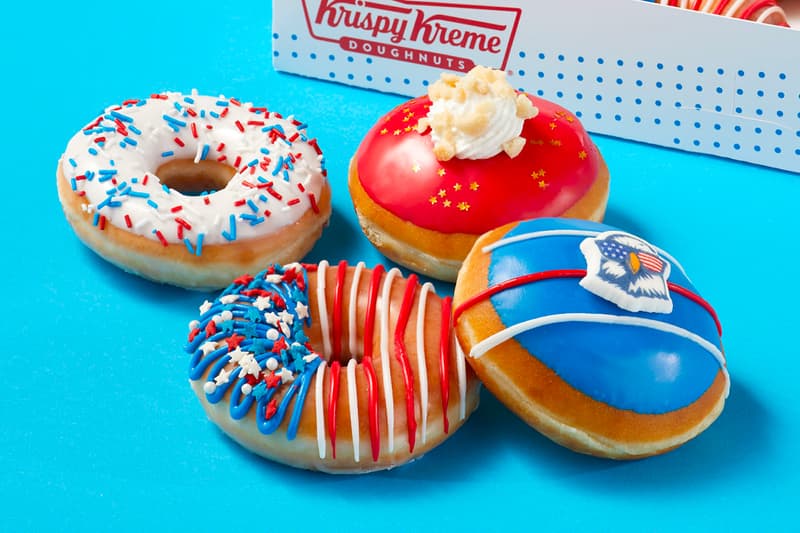 With 4th of July weekend just around the corner, Krispy Kreme is celebrating the holiday with a special "Star-Spangled Box" of doughnuts.
The blue, red and white treats include the Freedom Ring Doughnut and the Patriotic Sprinkled Ring Doughnut, both of which are Original Glazed offerings. The Freedom Ring Doughnut features decorative icing stripes and sprinkles to form a flag, while the Patriotic Sprinkled Ring Doughnut is dipped in white icing and topped with holiday-focused sprinkles. There's also the filled Strawberry Shortcake Doughnut and Patriotic Eagle Doughnut, the former packed with Strawberry KREME™, dipped in red icing, sprinkled with gold stars and topped with a KREME™ glop and shortbread crumbles, and the later packed with Cookies & KREME™ filling, dipped in blue icing, decorated with red and white stripes and topped with a patriotic eagle sugar piece.
"This Fourth of July, many Americans are going to celebrate with family and friends not just our independence but also emerging freedom from the pandemic. We're making these gatherings the sweetest parties of the summer with patriotic doughnuts and a fireworks-worthy deal," Krispy Kreme chief marketer Dave Skena says in a press release.
Customers who buy any kind of dozen doughnuts from now till July 4 will also receive an Original Glazed dozen for free, however this is only available in select Krispy Kreme locations.
Elsewhere in food and beverage, take a look at 10 of the best NYC restaurants to visit when the city fully reopens.