10 Best NYC Restaurants To Visit When the City Fully Reopens
Full-capacity dining will resume on July 1.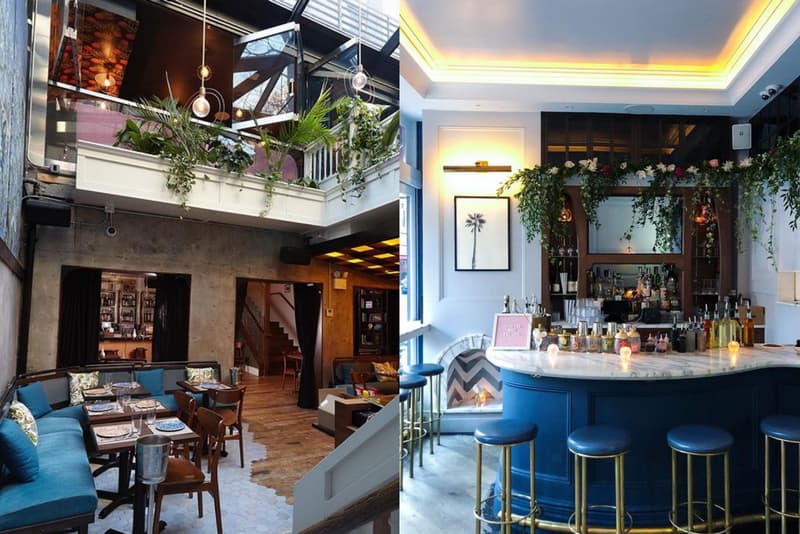 As New York City eases its lockdown restrictions and gears up for its full reopening on July 1, restaurants are more eager than ever to book their tables and resume pre-pandemic business operations. After adapting to government regulations with newly built outdoor seating spots and enduring the dire challenges brought on by the pandemic, dining spots will finally be able to open at full capacity for the first time in over a year.
Now that the foodie in you can resume uploading mouth-watering dish pics to your Instagram at full-force, the question is: where are you headed out to eat first? To help you make the choice, we've put together a list of the 10 best restaurants in the city that will surely satisfy your dine-out cravings. Take a look below.
What: Conceived by the culinary experts behind the city's beloved (and sadly, now closed) Uncle Boon's, Thai Diner's menu sits at the pinnacle of southeast Asian eats. The restaurant offers expansive breakfast and lunch dishes until 5 p.m. every day — highlights include a Thai tea glazed babka French toast and a chicken and banana blossom salad sandwich — before transitioning to its dinner menu, complete with creamy khao soi with rainbow chard, fried chicken larb and ground turkey-stuffed cabbage rolls.
Where: 186 Mott St, New York, NY 10012
View this post on Instagram
What: The sequel to Chef Kyungmin "Kay" Hyun's Thursday Kitchen, this casual East Village eatery serves up Korean-fused tapas inspired by Kay's travels to Spain and South America. Across the menu, unlikely flavor combinations make for completely unique dishes — think truffle salsa verde or pork jowl mingling with kabayaki butter. Alongside signature plates including yellowtail curdo, lobster rolls, oxtail spring rolls and corn dumplings, the restaurant also offers alcoholic drinks in Kay's claim-to-fame light-up Capri Sun pouches.
Where: 109 St Marks Pl, New York, NY 10009
View this post on Instagram
What: Located in the West Village, Casa La Femme's plush interior complements its rich Egyptian cuisine. Visitors have the option to dine inside private tents on a prix fixe menu or in the main room on either the prix fixe or a la carte menu, both equipped with traditional dishes and refined experimental flavors fit for vegan vegetarian halal, health conscious and uninhibited diets.
Where: 140 Charles St, New York, NY 10014
View this post on Instagram
What: This industrial-style Greenpoint restaurant offers an enormous dining floor under a high ceiling, complete with a spacious U-shaped bar. Chef JT Vuong's menu does not miss a beat, featuring a tofu-and-Camembert "hot pocket," Kyoto-style pressed sushi with bright radishes and a mushroom-and-bean-laden stew. The stand-out, though, is the Buddhist Duck, which is served in three courses, beginning with lettuce-wrapped duck breast, followed by duck legs and rice and ending with a bone broth for $125 USD.
Where: 171 Banker St, Brooklyn, NY 11222
View this post on Instagram
What: Opposite Aimé Leon Dore's Nolita outpost, Upside Pizza is the product of founder Noam Grossman and international pizza consultant Anthony Falco. Inspired by 1990s New York City, the slice joint offers made-to-order pies, crafted in a classic Montauge Hearth Bake brick oven, and enlists responsibly-sourced produce and house-made ingredients, including fresh mozzarella, sausage, house-pickled peppers and two variations of sauce, to take its city-leading pizza to the next level.
Where: 51 Spring St, New York, NY 10012
View this post on Instagram
What: Located right by Tompkins Square Park in Manhattan's East Village, Pineapple Club NYC is known for three things: its craft cocktails, its diverse food menu and its welcoming, festive ambiance. Cocktails range from standards like pina coladas to unique specialties like a spicy pina chili margarita, and Pineapple Club also recently began offering an espresso martini that it touts as the "best in town." You can pair your drink with food ranging from jerk chicken to pork belly buns, tuna tartare and "avocado fries," all while taking in the ambiance from a rear area with a full glass ceiling for a soothing atrium vibe.
Where: 509 E 6th St, New York, NY 10009
View this post on Instagram
What: Whether you're situated at the curved white-marble bar or at one of the tables boasting a tufted pale-pink velvet back, the stylistic interior of this restaurant is enough to draw lines out the door. Aside from its colorful charm, the kitchen offers new American fare including grilled wild salmon with watermelon radishes, braised short rib topped with broccolini and the "While We Were Young" burger, which employs fig jam, brie and crispy onions for a completely unique flavor combination. Top off the experience with an inventive craft cocktail while enjoying picturesque views of W 10th Street through the spot's floor-to-ceiling windows.
Where: 183 W 10th St, New York, NY 10014
View this post on Instagram
What: A small bistro located in Manhattan's Lower East Side, Le French Diner resides inside a classic NYC hole in the wall with a simple set up: 10 bar stools, three tables and two chefs well-versed in Parisian eats. On the concise menu, escargots, duck rillettes, scallops, mussels and several seasonal dishes mimic a signature overseas dining experience in one of France's popular spots. Sip on a bottle of wine sourced from small French producers, all of which the restaurant lists on a chalkboard under either "Bordeaux" or "Chablis," while taking in the European ambience as French hip-hop music plays in the backdrop.
Where: 188 Orchard St, New York, NY 10002
View this post on Instagram
What: Situated in NoMad, Atoboy is the Korean-inspired brainchild of husband-and-wife duo, Junghyun "JP" and Ellia Park. For $42 USD, guests can build a three-course meal around traditional Korean dishes, called banchan, infused with Western ingredients and techniques. Across the eclectic kitchen, fried octopus bites are plated around a chorizo-and-kimchee centerpiece, bacon and soybean paste meet atop a chunk of corn and tempura-shelled fried chicken lives in a peanut-based sauce. The restaurant itself calls on an industrial aesthetic, featuring concrete-clad walls, modern wood fixtures and organized rows of tables set with copper buckets.
Where: 43 E 28th St, New York, NY 10016
View this post on Instagram
What: This all-day Noho spot spotlights the nuances of Mexican cuisine inside its slick-yet-subtle location. On the menu, the bright sea-bass aguachile arrives under a cooling blanket of cucumbers, while the chilaques enlist flaxseeds and onion lace with a hit of verde sauce for a fresh spice. Meanwhile, ATLA's al pastor finds the perfect middle ground between sweet and spicy with cauliflower at its core and the shrimp taco manages to include a multitude of explosive textures and flavors with chili oil, bitter hoja santa, creamy guacamole and fried cheese.
Where: 372 Lafayette St, New York, NY 10012
View this post on Instagram