Nyjah Huston Launches His Disorder Skateboards Brand Ahead of Olympic Debut
The word-renowned skater will use Disorder decks during the Tokyo Games.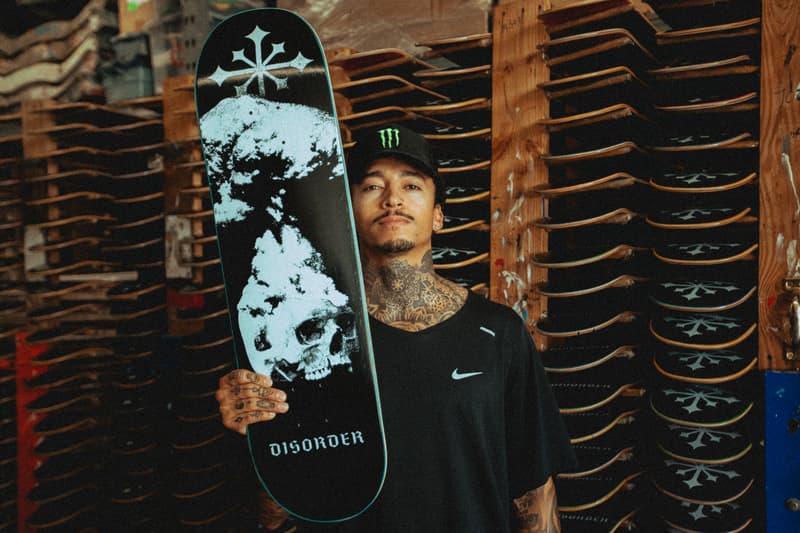 A month before his Olympic debut, pro skateboarder Nyjah Huston has launched his own skateboarding brand, Disorder Skateboards. Originally created in collaboration with notable boardsmith Paul Schmitt, Disorder boards are Huston's preferred deck shape — and are the same boards he'll ride at the Games in Tokyo next month.
The initial drop premiered the "Apocalypse" deck, screen printed with an exploding skull graphic and available in four molds in lengths 8.0'' to 8.5.'' (Huston himself rides an 8.125.'') When Disorder went live last Friday, June 25, the decks sold out in two minutes.
Huston aptly named his brand after the individualistic and rebellious nature of skateboarding. "Skateboarding has been my life for as long as I can remember," Huston said in a press release. "I've always had a dream of starting my own brand and the time has finally come."
As the six-time world champion and 13-time X Games gold medalist, Huston, who has been competing professionally since he was only eleven, has redirected the course of skateboarding over the past decade. At the Olympics, he'll be center stage on the Men's Street team as the sport of skateboarding is jettisoned to recognition on a global scale.
Huston will be keeping fans posted on future restocks and drops on his Instagram.
For more sports news, Tony Hawk discussed skateboarding's inaugural competition at the 2021 Tokyo Olympics.