Michael Jordan's Game-Worn and Signed Air Jordan 1 Post Injury PE Is up for Auction
With a starting bid of $100,000 USD.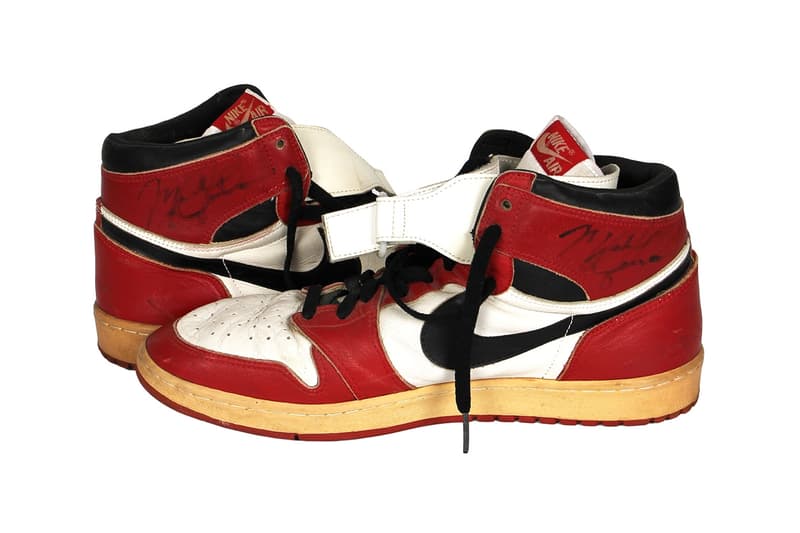 1 of 3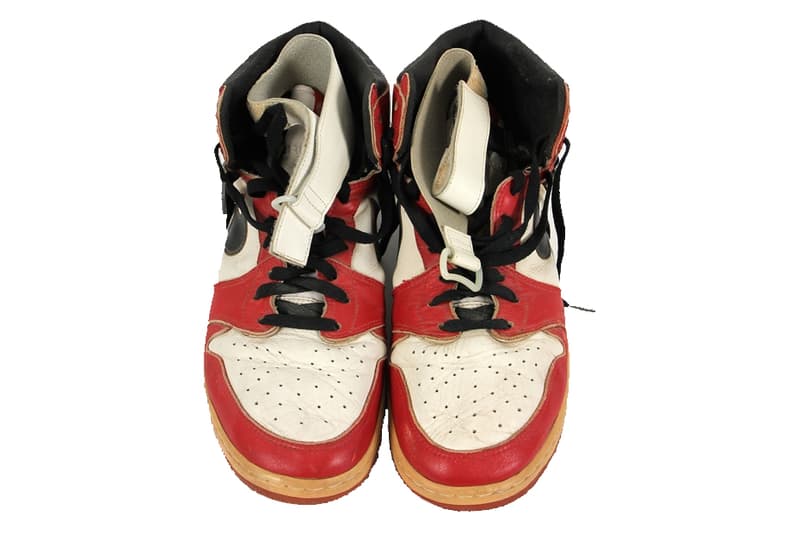 2 of 3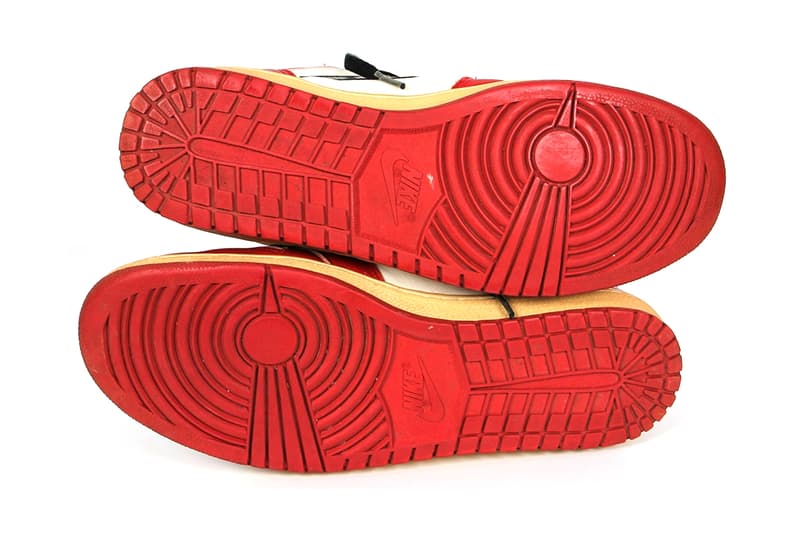 3 of 3
Michael Jordan memorabilia has skyrocketed in value since ESPN's wildly popular The Last Dance made its debut in April, and the latest piece to arrive at auction is a game-worn, twice-signed pair of MJ's post-injury Air Jordan 1 PEs from 1986. Following in the footsteps of a similarly game-worn and signed Air Jordan 1 "Chicago" that sold for a record-setting $560,000 USD at Sotheby's in May, these ultra-rare injury PEs are poised to drive the already-staggering record auction price even higher.
Dressed in a red, white and black "Chicago" scheme, the shoe's most notable modifications are a white support strap that's embedded into the collar and meant to be secured around the ankle, plus a black midfoot strap rising out of the medial side. Specially made for Jordan after he fractured his foot in the third game of the 1985-86 NBA season, this bolstered model never released to the public and was only worn by Jordan himself, making it a truly rare collector's item. The left shoe is a size 13 and the right shoe a 13 1/2, with a "850102 TYPS" ankle code indicating that each was produced between January and February 1985, and is a player sample from the Tony Yang factory — one of Nike's international manufacturers at the time.
According to auction host Gotta Have Rock and Roll, the consigner of the shoes watched Jordan and his Chicago Bulls play the New York Knicks on March 29, 1986, Jordan's eighth game back from injury. After Jordan dropped an impressive 24 points in 23 minutes, the consigner's father — himself a former professional basketball player in Italy who was friends with one of the officials — arranged a meeting with Jordan. Jordan signed the lateral collar of both shoes and gave them to the consigner, who kept them for 34 years.
The last post-injury Air Jordan 1 PE to be auctioned off appeared in 2017 It sold for $55,000 USD, a handsome sum at the time but mere peanuts by post-The Last Dance standards.
Gotta Have Rock and Roll's auction for this ultra-rare Air Jordan is set to begin on July 22, and the starting bid is set at $100,000 USD. The estimated sale price is between $300,000 USD and $500,000 USD, but may go much higher: the prior-mentioned pair that sold for $560,000 USD at Sotheby's was only estimated to sell at $100,000 USD.
Moving from hoops to skateboarding, HYPEBEAST recently spoke to Nyjah Huston about the story behind his new Nike SB Nyjah Free 2.