What Does it Mean for Fashion to Be Aspirational in 2020?
Luxury fashion needs to reflect a world where Black lives matter.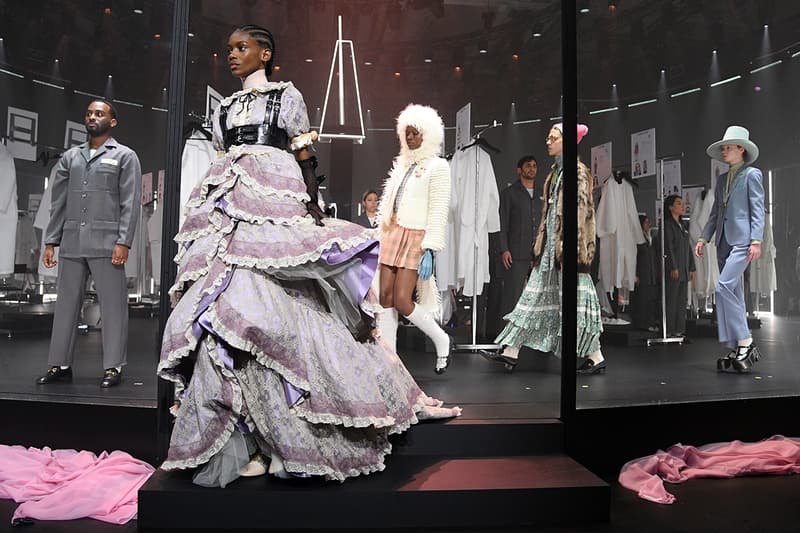 When Guccio Gucci launched the Gucci brand in Florence in 1921, he likely didn't expect his company would one day need to speak to a grassroots movement fighting for the civil rights of Black Americans. The brand was born out of Tuscany's leather manufacturing heritage; it only expanded outside of Italy some 30 years later and delved into ready-to-wear over 20 years after that. Gucci himself passed away just 15 days after the brand opened its first New York City store in 1953. That today his label is expected to adequately address a monumental civil rights movement speaks not only to the global power of Black Lives Matter, but also to the changing nature of consumers' relationships to the brands they buy from.
Luxury fashion brands have always had to sell far more than well-made products; they trade in nebulous concepts of image and value as much as in tangible materials like leather, silk and chiffon. What has changed in the 100 or so years that Gucci and its contemporaries, brands like Prada (founded in 1913 in Milan), Chanel (founded in 1909 in Paris) and Burberry (a few generations older, founded in 1864 in London), have existed are the values their products are expected to connote, and the audiences they're expected to reach.
"The whole point of luxury brands is that you're building desire, and it's an understanding of identity."
That evolution has been taking place for years. But the renewed international attention to the Black Lives Matter movement in the past month has put a spotlight on how far those brands have come in addressing a global audience that wants their purchases to reflect inclusive values. It's a sharp turn from the model of exclusivity the fashion world has so often gripped onto with an iron fist — the one that says, not thin or white or rich enough to wear these clothes? Too bad!
"The whole point of luxury brands is that you're building desire, and it's an understanding of identity. So in order to be relevant across so many different regions and so many different individuals and personalities, you need to be highly emotive," said Minal Malik a fashion entrepreneur and consultant and currently a lecturer at the London College of Fashion. That relevancy must extend both the brands' internal and external images. Luxury labels need to both communicate that their products are made with the people of color in mind to be relevant to the conscious consumer, and that their companies have internal policies regarding diversity in order to appeal to the increasingly important millennial workforce, Malik says.
A failure to anticipate how certain items might be perceived by a conscious consumer has already had adverse effects on these brands. Prada's "Pradamalia" figurines drew swift criticism in December 2018 for their similarity to blackface; February 2019 marked widespread backlash against Gucci and Burberry for sweaters that evoked blackface and a noose, respectively. Those items weren't necessarily the most egregious product released by any fashion brand in recent memory (they weren't even the most racist thing created by a fashion brand that season). But those products did become a flashpoint, so to speak, in forcing luxury brands to face greater public accountability.
It follows then that internal hiring practices now garner the same press as an advertising campaign. First came the news in February 2019 that Miuccia Prada and her team would receive sensitivity training, followed by the announcement that the brand would launch a Diversity and Inclusion Council, led by Ava DuVernay. Later that month, Burberry released announced a slew of internal diversity initiatives. In March, Gucci announced its multi-tiered Gucci Changemakers program to combat racial inequity, and later hired Renée Tirado as the global head of diversity, equity and inclusion. In July, Chanel hired its first ever global head of diversity and inclusion in Fiona Pageter.
"The thing with diversity officers is that they've kind of got a hard task, because they have to have support within the organization in order to do their job," Malik said. "So it's all well and good hiring a diversity officer to, in theory, help you diversify your workforce, and then your ethics or marketing campaigns or whatever it is that you have made a boo boo of. But having that actually have an effective hold within your company is a different story."
These luxury brands couldn't have known when they announced the hiring of their diversity and inclusion officers that only a year later, companies from around the world would be asked to make public their commitments to fighting racism. Making those commitments to diversity means setting themselves up to be publicly accountable to changing consumer values — but these brands also face a tightrope of challenges in communicating company values in an authentic way to a global, heterogeneous audience at a moment when millions of eyes are well-attuned to any misstep.
"Firms are realizing that it is actually good, strategic behavior to be inclusive, to embrace diversity, to encourage everyone to feel belonging in their firm," said Mukti Khaire, a professor at Cornell and author of Culture and Commerce. "And so that was inside and now I think that same sort of mindset has moved to the external facing part. Which is that no, it doesn't have to be just making sure that our immediate target customer only is happy. But we need to be seen as good corporate citizens of the world. And where is the world going?"
"We need to be seen as good corporate citizens of the world. And where is the world going?"
Accurately assessing that trajectory is crucial for fashion brands, which, by and large, are selling what Khaire calls cultural products — as in products whose symbolic value exceeds their material value.
"Cultural products I think fundamentally end up almost choosing one of two ways in which to operate," she explained. "One is to reflect what the current cultural norms and values are. And the other is to redirect them, or refract them if you will. And to say, 'Imagine this other world, and wouldn't you like to live in that world?'"
For 19-year-old artist Sage Dolan-Sandrino, the world she wants to see reflected is one of authentic representation. "The responsibility that these corporations hold is to change. I don't even want to say change, but is to focus on authentic representation," she said. "So that means making sure that the boardroom is made up of Black and brown faces, queer faces, trans faces, making sure that even the folks that are being captured in campaigns are more representative of the population. Making sure that the folks who consult on campaigns are from various communities, diverse community backgrounds, that at every level of production and every level of business, there are diverse faces."
In 2018, Dolan-Sandrino was scouted by filmmaker Jade Jackman to appear in a short film created for Gucci, titled Future is Fluid. The following year she joined the advisory board for Gucci's Chime for Change, which has been working towards gender equality since 2013. "My goal every time I enter a space is to have more queer Black and brown kids," she said.
Dolan-Sandrino has since spoken on panels hosted by Gucci and contributed to the brand's Chime Zine, edited by writer and community organizer Adam Eli; in her work for the zine and other interactions with those associated with the brand, Dolan-Sandrino says she has been able to be recognized for her work as an artist first and foremost. "I'm always having to write about what it's like to be trans," she said. "Most of the time those things are phrased as, 'Why do you matter? Why do you exist?' And in the end, the thing about Gucci is that was never a question. The question was never why I need to show you how important it is for me to have rights."
"My goal every time I enter a space is to have more queer Black and brown kids."
But the fashion industry is still a small, insular business, even as the eyes on the industry have diversified considerably. "It's a tiny, tiny business. This little island that was so elitist at one point, when no one even cared about it," said Bethann Hardison, the legendary model and activist. To see the diversity that Dolan-Sandrino refers to trickle up throughout the whole business is a long-term project, but Hardison is positive about the changes that have taken place internally within certain brands. "This island didn't get any bigger. But the inhabitants have grown substantially," she added.
Hardison has been advocating for greater diversity in fashion for decades, going back to her founding of the Black Girls Coalition with Iman in 1988. In 2019, she joined the Gucci Changemakers advisory board. She cites the brand's investment in education across diverse communities as crucial work. Last month, it announced the 20 students who would receive $1.5 million USD in funding over the next four years as part of its first Changemakers Scholars class. "No money was coming in. Gucci had already carved out that money. They never took that program away, and they could have. I was very impressed with that," she said of their ability to pull off the program in light of the coronavirus crisis.
The brand also launched a design fellowship program in October 2019 in order to create employment opportunities for students from underrepresented communities, which includes partnerships with schools such as the University of Lagos and Tokyo's Bunka Fashion school. Burberry has also begun plans to sponsor 50 students over the next five years.
In the past year, both Burberry and Gucci have also enacted unconscious bias training across corporate offices, factories and retail stores. Prada hosted its "Shaping a Sustainable Future Society" conference on the social responsibility of businesses. Gucci has created a $5 million USD fund to benefit 16 community-based organizations including Houston's Writers in the Schools and Los Angeles' Black AIDS Institute, and Chanel has committed $1 million USD to support grassroots, racial justice organizations.
Those internal machinations can't always be perceived on the outside, but this June, as a new wave of Black Lives Matter protests emerged across the United States, fashion brands were once again called upon to make public their stance on racism. Gucci shared a poem from Cleo Wade on its Instagram, followed by another post announcing donations to the NAACP, Know Your Rights Camp and Campaign Zero and that it would close U.S. operations on June 4th as a day of mourning. Prada also committed itself to fight for racial justice in an Instagram post, while Burberry promised a donation to Black Lives Matter and Chanel posted three black squares in a row.
But the stakes of the Black Lives Matter movement means companies cannot afford to be equivocal or speak in niceties on social media; those above posts prompted comments asking for more concrete commitment and information on corporate diversity and inclusivity. "One of the things I'm hoping comes with this is that fashion is going to be a lot more vocal and want to make mistakes in order to learn, rather than walk around on eggshells," Minal said. "Which is what I think a lot of brands end up doing, they don't want to offend anyone, but by not offending anyone, they're not doing anything at all."
For true cultural revolutions to take place, Khaire says, there needs to be a strong moral underpinning, a topic explored by philosopher Kwame Anthony Appiah in his book The Honor Code: How Moral Revolutions Happen. "When big cultural transformations happen in society, it's important for there to be actual morals by it," Khaire explained. "That the people have to feel like, we have to do this not because somebody is telling us to do it, or not because it's good for us. We have to do this because we feel like this is the right thing to do."
"That has nothing to do with black and white, that's a human moment."
"With Black Lives Matter, what everyone could see, this man's knee was on a man's neck," Hardison said in reference to the Minneapolis police officer who killed George Floyd. "Sitting with his hands in his pocket, like he was doing an editorial for police academy magazine. He was so proud of his posture. So for everyone to see that, that affected a lot of people. And that has nothing to do with black and white, that's a human moment."
The success of those scholarship programs, unconscious bias training or the hiring of a diversity and inclusion officer can't be seen in a year. It takes more than mere months to undo century-old practices after all. But the public pressure has mounted to such a degree that the brands that don't do more than surface-level campaigns likely won't survive another 100 years.