6LACK Used His Latest Project to Learn About Social Justice
The Atlanta artist launched his EP with a website centered around voting registration and Black-owned businesses.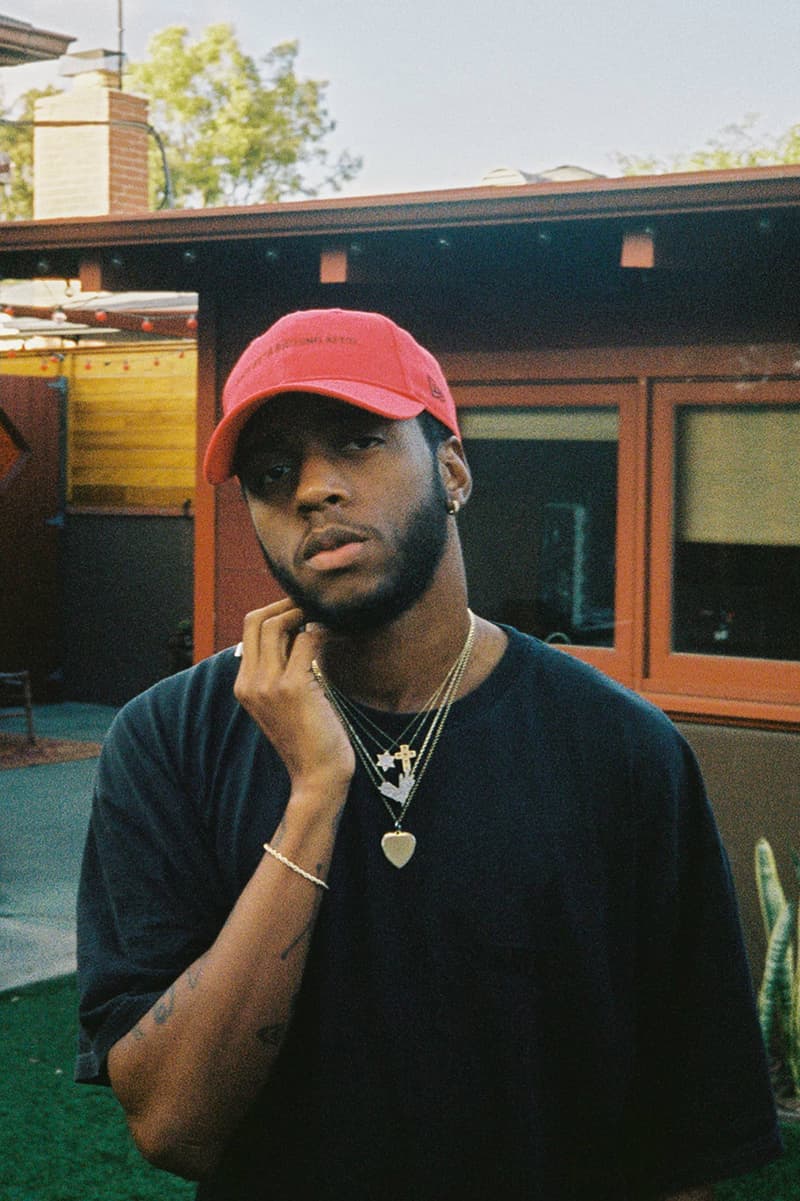 6LACK Used His Latest Project to Learn About Social Justice
The Atlanta artist launched his EP with a website centered around voting registration and Black-owned businesses.
There's a cognitive dissonance in the music world at large. Artists are still trying to make a living chasing summer pop records and club-leaning anthems while adjusting to a global pandemic and acknowledging the Black Lives Matter movement. It's untread territory and without the proper thoughtfulness can lead to some seriously clunky and tone deaf releases. 6pc Hot EP, the latest extended effort from Atlanta artist 6LACK, is not that. 6LACK leans into the fact that he's not perfect, that this adjustment period is going to take longer than expected. He's trying to put in the effort to learn so he can properly use his platform.
It's been almost two years since he dropped his critically acclaimed East Atlanta Love Letter, a project focused on the yearning of the heart that maximized his star-power through minimal instrumentals and soulful, emotive vocals. It solidified 6LACK as a major voice that stood out from a city with so many. What resulted was a stretch of countless high-profile guest appearances for the next 20+ months where his melancholic blend of R&B sensibilities fused with trap sonics influenced the genre and often stole the show.
Now the 28-year-old artist, born Ricardo Valentine, is taking the time to let the emotions resonate, to find his center amidst the current chaotic state of affairs. His 6pc Hot EP made headlines thanks to creative ideas like a remote-controlled robot delivering a six-piece wings and fries to fans with his new signature hot sauce. As part of the launch, his label LVRN (Love Renaissance) also set up a crowdsourced Dropbox-inspired website full of cryptic sub-folders, revealing mood boards, a social justice reading list complimented by voting registration resources and a rundown of prominent Black-owned businesses to support. It's an album rollout that ends up defining just how strange 2020 has been. It's half-escapism, half-mobilization but ultimately you'll end up staying for the music.
On "Float," his matter-of-fact, laid-back tone contrasts the severity of the hardships brought on by a world full of political unrest and an ongoing pandemic. "I'm just tryna stay afloat," he sings with the a call to, "Make sure you love me 'fore the world go out in flames." The EP ends with "Outside," a love story centered around the eagerness to get out of isolation and return to the comforts of community. 6LACK, like most of his listeners, hasn't found clarity through the first half of 2020, but his honest effort and originality are commendable nonetheless.
Read on for how 6LACK let the inspiration come to him during the coronavirus quarantine and how he created a project rollout that aimed to be an uplifting resource during the calls for social justice reforms.
HYPEBEAST: This project was recorded mostly through a hectic and trying year spent in quarantine. How are you holding up? What's your daily routine like in isolation?
6LACK: It's been good. It's been bad. It's been fun. It's been boring, it's been creative. It's been stagnant. It's up, it's been down. You have days where you're on the set routine and you feel like you're utilizing the most of the time home. And then other days you fall into a funk where you don't really know what to do or you don't really feel like doing anything. So I've just been following whatever I feel naturally and not really beating myself up about the moments that I just honestly want to lay down sometimes.
How has the coronavirus quarantine affected your creative process and the making of this new 6pc Hot EP?
It's interesting because I would think that normally, maybe a few years ago, if something like this would have happened I would have probably locked in and made hundreds and hundreds of songs, but recently I've just been more into process and how I actually feel. Trying to figure out how I feel about how I feel about what's going on around me versus just putting it in song format immediately.
I'm trying to live through it a little bit more than just, you know, make it a song or a product or anything else. The volume of how much stuff there is has affected it too, because there's so much more to process. There's more to think about. So I couldn't act like it was just prime time just to suit up and get to work. It was actually time to figure out how I'm feeling.
There's so much information to process and then you have to deal with the emotions that follow. It's easy to get overwhelmed. How are you staying positive and mindful through it all?
I've been following everything that's been going on and as long as I feel like I am educated enough to help educate the people around me, that's enough to keep me positive. What we all collectively have been going through is difficult but in addition to it being a hard thing, it's a necessary thing. Everything that's been happening from the protests to the civil unrest in general has been something to embrace.
The album launch ended up being much more than the traditional promotional material in the rollout. You partnered with Black-owned businesses in Atlanta and provided fans and media with community resources. How did that idea get off the ground?
Anytime that we get ready for rollout, we just sit and talk and sometimes I come from good ideas and we agree to put things into actions and sometimes it's a bad idea and we laugh about it and move on to the next thing. With LVRN, we hashed out as many different ideas as we could to make it an interactive rollout because there has been so much going on that people do need something to do, but something that isn't taking away from what's important.
So we tried to include Black-owned businesses and the 6lackbox website. We gave Amazon cards to people who are trying to get supplies for the quarantine but also for the protests. And we did these scratch-offs just to kind of create a nostalgic feeling. These little interactive things to keep people busy and keep people doing things. Because, like I said, I can fall into a day where I really don't know what to do if there's been less music dropping or music drops with no rollout, then there isn't much of an opportunity for me to engage with my favorite artists. We were just trying to figure out how do we make that happen for us?
What other issues are you paying attention to right now that you want to show support through your 6lackbox website?
Honestly, climate change. More things that are friendly towards our environment. I think that in the midst of everything that's happening with COVID and with what's going on socially that there's been an understandable pause in us talking about what's going on to the actual world, like to our planet. So I would like to figure out a way to get involved in more climate initiatives and come up with ideas that help people practice at home. Ideas that will help benefit all of us in the long run. Right now social justice reforms — that's the thing that's at the forefront and we have to take care of it right now 'cause we have to get through our day-to-day. But ultimately we have to make sure that the planet is here after all of this.
How did you feel about the Blackout Tuesday initiative championed by the music industry recently?
That was a good starting idea, you know? That following Friday most artists didn't release any music or anything. So it's a good start. I think that actions are the most important part of whatever we have to do next — whether it's working with the right labels and the right companies — like conversations just have to be had and at actions just have to be made. So any idea to me, always has the potential to be a good idea, a step in the right direction. I can't complain as long as I know that the people I work with are trying to do more.
For people who are so heavily invested in this space — in HYPEBEAST culture that's so reliant and influenced by Black culture as a whole — what do you think is the best way to be an ally moving forward?
I think that the best and easiest thing to do is to actually listen. I think that a lot of times, and this is even in regular conversations, unrelated to this, but when there's a difference in opinions or difference in understanding — even a difference in knowledge — sometimes all you have to do is literally just listen, you know? I think that people feel like they have to have an explanation or a reason or even an excuse to support why their idea or their worldview is what it is.
But with what's going on right now socially, we don't really need any more reasons. We don't really need explanations. I think that right is right and wrong is wrong. And when people are explaining how we don't feel and relate to American culture the same way that other people do, it's for a reason. All the best conversations that I've had and all the best relationships I've developed over the years have been because people have actually decided to take the time to listen.
That theme of listening and creating as a community seems like it was a pivotal part of creating the 6pc Hot EP as well.
This was a project where it wasn't really planned. It happened as a result of what was going on socially and as a result of what was going on with the pandemic. I made a lot of the project while I was feeling indifferent, which was a little bit new for me. Usually I'm just kind of solid on whatever it is that I want to do. But I was just kinda going with the flow through a lot of stuff. I allowed my producers Fwdslxsh and Singawd to kind of run point guard on days where I didn't feel as good as I wanted to feel. And then I would come back whenever it was time and, and, and plug in everything I needed to put in.
The music video for "Know My Rights" with Lil Baby immediately grabbed my attention because you land in your private jet and there are DEA agents waiting for you with detection dogs. What was filming that like?
It's funny because we were just talking about not being bothered for the whole fight. And as soon as we landed, they had to do a random check. So we just wanted to capture that.
Working with Lil Baby was actually pretty easy. We didn't get to lock him in physically for the video because of what's going on but I had the song for a few weeks. I drove around to it and it was one of those situations where I was trying to figure out what else it needed. And I just knew it wasn't me. So we threw the idea to him and obviously he killed it. What me and him have been doing has been similar in a couple of ways, just in different lanes. He's been on a crazy feature run too. He's been one of the main artists killing it lately. I thought that getting him would be dope for me, who's been seen in the last couple of years on other people's songs, to come together and do something that is surprisingly really cohesive.
There's also a folder on your 6lackbox site that's password protected that says Album 3. What's next? Are there actual tracks behind that encryption?
I honestly would not be able to explain. I really don't know. I think that some people had the question of wondering if the EP foreshadows anything to come. I really don't know. It could, it could not, I've just been making music and trying to actually learn a few things before we pump out a third album. The only thing that I can say for sure to expect is some kind of growth and some kind of separation.
Part of the rollout of the new EP was having your own hot sauce now too: 600 Degrees Hot Sauce. Congratulations, that's a nice milestone. I have to ask, who has the best wings in Atlanta?
Ooh, best wings in Atlanta? I honestly feel like, and I've had a lot of really great wings, but I've reserved the title to figure out when I'm going to have my own restaurant and my own wings. I've had a lot of good wings from Atlanta's Best and American Deli. You know they always hold me down and I love them all, but I think I'm gonna reserve that title to say that I will have them one day.
That's a good goal to have. Part of the rollout was a partnership with a local favorite of yours, the restaurant Goodfellas. In hip-hop, artists are always championing major luxury brands and collaborating with these huge corporations whether it be from a fashion standpoint or through sponsorships. You went back to your roots and promoted a Black-owned business.
Yeah, I think it's a lifetime type of thing. What's been going on recently I think has only energized the confidence of myself, of the people around me — with Black people in general. Everybody is remembering that the same way every community around the world has their system and, and their traditions and their celebrations. We all have our own culture. I think that America kind of conditions you to believe that all of our culture is one and while that ultimately is a part of America, we all are subcategorized for a reason. We all have things that we learned growing up for a reason. We have different family members for a reason. So I think that we've just been trying to get back in touch being proud of who we are.