Martine Rose's Collections Are a Love-Letter to London
When others left for Paris, the designer became her hometown's brightest hope.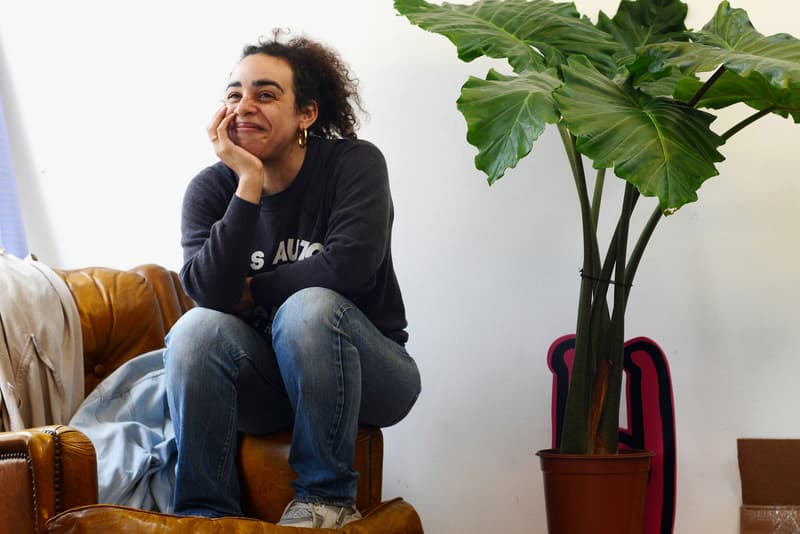 As Paris' virtual fashion presentations begin later this week, the schedule is, as ever, dotted with a host of British designers. Making the pilgrimage from showing in London to Paris has often been viewed as a rite of passage; the moment when you can be 'taken seriously' by the industry. But Martine Rose, the only major designer to have stayed on schedule for London's own virtual shows, has proven that to be false.
Originally launching with a shirting-focused collection back in 2007, Martine Rose's namesake label is almost unrecognizable now. 13 years later and the brand has established itself as a powerhouse in British fashion, with the eponymous designer's mix of references to her Jamaican heritage and London community creating a brand that celebrates the city she grew up in.
Although the label was founded over a decade ago, it is the past five years that saw it breakthrough to a new level. Over that time, the designer became widely recognized as one of the leading lights on the London Fashion Week schedule, continuing to bring star power to her home city even as other designers of her calibre had one eye on Paris. Over the seasons, Rose has always presented emotionally-charged shows in locations that mean a lot to her personally.
For Fall/Winter 2017, Rose showed in the under-threat Seven Sisters Market, while for Spring/Summer 2019, she took over a residential street in North London, inviting residents and friends to join buyers, press and influencers. Speaking to HYPEBEAST after the show, Martine Rose described it as "the perfect way to express my personal love for London." Other notable locations for previous shows include a local climbing center (SS18) and her daughter's primary school (FW20), all of which were chosen to celebrate London as a diverse and multifaceted city.
As well as driving her choice of locations, emotion and personal connection also drive Rose's designs for both her own pieces and collaborations. Recent projects with Napapijri, Nike and Farah have all been shaped by Rose's interpretation of the brands, bringing influences as diverse as U.K. rave culture, Jamaican subcultures and sportswear aesthetics to the collaborations.
"I'm very much about that sort of feeling," Rose told HYPEBEAST in 2018. "I am definitely trying to get that and it's really important to me that there is feeling to the collection; that it's not soulless, that you can feel something beyond the product."
The personal influence is particularly referenced through the role that music plays in Rose's collections. In an interview with The Guardian to mark the label's 10th anniversary, Rose discussed how clubbing had shaped her output. "I remember watching my siblings and cousins getting ready to go out clubbing. Clubs were the start of it for me. I started going out when I was pretty young and even then I looked at what clothing signified."
Clubbing and rave culture have been referenced throughout Rose's collections, including through rave flyer graphics and a frequent focus on those outside of the mainstream. "The inspiration is always the same," Rose said after her FW20 show. "It's always about outsiders, it's always about people on the periphery and mashing them together, because that's what I feel is interesting and that's what I'm inspired by."
Nowadays, Rose is established as one of the most important menswear designers in Britain. As well as high-profile collaborations and stockists — covering Browns, SSENSE, MatchesFashion and a recently-launched web store amongst others — Rose has acted as a consultant to Demna Gvasalia's Balenciaga, showing the esteem in which her work is held throughout the fashion industry.
Over recent years, Rose's influence has also been recognized by the other organizations. Between 2017 and 2019, Martine Rose was nominated for the British Fashion Council's Menswear Designer of the Year award three times in a row. There was also an LVMH Prize nomination in 2017 and recognition from the ANDAM Prize the same year.
This critical acclaim has come from an aesthetic that Rose has made her own over the last 13 years. Her clothing frequently plays with proportion and silhouette, with traditional menswear themes often reinterpreted through references to various subcultures. This includes twisted football jerseys, latex tailoring and square-toed loafer mules. It's been nearly a decade and a half in the making, but this subversive view of masculinity has made Martine Rose arguably the most important menswear designer in London today.