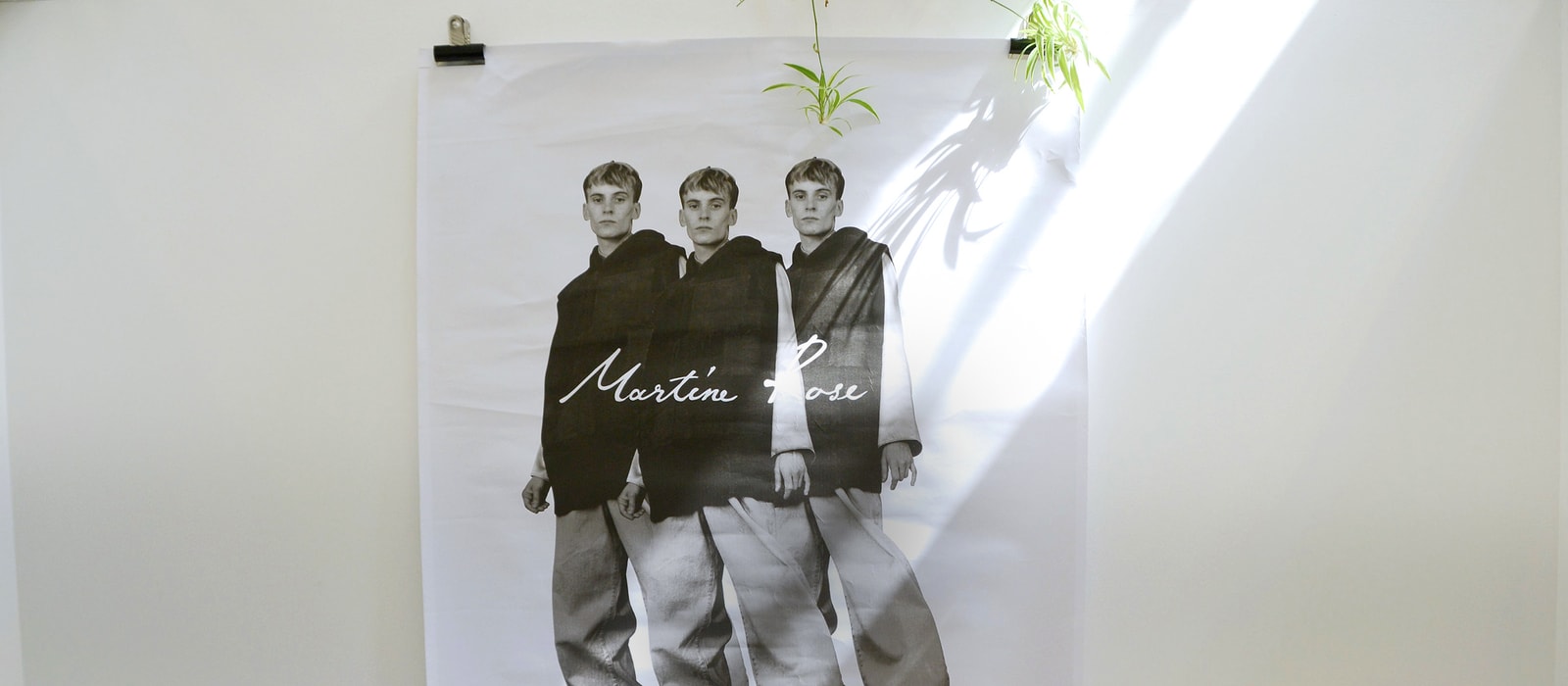 The Process: Behind the Scenes of Martine Rose's Love Letter to London
Looking at the designer's inspirations and creative process.
With her namesake label recently passing its tenth anniversary, London-based designer Martine Rose has arguably become the stand-out name on the London Fashion Week: Men's schedule. Bolstered by a high-profile consultancy role at Balenciaga and a string of successful collaborations — including her work with Napapijri — Rose is now seen as one of the most influential designers of her generation. We caught up with Martine Rose in the buildup — and aftermath — of her Spring/Summer 2019 show to discuss the inspirations and creative process behind the collection.
The Buildup:
"I don't have a method that works every season," explains Rose in her North London studio, 'it's really organic." Rather than having a clear starting point at which she begins to hunt for inspiration, Rose's influences come from all around her and the search is happening all the time. "It really can come from anywhere," Rose adds, with music being a key influence but everything from exhibitions to people in the street also feeding in: "there's nowhere that is safe from me poaching ideas." For Rose, while this method is the only way she's ever worked, it also comes with difficulties. "Sometimes it takes a really long time before something resonates with you enough and that can be quite scary," she says.
Rose's collections include a wide range of reference points, although the designer feels these influences are not always clear to the watching world. "It's about trying to get this feeling and trying to communicate it," explains Rose. This feeling is a key factor in every Martine Rose collection; emotion is the driving force in her work. "I'm very much about that sort of feeling," she adds, "I am definitely trying to get that and it's really important to me that there is feeling to the collection; that it's not soulless, that you can feel something beyond product."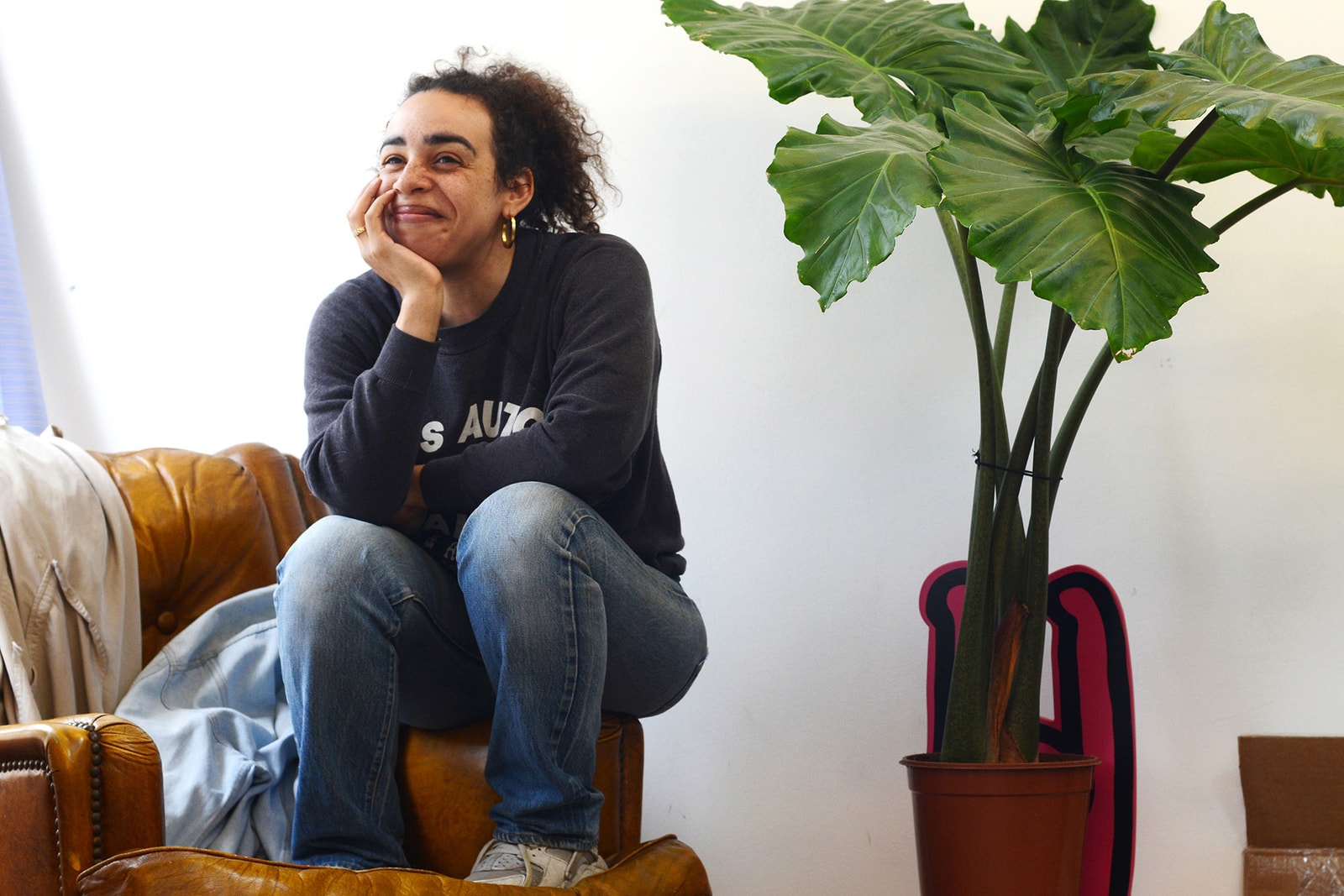 "I'm glad that it took me so long because it allowed me to really grow and silently, quietly to figure out who I was."
In addition to the clothes themselves, Rose is as careful to inject and convey emotion in the design of her presentation. Rather than the white-walled official show space of London Fashion Week: Men's, Rose often drags the international fashion press around the city for her shows. For Fall/Winter 2017, Rose took over Seven Sisters market, a location just around the corner from the studio she worked in for 10 years ("we used to go for lunch in Seven Sisters market, it was not a well known place at all. It was under threat — it still is under threat — and it felt like the right thing to celebrate it"). The Spring/Summer 2018 show, meanwhile, took place in a local climbing center, which was chosen because it related to themes within the collection as well as allowing Rose to celebrate an emerging local business. These locations add an extra dimension to Rose's work, laying bare the influence of multicultural London and Rose's own British-Jamaican identity in each collection. In the build-up to this season's show, Rose refuses to be drawn on the location choice. "This new one has another story," she explains cryptically, "that's all I can say without giving it away."
For Spring/Summer 2019, one particular source of inspiration has been Rose's Fall/Winter 2014 collection. "It's a deeper exploration of the character I started develop," Rose explains, "It's a it more three-dimensional, exploring who he is." Rose chose to build on that collection as she sees it as a key milestone in her development as a designer. "It reflected maturity in me as a designer and what I wanted to say and what I was designing for," she adds, "it was a definitive collection for me."
1 of 6
2 of 6
3 of 6
4 of 6
5 of 6
6 of 6
"Now, who gives a shit? This is how I do it and it's worked so far."
The process of creating the collection is inseparable from her search for inspiration; Rose is constantly on the look-out for ideas while also experimenting with different silhouettes and designs. "We're always going out, sourcing books, vintage, going to exhibitions," explains Rose, "you're never really off." This experimentation is key to how the collections come together. The process sees Rose trial a variety of different pieces — especially vintage items — as she tries to articulate the feeling she wants for the collection.
After more than a decade in the industry, Rose knows no other way to work apart from this process. "[It's] part of who I am and part of being a creative person." The only change to her way of working has been an increased certainty in herself and her method. "I've never really worked for anyone before, I've only really worked for myself, so I always felt like I was doing it wrong," Rose explains of the early days. "Now, who gives a shit? This is how I do it and it's worked so far."
Martine Rose has had the time to mature, grow and develop, something that she sees as important. The designer's critical admiration came later in her career, following a period when, as Rose explains, "no one knew who I was, and no one was listening to what I had to say." With hindsight, though, Rose sees that time as important to her development as a designer. "It took a long fucking time and I'm really happy that I stuck at it and I'm really happy with where we're at
now
," says Rose. "I'm glad that it took me so long because it meant that I made loads of mistakes under-the-radar. It allowed me to really grow and silently, quietly to figure out who I was."
1 of 5
2 of 5
3 of 5
4 of 5
5 of 5
The Show:
Like previous shows, Spring/Summer 2019 also saw Martine Rose choose an unconventional location that tied in with the collection's themes. For this show, Rose took over a residential street in North West London, with an atmosphere that felt more like a street party than a runway show. "Over the years, I've got to know them very well," explains Rose of the local community, "it's not every street in London that's like this; it needed to have a particular community spirit, it needed to have particular relationship." The community was also involved in the show, as local residents sat amongst the invitees and children watched the proceedings through open windows. As one of the street's residents was overheard saying, "you don't know what to expect but it's a bit different."
Rose also chose this street in Camden because of the local area's reputation. "Some tragic things have happened in Camden recently," she adds, "I wanted to celebrate it, to give another reason to talk about Camden rather than the bad stuff." This ties in with the collection's wider theme. Set against the backdrop of an uncertain time for London — with both stabbings and far-right rallies
occuring
on the weekend of Fashion Week — this collection was described as a "love letter" to the city, a celebration of the inclusive and diverse London that Rose grew up in and still calls home.
1 of 6
2 of 6
3 of 6
4 of 6
5 of 6
6 of 6
"It's really important to me that there is feeling to the collection; that it's not soulless, that you can feel something beyond product."
To celebrate London, Rose looked to a consistent source of inspiration: music. "Music and clothes have always unified people, brought them together," Rose explains. The musical references throughout the collection included archive rave flyers — a nod to Fall/Winter 2014 — drum and bass-influenced knitwear, punk-inspired animal prints and, in the form of distorted loafers, an homage to UK Garage. "It's all of these things that are very particularly London that I wanted to get in there," Rose explains, "it's not just the dance scene, it's the punk scene, the reggae scene. All of these sorts of fusion that have come together and made something fantastic."
As the sun began to set over London — and an underwhelming London Fashion Week: Men's — Rose's show made it clear why she stands above the crowd. The collection mixed signature touches from the designer, such as an off-piste location, music influence and a skewed take on classic pieces, in order to present a quietly political message. Between the staging and the clothes, Rose presented a celebration of inclusivity and community. "It was the perfect way to express my personal love for London," Rose concludes, "and I know that we can pull together."