Best New Tracks: Drake, Gorillaz, Tame Impala, J. Cole & More
HYPEBEAST's Top 10 releases of the week.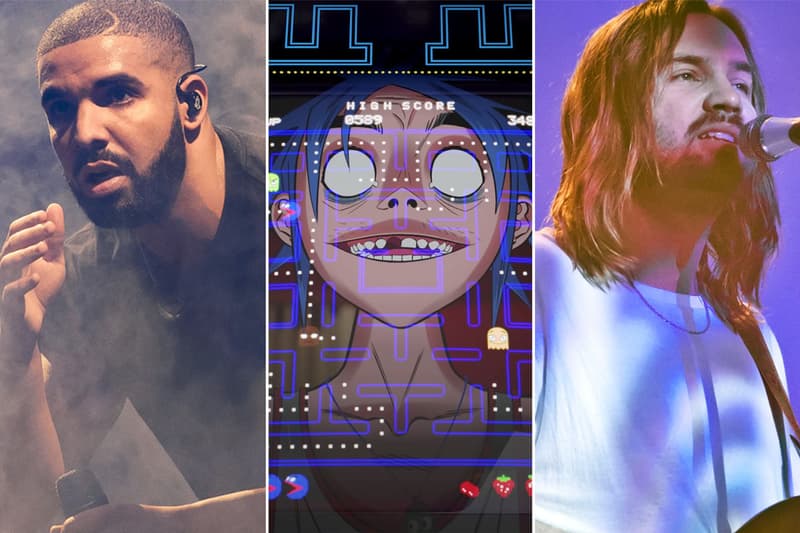 As the week in music comes to a close, HYPEBEAST has rounded up the 10 best projects for the latest installment of Best New Tracks.
Drake returned with another new offering for the second straight week, this time to anoint Headie One as "the best drill artist in the world" for their collaborative effort "Only You Freestyle." The surprise visual finds the Toronto superstar tapping back into his love of the UK's Drill scene, delivering an energetic verse that stands in direct contrast to last week's more pop-centric two-track release with DJ Khaled. The ongoing Song Machine project by Gorillaz continues to grow stronger with each surprise single. This week the animated group tapped ScHoolboy Q for "PAC-MAN" featuring a top-tier verse from the Top Dawg Entertainment rapper while he maintains through quarantine in Southern California. Elsewhere in music, J. Cole dropped two new songs as part of his Lewis Street EP where he focused on his journey to make it to the top of the hip-hop world only to have to then search for his love of rapping all over again. Other notable releases include Earl Sweatshirt's Feet of Clay (Deluxe) version and 070 Shake and Tame Impala connecting for a new remix.
Tap in for the full rundown of HYPEBEAST's latest Best New Tracks below.
---
Drake & Headie One – "Only You Freestyle"
Drake's infatuation with the UK Drill scene expands far beyond his recent tracks like "War" and "Demons" (or the entirety of his Dark Lane Demo Tapes mixtape which was filled with sonics inspired from the region). He's also consistently paying attention to the major players in that geographic location, recently announcing that Headie One is "the best drill artist in the world." On "Only You Freestyle", Drake morphs back into a full-time rapper with rapid-fire bars spit in Arabic and more than likely takes a few shots at Pusha T and Kanye West. "Dealt with the big homie already/ Don't make me have to side-by-side you/ Enough times he tried hide behind you/ Amnesia but when I remind you/ I'm touching road and I can't find you." Even with the somewhat subliminal shots, the most memorable line of the whole affair has to be, "She never heard drill in Atlanta." Thanks to Drake's championing of the genre throughout North America, that's a little hard to believe.
Listen: Spotify | Apple Music
---
Gorillaz – "PAC-MAN" feat. ScHoolboy Q
Gorillaz continue to be as inventive as ever as they celebrate 20 years making music together. For their latest Song Machine installment, they tapped ScHoolboy Q for "PAC-MAN". The visual is an acid-induced array of 1980s video game nostalgia that then follows a quarantined Q recording his verse live with some added neon effects for good measure. This is a top-tier ScHoolboy verse. Groovy Q finds his groove over the pop-leaning instrumentation. It's an unexpected collaboration and yet makes so much sense at the same time. Q's raspy and accentuated sharp delivery carries well over the cartoonish qualities of the veteran band.
Listen: Spotify | Apple Music
---
070 Shake & Tame Impala – "Guilty Conscience" Remix
Rarely does Tame Impala commit to remixes but Kevin Parker made an exception by premiering a new version of 070 Shake's "Guilty Conscience." The new offering branches out from the original that first appeared on her stelar debut album Modus Vivendi but through vintage synths and retro drums, it still manages to stay in that same dreamy, semi-psychedelic world. The remix keeps the emotionality of the original while managing to push some optimism to the forefront through the reworked instrumentation. It could very well have been included in Parker's The Slow Rush In An Imaginary Place for the distant vocals calling you closer.
Listen: Spotify | Apple Music
---
Earl Sweatshirt – "GHOST" feat. Navy Blue
Earl Sweatshirt billed his last project Feet of Clay as, "a collection of observations and feelings recorded during the death throes of a crumbling empire." In a recent and now deleted tweet, Earl stated, "Feet of Clay wasn't great but I said what I said with urgency. Only thing I'd take out is the fear." Last night, Earl delivered his long-awaited Feet of Clay (Deluxe) featuring his "WHOLE WORLD" effort with Maxo and The Alchemist and "GHOST" with frequent collaborator Navy Blue. The track abruptly cuts in as if it's already half-way finished, championing that aforementioned sense of urgency. It's soulful and a vehicle for Navy's ever-impressive pen game.
Listen: Spotify | Apple Music
---
Boldy James & Sterling Toles – Manger on McNichols
Veteran Detroit rapper Boldy James delivered one of the year's best records through his collaboration with The Alchemist, The Price of Tea in China. Now the 37-year-old emcee returns with another surprise full-length, this time teaming up with local Detroit producer Sterling Toles for a project that melds experimental jazz with Boldy's signature streetwise storylines. While The Price of Tea in China was an effort that showcased two veterans' inherent chemistry through James' stories of street life backed perfectly by Alchemist's grainy crate-digging, Toles' Manger on McNichols broadens listeners' horizons by showcasing how the emcee's voice can carry over instrumentals that border on the avant-garde. Toles' passion project of over 13 years utilizes multiple layers of synths, numerous backing vocalists and blends time spent recording in a basement during active gang wars right outside with the resurgence of Detroit's modern jazz scene. Manger on McNichols continues Boldy's incredible run.
Listen: Bandcamp
---
J. Cole – Lewis Street
J. Cole dropped two new surprise singles as part of his Lewis Street EP, clocking in at eight minutes. The title paid tribute to Cole's previous address in Fayetteville, North Carolina before his move to Forest Hills Drive. On the self-produced "The Climb Back," the Dreamville founder waxes about rediscovering his love for hip-hop at critical points in his life's journey. "Lion King on Ice" taps JetsonMade and T-Minus with Cole returning to his Young Simba thematics, but with a colder outlook. While there's no release date for his upcoming full-length The Fall Off, this duo can hold you over until then.
Listen: Spotify | Apple Music
---
Smino – "Baguetti" feat. JID & Kenny Beats
Smino, JID and Kenny Beats dropped off "Baguetti" earlier this week, a track that fans have been waiting for since early February after Smino revealed their was a collaboration looming. The wait was worth it. The two emcees reminisce on past failed relationships, their individual growth in the hip-hop industry and taking some time out of their busy schedules to simply breathe and meditate. The chemistry is real.
Listen: Spotify | Apple Music
---
Darius & Wayne Snow – "Equilibrium"
French producer Darius connected with Nigerian-born future soul artist Wayne Snow for their new collaborative effort "Equilibrium," an upbeat track that balances nostalgic funk with neo-soul. The music finds two characters from different cultures stuck together after an altercation. "For the video, I wanted to illustrate with absurdity and extravagance the definition of equilibrium, a state in which opposing forces are perfectly balanced," director Alice Kong said. "This concept inspired me to write the surrealist story of characters, who are opposed to each other, who suddenly, at the very moment when a fight breaks out between them, find themselves instantly stuck together." The track follows Darius' debut studio album Utopia from 2017 and a handful of notable remixes for Dua Lipa Jessie Ware and more. "Equilibrium" is warm, vibrant and surreal. The visual will grab your attention, but you'll ultimately stay for the music.
Listen: Spotify | Apple Music
---
Jaden Smith – "Cabin Fever"
Jaden Smith dropped off his self-proclaimed "quarantine love song" with "Cabin Fever". It's a dreamy, upbeat anthem and a bittersweet reminder of a summer lost to the current coronavirus. " It's made to be listened to when the sun is setting and you're feeling good," Jaden said in a recent press release. The BURNS-produced track is the first release from Jaden's upcoming third installment of The Cool Cafe: Cool Tape collection. "It's not like, 'Yo, this is just a mixtape.' I'm still trying to make the best thing that I've ever made," he told Apple Music's Zane Lowe. "Really the only distinction is the timelines I would say for me personally."
Listen: Spotify | Apple Music
---