BAPE Joins Medicom Toy for Monochromatic Mickey Mouse BE@RBRICK
The vintage Disney character receives bold camo prints.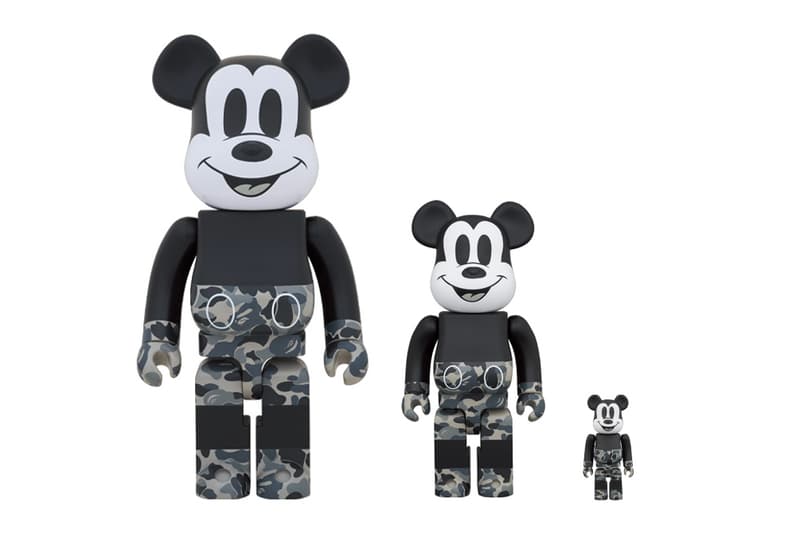 BAPE and Medicom Toy have channeled one of Disney's most iconic characters for a fresh spin on the Japanese toymaker's signature BE@RBRICK figure — a camo-clad monochromatic iteration of Mickey Mouse. It's a follow-up to a simliarly designed Mickey model from back in April.
Mirroring vintage Mickey, the top half of the figure is black and white. The upper section of the head comes in black, contrasted by a white face with round black eyes, an ovular nose and a smiling expression. Below the head is a black chest, followed by intricate BAPE camo prints that boast soft tones of gray and black. The print covers the figure's hands, shorts and shoes, while two thinly outlined white circles on the shorts complete the bold design.
BAPE and Medicom Toy's monochromatic Mickey Mouse BE@RBRICK is currently available in sizes 100% & 400% and 1000% on Medicom Toy's website for $150 USD and $635 USD, respectively.
For more from Medicom Toy, check out a recent '90s-era "The Joker" iteration of a BE@RBRICK.
BAPE x Medicom Toy "Mickey Mouse " BE@RBRICK 100% & 400%