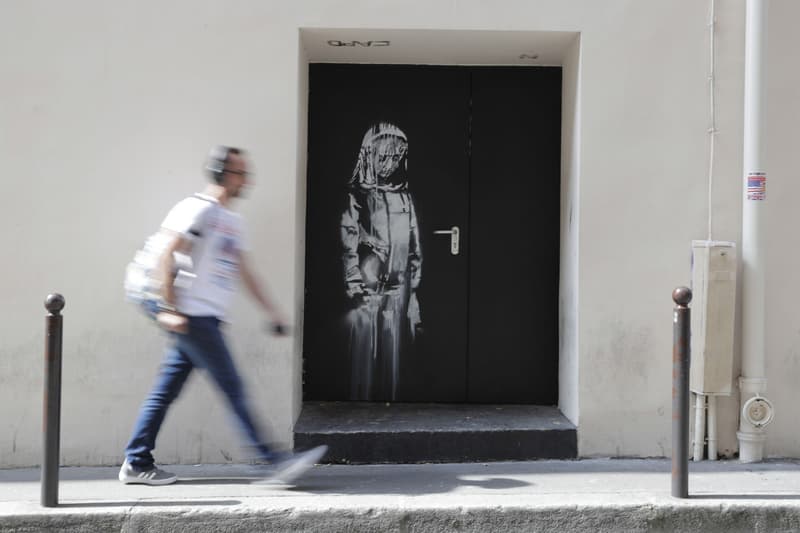 Banksy Mural Stolen From Bataclan in Paris Resurfaces in Italy
The mournful image pays homage to the victims of a 2015 terrorist attack.
---
This Wednesday, Italian authorities recovered a Banksy mural that was stolen from the Bataclan theater back in 2019 in Abruzzo, Italy. The British street artist had created an image of a girl in mourning on the door of the Parisian theater in order to honor the victims of the 2015 Paris terrorist attacks. The mural was cut out and removed from one of the emergency exit doors at the venue by "a group of hooded individuals armed with angle grinders" that drove away with the artwork in their truck.
"Banksy's work, a symbol of contemplation and belonging to all — locals, Parisians, citizens of the world — has been taken from us," the Bataclan wrote on Twitter afterwards. "The very essence of urban street art is to give life to a work of art in a particular environment, and we were persuaded that this work only made sense in this place. It's why we wished to leave it there, free, in the street, accessible to all."
For over a year, investigations have taken place in several countries throughout Europe. Michele Renzo, the district attorney of the Italian city of L'Aquila said, "The finding was possible following investigations conducted by the district prosecutor in collaboration with the police and the French investigators." According to the Agence France-Presse, French police discovered the work during a raid on an abandoned farmhouse in the Abruzzo region.
This is not the first time Banksy's work has been targeted by thieves. In 2019, a mural commemorating the 50th anniversary of the May 1968 revolt against Charles de Gaulle's government was stolen from the outside of Paris' Centre Pompidou. Recently, the artist has been outspoken in his support of the Black Lives Matter movement. After posting a work on Instagram of a shadowy figure surrounded by a lit vigil candle burning the U.S. flag, he shared another piece and proposal surrounding the controversial statue of Edward Colston in Bristol.
More information on the find will be released in a press conference on Thursday.
In other news, artist and activist Patrisse Cullors is opening Pride at Los Angeles' Fowlers Museum with a performance called A Prayer for the Runner.