In Defense of Michael Jordan's Style
It's time to reconsider His Airness' taste in clothes.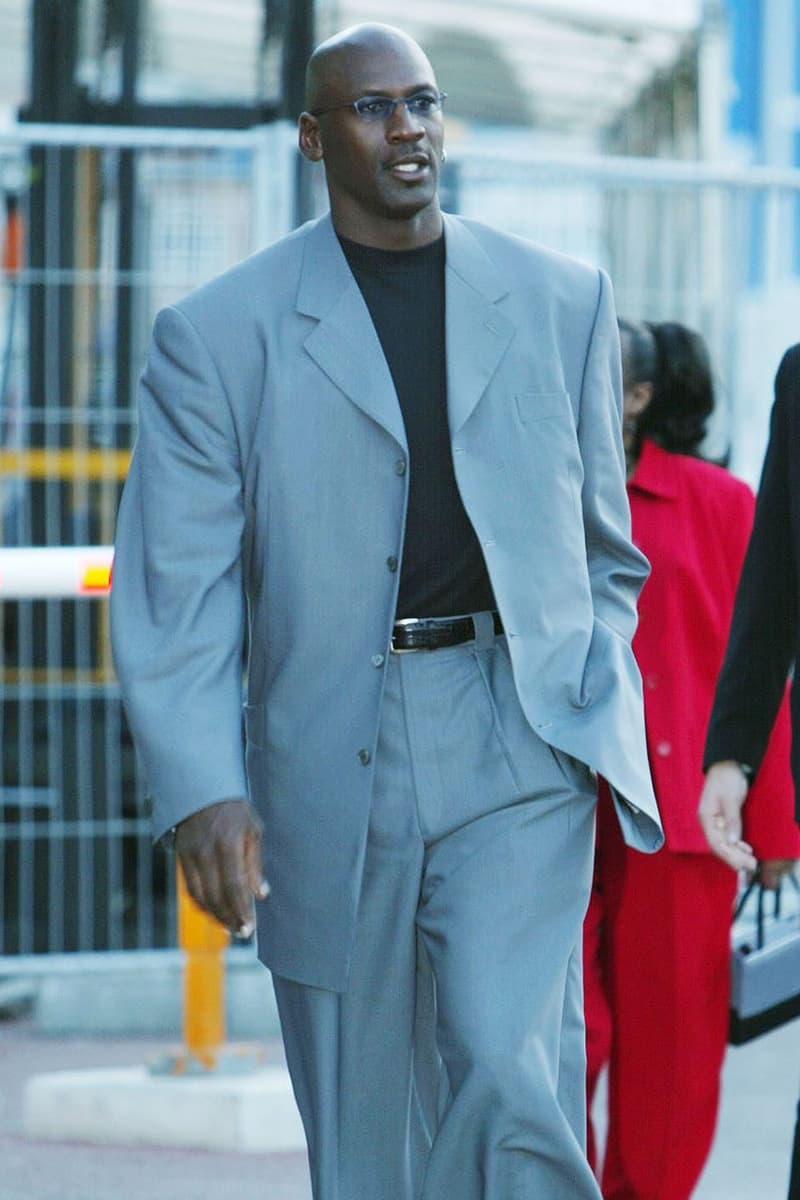 In Defense of Michael Jordan's Style
It's time to reconsider His Airness' taste in clothes.
Michael Jordan has had enough praise lavished on his sporting skills to last several lifetimes. His promising baseball career and disputable golfing legacy aside, his prowess on the basketball court truly is the stuff of legend. Perhaps the constant praise heaped on Jordan's athletic abilities has encouraged the exact opposite response to his sense of style.
Divisive enough to garner an infamous Tumblr page, Michael Jordan's fashion taste has garnered a new wave of scrutiny in the wake of ESPN's multi-part documentary series The Last Dance. Despite some begrudging accolades, Jordan has otherwise been frequently denigrated as an example of how not to dress by sports websites, menswear enthusiasts and Twitter personalities.
"Everybody thinks they're a Dave Chapelle-level comedian on social media," counters Jordan's son, Marcus Jordan. "He's confident and comfortable with his style choices." That confidence is key in reframing Michael Jordan's stylistic choices as adept, not inept: Jordan's style over the past few decades is not only appreciable, but prescient.
Even a staunch supporter of Jordan's fashions must concede that the basketball legend has worn his fair share of less-than-stylish outfits, including his terrifying ESPY Awards suit, and his many enormous shirts and heavily pre-distressed jeans. However, Jordan has equally displayed an plethora of especially outfits with interesting proportions and garments — consider his perfectly-fitted Closed jeans from 2003. The dichotomy between his highs and lows speak to Jordan's willingness to push the envelope with clothing, displaying adventurousness hit-or-miss styling that predates contemporary male fashion influencers.
To best view the Chicago Bulls veteran's style, filter it through a contemporary, post-logomania lens. Sure, the normcore references are easy enough to make, but those are applicable to countless celebrity outfits pre-2010. Michael Jordan never really embodied normcore tenets, like the effortlessness of a grandpa at the airport or the self-aware irony of a Williamsburg scenester. Instead, Jordan took his garments as seriously as his ball game: this authentic attitude makes his silly outfits that much more outlandish, but it also lends weight to his influence.
For years, Jordan has possessed fastidiously specific clothing preferences; he hired tailors to provide exact cuts, sourced premium textiles for his bespoke shirts and studied shirt cuffs created by international designers. This is a well-curated man, one who knows what he seeks in automobiles, cigars and apparel alike.
Long after 1990s slouch was out of style, Jordan cultivated a wardrobe informed by baggy comfort, foretelling today's wide tailoring and giant cargos. His single-minded taste inadvertently affected the anything-goes menswear arena of today, as more men shape their wardrobes around their personalities, instead of the fashion industry's whims. Bolstered by contemporary minimalist brands, uniform dressing is being embraced by a new generation of consumers. Jordan didn't possess an immutable off-court look, but he did have recognizable codes.
Reconsider Jordan's maligned refrigerator-shaped tailoring — they hark back to Giorgio Armani and Gianni Versace's billowing suits and predate the contemporary imposing silhouettes of Balenciaga, Jacquemus and Virgil Abloh's Louis Vuitton. Though the 6'6'' shooting guard isn't exactly a menswear muse, he dressed for his size and paved the way for a new generation to delve into comfort-first clothing.
"He knows what he's rocking and styles himself," said Marcus. "You can find him head-to-toe in a Jordan tracksuit sporting a high six-figure watch, driving a seven-figure car. Even if he's suited up he maintains a classy, luxurious look that comes across as effortless. It's natural for him."
There is a certain je ne sais quois granted to people who know what clothes they like and dress exclusively to their own taste. Jordan doesn't hold the rarefied position of Winona Ryder or Shia LaBeouf in the pantheon of street style greats, but he deserves reconsideration. Like the aforementioned style idols, Jordan has always dressed to suit his own taste, a personality-driven approach in line with conventional fashion heroes.
Though Jordan certainly isn't the only public figure famous for cutting a wide silhouette, he is arguably the most visible example of a basketball player's mindset applied to clothing. His slouchy tracksuits provide fodder for fashion labels and sportswear giants alike, with his giant blazers and tremendous jeans proving inspirational for contemporary menswear counterparts.
"Back then it was more [about] emulating his sports looks," Marcus recalls. "Wearing shorts baggier or longer than most, shorts over sweatpants, etcetera." The slouch carried over from the court to the street; comfort comes before mass appeal. Jordan also had personal reasons for his baggy inclinations. "I've always been a petite-type person, well, skinny," Jordan said in an interview. "I hide [my body] with oversize clothes, fabrics that drape. I've always thought my feet were big. Baggy pants make your feet look smaller."
Heavyweight Western fashion labels, including Fear of God and Off-White™ draw from general basketball style, both on- and off-court. Of course, these brand's don't specifically hat-tip to Jordan, but some stylistic codes — including the sporty jerseys, generous suiting and baggy jeans — are in line with Jordan's dual appreciation for comfort and timeliness.
"The state of sneaker culture is a direct reflection of my dad's impact on the industry," Marcus affirms. "Even the relaxation of traditional suiting norms, seeing more sneakers with suits, T-shirts and hoodies with suits, hats, berets. All of that originated with my dad."
As retro style circles back into common parlance, the propagators of retro style are deservingly held aloft as innovators. By virtue of his boundary-pushing proclivities, Jordan's clothing can be, if nothing else, appreciated piecemeal: for instance, even if you're not a fan of the jeans and blazer look, the NBA superstar was inarguably ahead of the curve in adopting heeled boots (at 6'6" no less!) and his mock neck uniform was a thoughtful twist on uniform dressing (more on this later).
One can point to specific Jordan moments less as ballasts of current taste than as forebears, fashion cues that Jordan instigated before a new generation developed interest in them. Perhaps this doesn't justify Jordan's outfits as objectively "good," but it offers new context and appreciation for his very-intentional outfits. For instance, the recent appreciation for chunky knitwear (particularly sweater vests) and baggy washed-out jeans is rooted in the '90s and early '00s, when Jordan exemplified these traits and created his own post-"dadcore" fashion language.
Jordan's love of sporty shades and dichotomous breezy looks predated ironic menswear trends and his signature SUV-sized cargo pants are now only slightly bigger than some of the trousers worn during fashion week events. Similarly, Jordan's omnipresent mock neck base layer lends the same effortless cool of Steve Jobs' daily look. It's not a garment meant to impress others — it's an item that Jordan selected because he liked the look and the feel. That personal touch is key to developing a sense of style, personal guidance that allows one to supercede trends and create their own signature.
Michael Jordan cares about clothing in the same way he cares about sport: no shortcuts, no corner-cutting. Though clothing was never his first love (he takes footwear over clothing "all day," Marcus asserts), there's a throughline from Jordan's desire to win on the hardwood to "win" at fashion.
Anyone can apply any measure of success to getting dressed, but for Jordan, it was a matter of catering exclusively to his own whims. It may have yielded divisive results, but it's commendable. How many style-conscious consumers can say they've reached zen and simply stopped caring about the reception their outfits receive? A small hop for Jumpman, one giant leap for the rest of us.