Best New Tracks: Freddie Gibbs & The Alchemist, Rosalía & Travis Scott, Medhane & More
Also including new Drakeo from prison, A-Track's next endeavor and heavy Chinese vinyl samples.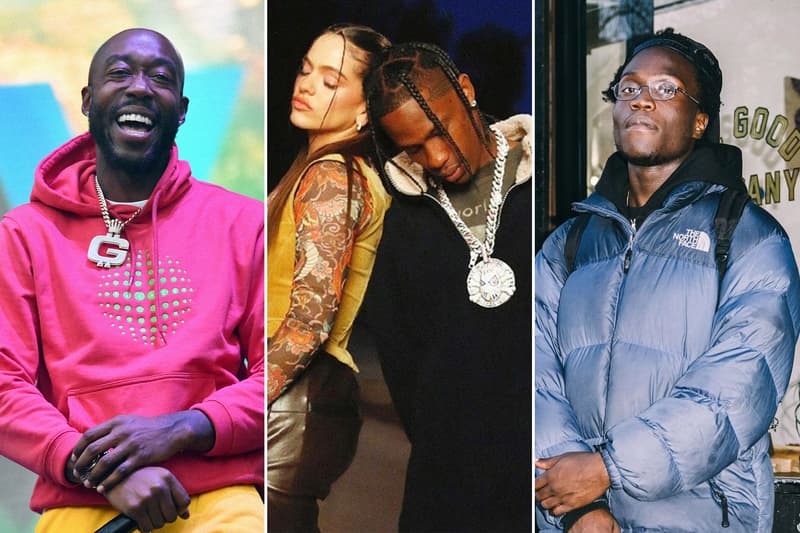 As the week in music comes to a close, HYPEBEAST has rounded up the 10 best projects for the latest installment of Best New Tracks.
The year is less than half-way through, and it's already been a monumental one for hip-hop. That theme continues this week thanks to some underground legends making strong proclamations for some of the best projects of the year thus far. After the critically-acclaimed Madlib collaboration in Bandana last year, hip-hop fans wondered how exactly Freddie Gibbs would follow that revered offering up. He responded by tapping yet another legendary producer, The Alchemist, for Alfredo, 10 perfectly curated tracks featuring Rick Ross, Tyler, The Creator, Benny The Butcher and Conway The Machine. Gibbs proves he's one of the best rappers in the game today and The Alchemist, at 42-years young, continues to have one of the best runs of his career.
Brooklyn rapper Medhane offered up the refreshing full-length Cold Water at the beginning of the week, blending his ever-growing experimentation with nostalgic boom-bap that his hometown championed decades before he was even born. He delivers his most impactful and polished project to date and brings friends Maxo, Navy Blue and Jadasea along for the ride. Elsewhere in music, Rosalía surprised with a full-fledged music video and single with Travis Scott for one of the most high-profile releases of the week. Drakeo The Ruler dropped two emotional new singles from his prison's solitary confinement, too.
Tap in with the full rundown of HYPEBEAST's latest Best New Tracks below.
---
Freddie Gibbs and The Alchemist – Alfredo
Freddie Gibbs had one of the best records of the year in 2019 with his and Madlib's Bandana that was five years in the making. Now he's following up that effort with yet another high-profile collaboration with legendary producer The Alchemist. The turnaround time was much shorter on Alfredo, but the end result is just as polished. What else would you expect when one of the best rappers in the game links with one of its most storied producers? Freddie's verse on "Scottie Beam" is more than timely, a political referendum on police killing unarmed Black American citizens with a healthy dose of a peak-Rick Ross guest spot. At 35-minutes there isn't a wasted second on this record. Fred gets Tyler, The Creator to rap without a pitch filter over his voice. Benny The Butcher makes the case for his own stand-alone Alchemist LP. Conway The Machine steals the show, blending past drug dealing with fatherhood: "Plus my oldest son is failing at math, that sh*t ain't adding up, I guess I ain't around being a dad enough." Gibbs has long served as a hip-hop barometer of who's paying attention. His run this past half-decade has been undeniable. Alfredo continues that streak.
Listen: Spotify | Apple Music
---
Medhane – Cold Water
Brooklyn rapper Medhane shared his third project in the past six months, showcasing his growth as a rapper and producer with Cold Water. He tapped close collaborators Maxo, Navy Blue and Jadasea for features but what really stands out is the cohesion in the instrumental selections and power behind his voice. He worked through the haziness of depression, anxiety and loneliness in past projects like Own Pace and FULL CIRCLE. He's always been thoughtful with his word selections, introspective with his themes. On Cold Water it all flows together.
Listen: Spotify | Apple Music
---
Rosalía – "TKN" feat. Travis Scott
Rosalía and Travis Scott have showed off their chemistry before on "Highest in the Room". Now the duo returns with the mega-hit "TKN" that perfectly melds her festive upbeat ballad with a new Travis verse that's sure to be a radio staple throughout Summer 2020. Rosalía has focused on a series of standalone singles like the heartbreaking and auto-tune heavy "Dolerme" and her return to Flamenco form in "Juro Qué" back in January. "I feel that now is the moment to release this song, after so many months of staying indoors, missing freedom, or being with people we love," Rosalia said in a statement. "I hope 'TKN' gives you energy, makes you dance, and gives you strength if you're going through difficult times. With all my love."
Listen: Spotify | Apple Music
---
Gabriel Garzón-Montano – "Someone"
After signing with Jagjaguar, multi-instrumentalist and singer-songwriter Gabriel Garzón-Montano dropped off his new single "Someone". It's been three years since he released his debut solo record Jardin. Drake even sampled his "6 8" for his hit "Jungle". On "Someone", Gabriel drips the sonics with funk and minimal drums. "I wrote "Someone" about a relationship that had arrived at an in-between place characterized by a string of escapist dinners and love making rendezvous at my apartment," Garzón-Montano said in a recent statement. He's paranoid, anxious and confused. In the video he puts on an emotional solo performance. He manages to wear both Air Max Griffeys and high heels. We're excited to see what's next.
Listen: Spotify | Apple Music
---
Moodymann – Taken Away
Kenny Dixon Jr., known throughout the world as Moodymann, is a staple in Detroit's legendary techno and house scene. Late this week he returned with nine new tracks for Taken Away, blending soulful samples with upbeat grooves perfect for the dance floor. "Let Me In" and "Goodbye Everybody" are the perfect examples of his ability to shed light on two of the Midwest's most important contributions to modern music — there's the silky smooth jazz hits while percussion dives back into the days of the 90s house. Don't miss out on this one.
Listen: Bandcamp
---
Preservation – Eastern Medicine, Western Wellness
It took renowned New York producer Preservation over three years to craft his latest project Eastern Medicine, Western Wellness, inspired by his time living in Hong Kong and digging through the city's record stores. All of the samples are from the vinyls that he found there, showing off just how much the experience meant to him. The emcees featured are an all-star cast too: Navy Blue, Ka, Mach-Hommy, Your Old Droog, Roc Marciano and Quelle Chris all lend phenomenal verses. It's cohesive, warped and enough to inspire visions of Preservation's own Kung Fu film.
Listen: Spotify | Apple Music
---
Drakeo The Ruler – "GTA IV"
It was only a few months ago when Earl Sweatshirt delivered a resounding, "F*ck the D.A., free The Ruler," on "Ion Rap Beef (Remix)". It was one of the best guest verses, and maybe songs in hip-hop this year. Drakeo The Ruler remains incarcerated facing a life prison sentence despite being acquitted of murder and attempted murder charges last July. Now he returns with two new tracks from his upcoming project Thank You For Using GTL, a reference to the prison's telecommunications system, with "GTA IV" and "Backflip or Sumn". According to writer Jeff Weiss, Drakeo crafted his next album in 36 hours of solitary confinement. If that isn't real hip-hop then we don't know what is. His next LP drops June 5.
Listen: Spotify | Apple Music | Soundcloud
---
The Brothers Macklovitch – "Get Love To Get Some" feat. Leven Kali
2020 is finally the year that brothers A-Trak and Dave 1 are diving into an extended project. They have both crafted out careers as respective superstars in their own rights, and on the new single titled "Get Love To Get Some" from their upcoming collaboration The Brothers Macklovitch, they lay an addicting, upbeat foundation for rising singer Leven Kali to thrive. The song screams summer, but given the current quarantines, it'll have to inspire some optimistic dancing from living rooms. That's not a bad thing. Expect to hear this one for months to come.
Listen: Spotify | Apple Music
---
Sevdaliza – "Joanna"
Iranian singer-songwriter and overall tour de force Sevdaliza returns with a new single and video for "Joanna", her third single of the year ahead of her forthcoming album out later this summer. Here she taps longtime collaborator and producer Mucky who infuses the emotional ballad with minimalist guitar plucks that should hit right in the chest leading up to an orchestral crescendo. "Joanna captures the universal story of unrequited love," Sevdaliza shared about the new single. "It is a reflection of the unbearable suffering crawling into our lives in different shapes. Joanna is the kind of love that has loved deeply and lost deeply."
Listen: Spotify | Apple Music
---
LUCKI – Almost There
It's all about the journey, not the destination on Chicago rapper LUCKI's latest project, Almost There. That inherent Zen quality in the title is most likely onset by his penchant for week smoking as his relaxed, stoned vocals have the ability to glide across tracks. Don't let that fool you though, he still has the ability to coin some laser-sharp observations along the way. The underground veteran put out some seriously solid work last year with Freewave 3 and Days B4 III, even tapping Earl Sweatshirt for some help on the production side. On Almost There he calls out clout-chasers, "tatted on your face, at least I think that it's real" shouts out Quentin Tarantino and crosses the threshold of hip-hop's millionth NIGO homage. This project does feel like an offering in-between his next leap forward. The 26-minute effort is a fun ride.
Listen: Spotify | Apple Music