Who Will Succeed Clare Waight Keller at Givenchy?
We consider nine designers who could take the helm.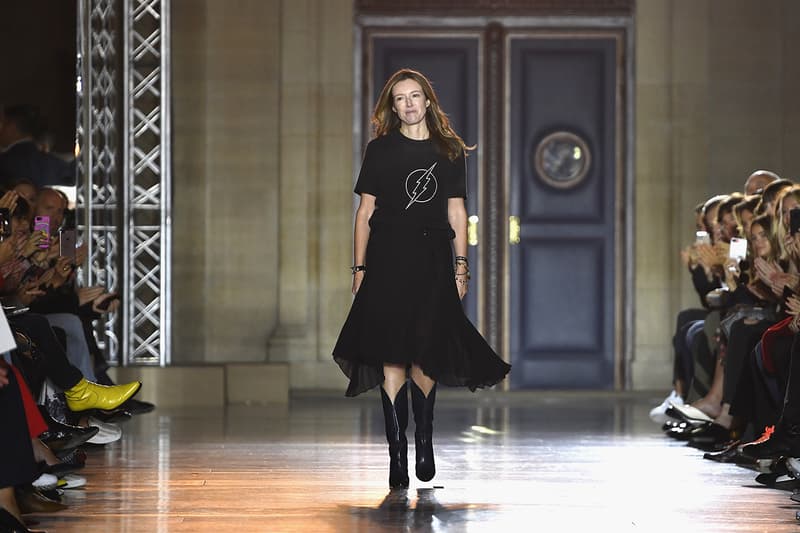 Clare Waight Keller joined Givenchy as artistic director in 2017, succeeding Riccardo Tisci as he departed for Burberry. Today, the British designer announced her departure from the French house, instigating yet another round of fashion designer musical chairs.
The creative director spot at a lauded ready-to-wear and haute couture label like Givenchy is sure to be a coveted — if intimidating — position for the fashion industry's creative talent. Fortunately the bench is deep, with many up-and-coming and established designers who might make a good case to take on the label founded by Hubert de Givenchy in 1952.
But while her tenure was relatively brief, let's not forget the Waight Keller's contributions to the label. When she joined Givenchy three years ago, she was the first woman to hold the brand's top creative position — still a rarity as the majority of the luxury sphere remains dominated by male designers. She made bold choices for the brand, collaborating with Onitsuka Tiger and tapping Marc Jacobs and Charlotte Rampling to star in its most recent campaign. Perhaps her most enduring design for Givenchy, however, will be the wedding dress she created for Meghan Markle to wed Prince Harry in 2018.
It's difficult to say whether LVMH will be in a hurry to announce a successor, given that fashion remains at something of a standstill in the ongoing coronavirus. With summer's haute couture and men's fashion weeks in Paris already canceled for the time being, it remains to be seen when we'll next see a new Givenchy collection at all.
Waight Keller leaves big shoes to fill — as do many of Givenchy's previous artistic directors, from Tisci to Alexander McQueen and John Galliano. But there's reason to think the powers that be at LVMH might be looking to take Givenchy in a new direction given Waight Keller's sudden departure. With that mind, we've rounded up nine designers we believe (and perhaps, hope) could succeed Waight Keller at Givenchy — ranging from rising names to streetwear stalwarts, and even a living icon. Disagree with our selection? Share your picks in the comments.
Simone Rocha
Hard to believe that Simone Rocha is just 33, as she's established herself as a force in the fashion industry since her debut in 2010. In the decade since, she's rounded up awards from the British Fashion Awards, Harper's Bazaar and more. The Irish designer's rebellious take on romanticism and femininity would make a clear connection to the Givenchy of the Alexander McQueen era, and her work for the Moncler Genius project proves she can interpret her style for a long standing label. As her line is carried at the likes of Dover Street Market and 10 Corso Como, she's well-known in the industry but an appointment at Givenchy would take the young designer to a wider audience than ever.
Matthew M. Williams
Matthew M. Williams certainly has the cool credibility that legacy houses are craving these days, owing his roots to collaborations with Kanye West, Lady Gaga and Heron Preston. His founding of 1017 ALYX 9SM in 2015 propelled him further into the spotlight and has shown him to be one of the few designers who can seamlessly marry the streetwear and luxury sensibilities. Not to mention, having worked with Kim Jones over at Dior, he's already shown an affiliation for the LVMH sphere. Can he do more than sleek buckles and black harnesses? We think so.
Phoebe Philo
Earlier this year we heard Phoebe Philo was preparing a return to fashion. Turns out now there's a plum job opening worthy of the former visionary for Céline. Is it wrong to dream that Philo might make her return at as storied a house as Givenchy? Her more practical take on fashion may not seem like the perfect fit for the fanciful label, but we'd love to see Philo stretch her abilities into the realm of couture. And consider as well that Philo and Clare Waight Keller both made a name for themselves at another heritage French label, Chloé. But most of all, looking at the revolutionary, clean and feminine silhouettes Philo created for Céline, we have no doubt she'd make Hubert de Givenchy proud.
Simon Porte Jacquemus
Drama and sensuality are the two things that Simon Porte Jacquemus does best with his eponymous label, characteristics which could serve him well at a maison like Givenchy. Already a fashion industry darling, the 30-year-old designer has shown maturity and poise since his runway debut. We've seen him capture the avant-garde in his Fall 2016 collection, redefine romance for Fall 2017 and go viral in his latest "L'année 97" Spring 2020 showcase. Not only is his versatility an attractive asset for Givenchy, but his cult following could bring in new Givenchy loyalists. Jacquemus has quite the flair for his own brand of theatrics — something that Clare Waight Keller didn't bring to the brand during her tenure.
Marine Serre
Marine Serre is another super young up-and-comer who's already established a name for herself. Golden co-signs by the likes of Karl Lagerfeld and Nicolas Ghesquière make the 28-year-old designer an attractive choice, but what's more important is that her brand aesthetic is very much in-line with what the current fashion generation is gravitating towards to — an unfaltering feminine direction that fuses sportswear and couture. For Givenchy, the current "power in youth" movement in the industry could be what's needed to reinvigorate the French luxury label. And with stars like Ariana Grande, Rihanna and Dua Lipa already wearing Marine Serre, she could be an easy choice.
Martine Rose
London-based designer Martine Rose has cemented herself as one of Britain's finest menswear designers. Her aesthetic could be described as part streetwear, part tailoring, mixed-in with a bit of "youth in revolt" — she's very much influenced by London's rave, reggae and '90s party subcultures. Givenchy could very well prosper from Rose's direction if a more "grown-up" streetwear approach is what they want. Givenchy tailoring was precise and sophisticated under Keller, but perhaps less precision and more experimentation could be what the French label needs. The only downside to Rose is how fresh she is in the womenswear circuit, but her work there has already amassed a strong following.
Rok Hwang
Who better to fill Keller's shoes than a designer that she herself selected for the 2018 LVMH Prize Special Prize? Keller and industry heavyweights like Nicolas Ghesquière and Karl Lagerfeld chose Rokh's Rok Hwang for the award based on the strength of his womenswear label, which frequently blends labor-intensive craft with playful insouciance. Hwang has since showcased imminently wearable dresses and separates that recall the easygoing attitude that fueled Hubert de Givenchy's own designs, updated for the current age with inspirations that range from rock climbing to biker couture. Hwang also takes after Keller in another way: both designers partnered with ASICS in 2019 for a premium running sneaker collaboration.
Grace Wales Bonner
Grace Wales Bonner's eponymous clothing line expanded to include womenswear in June 2018, infusing it with the same romanticism that informs her menswear range. This preference for gender-refuting tailoring and upscale sportswear isn't a far cry from the refined wardrobe proffered by Keller's Givenchy — or even Riccardo Tisci's athleisure inclinations — but Wales Bonner's perspective is wholly unique. The young designer's progressive collections draw from art, identity politics and her own heritage, offering a personal touch that could usher in a thoughtful new era of Givenchy.
Tomo Koizumi
What drew an international crowd of tastemakers and celebrities (including Miley Cyrus and Lady Gaga) to Tomo Koizumi's work? Pure, unspoiled artistic vision, brought to life by couture-level skill. Sure, Koizumi may not be a natural fit for a large maison (he prefers costume design to commercial fashion), but he brings a natural sense of wonder to the runway, reviving a fantasy rarely evoked since the days of the European masters. The Marc Jacobs connection helps (Jacobs both helped present Koizumi's FW19 collection and starred in Givenchy's Spring/Summer 2020 campaign) but Koizumi's skill speaks for itself. His appreciation for spectacle and whimsy alike (Koizumi is a big Sailor Moon fan) would offer an evolutionary step to the French fashion giant.