Best New Tracks: The Strokes, Gorillaz, Omar Apollo, Ari Lennox & More
More tunes to transport you out of the current isolation.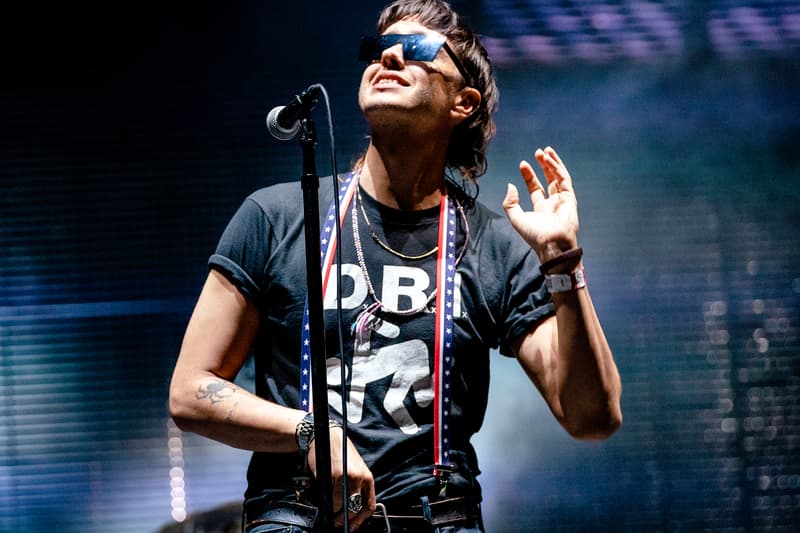 As many are nearing the month mark of the current social distancing and isolation period due to Coronavirus quarantines, music has become more important than ever. Finding that perfect song or project to hold you over for the week or guide you through your work day from home has proven essential.
Today HYPEBEAST revisits the top tracks of the past week. The Strokes returned to form with their first full-length project since 2013 with The New Abnormal featuring some of the group's most eclectic and experimental sonics to date. Tory Lanez celebrated his label freedom with his sprawling and versatile The New Toronto 3 mixtape. Gorillaz also dropped a surprise visual from their ongoing Song Machine project in "Aries" featuring Joy Division and New Order member Peter Hook.
Check out the latest installment of Best New Tracks below and be sure to catch up on HYPEBEAST's 20 Best Albums to Listen to While Staying Home feature.
---
The Strokes – The New Abnormal
The New Abnormal is the first full-length record from The Strokes since 2013, and Julian Casablancas and company have returned more motivated than ever. The 45-minute offering debuts nine new songs produced by the one and only Rick Rubin. The band experiments with a wave of different sonic elements, from the 1980s synth-pop infused "Brooklyn Bridge To Chorus" to the auto-tune and electronic-light effects on lead single "At the Door". While The Strokes will always be remembered for that incomparable run they had at the turn of the millennium, the fact that they're still churning out memorable records while most bands would be dropping 'Best Of' compilations is a testament to their greatness.
Listen: Spotify | Apple Music
---
Gorillaz – "Aries" feat. Peter Hook and Georgia
This week really was dominated by some old favorites hooking up their fanbase with pristine new projects to uplift the spirits. Gorillaz continued their mysterious Song Machine project by tapping legendary Joy Division and New Order member Peter Hook for "Aries". The track infused some dreamy synths with a smooth electric guitar riff underscoring the song. The video even featured a message from 2D to stay safe during the current Coronavirus pandemic, and to stay tuned for more surprises in the future.
Listen: Spotify | Apple Music
---
The Weeknd – "Until I Bleed Out"
After a three year absence, The Weeknd continues to bring the hits. Following the release of his After Hours (Deluxe) version, he decided to drop off an additional three bonus tracks including a music video for "Until I Bleed Out". It marked the fourth video featuring the superstar battered and bloody in a red velvet suit, blending the drugged out world of Fear and Loathing in Las Vegas with a 1980's version of Scorsese. The camera follows an exhausted Abel as the world spins around him, an endless party with no meaning. House of Balloons-era party favors abound.
Listen: Spotify | Apple Music
---
Tory Lanez – The New Toronto 3
Tory Lanez dropped off his version of If You're Reading This, It's Too Late this week, announcing that he was finally out of label purgatory with "The New Toronto 3". The project follows his ambitious and nostalgic Chixtape 5 featuring a number of early 2000s stars and Ashanti with a T-Mobile Sidekick as the cover image. "I haven't dropped the music that I really wanted to for the last four years," Lanez replied to a fan tweet. He continued, "I just freestyle'd sh*t and songs that would get you by." Think of Tory as Vince Carter during the last year or so with the Raptors before he exploded with new energy on the Nets. The New Toronto 3 is an energized effort from start to finish. It's cohesive and catchy. Here's to the freedom that Tory has earned, and to the excitement of what's to come.
Listen: Spotify | Apple Music
---
Ari Lennox – "BUSSIT"
Ari Lennox cares about you having fun during social distancing. Her Shea Butter Baby Remix EP dropped at the perfect time, introducing three new tracks to infuse some summer-time vibrance into your apartment speakers and/or headphones. She FaceTime'd with Kiana Ledé for the R&B upstart's debut album. Now she's back with "BUSSIT", a pleasant visual surprise from the GRAMMY-nominated Revenge of the Dreamers III (Deluxe) edition. Ari engages in some sensual choreography with an all female cast and celebrates with some mimosas.
Listen: Spotify | Apple Music
---
Charli XCX – "Forever"
Charli XCX has been an ongoing feature during the current influx of artist livestreams. The singer announced her upcoming album, fittingly titled how i'm feeling now, which she primarily recorded during the period of isolation brought on by the Coronavirus. Her first track, "Forever" is dripped in autotune and forward momentum courtesy of programmed drums and some background wave distortions. Charli just might release the most ambitious project of the current isolation period. It's going to be exciting to see what inspiration results from the limitations of loneliness. Her next record drops May 15.
Listen: Spotify | Apple Music
---
Omar Apollo – "Imagine U" feat. Kenny Beats
Omar Apollo and Kenny Beats flexed their chemistry earlier this week with "Imagine U" – their third official collaboration discounting Omar's stoned out and giggly The Cave appearance. "Imagine U" is one of Omar's more pop-driven records in recent memory full of vintage synths and a catchy ongoing guitar riff. "There's a guitar part I played that's pitched up as soon as the song starts that I love and when I first made the song that part was all I had. I was obsessed with it," Omar said of the song. We feel the same way.
Listen: Spotify | Apple Music
---
Leon Bridges – "Inside Friend" feat. John Mayer
Leon Bridges and John Mayer teamed up for a soulful and laidback three-minute song in "Inside Friend", a product of an impromptu jam session about a relationship based primarily indoors. It's definitely smoother than the clunkiness of a Netflix & Chill encounter, though. It's a glossy duet with Mayer's expert guitar as a prime feature.
Listen: Spotify | Apple Music
---
Pink Siifu – ",NEGRO"
Pink Siifu dropped off this smooth, soulful music video for ",NEGRO" – the title track and also the outro for his latest album. The song utilizes an undeniable sample from Eddie Kendricks' 1977 classic "Intimate Friends" and the video drips with nostalgia. As for the recently released NEGRO project, Siifu delivers his 40th-plus project in the past handful of years. If you're expecting a follow-up to his 2018 project ensley… well, don't. Siifu likes playing upon people's pre-conceived notions and expectations, accelerating with a sharp left-turn when the his fans are veering right. It features friends and collaborators Slauson Malone, Nick Hakim and Na-Kel Smith. It's a record tinged with exhaustion and frustration. It's political, harsh and unapologetic and like nothing else in the artist's catalogue. Pink Siifu is quickly proving that he's a singular voice and a genre-less musician.
Listen: Bandcamp
---
HDBeenDope – "20k"
Introducing rising Brooklyn rapper HDBeenDope. The upstart does a little bit of everything. He produces each record, directs and edits his music videos. It's that creative control that results in a polished offering and helps build the quality of each of his releases. "20k" came out late last year, and he finally dropped the music video this week. With the current wave of momentum, it wouldn't be surprising to see him drop off a great full-length later this year. Stay tuned.
Listen: Spotify | Apple Music