NASA Unveils Stunning Infrared Image of the 'Pillars of Creation'
Courtesy of the Hubble Space Telescope.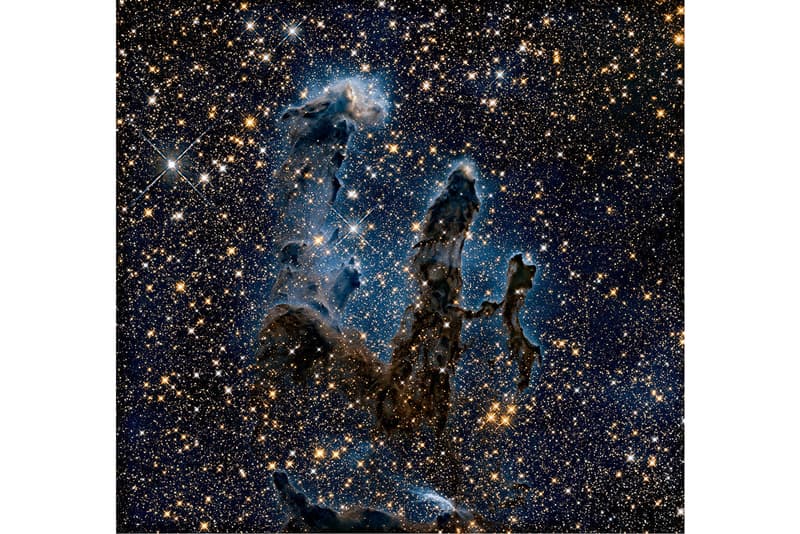 In 1995, NASA's Hubble Space Telescope captured a breathtaking view of the Pillars of Creation located in a cluster of stars called the Eagle Nebula. The space agency recently shared its latest visual of the pillars, but this time using infrared light. The vivid picture shows infrared light piercing through dust and gas, creating a wondrous blueish shadow.
The original image of the pillars was comprised of 32 different images in visible light showing the pillars emitting cool hydrogen gas and cosmic dust. The Eagle Nebula was first discovered by Swiss astronomer Jean-Philippe Loys de Chéseaux back in 1745. This cosmic region is roughly 7,000 light-years from Earth with the largest pillar structure measuring about four to five light-years long.
"Here, the pillars are seen in infrared light," said NASA editor Yvette Smith in a statement. "Which pierces through obscuring dust and gas and unveil a more unfamiliar — but just as amazing — view of the pillars. The better-known image is of the pillars in visible light."
Check out the stunning new image above and then visit NASA's website for further details.
Elsewhere in tech, Apple will reportedly release over-the-ear headphones in June 2020.