McDonald's Introduces New Double Big Mac and Little Mac Sandwiches
Now with four patties, two as usual, or just one.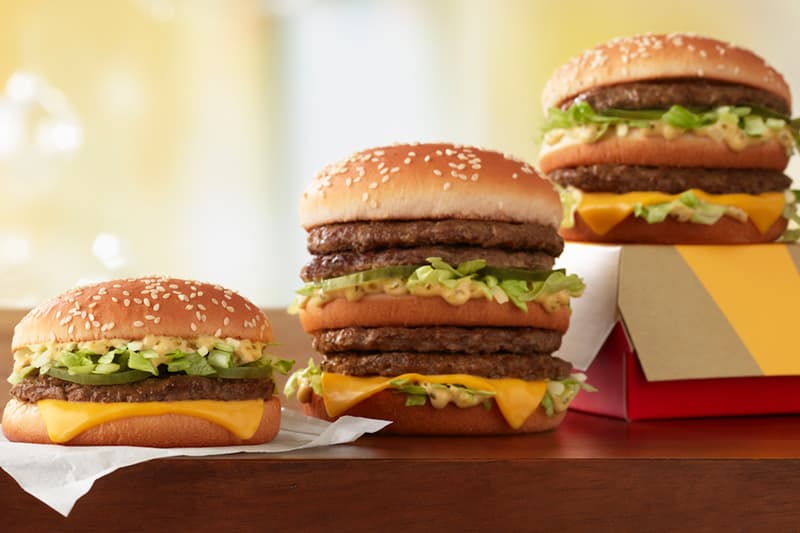 McDonald's has just announced new variations of its premier Big Mac sandwich: the Double Big Mac complete with four patties and its tinier Little Mac counterpart. For a limited time only, these new burgers will be added to the restaurant chain's menu starting today.
The $5.49 USD Double Big Mac features four burger patties, contains 720 calories and has 43 grams of fat. The $2.29 Little Mac alternatively is a single patty cheeseburger with a dollop of Big Mac Special Sauce. Apparently, the Double Big Mac has existed in Canada for years, with the States just now seeing the sandwich for the first time. McDonald's has sold variations of its flagship burger in the past, such as its two patty Grand Mac in 2017, which was larger than the classic $3.99 USD two patty Big Mac. Japan also saw the Giga Big Mac, which was almost three times the size of an average Big Mac.
The Little Mac and Double Big Mac are available nationwide starting March 11 for a limited time at participating restaurants.
In other food & beverage news, McDonald's has also unveiled a $100,000 USD golden shamrock shake.
McDonald's is adding a Little Mac and a Double Big Mac to its menu, for a limited time. This promotion could help the company create buzzy "new" menu items without the burden of ordering new ingredients or training staff on how to make them https://t.co/rkEIjP3Ju2

— CNN Business (@CNNBusiness) March 10, 2020