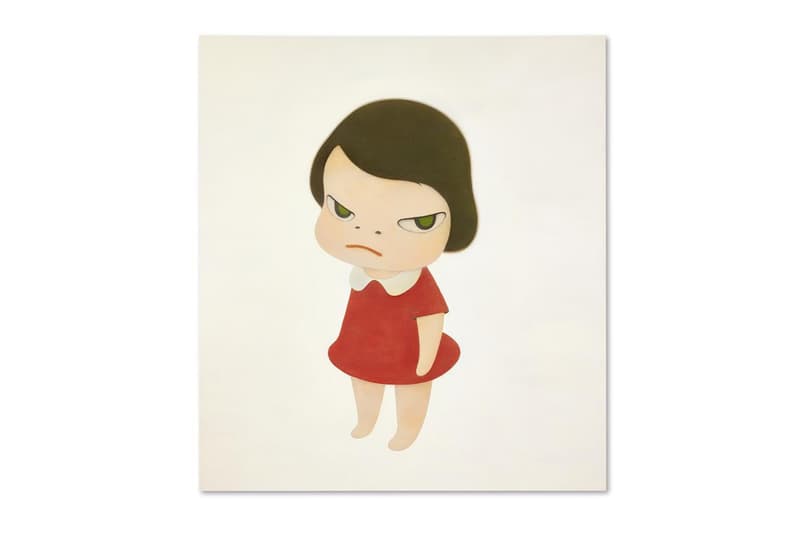 LACMA to Hold First-Ever International Yoshitomo Nara Retrospective
Surveying over 30 years of the artist's work through his longtime passion for music.
---
The Los Angeles County Museum of Art will soon launch the first international retrospective of acclaimed Japanese artist Yoshitomo Nara, displaying over 100 major works from 1984 to 2020. The monumental exhibition will encompass paintings, drawings, sculptures and installations. While well-known for his portraits of ominous-looking characters with penetrating gazes, Nara has gained international attention by capturing the complexity of emotions that "reflect the cultural psyche of the current generation."
The survey simply titled Yoshitomo Nara, however, will largely reflect the artist's deep relationship with music especially his affinity for images on record covers that span a vast range of artistic genres. Cover art, and the records themselves, served as sources of escape and a form of self-empowerment — they enabled Nara to live with the remnants of Japan's imperial past and in close proximity to signs of conflict. The exhibition shifts the focus away from the artist's work in relation to Japan's Neo-Pop movement towards the '60s and '70s folk and rock music that influenced his practice.
Highlights of the exhibition include one of Nara's most iconic works, Girl with a Knife in Her Hand (1991), a motorized sculptural installation titled Fountain of Life (2001/2014) and a painted wooden architectural structure that recreates the artist's studio space, called My Drawing Room (2008). Miss Forest, a 26-foot outdoor painted bronze sculpture, will be installed on Wilshire Boulevard leading up to the museum's entrance.
The retrospective will run from April 5 to August 23 at LACMA before traveling to Shanghai's Yuz Museum (September 29, 2020–January 17, 2021), Museo Guggenheim Bilbao (February– May 2021) and Kunsthal Rotterdam (June–September 2021).
In other news, Thinkspace is displaying the works of over 100 artists for its annual group exhibition in Hawaii.
LACMA
5905 Wilshire Blvd
Los Angeles, CA 90036