Best New Tracks: Lil Wayne, Drake & Future, Justin Bieber, Bad Bunny & More
Kobe tributes, instrumental albums, grainy film visuals & more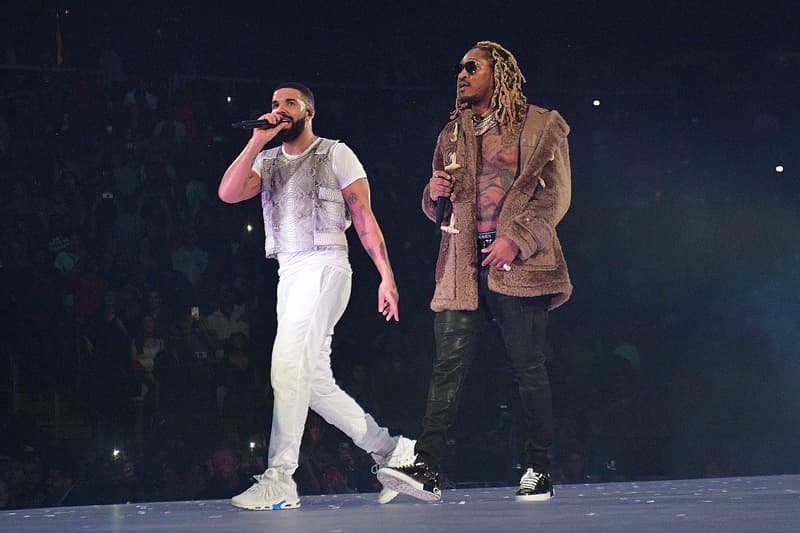 Lil Wayne – Funeral
Lil Wayne's Tha Carter V was significant for so many reasons, a triumphant return that saw the legendary Young Money rapper deliver on a long-awaited promise while wrapping up the narrative of his murkier, young years juxtaposed with his 'elder-statesman' title of the present. So where does he go from here? Enter Funeral, the expansive 24-track album with a huge guest list that still allows for Wayne to be the center of the its universe. Standout tracks include the three-track period ranging from "Mahogany", "Mama Mia" and "I Do" featuring Big Sean and Lil Baby. Wayne continues to chase his fifth-consecutive No.1 album on the Billboard charts, but it's important that you just still get excited when hearing the lighter flick before a new song starts.
Drake – "Desires" Feat. Future
Leave it to Drake to show off his latest single with 'LEAK 2020' in the title and then release it personally on Soundcloud as the only available streaming service (at the time of 2:35pm EST January 31, 2020). "Desires" is the second single between Drizzy and What a Time to be Alive collaborator Future following the "Life Is Good" music video. Whenever Future talks about paying off student loans, moving a significant other out of city limits to keep away desires – they're both signature Future and Drake tropes that make a song worthy of a revisit. The track boasts a heavy Houston-influence, both in a modernized, slowed down instrumental that's just outside the realm of chopped and screwed and in theme with plenty of lean references throughout.
Freddie Gibbs & Madlib – Bandana Beats
Here comes the Soundcloud freestyles over sought after Madlib beats that nobody asked for. Following the blueprint of 2014's Piñata and Piñata Beats, Freddie Gibbs takes a step back from rapping laps around Madlib's out-of-this-world production to let the legendary producer's instrumentals shine. Complete with limited edition vinyl and a new Jeff Jank album cover, the project (which Madlib claims to have been made mostly on his iPad, because why not?) follows the full 15-tracks so you can then go to Who Sampled and figure out where and how Madlib found these samples with more clarity than ever.
Tame Impala – "Lost In Yesterday"
Growing older has been a theme throughout Kevin Parker's last few Tame Impala singles. Perhaps it's most obvious on "It Might Be Time" or "Posthumous Forgiveness" where he speaks to his late father, but "Lost In Yesterday" is tinged with golden age reasoning and nostalgia and the new music video makes that more clear than ever. Directed by Terri Timely, the one-long tracking shot circles around a wedding that becomes five different weddings, attendees growing older in age, finding new partners and changing clothes based on the era. Parker channels his best version of a wedding singer and even picks up a few new bandmates along the way. The next Tame Impala record, The Slow Rush releases February 14.
Bad Bunny – "6 Rings"
Kobe Bryant was more than just a basketball player. For the better part of three decades he was not only one of the main faces of the league, but he was also an international ambassador to the ever-growing sport of basketball and a larger than life cultural icon. He was also a father which is what made the loss of Kobe and his daughter GiGi so tough to deal with and so hard to grasp. Musicians around the world paid tribute to the Laker legend and Bad Bunny's "6 Rings" stood out for the raw emotion that was palpable even outside of language barriers. "I still remember the first game of yours I witnessed, the excitement and the many times you got me on my feet," Bad Bunny sings. "You showed me that everything in life is done with passion. To win, you have to have a heart."
Justin Bieber – "Get Me" Feat. Kehlani
Justin Bieber fifth studio album Changes is almost here, dropping February 14 via RBMG/Def Jam Recordings. After the release of "Yummy," the singer-songwriter has tapped Kehlani for the new single "Get Me." The release coincides with the new YouTube Originals docuseries, Justin Bieber: Seasons where cameras follow the singer's life after cancelling the last leg of his "Purpose Tour" in 2017, highlighting his personal life with wife Hailey Bieber and return to the studio. Bieber also plans on venturing out on the road with Kehlani and Jaden Smith for an upcoming tour this May 2020.
Lil Baby – "Catch the Sun"
You can thank Queen & Slim: Soundtrack for placing Lil Baby in a context that we've yet to see the superstar Atlanta rapper in before. The sun-soaked filmic visual channels "'03 Bonnie & Clyde" with Baby on the run from the police for undisclosed reasons. He takes to the countryside with his female protagonist, driving a baby blue vintage Ford Mustang, driving through backroads and rapping in the middle of a pasture at dusk. It's a visual choice that's more fitting for say Dev Hynes of Blood Orange (who handled the score for Queen & Slim) or Toro y Moi. As for the sound, the guitar plucks contrast the the modern hi-hats and booming bass in the best of ways and finds Lil Baby at his most introspective yet, and that's more than a good thing.
Yo Gotti – "Pose" Feat. Megan Thee Stallion & Lil Uzi Vert
It took Yo Gotti almost two and a half years to release his latest project Untrapped and it was more than worth the wait. After releasing the early 2000s chipmunk soul infused "More Ready Than Ever" and "H.O.E. (Heaven On Earth)", perhaps the icing on the cake was the surprise release of "Pose" [Remix] that sees the trio of Megan Thee Stallion, Lil Uzi Vert and Yo Gotti all in perfect harmony. Yo Gotti turns his verse into a clever reminder that coming from a dopeboy background means he's not interested in cameras and is still adjusting to fame even after 25 years in the game.
CJ Fly – "Show You"
Pro Era staple CJ Fly returns with his latest track, "Show You" featuring production from the one and only Statik Selektah with a visual that tracks the Beast Coast rapper through his hometown of Brooklyn and all of the beautiful neighborhoods that the borough has to offer. The autobiographical single shows CJ Fly outside of the Fort Greene hospital he was born at, the cross-streets of all of his homes during his growth as a child and a rapper, and even details his parent's split. The smooth instrumental harkens back to the earlier days of 90s boom-bap while CJ Fly tip-toes over the beat with dexterity, fitting in an entire lifelong timeline in just under three minutes. His next album RUDEBWOY is set to release March 6, 2020.
Cheat Codes – "No Service in the Hills" Feat. Trippie Redd, blackbear & PRINCE$$ ROSIE
Electro-pop trio Cheat Codes follows up their Level 2 EP and unique remix bundle with the latest single "No Service in the Hills" featuring guests Trippie Redd, blackbear & PRINCE$$ ROSIE. Trevor Dahl, Matthew Russell and Kevin Ford lay the foundation of the song with the premise that you can use the Hollywood Hill's lack of service as an excuse and easy escape from modern life and responsibilities. The crew shines thanks to lightly sprinkled autotuned vocals with the sound 'no service' theme while the bass-heavy offering adds smart guitar riffs that allows for Trippie Redd to truly shine. Cheat Codes have also announced upcoming festival circuit dates and a UK tour alongside Steve Aaoki.